How to prepare for Bank PO Interview
How to prepare for Bank PO Interview - In the field of banking, Probationary Officer is considered as one of the highly designated position. Qualifying for the post is tough and requires a lot of dedication and preparation. Candidates are required to clear the three stages of Bank PO recruitment position - preliminary, mains and interview. The first two stages of Bank PO 2018 are based on the knowledge of reasoning, computer aptitude, data analysis & Interpretation, general/ economy/ banking awareness and English language. However, for Bank PO interview, candidates need to have different skill set and qualities.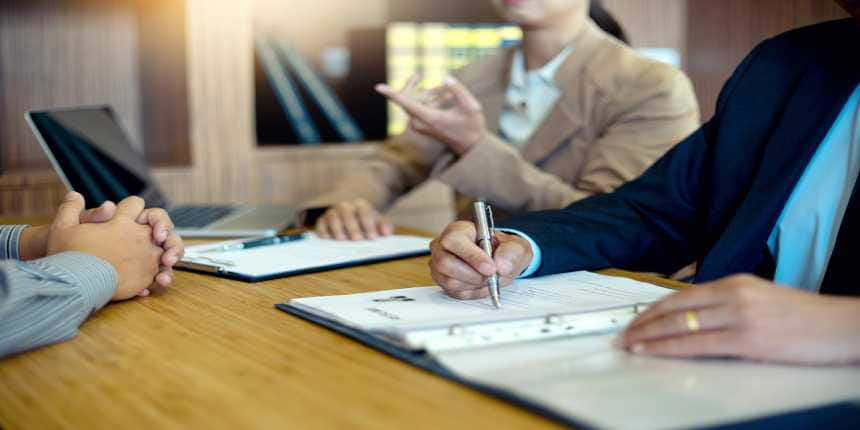 Latest: RBI has released RBI Assistant Application form. Apply till January 16,2020
If one manages to qualify in the prelims and mains exams, doesn't mean that his/her selection is guaranteed. Mind you, a bigger hurdle (Personal Interview) is still waiting for you. However, candidates who are able to give their best shot in the interview, are certain to secure the PO post for themselves. To scale this last mountain, candidates must know how to answer the questions asked in Bank PO Interview. For helping the aspiring candidates, Careers360 has picked up the most common/popular questions asked in Banking PO Interviews in the previous years and to assist candidates on 'How to prepare for Bank PO Interview'. We bring to you a large pool of question bank selected from the personal interviews of candidates who had appeared in Bank PO interviews in the last few years. The set of questions here will help you in ascertaining that you give your best in the bank PO exams like IBPS PO, SBI PO, BOB PO, Indian Bank PO, ICICI Bank PO, Canara Bank PO, etc.


It has been found from the previous years question bank that apart from bookish knowledge, candidates should possess qualities such as good communication and interpersonal skills. There may be tricky questions too, which may be asked to just test your IQ. So, you must know how to handle such questions. Read the article further to know "How to prepare for Bank PO Interview" with advises from Careers360 on how to handle any given question in Bank PO interview.
How to prepare for Bank PO Interview?
The Interview of Bank PO is conducted to analyze the proficiency and personality of a candidate. Also, through interview a candidate's banking knowledge is assessed. Below are some of the points to prepare for Bank PO Interview:
Stay abreast with the Current Affairs – Read the national dailies such as The Hindu, The Economic times etc. regularly. Make it a habit to read. Understanding economics and finance terminologies will also be helpful. Candidates from commerce background will be benefited more by this.
About Work Experience – If candidates have work experience, they will be asked questions on their qualifications. So pre-plan your educational records accordingly in your mind so that you do not fumble in front of the interviewer. The interviewee is often asked why he/she have switched from the current job and move to banking. The answers should be genuine, also prepare some real life examples.
Personal Background - Family background and some of the personal questions such as places of interest, hobbies, education choices etc will be asked. There are some unpredictable GK, Puzzles, Situational questions might also be asked, depending on the mind of the panel.
Physical Appearance/ Personality – Candidates should be confident, upright, interactive and dress smartly. Candidates should also know how to carry themselves, how immaculate your dressing up is, etc. portraying your sincerity and sense of pre-planning. On the other hand it is important to act professionally and also show your personality to the interviewer. This will check your suitability, your seriousness towards job and leadership quality. You should be able to present yourself confidently and show how suitable you are for said role. You should stand or sit up straight and try to avoid any nervous habits such as tapping your foot, biting your nails, etc. that could make you appear nervous and unprepared.
Carry documents - Make sure you carry all relevant educational, work experience certificates, identity proof and other documents to produce during the document verification. This should arranged properly as prescribed in the notification.
Now, let us check the basic skills required for candidates to crack Bank PO Interview process.
Key skills required to crack Bank PO Interview
There are a few important skills that the interviewer will look for, in you:
Clarity of thoughts

Confidence in your knowledge

Honesty

Good communication skills

Good work ethics

Seriousness about job
Now, we bring to you a list of questions that have been prepared by the experiences of real life bank officers who have shared their preparation strategies and interview processes.
Also, know all about SBI PO
Know all about BOB PO recruitment
Know all about Indian Bank PO
Common/Popular questions asked in Bank PO Interview?
Here are some of the questions that have been asked over the past few years during the Bank PO interviews:
1. Where do you see yourself in 5/10 years?. What goals do you have in your career?
Careers360 Advise: If asked this question, be honest and specific about your future goals, but consider this: A hiring manager wants to generally the following:
if you've set realistic expectations for your career

if you have ambition

if the position aligns with your goals and growth
Best is to think realistically about where this position could take you and answer along those lines. However, It's ok to say that you're not quite sure what the future holds, but that you see this experience playing an important role in helping you make that decision.
2. What are your reasons for joining as Probationary Officers?

Careers360 Advise: Candidates should know the work profile of a Probationary Officer, role etc. They must be able to explain how the past experiences (Education/Work/Extra Curricular) have made them realize and how that knowledge helped to work in a better way.
The reason cannot be that this is a stable, well-paying job that's why you are joining it (they want candidates who like the work and not the money it offers or stability or social status if provides).

3. Tell me about yourself ? Any role model, strength/weakness, leadership experience etc?
Careers360 Advise: Now this answer would lead the foundation for all future questions. Be clear and crisp in this answer presenting your educational qualification, your hobbies, etc. To prepare for this answer you should first know yourself and keep ready your experiences and achievements of your past.
4. What do you know about Banking Sector?
Careers360 Advise: This is common questions for IBPS PO interview as the core area is banking sector. Banking related questions usually is data based like the past or current growth rate of banking sector, CRR, SLR, etc. so keep the details on your fingertips.
5. If you get a better job opportunity in private banks will you join there?
Careers360 Advise: Be genuine while answering this question. The answer can be either yes or no. But the Bank will test how much you are interested in the current job profile.
Check SBI PO Cut off here
Check ICICI Bank PO Cut off here
Check BOB Cut off here
Check Indian Bank PO Cut off here
6. What is the difference between nationalized banks and private banks?
Careers360 Advise: A nationalized bank is owned by the government of that country and is also known as public sector bank whereas a private sector bank is owned by an independent individual or company.
7. Why did you choose banking sector?
Careers360 Advice: One can talk about the benefits related to the sector. Also, candidates can relate to somebody that you know and how you like their working profile and personality. It is all about the convincing power. Kindly avoid answers like 'banking is your childhood dreams', 'job security', 'big salary' etc.
8. How long have you been preparing for Bank PO Interview?
Careers360 Advise: Answer with honesty. Mention in details what efforts have you taken.
9. Why did you leave your previous job? (If applicable)
Careers360 Advice: Candidates must never say anything negative about any of the past experiences, it gives a bad impression to the interviewer. Always frame the answer as how you have enjoyed your previous job but later realized that you could play a more vital role as a Banking Officer and how you could touch the lives of many people. For example – build up a story from your experience on how you had helped someone to open a bank account. This was a turning point in a your life.
Questions asked in interviews of Bank PO recruitment can be divided into 5 categories:

1. Personal questions

2. Educational Background or Career Objectives

3. Banking Awareness & Current Affairs

4. General Knowledge, Current Affairs & Hot Topics

5. Work Experience (for working candidates)
Know different stages of Indian Bank PO Exam - Click here
Know different stages of BOB PO Exam - Click here
Know different stages of Syndicate Bank PO Exam - Click here

1. Personal Questions
Critical questions which are often asked in this category are given below:
Tell me something about yourself ?

What's Special About Your Hometown?

What does your father do?

Why don't you join your father business?

Who is your role model and why?

What Are your strengths and Weaknesses?

Tell me about a time when you demonstrated leadership skills

Tell me about a time you worked in a team
Questions related to Hometown, Family Business, Role Model etc are also often asked in IBPS PO and SBI PO. With these questions, members of the interview panel try to check your confidence level. Also, to know how to prepare for IBPS PO- Click here

2. Educational Background or Career Objectives


Whether you from Science, Commerce or any other background, these questions have the highest probability of being asked in Bank PO Interviews


Why did you choose this stream?

What you did after your graduation?

Why do you want to join Banking Sector?

Why you want to join the government sector, being an XYZ graduate?

Why the government sector, why not the private sector?

Why do you not want to pursue higher education?

3. Banking Awareness & Current Affairs

Critical topics under this category from which questions are frequently asked in interviews of IBPS, SBI, RBI, BOB etc are given below:
New government schemes (Example: Pradhan Mantri Jan Dhan Yojana, Unnat Bharat Abhiyan etc)

Trending Topics or Terms (Example: Cryptocurrency, NPA, KYC, Money Laundering, Inflation, Deflation, FDI etc)

Recent Events (Example: GST, FRDI Bill, BREXIT, Banking Scams, Recapitalization of Banks etc)

Important Banking Terms (Example: CRR, PLR, NPAs, Repo rate, Reverse Repo Rate etc).
To know the best books to prepare for IBPS PO - Check here
Terms related to Processes having Day to Day in Banks (eg: Types of account, Types of Check, Lockers, Check vs Draft, Demat Account)

Day to day banking terms processes in banks (Example: Types of account, Types of Check, Lockers, Check vs Draft, Demat Account)


To check SBI PO Selection Procedure - Click here
4. General Knowledge & Current Affairs

Questions from General Knowledge and Current Affairs are also asked in Bank PO Interview. Some important topics from which questions can be asked in Bank PO interview are given below:
Critical points from constitution of India

Events happening around the world (Election in any country, Conflict between two countries etc.)

Important persons in News (Example: A leader from other country visiting in our country, Sports Person etc.)

Environmental issues (Example: Global Warming, Pollutants etc)

Your political opinion (Example: Which government is better? Which is your favorite political party?). Who are you going to vote in the election, who is better in the previous government and this time governments etc.)


Note: Questions related to new government schemes are often asked in Bank PO Interviews. Members of the interview panel can also ask questions about neighbouring countries. Questions on trending topics like Cryptocurrency, BREXIT etc can be asked in Bank PO Interviews.

5. Questions related to your current work profile

The following questions can be asked in the IBPS PO Interview or SBI PO Interview:
Tell me about your current job profile.

Why do you want to quit your current job?

Are you happy with your current job?

How your experience is relevant to this position?
Note: Candidates who are employed somewhere might encounter questions based on their current work profile. Members of the interview panel want to learn why you want to quit your current job to start your career as a Bank PO. Don't use terms like Job Security, Work-Life Balance etc. while answering such questions.

Below is the set of questions which are frequently asked in Bank PO Interview. Candidates from different backgrounds can check the set of questions to get an idea of the questions asked in the Interview.