How to Prepare for Bank PO Interview
Bank PO is the most sought job position for the candidates who are preparing for entrance exam for various banks. To get shortlisted in the final result, it is important to qualify all the stages of the recruitment process. The bank exam for the Probationary Officers consists of three stages namely prelims, mains and interview process. First two stages are online tests which are designed to assess quantitative, reasoning and other knowledge whereas the interview is the process where the whole personality is assessed, the final stage is the interview stage. There are various books and study materials available where candidates can learn about the first to stages, by the question always arises on how to prepare for bank PO interview.
Candidates are often nervous about how to prepare for bank PO interview. The basic key to get through the Bank PO interview is that aspirants must be updated about the current topics and must be bold and confident in front of the interview panel while answering bank PO interview questions. Almost all the banking recruitment exams such as IBPS PO, SBI PO, ICICI Bank PO, IBPS RRB PO and much more conduct the interview round. In this article we have shared all the details on how to prepare for bank po interview. This information is shared based on SBI, RRB, IBPS selected candidates experience. To know more about how to prepare for Bank PO interview, read the full article below:
Latest: RBI Assistant Mains new exam date announced. Candidates can download the RBI Assistant Admit Card For Mains exam now.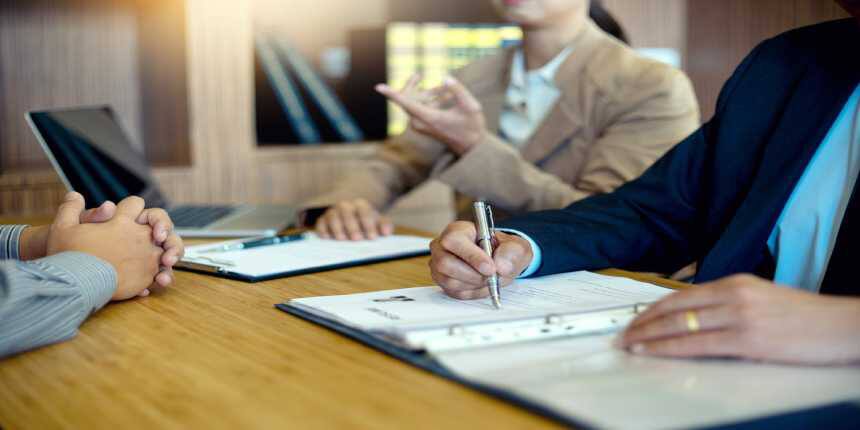 How to prepare for Bank PO Interview?
It is important to give your best performance during the bank PO interview questions because scoring well only in prelims and mains cannot decide your result. As per shared by the bank exams and IBPS PO selected candidates experience, aspirants must prepare themselves with the current affairs (especially banking and financially related information) before appearing in front of the interview panel. Apart from bookish knowledge, it is important for candidates to have good communication and interpersonal skills. The bank and other IBPS PO interview questions asked by the panel can be simple but tricky which will generally be based on common sense to check how spontaneous a candidate is. Be ready for that. Don't presume things for an interview. Just be confident and be you and this will definitely help you to go through the interview round.
The Bank PO interview is conducted to analyse the whole personality of candidates. So, be attentive with important things such as dressing style, expressions, gestures, temperament and many more.
How to prepare for Bank PO Interview: Sections from which questions are to be asked
Generally, there are three types of questions that will be asked from a candidate during a Bank PO interview.
Questions Based on CV/Profile
Bank and IBPS PO interview questions will be asked based on the information provided in the CV such as personal background, work experience, hobbies and many more. It is important to provide the correct information in your CV so that you can answer confidently about that. One of the most common questions that is common in almost all the interviews is, 'Tell me about yourself'. To answer this always keep in mind, Never start this answer telling your name because that is already written in your CV. With the help of this question, the panel tries to know about the information apart from that CV. Try to be attentive because there are a lot of tricky questions that are going to hit you from this category.
How to prepare for Bank PO interview - Questions Related to Banking Sector
As you are a banking aspirant, keep track of all the important information about the sector. Go through the current scenario of top banks such as RBI, SBI and many more before appearing in the interview. It is important for candidates to read the national dailies regularly and keep themselves abreast about the various happenings that are taking place in the banking and financial sector. It is important for students to understand the economic and financial stats of banking as well as other sectors.
Bank PO interview questions - Situation-Based Question
The situation-based questions are generally tricky questions and based on common sense. The panel tries to analyse the presence of mind and thought process of a candidate. The answer should be genuine and straight forward to the question. Don't go round and round with your answer. One of the most common questions from this section is,' Where do you want to see yourself after 5 or 10 years?' The answer to this question must be according to your capabilities and intelligence. Don't answer too much which is good to be true.
How to Prepare for Bank PO: Important Points
Apart from the series of questions, there are few things that a candidate must keep in mind before and during the interview process. Bank PO interview is one of the most important phases of the recruitment process and this will add weightage in the final allotment. It is important to keep in mind a few things mentioned below;
Physical Appearance/ Personality
Candidates need to be confident, interactive and dress smartly. Always wear formal attire in the interview round. This will show your seriousness towards the job. The candidate will be judged on the basis of their walk, the way they sit, talk and almost everything so be confident. Never show your lacklustre behaviour. Sit upright with good posture.
Good Communication Skill
The whole interview process is almost based on your communication skill. The way you talk represents what kind of person you are. Talk and answer every question confidently. Talk about professional aspects as well as a few personal criteria. This will help the panel to engage and make you more interesting. Don't show too much friendly attitude.
Carry documents
Make sure you carry all relevant educational, work experience certificates, identity proof and other documents to produce during the document verification. This should be arranged properly as prescribed in the notification.
How to prepare for Bank PO Interview: Things To Be Avoided
There are certain things that a candidate must avoid during the interview process. This will affect your personality and the final result. Candidates can check below the list of things that they must avoid at this stage of the recruitment process:
Never Come late. Reach the venue an hour before the time mentioned in the call letter. Not being punctual shows the negative attitude of the candidates.

Don't be rude or arrogant with anyone at the centre. Be Polite with everyone.

Don't make too many hand gestures. This will show your nervousness.

Don't answer questions in a sloppy or lazy manner. Sit upright and answer confidently.

Chewing gum, smelling like cigarettes or unnecessary activities will have a negative impact on yours. Be careful.

Never argue or complain about the delay or waiting time. This may be happening to check your patience.

Be subtle with your dressing. Don't wear earphones, Bluetooth, sunglasses or strong perfumes.

Last but not the least, don't interrupt in between when the panel is talking. Be a good listener. This will be a bonus for the candidates.
How to prepare for Bank PO: Important Key Skills
There are a few important skills that the interviewer will look for, in you:
Clarity of thoughts

Confidence in your knowledge

Honesty

Good communication skills

Good work ethics

Seriousness about job
Bank and IBPS PO Interview Questions
The questions will be based on the Economic situation of India, RBI, Repo rate, Reverse repo rate, GDP, Financial situation etc
Read More:
Frequently Asked Question (FAQs) - How to Prepare for Bank PO Interview
Question: What questions will be asked in a Bank PO interview?
Answer:
The interview panel will ask the question based on profile, current affairs or situations. The candidates must prepare themselves according to that.
Question: Is the Bank PO interview tough?
Answer:
It depends on your preparation and your confidence. If you prepare well and you confidently answer the questions it will be easier for you. There are certain questions that will be asked out of league, be confident with that too. Confidently say, Sorry I don't have an idea about this.
Question: Can I wear casuals during the Bank PO interview?
Answer:
Strictly No. Never wear casuals. Always wear formal attire that will show your seriousness.