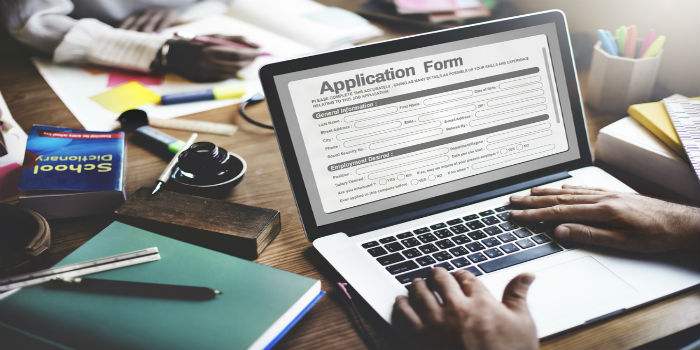 CDS Application Form 2019 - Union Public Service Commission (UPSC) had released the facility to withdraw CDS 1 application form from December 3, 2018. The application form could be withdrawn till December 10. Candidates had to enter the login credential in the login window to withdraw the application form. CDS application form 2019 was released along with the notification on October 31, 2018. The last day to fill the online application form was November 26, 2018. CDS 1 application form was filled in two parts – Part 1 was filling up of details like name, parents' name, nationality, category, email ID, contact details, corresponding address, etc. while in Part 2, candidates had to pay the fee, upload image of photograph and signature, selection of exam centres and agree to declaration by clicking in check box. While filling the online application form, candidates had to furnish details of at least one photo-identity proof like Aadhaar Card/ Voter Card/ PAN Card/ Passport/ Driving License.
Candidates had to pay the requisite amount of CDS application fee either through credit/ debit card, net banking or through bank challan. Candidates were advised to fill the application carefully as no correction or modification can be done after final submission of CDS 2019 application form. Candidates who have passed or are in final year of graduation can appear for CDS 2019 exam. Union Public Service Commission (UPSC) conducts CDS exam twice for the admission to Indian Army, Navy, Air Force, and OTA.
**Note - UPSC has released the list of rejected candidates who have not paid their application fee. 
Latest - List of rejected candidates - Click here
CDS Application Form 2019 Dates
The dates pertaining to CDS 1 application form are given below.
| Activity | Dates |
| --- | --- |
| CDS 1 application to begins on | October 31, 2018 |
| Last date to apply for CDS 1 | November 26, 2018 (till 6 PM) |
| Last date of fee payment | November 26, 2018 |
| Editing of CDS 1 application form | November 26, 2018 |
| Withdrawal of application form | December 3 - 10, 2018 |


How to Withdraw UPSC CDS 2019 Application Form
Union Public Service Commission (UPSC) has initiated withdrawal facility for UPSC CDS application form 2019. Candidates wishing to withdraw their application could do so from December 3, 2018. The facility was available till December 10 (6 PM). Before filing a request for withdrawal, candidates should first read the instructions. To withdraw the application, candidates must furnish details of application form along with registration ID. Prior to submitting the request for withdrawal of application form, candidates must make sure that they have access to the mobile number and email ID provided during registration as separate One-Time Passwords (OTPs) was sent to both. Withdrawal request of application form was accepted only when OTPs sent to candidates' mobile number and email ID has been verified. OTP sent to the mobile number and email ID of candidates remained valid for 30 minutes after which candidates needed to request for fresh OTPs. Although the withdrawal facility of application form was active till 6 PM, candidates were able to request OTP generation for withdrawal till 5:30 PM on December 10. CDS application form once withdrawn cannot be treated as final and the same cannot be revived again. Fee paid during registration was not be refunded after withdrawing application form. Candidates successfully withdrawing application form had received email and message on their registered email and mobile number regarding the same.
Snapshot of UPSC CDS Withdrawal Login Window
Documents required while applying for CDS Application Form 2019
The candidates who have applied for CDS application form required the following documents before filling the online application form.
Scanned photograph

Scanned signature

Matriculation Certificate

Active Email ID

One photo identity proof like Aadhar Card/Voter Card/PAN Card/Passport/Driving License
Steps to fill CDS Application Form
CDS application form 2019 can be filled in two stages:
Part 1 of CDS application form 2019 included filling up of basic details.

Part 2 involved filling of the requisite fee, uploading of photograph and scanned signature, selection of exam centre etc.
Stage 1 - CDS Registration Process
Click on the link available for part 1 of Registration of CDS 1 application form.
Read the important instructions and click on "yes" button to proceed further.
 Registration part 1 page appeared on the screen where candidates had to fill the basic details like their name, DOB, Father's name, Mother's name, address, a community the candidate belongs to (General, OBC, SC, ST).
Click on 'submit' button to submit the part 1 registration form of CDS application form.
Part 2 CDS Registration
Candidates need to login to part 2 registration through the registration ID generated, password and captcha code. Part 2 of registration involves four stages.
Payment of examination fee
Image uploading
CDS Exam centre selection
Declaration form
Payment of CDS Examination Fees
Candidates need to select the category and pay the requite application fee. The application fee for General and OBC candidates was Rs. 200 while female/SC/ST were exempted from fee payment. The mode of payment and payment gateway id given below.
| | |
| --- | --- |
| Mode of payment | Payment gateway |
| Online | Visa/Debit/Master card and Net Banking |
| Offline | Pay by Cash (challan) |
Structure of Application Fees
| | |
| --- | --- |
| Category | Application Fee |
| General & Others | Rs. 200 |
| Female/SC/ST candidates | Fee exempted |
Candidates who have applied for CDS application form 2019 had to upload the scanned photograph and signature of less than 300 KB and greater than 20 kb.
CDS Application Form Photographs and signature specification
| | | |
| --- | --- | --- |
| Images | File Format | File Size |
| Photograph of candidate | JPG format | 20KB to 300KB |
| Signature of candidate | JPG format | 20KB to 300KB |


Selection of Exam Centre
Candidates who have applied for CDS application form 2019 had to select one exam centres as per preference from the drop down menu while filling CDS application form 2019. Allotment of CDS exam centres will be on the first come and first serve basis. Applicants should note that there will be a ceiling on the number of candidates allotted to each of the centres except Chennai, Delhi, Dispur, Kolkata and Nagpur.

List of some important CDS exam centres
| | | |
| --- | --- | --- |
| S. No. | City | State |
| 1. | Agartala | Tripura |
| 2. | Ahmedabad | Gujarat |
| 3. | Aizawl | Mizoram |
| 4. | Allahabad | Uttar Pradesh |
| 5. | Bengaluru | Karnataka |
| 6. | Bareilly | Uttar Pradesh |
| 7. | Bhopal | Madhya Pradesh |
| 8. | Chandigarh | Punjab |
| 9. | Chennai | Tamil Nadu |
| 10. | Cuttack | Tamil Nadu |


Signing of Declaration Form
While filling the application form of CDS 1 exam, candidates had to check the filled in application form before final submission as no correction and modification can be done after that and click on 'I Agree' button. After successful completion of CDS application form 2019, the confirmation about the part 2 application was sent on the registered email ID.


CDS Application form 2019 - Correction Window
Editing of details in CDS application form will be entertained within the dates of application. Candidates are advised to fill the application form carefully. As candidates cannot edit the data entered in application form after the final submission.
How to retrieve password or registration ID?
To recover the registration ID or password, candidates need to refer to the registered email ID as which can help candidates recover their password or registration id. Candidates can also check their the registration number on the fee receipt.
CDS 2019 Application FAQs 
Ques. What should I do if there is a lot of delay in accessing the page?
Ans. The delay in accessing the Page depends upon various factors like Internet Speed, the large number of applicants trying to register the application at the same time etc. Therefore if a candidate is unable to get the page for registration promptly, please retry after some time or during off-peak hours.
Ques. How can I re-enter the system to submit my transaction details of the fee if I log out of the system now after printing challan?
Ans. An applicant, after having obtained the transaction id number, should again log in by making use of the Registration ID number generated at the time of submission of Part-1 of application & the date of birth of the applicant and thereafter enter the relevant particulars in the remaining columns. The Registration ID is also available on the challan. 
Ques. Should I send the printout of CDS application form 2019?
Ans. Once an applicant had successfully submitted the part-1 and part-2 of the application through online, the same was registered with the Commission and the applicant was not required to send a hard copy of the print out of his/her application to the Commission's office. However, it is strongly advised that the applicant to keep a hard copy of his /her application for his/her own record and future communication with the commission if any. 
Ques. I have filled up the form successfully but now, I want to change/correct the details I entered in the Application?
Ans. Once an applicant had filled up all the columns of the application and the system displays the message that the application has been submitted successfully, there is no provision in the system to make any changes in any of the columns. Hence, no change can be made at this stage in any of the details. However, if the time is still left for filing up the online application form, the applicant can resubmit afresh corrected application again with prescribed fee to be deposited again. In this case, a new RID will be generated by the system.