How to Crack UPSC NDA Exam - Check Study Plan and Preparation Tips
How to crack UPSC NDA exam? -The Union Public Service Commission (UPSC) conducts the National Defense Academy (NDA) exam. The UPSC NDA exam is India's popular defense academy exam for 10+2 male candidates from Physics, Mathematics and Chemistry (PCM) stream. 10+2 aspirants who wish to serve the country by joining the defense academies can apply for NDA 2021. However, before joining the defense academy, the main question is how to crack the NDA exam, how to start NDA preparations, preparation strategy, NDA exam tips and tricks etc.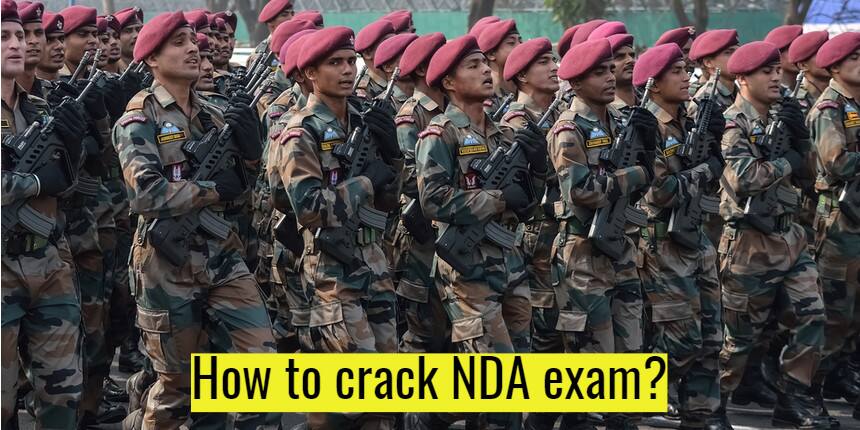 In this article on how to crack the UPSC NDA exam, we have covered every aspect that NDA aspirants might find useful, right from the question papers of NDA, previous year cut off marks, best books for NDA, and more. Candidates who are planning to submit the NDA application form 2021 will find these articles worthy.
Quick links:
UPSC NDA Exam Pattern and Syllabus
To crack the NDA exam, aspirants must first refer to the exam pattern and syllabus of the NDA exam. The exam pattern and syllabus consists of the NDA exam pattern and syllabus. As per the syllabus, there are two stages in the NDA exam - written test and SSB interview (Services Selection Board). Candidates who qualify in one stage will be selected for the next stage. The written examination is conducted in objective type questions and the SSB interview is conducted in person across 5-days. There is negative marking of 0.33% for wrong answers marked in the objective type question papers in the written test.
Scheme of the Exam: The Examination comprises a written examination which is in objective-type nature and Interview for intelligence and personality test.
Academy

Subject

M. Marks

Time

Written Examination

(i) Mathematics,

(ii) General Ability Test

(i) 300

(ii) 600




(i) 2.5 hours

(ii) 2.5 hours




SSB Test/Interview

--

900

--
There will be negative marking (one-third i.e. 33%) for wrong answers in the objective type question papers. Candidates who qualify in the written exam are called for SSB Interview. The SSB procedure consists of a two-stage Selection process - Stage I and Stage II. Only those candidates who clear Stage I are permitted to appear for Stage II.
Written Exam's Subjects, the time allowed and Maximum Marks to each subject are:
Paper (Code)

Subject

Part

T.Questions

Max. Marks

Duration

Paper-I (01)

Mathematics

--

120

300

150 minutes

Paper-II (02)

General Ability Test

Part A (English)

Part B (G.K.)

50

100

200 +

400 = 600

150 minutes

Total

270

900 marks

300

SSB- Intelligence & Personality Test

Stage-I




900 marks

__

Stage-II



Quick links:
How to crack NDA exam? - NDA Subject-wise preparation strategy
Preparation Strategy & Tips for Paper-I Mathematics

First to have the knowledge of the Mathematics syllabus in detail including topics and sub-topics.

Solve previous years' papers to know the nature and trends of question papers of NDA.

Make the basic concept of each syllabus topic clear from NCERT textbooks of classes XI & XII.

In addition, NCERT should go through some selected topics of Mathematics of R.S. Aggarwal, Mathematics for NDA & NA (S Chand Pub.), and NDA Entrance by E.S. Ramasamy.

Complete the study of the subject 2 months in advance if time allows.

Revise every topic and chapter at regular intervals to escape forgetting facts and concepts.

Practice sample papers or mock tests twice/thrice a week and check learning and speed.
Preparation Strategy & Tips for Paper-II General Ability Test (GAT).
(i) NDA Paper-II Part-A: English Preparation Strategy & Tips
Solve previous years' papers and compare the questions with syllabus topics.

Then learn the basic concept of each topic of the syllabus, mainly the grammar and vocabulary portion including synonyms and antonyms, etc.

Read newspapers regularly to make comprehension of news and English language better.

Should go through the books if time allows like Wren & Martin High School English Grammar and Composition, Word Power Made Easy by Norman & Lewis.

Check learning and study progress by practicing mock tests regularly and revise the weak areas where scores are poor.

Make revision timetable daily, weekly, and monthly and follow to keep in memory afresh.
(ii) NDA Paper-II Part-B: General Knowledge Preparation Strategy & Tips
Have detailed knowledge of the General Knowledge syllabus and cover it before the exam.

Know the nature and trend of previous questions by solving past papers.

Give more time to this section as per its weightage of questions and marks.

Plan the exam preparation according to the time available and adjust each topic on the timetable.

Mock test practice helps in the preparation and assessment of study progress.

Routinely revise each topic to keep facts and figures in memory.
Quick links:
UPSC-NDA: Interview/Personality Test Preparation Strategy
(a) Stage-I: It comprises Officer Intelligence Rating (OIR) tests are Picture Perception & Description Test (PPDT). The candidates will be shortlisted based on the combination of performance in the OIR Test and PPDT. It is for one day.
(b) Stage-II: It comprises interviews, Group Testing Officer Tasks, Psychology Tests, and the Conference. These tests are conducted over 4 days. The NDA candidates can check the details of these tests at joinindianarmy.nic.in.
At this stage, the personality of a candidate is assessed by three different assessors:
(i) The Interviewing Officer (IO),
(ii) Group Testing Officer (GTO), and
(iii) The Psychologist.
Quick links:
How to Manage Study for UPSC ?- NDA Preparation
(a) How to Improve Reading Speed -
The ability to read fast is the most important skill that helps in completing the vast syllabus UPSC-NDA exam. It is a skill and must be developed to cope and prepare for NDA. Some important tips to do so are:

Put the entire focus on whatever you are reading.

Note down the time of study to know how you are faring in covering a chapter or topic.

Move on to the next topic once done. Schedule revision separately after a gap of time.

Learn to skim over topics so that assimilation of facts is faster.

Practice till the desirable reading speed is achieved.
(b) How to Make your own Study Timetable -
Divide the syllabus of the written exam into Paper-I and Paper-II and each paper into sections or parts/subjects and each subject into chapters/ topics/ subtopics.

Check your strong and weak areas of different chapters, topics, and sub-topics and classify them according to the importance of questions generally asked in the examinations.

Then divide the period: one year into 12 months and then into weeks, and finally days. Now divide each day into hours and group time slots for subjects, revision, practice, etc.

Put the chapters for each subject in months, weeks, and days. Fix a schedule that ensures that the entire syllabus is completed well within time.

Incorporate revision time every day, every week, every month, and every third month to escape forgetting of studied matter.
(c) How to Schedule Revision for UPSC- NDA Preparation?
Revision is crucial so that aspirants do not forget the concepts, facts, and other information they have studied. If a gap of 9 to 15 days in between two revisions is given, chances are high of forgetting some of the topics learned. A good UPSC- NDA 3 Tier Revision Plan as given below will ensure this:
| | | | |
| --- | --- | --- | --- |
| 3 Tier Revision Plan | Daily Revision | Weekly Revision | Monthly Revision |
| Time | Morning and Night recaps | Sunday | Month End |
| Subject | Subject name | Sunday | Month End |
| Chapter | Chapter name | Sunday | Month End |
| Topic/Subtopic | Topic name | Sunday | Month End |
Quick links:
Practice Sessions: Candidates must make the 15th day and a day every 3rd month to be the "Practice day". This means that one should test oneself with mock papers, past years' question papers to understand and measure the preparation efforts.
Daily Revision Schedule: This is a must. Every day before sleep, one must revise all that was done that day. Likewise, in the morning, a quick revision of all chapters and topics studied the previous day must be done to keep the topics in memory.
Weekly Revision Schedule: This is another important measure. Every week, revision of subjects, chapters, and topics studied in the past 6 days of the week has to be done without fail. This will ensure a better performance in the actual exam.
Monthly Revision Schedule: This is the third stage of revision. It is better to do this every month for the last two days. Revision of all the subjects, chapters, and topics studied that month; solving practice tests and solved papers are the agenda in this schedule. Likewise, a quarterly and six-monthly revision schedule should be followed for good results.
Evaluation of Study Progress for UPSC- NDA Exam
(a) By Learning Evaluation: It is important to check the learning progress and evaluate preparation every week and every month. To do so, candidates must sit for a mock test and solve previous questions from the topics studied. What needs to be measured is the capability to answer the questions – be it hundred percent or fifty percent or even less. The other point to keep in mind is the number of questions that were not solved. The result of this test can point to the topics needing revision or further mastering and the topics from which aspirants can move on to the next ones.
(b) By Speed Evaluation: The best tools to evaluate speed as well as for areas of improvement are mock tests and practice papers. The process to evaluate would be to solve papers within a set time limit and gauge performance. Another measure to note would be to ensure improvement with each test taken.
NDA Question Papers 2021
UPSC releases the official NDA question paper 2021 on its website after the exam is conducted. The question paper is released for the written test - Maths and General Ability Test. Candidates planning to appear in the NDA exam, can download the question papers to know the difficulty level of the questions, types of questions asked in the exam, question pattern etc.
Quick links:
NDA Books 2021
The Union Public Service Commission NDA & NA exam is conducted twice a year. It is one of the most popular exams in India especially for students in 10+2. It is one of the difficult exams due to a lot of candidates applying for it, while on the other hand, the vacancies are low. However, candidates who have prepared well with the help of best NDA books 2021, can excel in the exam. The best books will help candidates to crack the NDA exam efficiently.
NDA Cut Off 2021
UPSC releases the cut off 2021 along with the result of NDA after conducting the SSB interview (Services Selection Board). The cutoff for NDA 2021 is released on the official website of UPSC at upsc.gov.in. The cut off is released in PDF format with the name of marks of recommended candidates. The cutoff of NDA will be released separately for the written exam and after the final selection process of NDA. Candidates will have to score equal to or more than the cut off marks to qualify the exam.
Quick links: