NDA Exam Centres 2020 - State Wise Test List Here
NDA Exam Centres 2020- Union Public Service Commission (UPSC) mentions the lists of NDA 2020 exam centres in its official notification. The exam centres of NDA 2020 are the venues wherein the exam would be held. NDA 2020 exam will be conducted across 41 exam centres in 30 States and Union Territories of the country. UPSC NDA examination centres will be allotted to candidates based on their preferences filled in the NDA application form. It is to be kept in mind that there is a ceiling on the number of candidates alloted to each NDA exam centres 2020 except Chennai, Dispur, Kolkata and Nagpur. Allotment to each centre will be on first-apply-first-allot basis. NDA exam is conducted twice a year, NDA (I) and NDA (II) in April and September respectively. Candidates are encouraged to fill the application early so that they get an exam centre of NDA 2020 of their choice. Candidates can find the allotment details of NDA exam centre 2020 on their respective admit cards. NDA 2020 exam centres once allotted cannot be changed under any circumstances. To know the list of NDA exam centres 2020, go through the article below.
Latest: NDA 1 exam 2020 has been postponed due to COVID-19. Solve NDA Question Papers to boost the preparation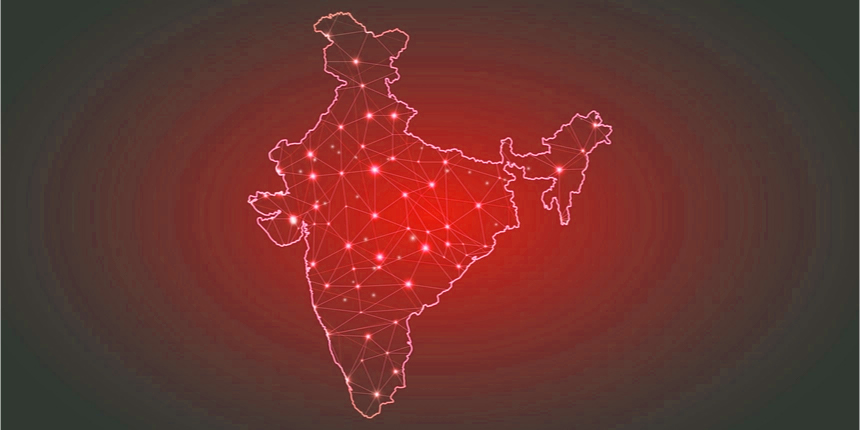 NDA Exam Centres 2020 (I & II) - Test Cities
| | | |
| --- | --- | --- |
| S.No | States /UT | Cities |
| 1. | Andaman and Nicobar | Port Blair |
| 2. | Andhra Pradesh | Visakhapatnam, Tirupati |
| 3. | Arunachal Pradesh | Itanagar |
| 4. | Assam | Dispur, Jorhat |
| 5. | Bihar | Patna |
| 6. | Chandigarh | Chandigarh |
| 7. | Chattisgarh | Raipur |
| 8. | Delhi and New Delhi | Delhi |
| 9. | Goa | Panaji |
| 10. | Gujarat | Ahmedabad |
| 11. | Himachal Pradesh | Shimla |
| 12. | Jammu and Kashmir | Jammu, Srinagar |
| 13. | Jharkhand | Ranchi |
| 14. | Karnataka | Bengaluru, Dharwad |
| 15. | Kerala | Kochi, Thiruvananthapuram |
| 16. | Madhya Pradesh | Bhopal |
| 17. | Maharashtra | Mumbai, Nagpur |
| 18. | Manipur | Imphal |
| 19. | Meghalaya | Shillong |
| 20. | Mizoram | Aizawl |
| 21. | Nagaland | Kohima |
| 22. | Odisha | Cuttack, Sambalpur |
| 23. | Rajasthan | Jaipur, Udaipur |
| 24. | Sikkim | Gangtok |
| 25. | Tamil Nadu | Chennai, Madurai |
| 26. | Telangana | Hyderabad |
| 27. | Tripura | Agartala |
| 28. | Uttar Pradesh | Bareilly, Lucknow, Prayagraj (Allahabad) |
| 29. | Uttarakhand | Dehradun |
| 30. | West Bengal | Kolkata |
NDA Exam Centres 2020- Important Points to Note
Candidates are required to opt for three NDA exam centres while filling the application form.

Allotment to each NDA exam centres will be on first-apply-first-allot basis.

Applicants need to keep in mind that there is a ceiling on the number of candidates alloted to each centres for NDA 2020 except Chennai, Dispur, Kolkata and Nagpur. Hence, they must fill the application form as early as possible to get a centre of their choice.

Applicants must select test cities for NDA 2020 exam centres wisely keeping in mind several factors like distance from their home, feasibility in transport, traffic jams and weather conditions.

UPSC also reserves the right to change the applicant's choice of NDA 2020 centres at their discretion if the situation demands.

Details about the exam centres of NDA 2020 exam will be mentioned in the admit card of candidates.

If any candidate appears at NDA 2020 examination centre other than the one indicated in the e-admit card, their papers will not be evaluated and their candidature to the NDA examination 2020 will be cancelled.

Exam centres of NDA 2020 once allotted cannot be changed under any circumstances.

If possible, applicants should visit the UPSC NDA 2020 exam centres one day before the exam date to have an idea of the route, traffic and to avoid last-minute confusions.

Candidates must carefully read and adhere to all the instructions printed on the admit card regarding the NDA exam centres 2020.
UPSC NDA 2020 Exam Day Guidelines
Candidates must reach their allotted NDA exam centres 2020 at least 1 hour in advance.

Applicants should carry a good quality print of their NDA 2020 e-admit card. Candidates will NOT be allowed to appear in the exam without their admit card.

Applicants also need to carry any one valid photo ID in original- PAN card/ driving license/ voter id/ passport/ aadhaar card/aadhaar enrolment receipt/ ration card to the NDA 2020 exam centres.

Phone/ microphone/ pager, calculator, camera, tape recorder, any metallic item or electronic gadgets etc. are not allowed in the examination room/ hall.
UPSC has released the NDA (I) application form 2020 on January 8 with the notification. The last date to apply online was January 28. Candidates need to apply for the NDA 2020 examination in two parts. In part-I, the basic details like name, address, academic details etc of an aspirant are registered. While in part-II, scanned photograph and signature of the candidate are to be uploaded in the pre-defined format and online payment is made accordingly. The print out of the application form and the payment receipt is to be kept for further reference.
Other Related Articles
Frequently Asked Question (FAQs) - NDA Exam Centres 2020 - State Wise Test List Here
Question: What do I need to carry to my NDA exam centre?
Answer:
The following items are allowed entry to an NDA exam centre: E-admit card downloaded from UPSC website, a valid photo ID proof in original, black pen, hardboard/ clipboard with no markings on it.
Question: Is there only one NDA exam centre in each particular city?
Answer:
There can be many exam centres in a particular city depending on the number of candidates appearing from that city. But aspirants are advised to apply as early as possible to make sure they are allotted a centre of their choice.
Question: Can the exam centre allotted for NDA be changed?
Answer:
Exam centres once allotted cannot be changed under any circumstances. Candidates while filling their application form are made to choose three centres of their choice. Among the chosen three centres, one centre is allotted to the candidate for appearing the exam on the given date. Aspirants are advised to give sufficient time on the day of exam for their commute so that they reach the allotted centre on time.
Question: How do I know my NDA exam centre?
Answer:
The address of the NDA 2020 exam centre with a pin code will be mentioned in the e-admit card downloaded by you.
Question: Will I be reimbursed travelling expenses to the exam centre?
Answer:
Candidates appearing for SSB interview for the first time for a particular type of Commission i.e. Permanent or Short Service, shall be entitled for AC III Tier to and fro railway fare or bus fare including reservation cum sleeper charges within the Indian limits. Candidates who apply again for the same type of Commission will not be entitled to travelling allowance on any subsequent occasion.
Question: When will the notification for NDA 2020 be out?
Answer:
The official notification for NDA 2020 will be available from January 8, 2020 on the UPSC website, upsconline.nic.in.
Question: When will the application for NDA 2020 start?
Answer:
The NDA application form 2020 will start from January 8 to Jan 28, 2020
Question: What if there are any errors in NDA 2020 admit card?
Answer:
Candidates whose admit cards are not available at the website or there are errors in name, date of birth, father's and mother's name etc should immediately contact the facilitation counter of UPSC. While reporting for any issue, candidates need to provide the name and year of examination, their name, roll number (if received), registration id and postal address as given in the application in all correspondences to UPSC.

The contact details of UPSC are given below.
Union Public Service Commission
Dholpur House, Shahjahan Road,
New Delhi - 110069
www.upsc.gov.in
Question: Are there any ailments that are accepted for the selection to NDA 2020?
Answer:
UPSC recommended the following minor ailments: Ear Wax, Deviated Nasal Septum, Hydrocele/ Phimosis, Overweight/ Underweight, Undersized Chest, Piles, Gynaecomastia, Tonsillitis, Varicocele
Questions related to NDA
Showing 1680 out of 1680 Questions