SBI PO Preparation Tips 2022 - Prelims, Mains & Interview
SBI PO Preparation Tips 2022 - Aspirants willing to join the State Bank of India need to crack the SBI PO 2022 exam. To crack the SBI PO exam 2022, it is important to follow proper SBI PO 2022 preparation tips. As per the preparation tips of SBI PO 2022, students need to cover the SBI PO syllabus with proper time management.
Stay up-to date with SBI PO News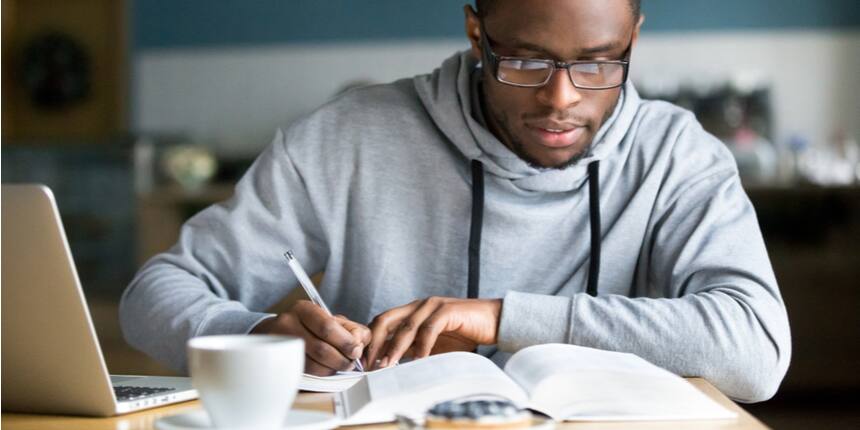 Solving sample question papers, appearing in mock tests and a healthy lifestyle should be included as a part of SBI PO preparation tips 2022. As per SBI PO selection procedure 2022, applicants need to appear in the three stages of the SBI PO recruitment process. The SBI PO full form is State bank of India Probationary Officers. The SBI PO official website is sbi.co.in and it is India's most popular banking competitive exam. To know more, read the full article below.
5 min read
Mar 05, 2022
Read More
Stage-Wise preparation tips of SBI PO 2022
The SBI PO 2022 test will be divided into three parts: preliminary, mains, and interview. To be shortlisted for the final allotment, you must qualify at each level. SBI PO, as a banking sector exam, is a little tougher than other banking examinations, and one factor that makes this test difficult is the number of people who applied. To pass SBI PO 2022, you must have a well-thought-out study strategy.
SBI PO Preparation Tips 2022 for Prelims Exam
The prelims exam for SBI PO 2022 is the first step in the recruitment process. Candidates must clear their fundamental topics as per SBI PO exam pattern 2022. The questions in the preliminary exam are divided into three categories: English language, reasoning, and quantitative aptitude. Although the questions are up to 10th grade level, candidates must be quick with calculations and understanding in order to complete the task in the allotted time. To achieve precision, it is critical to first understand the fundamental ideas and then practice as much as possible. On a daily basis, complete 3–4 sample papers. Memorize all of the question's shortcuts so that you can solve them in a short amount of time.
8 min read
Mar 05, 2022
Read More
SBI PO Prelims Exam Pattern
Sections

Number of questions

Duration

Total Marks

Reasoning Ability

35

20 minutes

100 marks

English Language

30

20 minutes

Quantitative Aptitude

35

20 minutes

Total

100

1 hour
Also Read: How to Prepare for SBI PO Exam?
SBI PO 2022 preparation tips for mains exam
Candidates who are shortlisted at the prelims stage are required to appear in the SBI PO 2022 mains exam. The mains exam is a little more difficult than the preliminary exam. It is recommended to prepare with prelims for hands so that once they are through in prelims, all they need to do is review and achieve more precision with the SBI PO syllabus. The mains exam will include the same material as the preliminary exam, with the addition of general and banking awareness, as well as computer ability. Because the sectional cut off is required to qualify, candidates are recommended to manage their time for each topic on a daily basis.
SBI PO Mains Exam Pattern 2022
Name of the test

No. of question

Duration

Total Marks

Data analysis and interpretation

35

60

200 marks

Reasoning & Computer Aptitude

45

45

English Language

35

40

General/Economy/Banking Awareness

40

35

Total

155

3 hours
Also Read:
Important

preparation tips of SBI PO 2022

Time Management: Time management is one of the main parts of a successful plan of study. The full SBI PO 2022 curriculum is prioritized and students must manage time according to their weaker and stronger sections. Concentrate more on the weakest area.

Strategize your topics: On one subject don't waste too much time. Students need to do their daily routine and endeavor to meet their everyday goals.

SBI PO Mock Tests: Appearing in the SBI PO mock test will help the students to know their preparation. Since the SBI PO mock tests are designed as the real exam, students will get a hack of the exact exam pattern and syllabus of SBI PO 2022.

Solving SBI PO sample papers: Following good SBI PO preparation tips 2022 includes the question papers of SBI PO 2022 that need to be solved on a daily basis. The sample papers will help the students to cover the topics and attain the accuracy for SBI PO 2022 exam.

Prepare Short Notes: Students must prepare short notes of crucial concepts or subjects while studying for SBI PO 2022. This will assist students in their revising work. With the help of your short notes, you can have quick revision without going through the entire chapter.

Choosing the SBI PO books: There are numerous books accessible in the market from various publishers. Candidates should keep in mind when purchasing the best books for SBI PO 2022 that the book must be based on the most recent curriculum and exam pattern for SBI PO 2022. See the table below for more information on the SBI PO 2022 books.

SBI PO 2022 Preparation Books
| | |
| --- | --- |
| Book Name | Author |
| Quantum CAT | Sarvesh Verma |
| Quantitative Aptitude | RS Aggarwal |
| Verbal- Non Verbal Reasoning | R.S. Aggrawal |
| Guide to Banking General Awareness | R.Gupta |
| Data interpretation for CAT | Arun Sharma |
| English Language | Wren & Martin |
| Essential English Grammar | Murphy |
| Guide to Banking General Awareness | R. Gupta |
Revision: One of the most important aspects of SBI PO 2022 preparation is revision. The revision will help in identifying what they are missing or where they are deficient in key portions. Students should organize their time so that they can review the relevant topics before the SBI PO test in 2022.
Stay Updated with Current affairs: It is important for students to stay current with current events, according to SBI PO 2022 preparation tips. Candidates are advised to newspapers in both Hindi and English on a regular basis. It will help you to qualify for the general awareness paper and also the interview round.
Check Exams Preparation Tips
Frequently Asked Question (FAQs) - SBI PO Preparation Tips 2022 - Prelims, Mains & Interview
Question: Can I prepare for SBI PO at home?
Answer:
Definitely, the above tips help you to cover all the topics and prepare best for the examination.
Question: Is there any specific strategy to prepare for SBI PO?
Answer:
Obviously not. Every student prepares as per their convenience because everyone has different levels of understanding regarding topics. However, it is important to follow one strict routine which includes all the parameters of good preparation.
Question: Is it difficult to clear the SBI PO?
Answer:
Nothing is difficult unless you have better preparation for that specific exam. Candidates just need proper guidelines and better preparation to crack SBI PO.
Question: How can I download the admit card of SBI PO?
Answer:
Candidates can visit the official website and enter the necessary credentials to download the admit card of SBI PO.
Latest Articles
SBI PO Study Material – Candidates appearing for SBI PO exam c...
23 Apr 2019
Best Books for SBI PO 2019 - Check the list of best books for ...
22 Apr 2019
Questions related to Preliminary
Showing 1 out of 1 Questions