How to Prepare for IBPS Clerk? Tips for IBPS Clerk Exam 2020
How to Prepare for IBPS Clerk 2020 - Institute of Banking Service Personnel (IBPS) conducts several recruitment exams and IBPS Clerk is also one of them. As per the IBPS Clerk eligibility criteria 2020, any graduate between the age of 21-28 can appear for the recruitment test and build a career in banking. The position of IBPS Clerk comes with enormous opportunities. This article on How to Prepare for IBPS Clerk will let one know some essential preparation tips to ace IBPS Clerk. Smart and dedicated work linked with a determined routine will give an edge to a candidate preparing for IBPS Clerk. It must be noted that the test for IBPS Clerk is a speed-test and the unlimited opportunities associated with the post makes it a highly competitive exam. Aspirants willing to apply for IBPS Clerk can follow these simple yet useful tips to crack IBPS Clerk. IBPS Clerk 2020 is scheduled to be conducted on December 5, 12 and 17 and therefore, candidates have ample time to prepare and revise the topics.
Latest: IBPS clerk prelims scorecard 2020 is available now. IBPS Clerk mains admit card 2021 is available till February 28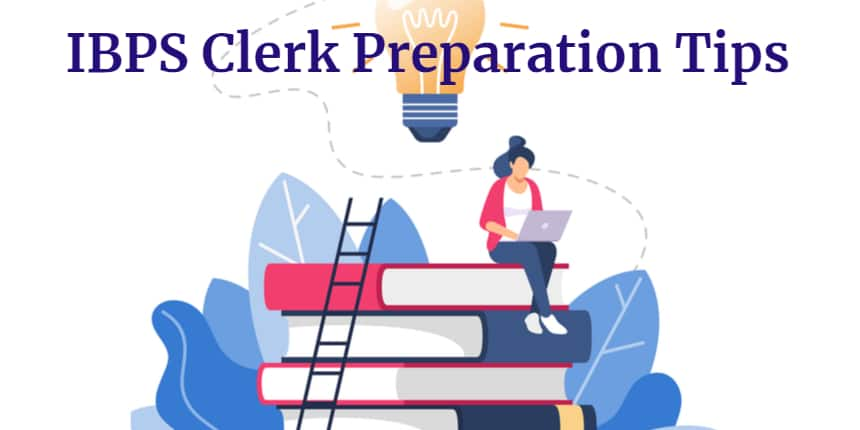 IBPS Clerk Preparation Tips 2020
IBPS Clerk exam is basically a speed test where a candidate is expected to attempt as many questions as he/she can in a limited time. The IBPS Clerk cut off marks are increasing every year and therefore a candidate must score sufficiently high marks to crack the exam. With these IBPS Clerk exam tips, one can definitely strategise the preparation in the right direction. To prepare for this test, one needs to get accustomed with the syllabus of IBPS Clerk and the exam pattern associated with it.
IBPS Clerk 2020 Preparation Tip 1: Know the Syllabus
Aspirants willing to take the exam must know the topics covered under each section of the subjects for both the phases to clear IBPS Clerk. With the help of IBPS Clerk syllabus 2020, candidates are able to plan the studies and focus on topics accordingly. Along with the syllabus, a list of the best books for IBPS clerk preparation is provided here so that the search for IBPS Clerk preparation tips ends here and candidates can actually kickstart.
IBPS Clerk 2020 Subjects, Topics Associated And Books
Subjects

Topics

Books

English Language

Reading Comprehension

Synonyms & Antonyms

Para Jumbles / Sentence Re-arrangement

Fill in the blanks

Paragraph Completion

Cloze Test

Multiple Meaning

Error Spotting in articles, spellings

Sentence Correction / Error Finding

Miscellaneous

Objective English: S. P. Bakshi

Word Power Made Easy: Norman Lewis

English Grammar & Composition: Wren & Martin

Plinth to Paramount (Volume I-II): KD Publication

Bank Clerk English Language Chapter-wise Solved Questions: Kiran Prakashan

Numerical Ability / Quantitative Aptitude

Simplification

Average

Percentage

Time and Work

Ratio and Proportion

Profit & Loss

Mixtures & Allegations

Speed, Time and Distance

Simple Interest and Compound Interest

Partnership

Number System

Data Interpretation

Permutation & Combination

Mensuration

Sequence & Series

Probability

Surds and Indices

Quadratic Equation

Data Sufficiency

Quantitative Aptitude: R.S. Agarwal

Magical book on Quicker Mathematics: M. Tyra

Data Interpretation: Arun Sharma

Topic-wise Solved Papers for IBPS/ SBI Bank PO/ Clerk Prelim & Mains Quantitative Aptitude: Disha Experts

Reasoning Ability

Coding & Decoding

Seating Arrangements

Blood Relations

Syllogisms

Directions & Distances

Classification & Analogy

Mathematical Inequalities

Ordering and Ranking

Arrangement & Pattern

Double line-up

Scheduling

Grouping and Selection

Alpha-numeric Series

Direction Sense

Puzzles

Data Sufficiency

Statement and Assumptions

Machine Input and Output

Modern Approach to Verbal Reasoning: R.S. Agarwal

A New Approach to Reasoning Verbal and Non-Verbal: Arihant Publication

Bank Clerk Reasoning Chapter-wise Solved Papers 2003 Till Date: Kiran Prakashan

Analytical Reasoning: M. K. Pandey

General / Financial Awareness

Banking/Financial terms

Current Affairs – news on the banking industry, awards, and honors, books and authors, latest appointments, obituaries, new schemes of central and state governments, sports, etc.

Static GK - country-capital, country-currency, headquarters of financial organizations (of insurance companies), constituencies of ministers, dance forms, nuclear and thermal power stations, etc.

Banking and Financial Awareness

Objective Banking & Financial Awareness: Dhankar Publication

General Knowledge: Lucent Publication

Banking Awareness (Objective with Subjective): Sangram Keshari Rout

Banking Awareness (English, Paperback): RPH Editorial Board

Computer Knowledge

Networking

Internet

Basics of Computer: Hardware, Software, Generation of Computers

DBMS

MS-Office

Important Abbreviations

Input-Output Devices

Objective Computer Awareness for General Competitive Exam: Arihant Publisher

Computer Fundamental: P. K Sinha
Tips for IBPS Clerk English Language Preparation
Enrich vocabulary by reading newspapers, listening to radio news in english.

Do not mug up rules. Practice to enrich the knowledge.

English, if practiced well, is indeed a scoring test. Learn and revise to score full marks in this section.
Preparation Tips for IBPS Clerk Numerical Ability/Quantitative Aptitude 2020
Check the topics mentioned under Numerical Ability/ Quantitative Aptitude

Start with calculations and follow this order to prepare Numericals

Implement the concept of calculations in simplification and approximation questions.

Practice percentage, ratios, simple and compound interest.

Increase efficiency for this section by using shortcut methods of formulae

Data interpretation and analysis questions under Numerical Ability/ Quantitative Aptitude will require a candidate to use the above topics for answering.

Maximum marks in minimum time could be fetched in simplification, approximation, data interpretation as the questions from these topics come in groups always.
Reasoning Tips for IBPS Clerk 2020 Preparation
Check previous year questions to know the sources and weightage of topics.

Know shortcuts for reasoning to answer quickly and correctly.

Allot sufficient time to revise the shortcuts
General and Financial Awareness Preparation Tips for IBPS Clerk Mains 2020
Divide general and financial awareness preparation into two parts - current part and static part.

Link current with static to develop a broad horizon

Read a newspaper on daily basis to excel in the current part.

Making notes of important events is also an important IBPS Clerk preparation tip

Give enough time for revision.

Do not wait for the prelims result to prepare for this topic. Start early.
IBPS Clerk Preparation Tip 2: Check Exam Pattern
The recruitment process of IBPS Clerk is two phased, prelims and mains. As per the IBPS Clerk exam pattern 2020, the tests for prelims and mains are held in online mode. Know the IBPS Clerk 2020 exam pattern before a strategy is prepared to crack the exam.
IBPS Clerk Exam Pattern
Specification

Prelims

Mains

IBPS Clerk Exam mode

Online

Online

IBPS Clerk Exam duration

1 hour

2 hours 40 mins

IBPS Clerk Medium of exam

English/ Hindi

English/ Hindi

Type of questions

Objective

Objective

IBPS Clerk Sections

3

4

IBPS Clerk Total questions

100

190

IBPS Clerk Total marks

100

200

Minimum qualifying marks

To be decided as per candidates' category and state applied
IBPS Clerk Preparation Tip 3: Give Mock Tests
The importance of mock tests in IBPS Clerk preparation cannot be denied. Candidates are encouraged to appear for as many mock tests to get accustomed to the online mode of IBPS Clerk exam. Mock tests are indeed a vital preparation tool. Since each section in IBPS Clerk 2020 exam is timed, attempting mock tests will enable one to utilise time at the optimum level.
Other IBPS Clerk 2020 Preparation Tips
Follow a disciplined routine.

Evaluate your strengths and weaknesses and focus on topics accordingly to ace IBPS Clerk 2020 in the first go.

Clear the basic concepts first from the syllabus of IBPS Clerk.

Since the tests in IBPS Clerk are timed, learn shortcuts to answer the questions.

Revise the learned shortcuts to answer accurately and in a jiffy.

One-fourth marks will be deducted for wrong answers, therefore practice each topic very minutely.

Attempt available online mock tests for IBPS Clerk.

Keep daily, weekly and monthly targets.

It is better not to isolate prelims and mains IBPS Clerk preparation. Prepare for both together in consonance.
Read More:
IBPS Clerk Eligibility Criteria 2020
How to prepare for IBPS Clerk 2020
Frequently Asked Question (FAQs) - How to Prepare for IBPS Clerk? Tips for IBPS Clerk Exam 2020
Question: Will there be any personal interview for IBPS Clerk?
Answer:
No, there won't be any personal interview for IBPS Clerk. Candidates need to qualify the prelims and then the mains.
Question: Can I prepare for IBPS Clerk at home without coaching?
Answer:
Definitely, you can. The preparation for IBPS Clerk 2020 is not very tough. A dedicated study will land you as a bank employee within a couple of months.
Question: Can a Clerk become a PO?
Answer:
Yes. Bank employees are given enough opportunities to climb the growth ladder. An employee joined as a Clerk can definitely become a PO provided he/ she is efficient and qualifies the internal promotion test.
Question: Can a 12th pass apply for IBPS Clerk?
Questions related to IBPS Clerk
Showing 138 out of 138 Questions
Institute of Banking Personnel Selection Common Written Examination for Clerk (IBPS Clerk)