Indian Coast Guard Recruitment 2019
Indian Coast Guard Recruitment 2019 - Serving in the Indian Coast Guard is not merely an employment, it is where you can play an important role in protecting the country's maritime interests and enforce maritime laws. The Coast Guard has a dedicated and professional team of officers and enrolled personnel in its various departments/branches. One can join Indian Coast Guard under Officers' Entry Scheme or under Navik and Yantrik Entry Scheme depending on their educational qualification and age. The various posts available under Officer's Scheme are Assistant Commandant (General Duty), Assistant Commandant (General Duty) (Pilot/Navigator) and Assistant Commandant (Technical Branch). Posts available under Navik and Yantrik scheme are Yantrik, Navik (General Duty and Domestic Branch).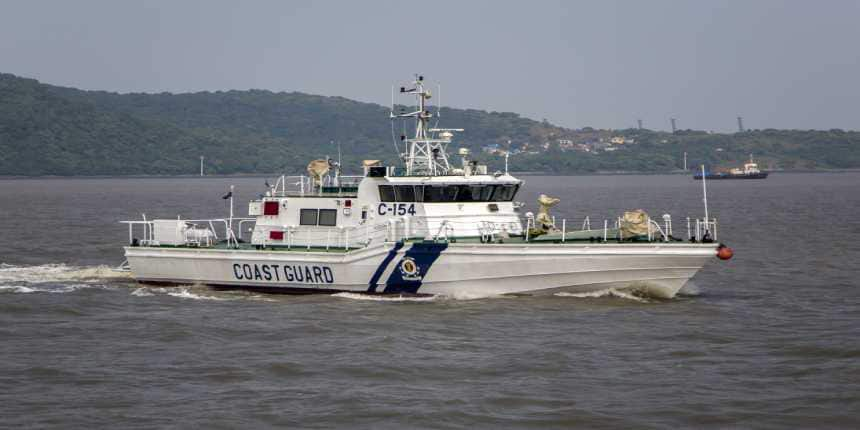 The benchmark for recruitment of Officers, Navik and Yantrik are set high, right from the screening stage. The selection process is stringent and ensures that only suitable candidates are inducted into the service. Indian Coast Guard Recruitment notification is released twice a year in January/February and August/September, respectively. Careers360 has discussed in details regarding Indian Coast Guard recruitment of Assistant Commandant, Yantrik and Navik. 
Yantriks in Indian Coast Guard deals with the maintenance and working of machinery. To be eligible for this post, candidates age should be between 18 to 22 years. They must have passed Class 10 and have a diploma in Electrical/Mechanical/Electronics and Telecommunication with 60%. Indian Coast Guard Yantrik recruitment comprises written test, physical fitness test and medical examination. Selected candidates will have to undergo training at Indian Naval Ship (INS), Chilka. Candidates joining as Yantrik are entitled to a pay scale of Rs 5200 to 20,000 and grade pay of Rs 2400. There are various ranks within this post - Yantrik, Uttam Yantrik, Pradhan Yantrik, Sahayak Engineer, Uttam Sahayak Engineer and Pradhan Sahayak Engineer. Depending on one's performance, promotions are offered to them. 
Candidates can join as Navik either in General Duty or Domestic branches of Indian Coast Guard. In General Duty branch Navik work as sailors, weapon system operators, communication specialists and divers. In Domestic Branch, Naviks are recruited as Stewards, Cooks etc. Candidates age for Indian Coast Guard Navik recruitment should be between 18 to 22 years. Educational qualification prescribed for General Duty branch is 10+2 with 50 % each in Maths and Physics. To be eligible for the domestic branch, candidates must have passed Class 12 with 50%. Candidates will be shortlisted for the written examination based on their marks secured in 10+2. The written examination is an objective type test carrying questions from Maths, Physics, Chemistry, English, General Knowledge, Current Affairs, Quantitative Aptitude and Reasoning. Candidates qualifying the written examination will have to undergo Physical Fitness Test and Medical Examination. The basic pay for Navik is Rs 21,700 besides candidates are entitled to Dearness Allowance and other allowances. A Navik can be promoted to Pradhan Adhikari based on their performance. 
This is for Officers Entry. Both male and female candidates can apply for this post. Recruitment is done for two branches – General Duty and Technical. To be eligible for Assistant Commandant posts, candidates age should be between 21 to 25 years. Shortlisting of candidates for this post will be done based on their performance in mental ability test/cognitive aptitude test and picture perception and discussion test (PP&DT). The selected candidates will get basic pay of Rs 15,600 to Rs 39,100 along with grade pay of Rs 5400.