Type of Questions in IBPS RRB Assistant 2020
Type of Questions in IBPS RRB Assistant 2020 - Students aiming to crack IBPS RRB 2020 are now appearing for their examination. One important topic students are always confused about is what types of questions will be asked in the IBPS RRB Question paper 2020. Candidates must keep themselves aware that the questions are always asked from the latest syllabus and exam pattern of IBPS RRB. As per the IBPS RRB 2020 officer scale - 1 examination which was recently conducted, major questions are from the important topics such as puzzle, inequality, number series, quantitative aptitude, word problems and many more. In this article, you can have ideas about all those important topics about the IBPS RRB 2020 exam.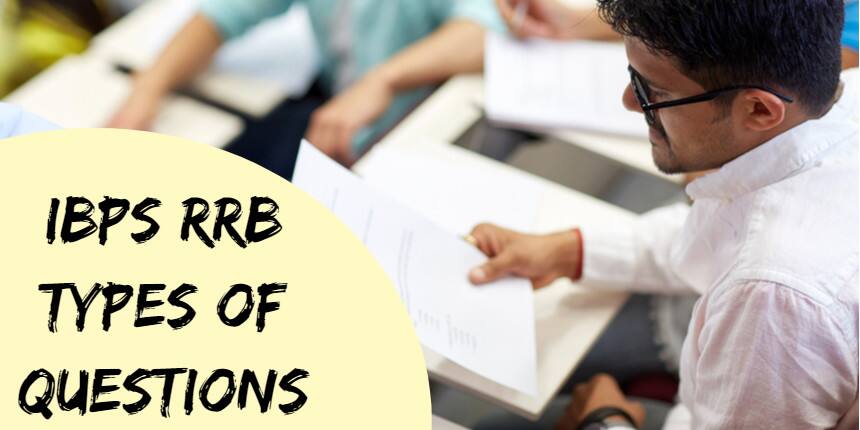 IBPS RRB Assistant : Types of Questions in Reasoning
There are two subjects in the prelims exam of IBPS RRB 2020 that is Reasoning and Quantitative Aptitude. Both the papers need good command over basics and proper practice.
Reasoning section is the one of the sections which is asked in almost all the competitive exams, candidates are a bit confused if basics are not cleared and consume too much time for solving questions. As these exams are completely based on time policy, you need to know short tricks to solve important questions. There are some topics from the reasoning ability section which are asked repeatedly almost every year. We will discuss all those topics and some important types of questions for IBPS RRB Office Assistant Prelims examination.
Puzzle and Seating Arrangement:
This is the one of the most important topics to discuss and on the priority level. This year in IBPS RRB Officer scale - I 2020 prelims exam, there were almost 12-15 questions in almost all the shifts. Questions from this topic are a little tricky which need proper practice and better understanding of language and direction.
The seating arrangement is the logical arrangement of either objects or people in a logical manner. One has to either perform the arrangement to answer the questions or decode the predefined arrangement by applying the logical analysis.
As per the feedback, mostly questions are in square or linear seating arrangements in IBPS RRB examination which can be easily solved.
Blood Relation
Blood Relation is also one of the important topics to cover since there are 4-5 questions every year in IBPS RRB office assistants exam 2020. In these types of questions, you need to find the relation between two people on the basis of explanations given in the questions. This is one of the easiest topics to cover and all you need is proper practice to solve questions.
There are 6 persons B, C, D, E, F and G in a family. C is the mother in law of G, who is the father of E. D is the mother of F and has only one daughter. There is no single parent in the family.

Question 1: How is E related to D?

Question 2: How is B related to F?




There are seven members, A through G in a family. There is no single parent in the family.

G's only sister's mother's only brother's father is B. F is the only son in law of D. Gender of E and C is the same. G is the only nephew of A. C doesn't belong to the 2nd generation.

Question 3: How is C related to B?

Question 4: How is E related to F?
Syllogism
This one of the major and confusing topics of reasoning, in which a conclusion is drawn from two given or assumed propositions. This topic will cover 5 questions of IBPS RRB 2020 examination. Candidates must solve 3-4 sample papers of IBPS RRB based on syllogism to clear their basics and to attain accuracy. Check below the types of questions asked under this topic
Statements:

All milk is water.

Some milk is Tea.

No Coffee is Tea.

Conclusions:

I. Some milk is Coffee.

II. No milk is Coffee

III. All milk being coffee is a possibility.

(a) None follows

(b) only II follows

(c) only III and either I or II follow

(d) only I follows

(e) only either I or II follow

Statements:

Some schools are College.

Some Colleges are Lectures.

All Classes are College.

Conclusions:

I. Some Lectures are not Class.

II. Some Schools are Class.

III. Some College is not School

(a) Only I follows

(b) Only II follows

(c) Only III follows

(d) None follows
Number Series
The number series is one of the easiest but tricky sections of IBPS RRB question paper. Candidates need to have knowledge about basic maths to solve the questions from this section. This year there were 4-5 questions in all the shifts of IBPS RRB 2020 Officer scale - I prelims exam. Candidates must keep in mind all the important tables, square roots , table and basic BODMAS theory. This section is mutual in both the quantitative and reasoning series. Questions in both may be different types but their basis will be the same. Wrong number series, find missing numbers are few important types under this section.
13, 10, 36, 152, 760, 4632

(a) 3 (b) 36 (c) 4632 (d) 760 (e) 152

67, 1091, 835, 899, 883, ?

(a) 889 (b) 887 (c) 883 (d) 894 (e) 896

Types of Major Pattern Under Number Series Section

Ascending/Descending

10 26 58 122 ?

Decimal Pattern

17 9 10 16.5 ?

Alternate/Reverse

64 128 92 220 148 ?

Bracket Pattern

5 11 32 ? 444
IBPS RRB : Types of Questions in Quantitative Aptitude Section
The Quantitative Aptitude Section of IBPS RRB 2020 needs the proper practice and basic knowledge of mathematics upto Class Xth. Candidates appearing for IBPS RRB 2020 Office assistant prelims exam must prepare themselves by solving sample papers on a daily basis. We will discuss some of the important topics which come up almost every year in both the IBPS RRB 2020 prelims and mains examination. It is important to know types of questions in the quantitative aptitude section for a better idea of IBPS RRB question paper.
Data Interpretation
The method of making sense of a set of data that has been processed is Data Interpretation. From the graphical data and other types of it, we can see if we can make sense. We will learn to use it to answer the most popular questions in this quantitative aptitude segment. This year in IBPS RRB officer scale -I 2020 exam, there were 14-15 questions from this topic which makes this section very important. The Data Interpretation questions are basically based on table data, graph data, caselets and few more. This section needs speed with accuracy.
Word Problems
The second most important section for IBPS RRB 2020 prelims exam because there were 10-11 questions out of 40 questions in IBPS RRB Officer scale - I prelims exam. This section is based on mathematical word problems from chapters like ratio and proportion, average, percentage, simple interest, trains, stream and boats and few others. To solve problems from this section, you need to have a better understanding of language. Sometimes there will be easy questions but the language makes the question tricky. Carefully read the question before solving. Check below some of the questions that will help you to understand the questions from this section.
Q: A 180 meters long train running at a speed of 90km/hr passed a 240 meters long platform in T seconds. If a train passes a tunnel in (7.2 +T) sec then find the length of tunnel?
(a) 350 meters (b) 420 meters (c) 480 meters (d) 300 meters (e) 260 meters
Q: A can do a piece of work in 30 days. He works at it for 10 days and then B finishes it in 40 days. In what time can A and B be together?
(a) 20 days (b) 25 days (c) 30 days (d) 32 days (e) 27 days
Q: By walking at a speed more than his usual speed, a man reaches his office 20 minutes earlier. Find the usual time taken by him to reach the office.
(a) 45 minutes (b) 50 minutes (c) 60 minutes (d) 75 minutes (e) 90 minutes
Q: A person can row km an hour in still water. He finds that it takes twice the time to row upstream than the time to row downstream. The speed of the stream is
(a) 2 km/hour (b) 2.5 km/hour (c) 3 km/hour (d) 4 km/hour (e) 3.5 km/hour
Q: Sanjay and Deepak invest in the ratio of After 6 months, Praveen also invests equal to the investment of Deepak. If at the end of the year total profit is Rs 2420, then find the total profit of Deepak and Praveen together.
(a) Rs 1320 (b) Rs 1580 (c) Rs 1760 (d) Rs 1110 (e) None of these
Quadratic Equation
Quadratic Equation comprises almost 5-6 questions every year in the IBPS RRB 2020 exam. With daily practice of sample papers, you can easily solve these problems with accuracy in examination. Check below the type of questions from the quadratic equation section on the basis of questions asked in IBPS RRB Officer scale - I 2020 prelims exam.
Directions: In the following questions, two equations numbered are given in variables x and y. You have to solve both the equations and find out the relationship between x and y. Then give answer accordingly-

I. 3x2 – 13x – 30 = 0,

II. 3y2 + 17y + 20 = 0

A) If x > y

B) If x < y

C) If x ≥ y

D) If x ≤ y

E) If x = y or relation cannot be established

I. 2x2 – 19x + 45 = 0,

II. 3y2 + 16y – 12 = 0

A) x > y

B) x< y

C) x ≥ y

D) x ≤ y

E) x = y or relationship cannot be determined

I. 3x2 + 4x – 32 = 0,

II. 2y2 – 19y + 42 = 0

A) x > y

B) x< y

C) x ≥ y

D) x ≤ y

E) x = y or relationship cannot be determined

I. 3x2 – 5x – 28 = 0,

II. 3y2 – 32y – 35 = 0

A) If x > y

B) If x < y

C) If x ≥ y

D) If x ≤ y

E) If x = y or relation cannot be established
Also Read:
IBPS RRB Office Assistant 2020 – last-minute tips for the Numerical Ability Section
IBPS RRB Assistant 2020 – Last minute tips and Strategy for Reasoning Section
IBPS RRB Preparation Tips 2020
Frequently Asked Question (FAQs) - Type of Questions in IBPS RRB Assistant 2020
Question: When will the IBPS RRB 2020 prelims result be out?
Answer:
The prelims result of IBPS RRB 2020 will be declared after the completion of both the IBPS RRB Officer scale - I and Office Assistants prelims exam.
Question: Is there any interview round in IBPS RRB 2020?
Answer:
The interview round will be conducted for the post of Officer scale - I exam after the mains exam. There will be no interviews for Office assistants.