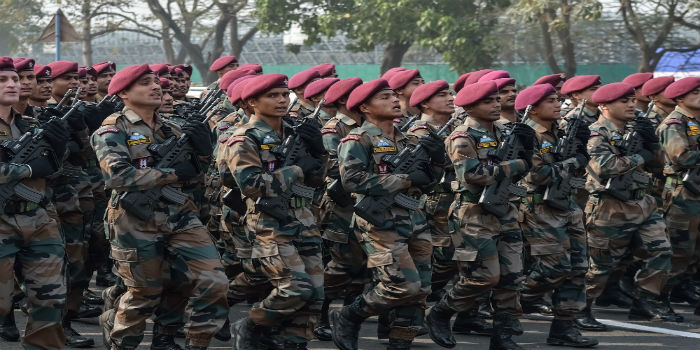 Army TES 2019 - Technical Entry Scheme or TES is a national level exam, conducted for recruitment of officers in the technical branch of Indian Army for granting Permanent Commission in the Army technical division. All the eligible candidates can start filling the application form for Army TES 41 from October 29 to November 27 in online mode. Aspirants who have passed 10+2/HSC with a minimum aggregate of 70% in Physics, Chemistry and Mathematics and are between 16.5 to 19.5 years can apply for TES Entry. The recruitment exam is conducted twice a year. The candidates joining Army TES will be given an Engineering Degree and will be allotted technical branches like engineering, EME, Signals, Army aviation Corps but they can also join other fields like infantry, artillery etc. Both TES 41 and TES 42 will have approximately 90 vacancies.
Candidates are selected for SSB Interview based on the cut off decided by the Additional Directorate General of Recruiting. Those recommended by SSB and are found medically fit will be appointed for training in the order of merit. Selected candidates undergo five years training (1 year at Officer's Training Academy, Gaya and 4 years at Cadet Training Wings i.e CME Pune, MCTE Mhow). After successfully completing the training period they are commissioned into Indian Army with the rank of Lieutenant. Read below for more details on Army TES dates, eligibility, vacancies, application form, cut off, salary, selection procedure and training.
LATEST: Army TES 41 Application Form available - Apply Here 
Army TES 2019 Vacancy

Candidates who wish to apply for Army TES 2019, can check the vacancies below:
| | |
| --- | --- |
| Session | Vacancies |
| Army TES 41(July) | 90 |
| Army TES 42 ( January) | 90 |
Army TES 2019 Dates
| | | |
| --- | --- | --- |
| Exam Events | Army TES 41 | Army TES 42 |
| Application form | October 29, 2018 | May/June |
| Last date to apply |  November 27, 2018 |  - |


Army TES Application Form 2019
Candidates have to fill the application form online. You need to fill in the basic information. All incomplete online applications will be rejected directly. Candidates must read all the instructions carefully to check the eligibility and application procedure before starting the online registration of Army TES 2019.
 Documents required to fill Army TES application form
Marksheet of class tenth, as the details about candidate's name, father's name, mother's name and date of birth will be filled strictly as per matric certificate.

Marksheet of class twelve.

Passport size photograph 
How to fill Army TES Application Form 2019
Click on the link ARMY TEST 41 application form provided above

Fill up your details and read all the terms and conditions before submitting the form.

After form submission, an acknowledgement with a roll number will appear. In case, your roll number is not generated then there might be some problem with form submission.
After online submission, candidates must keep two copies of application print out and the roll number generated by the system. Sign on the copies that you will be carrying to the SSB interview.
Do not send any hard copy to DG RTG/ RTG DTE
Candidature of a candidate can be cancelled under the following grounds
Not carrying the copy of the online form and required documents to the Selection centre for the interview.

Applying twice for the same entry by the same candidate can also result in cancellation of form.

No incorrect details must be filled in the online application form that will also result in cancellation of application and also action will be taken against them.
Please Note
Any change in postal address after form submission must be informed by post with your name, roll no and course opted for.

Depending upon the total number of applications received by the office of 10+2 TES course, Recruiting Directorate reserves the right to fix cut off a percentage of PCM marks for SSB interview and shortlist the applicants according to it. 
Documents to preserve after filling Army TES application form 2019
 Carry the following documents for SSB interview
Marksheet of class tenth, as the details about candidate's name, father's name, mother's name and date of birth will be filled strictly as per matric certificate.

Marksheet of class twelve.

ID proof

Take two photocopies of all the above-mentioned certificates. Original will be returned to you once verified at the SSB.

Also, carry 20 copies of passport size photographs with the application form.

The second printout of online application must be with the candidates for future references.


Army TES Eligibility Criteria 2019
Candidates applying for Army TES 2019 must meet the minimum eligibility requirements in terms of educational qualification, age criteria and medical standards. Candidates can check the eligibility criteria below.
 Nationality:
Candidates applying for Army TES 2019 must be a citizen of India

Candidates from Bhutan, Nepal, Tibetian refugee, Pakistan, Burma, Sri-Lanka and East-African countries of Kenya, Zambia, Malawi, Uganda, the United Republic of Tanzania and Zaire Ethiopia must have a certificate of eligibility that has been issued by the government of India
Age limit:
The candidate must be between 16.5 and 19.5 years of age on the first day of the month in which course is due to commence. 
Education Qualifications:
Candidates who have passed 10+2 /HSC with 70% in Physics, Chemistry and Mathematics from a recognized board. 
Marital Status
 Only unmarried candidates can apply for Army TES.
 Medical Standards
The candidate must be mentally and physically fit.

They must not be suffering from any disease or disability which might affect their performance.

The minimum acceptable height is 157.5 cms. For candidates belonging to hills of North Eastern regions of India, Garhwal and Kumaon, the minimum acceptable height will be 5 cms less. In case of candidates from Lakshadweep, the acceptable height can be reduced by 2 cms. 
Tattoo Policy
Candidates belonging to tribal communities or tribal areas as declared by the Government of India are permitted to have permanent tattoos on any part of the body.

For other candidates, permanent tattoos are permitted on the following body parts, inner face of forearms i.e. from inside of the elbow to the wrist of both the hands and Reverse side of the palm/back side of both hands. But the candidates are required to sign a self-certification certificate. Also, they will need a certificate, that they belong to a particular tribe and the permanent tattoo is permissible signed either by DC/DM OR SDM of the district where the tribe is permanently settled or chairman/secretary or any other senior member of a tribe.


Army TES Admit Card 2019
The call letters of Army TES 2019 SSB interview will be sent to the registered email ID. The admit card of Army Tes will be provided by the respective selection centres where the SSB interview will be conducted.  Candidates will be notified about their call letters via SMS. The call letter will have candidate's details like their name, address of allotted centre, photograph, etc. Candidates must check all the entries in the call letter. In case of any mismatch or spelling mistakes, the candidate should immediately inform the authorities.
Indian Army Technical Entry Scheme 10+2: Army TES 2019 overview
| | |
| --- | --- |
| EXAM NAME | Army TES(Technical Entry Scheme 10+2) |
| Conducting body | Join Indian Army |
| Number of vacancies | 90 |
| Duration of course | 5 years |
| Category | National |


Army TES Cut off 2019
Candidates have to secure cut off percentage decided by Additional Directorate General of Recruiting to qualify Army TES 2018. They have to secure cut off percentage of Army TES 2018 to become eligible for next round of selection process i.e. SSB. Candidates can check the last few year's Army TES cut off percentage from the table mentioned below.
 Army TES Cut off 
| | |
| --- | --- |
| Army Tes Course | Cut-off percentage |
| Tes 40 | 85% and above |
| Tes 39 | 83% and above |
| Tes 38 | 85% and above |
| Tes 37 | 80% and above |
| Tes 36 | 87% and above |


Army TES Selection Procedure 2019
Candidates will be shortlisted on the basis of cut off percentage decided by the Additional Directorate General of Recruiting.

Selected candidates will receive a mail or SMS about their Selection Centre Allotment. 

Candidates will have to select their SSB date (First cum first serve basis) by logging into their selection centre links, sent to them via email.

Selected candidates will undergo SSB interview at Allahabad, Bengaluru and Bhopal. (Duration of SSB interview is 5 days, they have to go through Psychological tests, group tests and an interview.) 


Army TES SSB Interview 2019
Candidates have to report at the allocated centers. Documents verification will take place and they will be assigned a number by which they will be identified throughout the process. They will also be given the common instructions and schedule.

On day 1, a verbal and non-verbal intelligence test (about 50 questions each) and a Picture Perception and Description Test(PPDT) will be taken. Candidates have to observe it and in four minutes they must make a story of about 70 words out of the pictures. In stage two of the PPDT, all the candidates have to make a common story. After this test, unsuccessful candidates have to return back.

On day 2, a Psychological test will be taken in which writing is administered. Other tests which will be taken on the second day are Situation Reaction Test and a Self-Description Test.

For the next two days, there will be group discussions, group planning exercises, progressive group tasks, command tasks, snake race and a final group task take place.

From day 2 to 4, individual candidate's interviews are conducted by the interviewing officers.

On day 5 a final assessment is given and a conference is held. With this the final results are announced and all the successful candidates have to stay for a medical examination (3 to 5 days) in a military hospital.

Candidates selected by the SSB and are medically fit will be appointed for training according to their merit list and vacancies available. Only those candidates will be admitted who are declared medically fit by the medical board 
Note: Candidates appearing for SSB interview for the first time shall be entitled to AC III Tier, railway fare and bus fare including reservation within the Indian limits. Candidates who have applied the second time will not be given any travel allowances.
Army TES Training 2019
Basic training: 1 year (Officer Training Academy, Gaya)

Technical training:
Phase I: Pre-commission training (3 years, CME (College of Military Engineering Pune or MCTE Mhow (Military College of Telecommunication Engineering or MCEME (Military College of Electronics and Mechanical Engineering Secunderabad.)
Phase II: Post-Commission Training (1 year at CME Pune or MCTE Mhow or MCEME Secunderabad.)
Award of Degree: After completing the training successful candidates will be awarded Engineering degree. In case, they fail to do so, the same will result in the loss of seniority to them. Their commission can also be terminated in case they fail to qualify the three years of commissioning.


Army TES Salary 2019
The candidates will be given a stipend of Rs. 56,100/- per month till completion of 3 years of training. After completing 4 years of training, they will be given the rank of Lt and they will be paid as much as a Lt is paid.
Pay scale and promotion criteria
SL No.

Rank

Pay scale/level of scale

Promotion criteria

1

Lieutenant

Level 10 (56,100-1,77,500)

On commission

2

Captain

Level 10B (61,300-1,93,900)

On completion of two years

3

Major

Level 11 (69,400-2,07,200)

On completion of six years

4

Lt. Colonel

Level 12A (1,21,200-2,12,400)

On completion of thirteen years

5

Colonel (TS)

Level 13 (1,30,800-2,15,900)

On completion of twenty-six years

6

Colonel

Level 13 (1,30,800-2,15,900)

On selection basis subject to fulfillment of requisite service conditions

7

Brigadier

Level 13A (1,39,600-2,17,600)

8

Major General

Level 14 (1,44,200-2,18,200)

9

Lt. General

Level 15 (1,82,200-2,24,500)

10

VCOAS

Level 17 (2,25,000/-) fixed

11

COAS

Level 18 (2,50,000/- ) fixed


Army TES Allowances
| | | |
| --- | --- | --- |
| 1 | Dearness Allowance | Admissible under the same rates and conditions as applicable to the civilian personnel from time to time |
| 2 | Kit maintenance allowance | Subsumed into the newly proposed dress allowance i.e Rs. 20,000 per year |
Army TES Military Service Pay (MSP): Officers from the rank of Lieutenant to Brigadier will be given Rs. 15,500/- per month fixed.
Children's education allowance: Rs.2250/- per child (first two children) only. It is given only till class 12th.
Army TES Types of Commission
After completing four successful years of training, cadets will be granted Permanent Commission in the Army with the rank of Lt.

Seniority: They will also be granted seniority on overall order of merit of the three technical institutes combined i.e., CME, MCTE and MCEME.