VYAPAM Recruitment 2019 - VYAPAM (Vyavsayik Pariksha Mandal) or Madhya Pradesh Professional Examination Board (MPPEB) conducts various recruitment and other entrance examinations every year. VYAPAM recruitment 2019 will be held for hiring and offering jobs for various posts. VYAPAM vacancy 2019 will be announced in due course, as and when vacancies for different posts are announced. VYAPAM will also release the notification, advertisements and application links for these vacancies/posts. Candidates can find links to VYAPAM admit card or VYAPAM result from the table below. To get access to the VYAPAM notification, apply online links, admit card, answer key, etc. refer to the tables below as per the posts.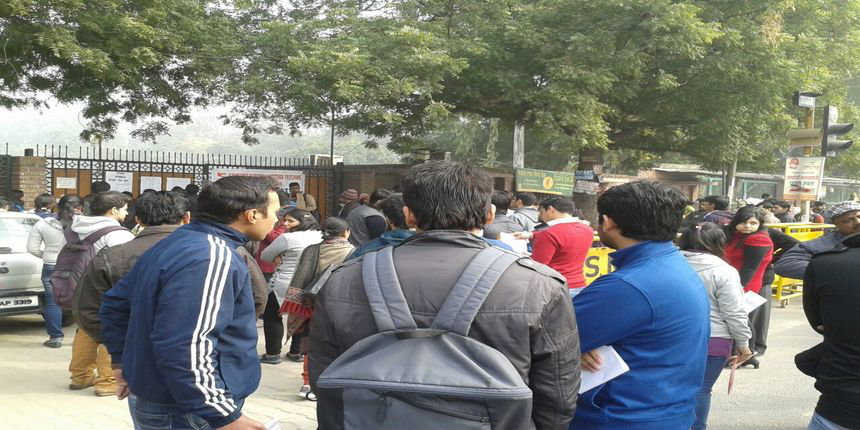 VYAPAM Vacancy 2019
The authority will announce VYAPAM vacancies for these posts - Assistant Director, Assistant Grade II, Steno Typist, Naib Tehsildar, Field Assistant, Assistant Account Officer, Deputy Manager, Investigator, Patwari, Teacher Eligibility Test (TET), Deputy Engineer, Lab Technician, Radiographer, Supervisor, Inspector, etc. 
VYAPAM Eligibility Criteria 2019
The eligibility of candidates for appearing in the exams held for different posts of VYAPAM varies and is different for different posts. Candidates have to check the VYAPAM eligibility criteria 2019 for the respective posts they are applying for. The VYAPAM 2019 eligibility criteria include requirements related to age, education, number of attempts, etc. Before filling the VYAPAM application, candidates must ensure that they meet all the eligibility conditions set by the authorities, so that at any later stage their candidature is not cancelled. 
VYAPAM 2019 Application Form  
Madhya Pradesh Professional Examination Board (MPPEB) or VYAPAM releases the application form in online mode for different posts. Candidates can fill the VYAPAM application in online mode. Candidates must not start filling VYAPAM application form 2019 on the last date, rather should complete it with a few days left in hand so as to avoid any hassle at the last moment. Without completing any preceding stage of the application form of VYAPAM, candidates can not move further. Also, it must be noted that without paying the requisite fee in the mode as prescribed, the VYAPAM apply online process would not be considered complete. We will provide the VYAPAM 2019 apply online links in the tables below as and when they are released.   
VYAPAM Vacancy 2019 for Assistant Director 
| | |
| --- | --- |
| Post Details | Links  |
| Post | Assistant Director  |
| Educational Qualification | To be notified |
| Age  | To be notified  |
| VYAPAM Vacancy 2019 | To be announced |
| Notification | To be released soon  |
| Apply Online Link or Application Link  | To be released  |
| Admit Card | To be released |
| VYAPAM Answer Key  | To be released  |
| Result  | To be declared  |
| Cut off  | To be released  |
VYAPAM Recruitment for Assistant Grade II
| | |
| --- | --- |
| Post Details | Links  |
| Post | Assistant Grade II |
| Educational Qualification | To be notified |
| Age  | To be notified  |
| VYAPAM Vacancy 2019 | To be announced |
| Notification | To be released soon  |
| Apply Online Link or Application Link  | To be released  |
| Admit Card | To be released |
| VYAPAM Answer Key  | To be released  |
| Result  | To be declared  |
| Cut off  | To be released  |
VYAPAM Recruitment for Naib Tehsildar
| | |
| --- | --- |
| Post Details | Links  |
| Post | Naib Tehsildar |
| Educational Qualification | To be announced |
| Age  | To be notified  |
| Notification | To be released soon  |
| VYAPAM Vacancy 2019 | To be announced |
| Apply Online Link or Application Link  | To be released  |
| Admit Card | To be released |
| VYAPAM Answer Key  | To be released  |
| Result  | To be declared  |
| Cut off  | To be released  |
VYAPAM Vacancy for Assistant Account Officer
| | |
| --- | --- |
| Post Details | Links  |
| Post | Assistant Account Officer |
| Educational Qualification | To be notified |
| Age  | To be notified  |
| Notification | To be released soon  |
| VYAPAM Vacancy 2019 | To be announced |
| Apply Online Link or Application Link  | To be released  |
| Admit Card | To be released |
| VYAPAM Answer Key  | To be released  |
| Result  | To be declared  |
| Cutoff | To be released  |
VYAPAM Recruitment for Deputy Manager
| | |
| --- | --- |
| Post Details | Links  |
| Post | Deputy Manager |
| Educational Qualification | To be announced |
| Age  | To be notified  |
| Notification | To be released soon  |
| VYAPAM Vacancy 2019 | To be announced |
| Apply Online Link or Application Link  | To be released  |
| Admit Card | To be released |
| VYAPAM Answer Key  | To be released  |
| Result  | To be declared  |
| Cut off | To be released  |
VYAPAM Recruitment for Deputy Engineer
| | |
| --- | --- |
| Post Details | Links  |
| Post | Deputy Engineer |
| Educational Qualification | To be announced |
| Age  | To be notified  |
| Notification | To be released soon  |
| VYAPAM Vacancy 2019 | To be announced |
| Apply Online Link or Application Link  | To be released  |
| Admit Card | To be released |
| VYAPAM Answer Key  | To be released  |
| Result  | To be declared  |
| Cutoff | To be released  |
VYAPAM Vacancy for Inspector
| | |
| --- | --- |
| Post Details | Links  |
| Post | Inspector |
| Educational Qualification | To be notified |
| Age  | To be notified  |
| Notification | To be released soon  |
| VYAPAM Vacancy 2019 | To be announced |
| Apply Online Link or Application Link  | To be released  |
| Admit Card | To be released |
| VYAPAM Answer Key  | To be released  |
| Result  | To be declared  |
| Cut-off | To be released  |
VYAPAM Recruitment for Steno Typist
| | |
| --- | --- |
| Post Details | Links  |
| Post | Steno Typist |
| Educational Qualification | To be notified |
| Age  | To be notified  |
| Notification | To be released soon  |
| VYAPAM Vacancy 2019 | To be announced |
| Apply Online Link or Application Link  | To be released  |
| Admit Card | To be released |
| VYAPAM Answer Key  | To be released  |
| Result  | To be declared  |
| Cutoff | To be released  |
VYAPAM Recruitment for Field Assistant
| | |
| --- | --- |
| Post Details | Links  |
| Post | Field Assistant |
| Educational Qualification | To be announced |
| Age  | To be notified  |
| Notification | To be released soon  |
| VYAPAM Vacancy 2019 | To be announced |
| Apply Online Link or Application Link  | To be released  |
| Admit Card | To be released |
| VYAPAM Answer Key  | To be released  |
| Result  | To be declared  |
| Cut off | To be released  |
VYAPAM Recruitment for Investigator
| | |
| --- | --- |
| Post Details | Links  |
| Post | Investigator |
| Educational Qualification | To be announced |
| Age  | To be notified  |
| Notification | To be released soon  |
| VYAPAM Vacancy 2019 | To be announced |
| Apply Online Link or Application Link  | To be released  |
| Admit Card | To be released |
| VYAPAM Answer Key  | To be released  |
| Result  | To be declared  |
| Cut-off | To be released  |
VYAPAM Vacancy for Patwari
| | |
| --- | --- |
| Post Details | Links  |
| Post | Patwari |
| Educational Qualification | To be declared |
| Age  | To be notified  |
| Notification | To be released soon  |
| VYAPAM Vacancy 2019 | To be announced |
| Apply Online Link or Application Link  | To be released  |
| Admit Card | To be released |
| VYAPAM Answer Key  | To be released  |
| Result  | To be declared  |
| Cutoff | To be released  |
VYAPAM Recruitment for Teacher Eligibility Test (TET) 
| | |
| --- | --- |
| Post Details | Links  |
| Post | Teacher Eligibility Test (TET)  |
| Educational Qualification | To be announced |
| Age  | To be notified  |
| Notification | To be released soon  |
| VYAPAM Vacancy 2019 | To be announced |
| Apply Online Link or Application Link  | To be released  |
| Admit Card | To be released |
| VYAPAM Answer Key  | To be released  |
| Result  | To be declared  |
| Cut off | To be released  |
VYAPAM Recruitment for Lab Technician
| | |
| --- | --- |
| Post Details | Links  |
| Post | Lab Technician |
| Educational Qualification | To be declared |
| Age  | To be notified  |
| Notification | To be released soon  |
| VYAPAM Vacancy 2019 | To be announced |
| Apply Online Link or Application Link  | To be released  |
| Admit Card | To be released |
| VYAPAM Answer Key  | To be released  |
| Result  | To be declared  |
| Cut off | To be released  |
VYAPAM Vacancy for Radiographer
| | |
| --- | --- |
| Post Details | Links  |
| Post | Radiographer |
| Educational Qualification | To be announced |
| Age  | To be notified  |
| Notification | To be released soon  |
| VYAPAM Vacancy 2019 | To be announced |
| Apply Online Link or Application Link  | To be released  |
| Admit Card | To be released |
| VYAPAM Answer Key  | To be released  |
| Result  | To be declared  |
| Cutoff | To be released  |
VYAPAM Recruitment for Supervisor
| | |
| --- | --- |
| Post Details | Links  |
| Post | Supervisor |
| Educational Qualification | To be announced |
| Age  | To be notified  |
| Notification | To be released soon  |
| VYAPAM Vacancy 2019 | To be announced |
| Apply Online Link or Application Link  | To be released  |
| Admit Card | To be released |
| VYAPAM Answer Key  | To be released  |
| Result  | To be declared  |
| Cutoff | To be released  |