How to Prepare for RAS 2020 - Check RPSC RAS Preparation Strategies Here
How to Prepare for RAS 2020 - If the determination is blended with the right approach and structured planning then to qualify the RAS 2020 exam is inevitable. Around 6-7 Lakhs aspirants appear in the exam and only those make it to final selection who know best RAS preparation tips. The RPSC RAS exam is conducted in three stages hence applicants should be equipped with the best strategy to qualify the exam. Along with knowing the preparation tips one should also know the RPSC RAS Exam Pattern and syllabus which will complete the preparation. Go to the article to read how to prepare for the RPSC RAS 2020 exam with below mentioned strategies.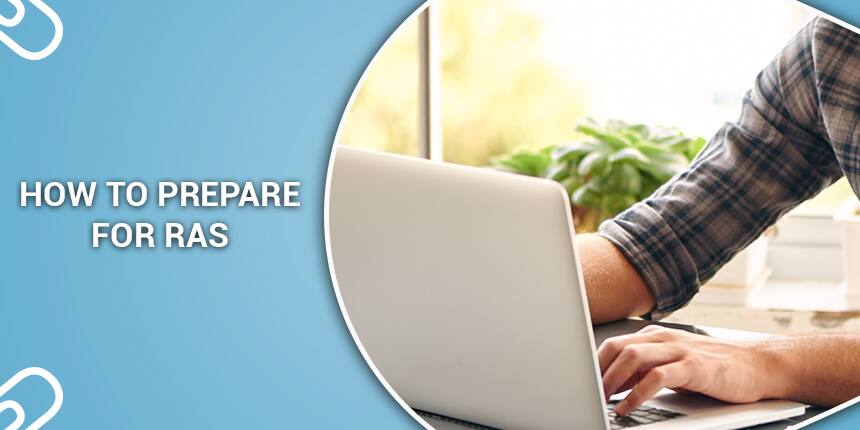 How to Prepare for RAS 2020 - RPSC RAS Preparation Strategy 2020
While preparing for the Rajasthan Administrative Services exam, the first thing which haunts candidates is how to prepare for the RAS 2020 exam, and which methodology to adopt in order to qualify.
Know RPSC RAS exam pattern

Complete RPSC RAS Syllabus with standard books

Make a disciplined Study Schedule

Be adaptive to online studies

Revision and Mock test is Key

Be healthy, hydrated and composed during preparation
Know RAS Exam Pattern 2020
Applicants should know the exam pattern of both prelims and mains as both of these are vital for the preparation. Applicants should note that the RAS exam pattern is different for each stage. The details of the RPSC RAS 2020 exam pattern is mentioned below.
RAS 2020 Exam Pattern
| | | | |
| --- | --- | --- | --- |
| Stage of Exam | Number of paper | Total Marks | Time Duration |
| Prelims | 1 | 200 | 3 Hours |
| Mains | 4 | 800 | 3 Hours each |
| Interview | Not applicable | 100 | 45 - 60 Minutes |
After knowing the exam pattern one should also know the RPSC RAS syllabus and try to complete it within time so that he/she can do revision later on.
2. Follow only Standard books to complete the Syllabus
"Read one book ten times rather than reading ten books one time. "
Aspirants who are planning to appear in RPSC RAS 2020 should believe in the above mentioned quote. After knowing the exam pattern and syllabus, the second important thing of RAS preparation tips is from where we should read to complete the curriculum. It should be noted that applicants should only follow the authentic and limited books to cover the syllabi.
NCERT books of class 6th to 12th.

Rajasthan Adhyayan Bhag I to IV

Polity by Laxminkant

Rajasthan Aaj Tak by Dr. Dinesh & Pushpa Sharma

Economy book by Ramesh Singh
3. Make a Disciplined Study Schedule
After knowing the syllabus and exam pattern one should also prepare a daily schedule of study. By making a routine chart applicants will be able to know what to prepare and how to prepare for RAS. After making the daily schedule one should allot the time to each section so that equal time can be devoted. After one hour of study there has to be a gap to prepare for the RPSC RAS exam so that the mind can be rejuvenated.
4. Be Adaptive to Online Studies
Students should also take the help from online resources of study. There are various youtube channels and mobile applications which help the students to prepare for RAS without coaching at home. Though while taking the help from online material candidate has to be alert also as there is flood of information which might deviate from the focus.
5. Revision and Mock Test is Key
Applicants who want to know how to prepare for RAS should keep in mind that revision is very important. By revising the concepts multiple times one can easily recall the topic while appearing in exam. To perform well in the exam one should regularly solve the online RAS mock test at home. This practise will develop their confidence before they appear in the real time exam.
6. Be healthy, hydrated and composed during Preparation
While preparing for Rajasthan Administrative Services exam one should not only focus on exam pattern, topics and best books but also be attentive to one's health. As we know that a healthy mind lives in a healthy body. Hence one should remain calm, composed and hydrated then only they can take the maximum output of their efforts and qualify the RAS exam with good rank.
Other important Links
Frequently Asked Question (FAQs) - How to Prepare for RAS 2020 - Check RPSC RAS Preparation Strategies Here
Question: Is it possible to crack the RAS exam in 6 months?
Answer:
Yes, if the correct strategy is followed by the right amount of preparation then it is possible to crack RAS in 6 months time only.
Question: When should we have to prepare for the RPSC RAS exam?
Answer:
Candidates who want to get selected in the exam should start preparing after class 12th standard.
Question: Can an average student crack RAS without coaching?
Answer:
To qualify the exam does not require any coaching, anyone who is self motivated and prepares the syllabus with standard books and regularly attempts mock tests.
Question: How can I secure a top position in the RAS exam?
Answer:
One should not only perform well in preliminary exams but also do well in mains exams. The good marks in mains exam can be secured by writing practises.