How to Prepare for CDS Exam 2020 | CDS Exam Preparation Tips 2020
How to Prepare for CDS Exam 2020 - Candidates preparing for the Combined Defence Service exam should follow the UPSC CDS exam preparation tips. These CDS exam tips help in making the correct and effective strategy for exam preparation. To get selected for final recruitment, candidates have to qualify the written exam followed by SSB interviews. In order to know how to prepare for CDS exam, initially, candidates should be aware of the CDS exam syllabus and pattern. UPSC CDS 2020 is scheduled to be held on November 8, 2020. CDS 1 Exam was conducted on February 2, 2020. To know how to crack CDS 2020 exam with flying colors, we are catering to some CDS exam preparation tips and tricks which are imperative from the preparation point of view. CDS preparation tips 2020 includes exam pattern, section-wise preparation tips, best books to prepare and section-wise weightage of topics. Read the article to know all details on how to prepare for CDS exam 2020-
Latest- CDS 2 Application form 2020 has been released on August 5, 2020 at the official website. Check the CDS eligibility before filling the form.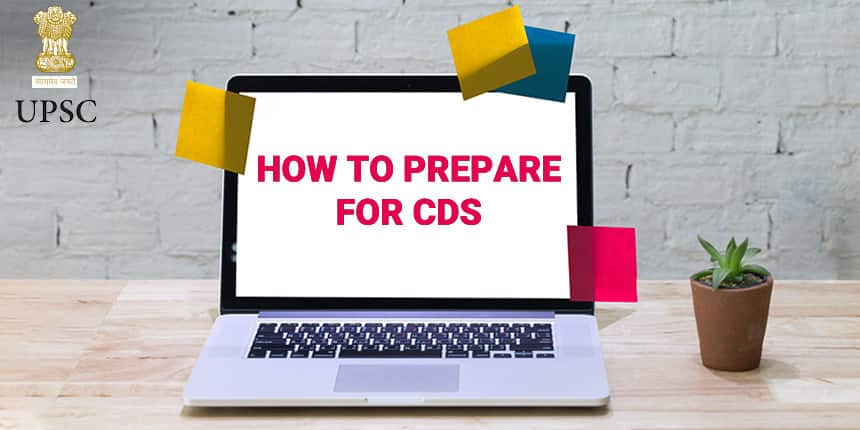 How to Prepare for CDS Exam 2020 I CDS Exam Preparation Tips 2020
The first thing which haunt the candidates while strategy making to qualify the exam is how to prepare for CDS 2020. Candidates who are preparing for the competitive exam i.e CDS first time must devote a year to understand the nuances of the exam and get selected in the exam.
Know the CDS Exam Pattern & Syllabus
The written exam of CDS consists of three sections - English, General Knowledge and Elementary Mathematics.
candidates need to answer the questions from English and General Knowledge only.
Candidates get two hours to answer each section where the maximum marks allotted to each section are 100.
The written exam has negative marking wherein 0.33 marks will be deducted for each wrong answer.
The negative marking is 1/3rd in CDS exam. Hence candidates should not attempt those questions in which they are not confident.
CDS 2020 exam pattern for Officers' Training Academy
| | | |
| --- | --- | --- |
| Subjects | Time Duration | Maximum marks |
| English | 2 Hours | 100 |
| General knowledge (GK) | 2 Hours | 100 |
| Total | 4 Hours | 200 |
CDS 2020 exam pattern for Indian Military Academy, Indian Naval Academy and Air Force Academy
| | | |
| --- | --- | --- |
| Subjects | Time Duration | Maximum Marks |
| Elementary Maths | 2 Hours | 100 |
| English | 2 Hours | 100 |
| General knowledge (GK) | 2 Hours | 100 |
| Total | 6 Hours | 300 |
CDS Syllabus 2020
Candidates must also know the syllabus in order to make a good CDS exam strategy. Below are the important tips
CDS Exam Topics
| | |
| --- | --- |
| Subject | Topic |
| English | English Comprehension |
| | Finding errors & Omissions |
| | Fill in the blanks |
| | Jumbled Sentence |
| | Sentence Correction, etc. |
| General Knowledge | Current affairs or events like politics, sports, Indian economy, daily news, etc. |
| | History of India and Geography |
| | Books and their Authors |
| Elementary Mathematics | Arithmetic |
| | Elementary Number Theory |
| | Geometry |
| | Algebra |
| | Trigonometry |
| | Mensuration |
| | Statistics |
How to Prepare for CDS Exam 2020 I CDS Exam Preparation Tips 2020
CDS Preparation Tip 1- Make a Study Plan
To know how to prepare for CDS exam 2020, candidates should first make their full proof strategic study plan. After making the study plan, candidates should abide by that to ensure their success in exam. Without a study plan, candidates often get diverted from their destined target. The study plan also helps in avoiding last minute hassle to revise the syllabus in one go. Before making a plan, candidates should also check the CDS Cut off 2020 to set a target for themselves.
CDS Preparation Tip 2- Strengthen the Basic
To start off the CDS preparation, understanding the basics of each topic is crucial to score good marks in CDS exam. Key point of how to prepare for CDS 2020 exam is to know the trends of questions asked in the previous year exam. Hence, if a candidate has a good command of fundamental concepts and complete clarity regarding the concepts, then rest of the things will fall in place. However, if the basics of candidates are not clear, then whatever the effort one puts in, then the result will not be in their favour.
CDS Preparation Tip 3- Practice Previous Year's Papers
By solving previous years' CDS question papers, candidates will know the trends of questions asked in the exam. Sometimes even questions asked from static gk are repeated which will save the time of the candidates while solving in the exam. Hence, It is advisable to candidates to practice the last 10-year question papers. Solving CDS previous year paper will help the candidates to figure out their weak areas so that they can work it and improve their. Solving CDS memory based questions will help the candidates in predicting the questions in the upcoming exam and accordingly candidates can compose their strategic plan of how to crack CDS 2020.
CDS Preparation Tip 4- Solve Mock Test
Solving mock tests is equally important tips to prepare for CDS 2020 exam. Practising mock tests help the candidates to know the areas of their weaknesses and strengths and accordingly candidates can improve their weak areas by working on it and sharpen their strengthen areas. By analysing the answers deeply, candidates can improve their questing solving time & accuracy and eventually increase their confidence to qualify CDS online exam
CDS Preparation Tip 5- Prepare in time bound manner
Exam like CDS requires not only preparation but accuracy and thorough knowledge. Many times students solve the questions but they take more than required time to solve the question. Hence it is advisable for the candidates to solve the online mock test of the CDS exam by keeping in mind to attempt the questions within a specified time limit. This will not only help them to handle the pressure as in real-time exam but also to improve the speed and accuracy.
CDS Preparation Tip 6- Preparing short notes
Making short notes must be a regular practice to prepare CDS 2020 exam. These short notes play a vital role during the revision process. Making notes on all the important topics will enable the candidates to understand them better. Candidates can write shortcut and formula to use them during revision time, hence they do not have to go through the entire syllabus again. This exercise will cover all the topics and not even a single topic has to be compromised. Candidates have to ensure that short notes should be crisp and in bulleted format.
CDS Preparation Tip 7- Make Revision an Integral Part
After completing the syllabus, candidates are advised to keep at least the last month for revision only. Revision helps in retaining the facts for a longer duration. The more you revise better will be your CDS preparation strategy for the exam. Following all the CDS exam tips 2020 helps in knowing what and how to prepare for CDS exam 2020 in a better way.
CDS Preparation Tip 8- Refer to Best Books
Referring to the right books is also a good CDS preparation strategy as too many books may lead to confusion and distraction. Below is the list of subject-wise best books to refer for CDS exam preparation-
| | |
| --- | --- |
| Books | Authors |
| Objective General English | S. P. Bakshi |
| Wren & Martin's High School English Grammar & Composition | Wren and Martin's |
| Daily newspapers | The Hindu, Indian Express, etc. |
| Geography & History | NCERT (Std 6th-12th) |
| Quantitative Aptitude for Competitive Examinations | R. S. Aggarwal |
Other Links
Questions related to CDS
Showing 508 out of 508 Questions