NDA 2020 - Apply Online, Dates, Result (OUT), Cut off
NDA 2020 (1 & 2) - Union Public Service Commission (UPSC) has released the UPSC NDA 2020 result on October 9 at its official website. Earlier exam conducting authority has released the application withdrawal window on July 13. Earlier UPSC has released the NDA notification and application form on June 16, 2020. The last date to apply for NDA 2 was July 06. NDA 1 and 2 2020 is scheduled to be held on September 6, 2020. Candidates who's age is between 16.5 and 19.5 years and have passed 12th class can apply for NDA 2020 (1 & 2). UPSC will conduct the NDA exam 2020 across 41 different cities in India. The total number of vacancies mentioned in NDA 1 notification is 418, while for NDA 2 is 413. Candidates will be selected based on their performance in NDA Exam written test and SSB Interview. NDA 2 2020 exam is scheduled to be conducted on September 6, 2020. Candidates will be able to apply for the NDA 2 exam from June 16 to July 06, 2020. Candidates who will qualify in the written exam of NDA 2020 will have to take SSB interview, after qualifying which would get them shortlisted to the final merit list.
Latest: UPSC NDA 2020 result has been released on October 9 at the official website.
UPSC has released the NDA (II) 2019 official answer key on September 28. Check it here - NDA answer key. UPSC has released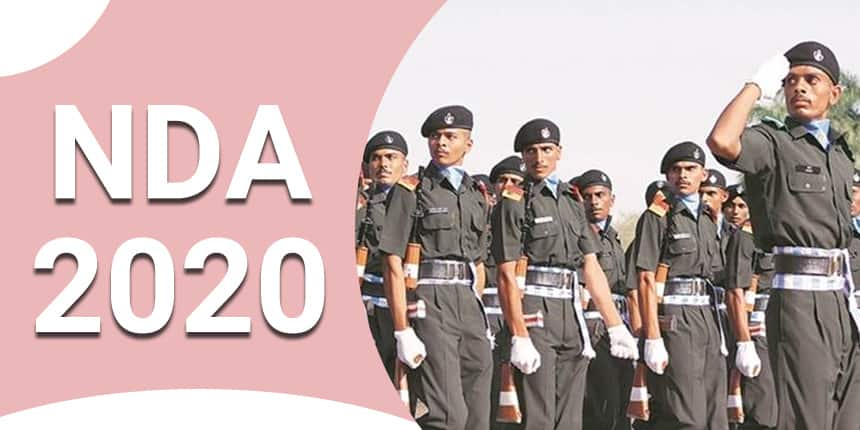 NDA 2020 (I & II) Overview
Overview

Specifications

NDA Full Form

National Defence Academy & Naval Academy Examination

NDA 2020 Exam Dates

NDA 1 - April 19, 2020, September 06, 2020

NDA 2 - September 6, 2020

Commonly known as

NDA & NA

Conducting Authority

Union Public Service Commission

Exam category

National

Exam level

10+2/HSC

Exam mode

Offline

Frequency of conduct

Twice a year

Stages

Written exam and SSB Interview

Exam cities

41

Scope of NDA

Admission to:

Army

Air force

Air Force

Vacancies

Total - 418 (NDA 1), 413 (NDA 2)

Army - 208

Navy - 42

Air Force - 120 (Including 28 for Ground Duties)

Naval Academy 48
NDA 2020 (I & II) Important Dates 2020
Candidates should be aware of the complete details of NDA 2020 exam dates to track all events on time.
NDA Exam Dates 2020
| | | |
| --- | --- | --- |
| Events | NDA I 2020 Dates | NDA II 2020 Dates |
| NDA 2020 notification | January 8, 2020 (Released) | June 16, 2020 |
| Start date of application form | January 8, 2020 (Released) | June 16, 2020 |
| Last date to submit the application form | January 28, 2020 | July 06, 2020 |
| Last date of fee payment online | January 28, 2020 | July 06, 2020 |
| Last date of offline fee payment | January 28, 2020 | July 06, 2020 |
| NDA application form withdrawal window | - | July 13 to 19, 2020 |
| Admit Card | August 10, 2020 (Released) | August 10, 2020 (Released) |
| NDA 2 2020 Exam date | September 6, 2020 | September 6, 2020 |
| NDA result for written test | October 9, 2020 (Released) | October 9, 2020 (Released) |
| SSB Interview dates | To be announced | To be announced |
| Final result | Fourth week of November 2020 | To be announced |
NDA Vacancies 2020
NDA exam is being conducted to recruit 418 candidates where 370 is for NDA and 48 for NA, while NDA 2 is being conducted to recruit 413 candidates.
National Defence Academy: 370 to include 208 for Army, 42 for Navy and 120 for Air (including 28 for Ground Duties) Naval Academy: 45 (10+2 Cadet Entry Scheme) Total: 415
NDA Recruitment 2020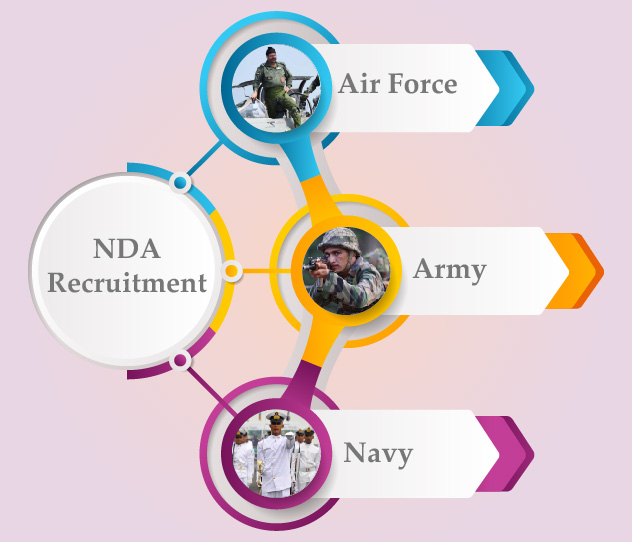 UPSC has announced the result of NDA 2020 written exam at upsc.gov.in on October 9. The result has been released online in PDF format which comprises the roll numbers and names of qualified candidates. On the basis of the NDA result of written exam, candidates will be selected for SSB Interview for Intelligence and Personality Test. After the SSB Interview, the examination authority will prepare the final merit list. The final merit list is prepared on the basis of written exam and SSB Interview. Final admission will be offered to candidates based on their rank in the merit list. The authorities will also release the scorecard of NDA 2020 exam on its official website within 15 days from the date of announcement of the final NDA result. The scorecard will be available to download for a period of 30 days. The scorecard of NDA will display the following details –
Candidate's name

Roll numbers

Sectional and overall scores
UPSC has released the admit card of NDA exam 2020 on August 10, 2020. Candidates can download NDA 2020 admit card by entering either registration number or roll number. NDA admit card carries details like candidate's name, the address of allotted exam centre, date, time of the exam, roll number, category, photograph, signature etc. Candidates must carry their admit card to the examination centre on the day of the NDA exam 2020 along with one of the prescribed photo ID proofs - Aadhaar Card, Voter ID Card, Driving License, PAN Card, Passport.
To apply for the UPSC NDA 2020, the candidate must meet the eligibility criteria determined by UPSC. NDA exam eligibility must be met on the grounds of the following factors:
NDA Exam Eligibility 2020
Specifications

Details

Age Limit

The age of candidates applying for NDA must be between 16.5 and 19.5 (Candidates born not earlier than January 2, 2001, and no later than January 1, 2005)

Educational Qualification

For Army wing, candidates must have passed Class 12/HSC




For Air Force and 10+2 Cadet Entry Scheme of Indian Naval Academy, candidates must have passed Class 12 with Physics and Mathematics

Physical Measurement

For Army, Navy and Naval Academy - 157 cm (minimum)




For Air Force - 162.5 cm (minimum)
UPSC has released the application form of NDA 2 on June 16, 2020. The last date to fill the application form is July 06. Candidates have to fill the NDA application form in two parts – I and II. In part I, candidates have to register for the NDA exam 2020 by filling the basic information. In part II, applicants have to pay the examination fees, select examination centre, upload photograph and signature. Candidates can edit the details in NDA application form 2020 within the prescribed date of application. The application fee for general category candidates is Rs. 100 while SC/ ST candidates, Sons of JCOs, NCOs and ORs are exempted from paying the fee.
How to fill NDA 2020 Application Form?
In order to fill the application form of NDA exam 2020, candidates have to fill it in the following two parts:
Part I of NDA application form
Registration (filling basic details)
Part II of NDA 2020 application form
Payment of application fee

Selection of examination centres

Uploading signature and photograph (20 kb to 300 kb)
NDA Application Fee
Along with the filling of the NDA application form, candidates must also pay the requisite application fee as per their category. The table below contains the category wise application fee that must be paid by the candidates.
NDA Application Fee
| | |
| --- | --- |
| Category | Amount |
| General and OBC | Rs 100 |
| SC/ST candidates/Sons of JCOs/NCOs/ORs | Exempted from fee payment |
Withdrawal of NDA 2020 Application Form
All those candidates who fill the application form and later change their mind to not take the NDA 2020 exam can withdraw their application form. UPSC has released the facility to withdraw their respective application form between July 13 to 19, 2020. Candidates must note that on withdrawal of the application form, the fee paid by them will not be refunded in any case.
NDA 2020 Exam Day Instructions
Candidates must carry NDA admit card along with one photo-identity proof to the exam centre.

Carry clipboard or hardboard and a black ball pen for marking their responses

Sheet for doing rough work will be provided by the invigilator

Candidates must use black pen only while filling their OMR sheet

Do not fold or damage or put any extraneous marking in the answer sheet.
Items that must not be brought for NDA 2020 Exam
Books, notes, loose sheets, electronic or any other type of calculator, mathematical and drawing instruments, log tables, stencils of maps, slide rules, test booklets and rough sheets relating to earlier sessions must not be brought the exam hall.

Mobiles, phones, Bluetooth, pagers or any other communication devices must not be brought.
Great preparation is the key to crack NDA exam 2020. In order to start off with the preparation, candidates must know the syllabus and exam pattern of the exam so that they know exactly what they have to study. Here are some points, by going through which, you will be able to ace with your exam preparation.
Acquaint yourself with NDA exam pattern - Candidates must have a clarity about the NDA exam pattern so that they know the number of papers, sections, questions, marking scheme etc asked in the exam. By getting the idea about exam pattern, candidates can optimise the plan about how to prepare for NDA exam.

Pic best books - Candidate must choose the best books to prepare for NDA which covers the syllabus. By referring to these books candidates can be able to get a detailed explanation of each topic in an effective manner.

Prepare a study plan and follow it - It is important for the candidates to make a study plan and follow it. By following the study plan, candidates will be able to pay equal time and attention to both the papers, their topics and sub-topics.

Solve previous years question papers - Candidates must regularly practice from previous years question papers in order to boost their confidence and enhance their problem-solving skills. BY solving previous years question papers, the candidate will be able to know the level of questions asked in the exam.

Take as many mock tests as possible - Along with studying for the exam, candidates must take mock test regularly. The mock test can help candidates measure their preparation and help them identify their weaker points, question-solving speed etc.
UPSC has prescribed the syllabus of NDA 2020 for all aspirants. NDA exam syllabus contains the topics and sub-topics under Mathematics and General Ability Test. The standard of questions in the exam was of matriculation and 10+2 level. Candidates can check below NDA syllabus.
NDA Exam Syllabus
| | |
| --- | --- |
| Subjects | Topics |
| Mathematics | Algebra, Matrices And Determinants, Trigonometry, Analytical Geometry Of Two And Three Dimensions, Differential Calculus, Integral Calculus And Differential Equations, Vector Algebra, Statistics And Probability etc |
| GAT | English, General Knowledge, Physics, Chemistry, General Science, General Science, History, Freedom Movement etc., Current Events |
According to NDA exam pattern, the test is conducted in pen and paper mode. The exam carries two papers, Mathematics and General Ability Test (GAT). The duration of each test will be 2 hours and 30 minutes. The Mathematics paper will carry a total of 120 questions while GAT paper will have 150 questions. Maximum marks allotted to the written exam is 900. As per the marking scheme, candidates for the correct answer in mathematics will score 2.5 marks. For the correct answer in GAT, candidates will score 4 marks. For the wrong answer, 1/3 of the marks assigned to that question will be deducted as penalty. The SSB Interview will be conducted for 900 marks.
NDA 2020 Exam Pattern
Particulars

NDA Written exam

SSB Interview

Mode

Offline (Pen and Paper)

Offline (Group activities and Face to face interview

Sections

Mathematics

General Ability Test (GAT)

Testing

Psychological Test

Group Testing Officers Test

Personal Interview

Conference

Duration

5 hours (2 hours 30 minutes for each section)

5 days

Total marks

900 marks

900 marks

Total questions

Maths - 120 questions

GAT - 150 questions

-
It is important that the candidates have NDA question papers handy while analysing the answer key of NDA 2020. Aspirants of NDA can also use NDA question papers and answer keys to prepare better for the exam. Practice solving NDA question papers is beneficial for aspiring candidates since it helps them understand the difficulty level of the exam, topics from which questions appear in the exam and their weightage. Candidates can also time themselves while solving NDA question papers to increase speed and accuracy.
NDA Previous Year Question Papers
Years

Exam

General Ability Test

Mathematics

2019

NDA I

NDA II

2018

NDA I

NDA II
The official NDA 2020 answer key will be released after the declaration of the final result. However, some of the coaching institutes will release NDA answer key within a few hours from the conclusion of the exam. Candidates will be able to download the answer key for all sets of subjects, Mathematics and General Ability Test (GAT). Using the answer key, candidates will able to check the correct answers to questions asked in the exam.
The cut off is the minimum qualifying marks that candidates will have to secure to qualify the exam. NDA cut off is applied for written exam and SSB Interview but UPSC releases the cut off for written exam and final selection. NDA cut off 2020 for written examination will be calculated out of 900 marks. Based on NDA cut off of written examination, candidates will be selected for SSB Interview. The commission will decide the final cut off out of 1800 marks (900 for written exam and 900 for SSB Interview). The final merit list of NDA will be prepared based on the final cutoff. Candidates can check previous years' cut off.
NDA I Cut off - 2019
| | | | |
| --- | --- | --- | --- |
| Stage | Written exam (out of 900) | SSB Interview (out of 900) | Final Cut off (Out off 1800) |
| Marks | 342 (With at least 25% marks in each subject) | 362 | 704 |


In the selection process of NDA, there are two stages - written exam and Service Selection Board (SSB) Interview. All those who qualify in the NDA written exam will only be able to appear for the SSB interview.
Written Exam- Candidates who will successfully register for the exam can only appear for the written exam. The written exam will be held for two papers -Mathematics and General Ability Test. The test carries a total of 900 marks. Candidates who secure marks equal to or more than the minimum qualifying marks in the written exam will be called for SSB Interview.
NDA 2020 SSB Interview
The SSB Interview is conducted to test the intelligence and personality of the candidates. The process is broadly scheduled for 5 days. During these days, the selected candidates go through various tests that examine their further competencies. These five days includes Testing, Psychological Test, Group Testing Officers Test, Personal Interview and the Conference round. SSB interview includes Officer Intelligence Rating (OIR) test which is Picture Perception and Description Test (PP&DT) whereas stage II includes Interview, Group Testing Officer Tasks, Psychology Tests and the Conference. Candidates who pass all these stages will be finally recommended for the academy. There are 5 stages in the interview and group discussion of SSB NDA/NA. Candidates can check the stages below.
SSB Interview Stages
S. No

Stages

Activities conducted

1.

Testing

Screening

Verbal and Non-verbal test

PPDT

2.

Psychological Test

Thematic Appreciation Test [TAT]

Word Association Test [WAT]

Situation Reaction Test [SRT]

Self Description Test [ SD]

3.

Group Testing Officers Test

Group Discussion (GD)

Group Planning Exercise (GPE)

Progressive Group Task (PGT)

Half Group Task (HGT)

Individual Obstacles Task (IOT)

Command Task

Snake race/Group Obstacle Race

Individual lecture

Final Group Task (FGT)

5.

Personal Interview

6.

Conference
All those candidates who get admitted to the National Defence Academy (NDA) are paid a remuneration while training period too. Cadets are entitled to a stipend of Rs. 21,000/- p.m. during the training period at Indian Military Academy (IMA) and Officers Training Academy (OTA). Along with the payment of the determined stipend, cadets are also entitled to various allowances. The table below contains the pay scale and allowances of Army Officers, Officers in Air Force, and Navy.
NDA Salary 2020
| | |
| --- | --- |
| Rank | Rank Pay (in Rupees) |
| Lieutenant to Major | 15,600 - 39,100/- |
| Lieutenant Colonel to Major General | 37,400 - 67,000/- |
| Lieutenant General HAG Scale | 67,000 - 79,000/- |
| HAG+ Scale | 75,500 - 80,000/- |
| Vice Chief of Army Staff/Army Cdr/ Lieutenant General (NFSG) | 80,000/- |
| Chief of Army Staff | 90,000/- (fixed) |
Along with the basic pay, the Officers, also get the following allowances
Dearness Allowances

Uniform allowance

Transport allowance

Highly Active Field Area Allowance (As per the post)

Compensatory Field Area (As per post)

Compensatory Modified Field Area Allowance (As per post)
Union Public Service Commission
Dholpur House,
Shahjahan Road, New Delhi - 110069
Facilitation Counter: 011-23098543/23385271/23381125/23098591
Email: feedback-upsc@gov.in
Previous Year's NDA Stats
The table below contains the number of candidates recommended for NDA from 2017 to 2019
| | | |
| --- | --- | --- |
| Year | NDA 1 Qualified | NDA 2 Qualified |
| 2019 | 447 | - |
| 2018 | 379 | 520 |
| 2017 | 371 | 390 |
| 2016 | | 548 |
| 2015 | | 423 |
While filling the application form, candidates can select the exam centre of UPSC NDA 2020 of their choice. NDA exam centre is the venue where the exam will be conducted. NDA exam is expected to be held at various centres at 41 cities across the country. The intimation about the allotment of NDA exam centres is given to the candidates through the admit card. The table below contains the list of cities where NDA 2020 exam will be held.
NDA Exam Centres 2020
| | | | | |
| --- | --- | --- | --- | --- |
| Agartala | Chennai | Hyderabad | Kolkata | Raipur |
| Ahmedabad | Cuttack | Imphal | Lucknow | Ranchi |
| Aizawl | Visakhapatnam | Itanagar | Madurai | Sambalpur |
| Allahabad | Dehradun | Jaipur, Udaipur | Mumbai | Shillong |
| Bangalore | Delhi | Jammu | Nagpur | Shimla |
| Bareilly | Dharwad | Jorhat | Panaji | Srinagar |
| Bhopal | Dispur | Kochi | Patna | Thiruvananthapuram |
| Chandigarh | Gangtok | Kohima | Port Blair | Tirupati |
What is NDA?
National Defence Academy (NDA) is an institute of global excellence in the field of military education. To get the most capable candidate admitted in NDA, Union Public Service Commission (UPSC) conducts NDA exam twice a year. This exam is usually conducted in April (NDA/NA I), and in September (NDA/NA II). Candidates who have passed or are appearing in 12th have only been given the eligibility to apply for this exam. Through NDA/NA I and NDA/NA II, UPSC seeks to fill up officer level vacancies in Army, Navy and Air Force. Naval Academy vacancies are also filled up through NDA/NA/NA exam. The most important stage in the selection process of SSB NDA/NA is the 5 days rigorous test that is conducted in order to choose the best candidate. During these 5 days, the candidates are tested on various grounds including their speed, intelligence, presence of mind, psychological and physical fitness.
Check Here: List of Sarkari Exams 2020 in India.
Other Related Articles
Frequently Asked Question (FAQs) - NDA 2020 - Apply Online, Dates, Result (OUT), Cut off
Question: Can female candidates apply for NDA?
Answer:
No, female candidates cannot apply for NDA exam. The exam is held only for unmarried male candidates between the age of 16.5 to 19 years.
Question: Can I join NDA immediately after completing 10th?
Answer:
No, you are not eligible to join NDA after your 10th standard. You should have passed 12th standard or equivalent examination from a recognized board.
Question: Can I appear for NDA exam if I am not a Science students?
Answer:
Yes, you can definitely appear for NDA exam even if you are not from Science background. However, you can apply for Army Wing of NDA only.
Question: I have a Tattoo on my left hand. Will I be allowed entry in NDA?
Answer:
There are conditions applied with respect to Tattoos. Permanent body tattoos are permitted only on the inner face of forearms i.e. from inside of the elbow to the wrist of both the hands and reverse side of the palm/back (dorsal) side of both hands. Though, there are no restrictions on size or type of tattoo has been specified.
Question: What application fee will I have to pay if I belong to a reserved category?
Answer:
In case you belong to SC/ST category or a wards of NCOs/JCOs/Ors you will not have to pay any application fee. However, candidate belonging to general category have to pay Rs. 100 as the application fee of NDA.
Question: What salary will I get if I qualify NDA?
Answer:
If you pass in NDA, then you will get a stipend of Rs. 21,000 per month during your training period. However, the salaries of NDA Officers after training (Lieutenant) will be Rs. 15,600 – 39,100 p.m (basic), grade pay of Rs. 500 p. m. and military fund of Rs. 6000 p.m.
Question: Will it be tough to crack the NDA 2020 exam ?
Answer:
If your preparation is good and you have a strong hold of the syllabsu the, cracking the written part of NDA exam will not be a tough job. However, what is difficult to crack is the SSB interview and the medical round.
Questions related to NDA
Showing 2069 out of 2069 Questions