AFCAT (2) Admit Card 2020 - Step to Download Hall Ticket @afcat.cdac.in
AFCAT Admit Card 2020 - Indian Air Force will be release the AFCAT Admit Card in online mode tentatively by September 1 at afcat.cdac.in through candidate login. The AFCAT 2020 admit card direct link will be released by IAF. Candidates must click on "Download Admit Card of AFCAT 2020" to obtain the same. They must use the AFCAT login and enter their email ID and password to download the AFCAT admit card. IAF will also send the AFCAT hall ticket 2020 on the candidate's registered email id. The AFCAT 2 hall ticket 2020 will mention the name of the candidate, date of birth, registration number, roll number, exam dates, timing and venue. It is compulsory for all candidates to carry the AFCAT admit card to the exam centre. IAF AFCAT is the exam held to annually to recruit candidates (both male and female) as Commissioned/Class 1 Gazetted Officer in Flying, Ground Duty (Technical and Non-Technical branches) and Meteorology entry for grant of Permanent/ Short Service Commission. Know how to download the AFCAT admit card 2020, release date, direct link, exam day instructions and more in this article.
Latest: IAF has released AFCAT 2020 application form on June 15 in online mode for 25 Vacancies
Earlier AFACT 2020 Result has been released by IAF on March 17.
AFCAT 2020 will be conducted on September 19 and 20. The exam is conducted twice in February and September. Candidates who will qualify the AFCAT exam must further clear stage 1 and 2 before being undergoing a medical examination for final selection conducted by the Air Force Selection Board (AFSB).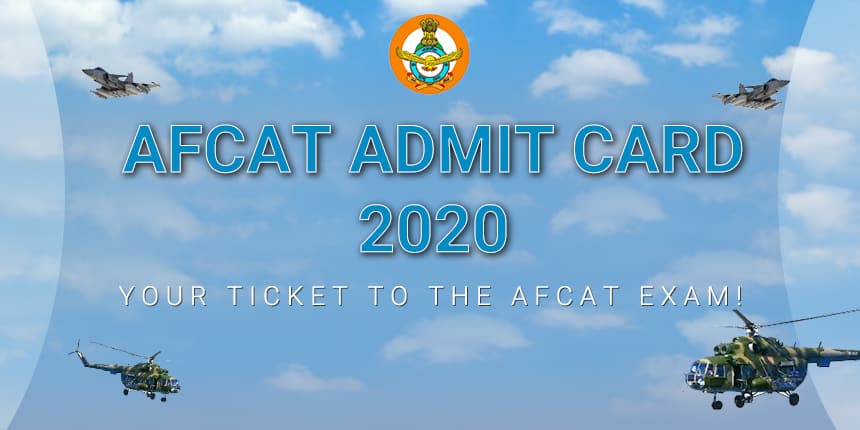 AFCAT Admit Card 2020 - Overview
Parameters
Particular

AFCAT 2020 admit card release date

September 1, 2020 (Tentative)

Issuing authority

Indian Airforce (Bharatiya Vayusena)

Official website to download hall ticket

afcat.cdac.in

Login credentials to get admit card

Email ID and password

Steps to be taken during exam

Paste Photo in the space given, put signature, Thumb Impression (Right for women and left for men)

Details mentioned

Father's Name, Mother's Name, Date of Birth, Gender, Identification Mark, Aadhaar No, Hall Ticket Number, Email ID, Registration No, Address, Mobile, AFCAT Centre, Landmark, Date of exam, Reporting Time, Uploaded Signature, Uploaded Thumb Impression, EKT stream (if applicable), Declaration

Test centres and cities

104 cities

Document to carry at test centre

Aadhaar Card, Admit card, 2 passport size photographs, original and non-expired ID proof

AFCAT (I) 2020 exam date

February 22 and 23, 2020

AFCAT helpline contact details

Address - Director of Education, West Block - VI, Air HQs (RKP), RK Puram, New Delhi – 110066

Phone number - 23010231 Extn:2112- 6245, 6246

Email ID – afcatcell@gmail.com
AFCAT 2020 Admit Card Dates
Apart from the AFCAT exam dates, it is vital to keep abreast of all other relevant dates so that things go smoothly as planned and candidates appear for the exam with their best foot forward. Some of the relevant dates along with the AFCAT admit card 2020 dates are mentioned herewith.
AFCAT 2020 Hall Ticket Dates
| | | |
| --- | --- | --- |
| Dates | AFCAT 1 | AFCAT 2 |
| Download AFCAT admit card | February 4, 2020 | September 1, 2020 (Tentative) |
| AFCAT exam dates | February 22 and 23, 2020 | September 19 and 20, 2020 |
| Result declaration | March 17, 2020 (Released) | November, 2020 |
How to Download AFCAT Admit Card 2020?
Visit the official website - afcat.cdac.in

Click on the candidate login and further choose the "AFCAT 1/2020 cycle" given there.

Enter the Email ID and password in the AFCAT login window that opens.

Use the download AFCAT admit card link given therein.

After downloading the admit card, check all the details mentioned.

Keep a soft copy and also take a printout

Check email to ensure a copy of the admit card of AFCAT is received therein.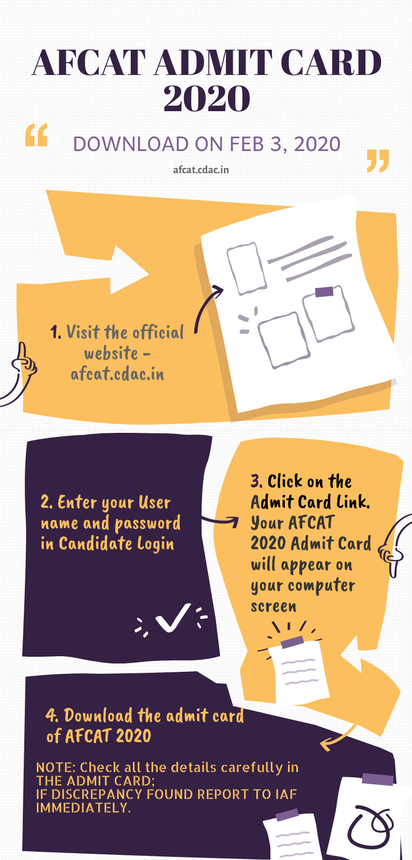 Details Mentioned in Admit Card of AFCAT 2020
Below listed are the details which are to be printed on the released AFCAT 2020 admit card. Candidates are advised to read and verify all these details carefully and if they find any errors printed on it, they should contact the authorities and get them rectified.
Candidate's name

Roll number

Registration number

Photograph and signature of the candidate

Reporting time

Examination timing

Examination date

Address of examination centre
The image of AFCAT Admit Card is as follows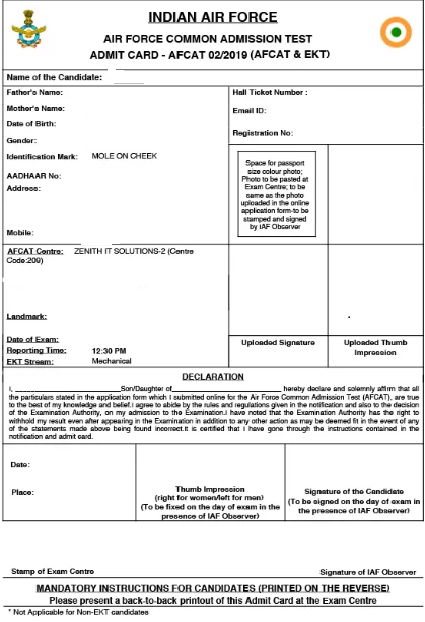 How to Correct Discrepancies in AFCAT 2020 Admit Card?
After candidates have downloaded their AFCAT admit card 2020, they must check for any errors, anomalies or discrepancies. If any exist, they must contact the AFCAT Query Centre for help in rectifying the same.
AFCAT Query Cell Contact Details:
C-DAC, Pune
Phone Nos: 020-25503105 or 020-25503106).
E-Mail queries may be addressed to afcatcell@cdac.in
Forgot Password? Steps to Retrieve It
Candidates must know the password if they have to download their admit card of AFCAT 2020. So they must retrieve it. The steps to do so are given herewith
Go to the official website and click on the candidate login in the menu on the main page
The AFCAT sign-in window will open up.
Click on the "Forgot password" link given there.
Details like Email, secret question and answer will be asked.
Candidates must answer these and reset their password.
They can then download their hall ticket thereafter from AFCAT login.
The image to retrieve the password in AFCAT sign-in window is given below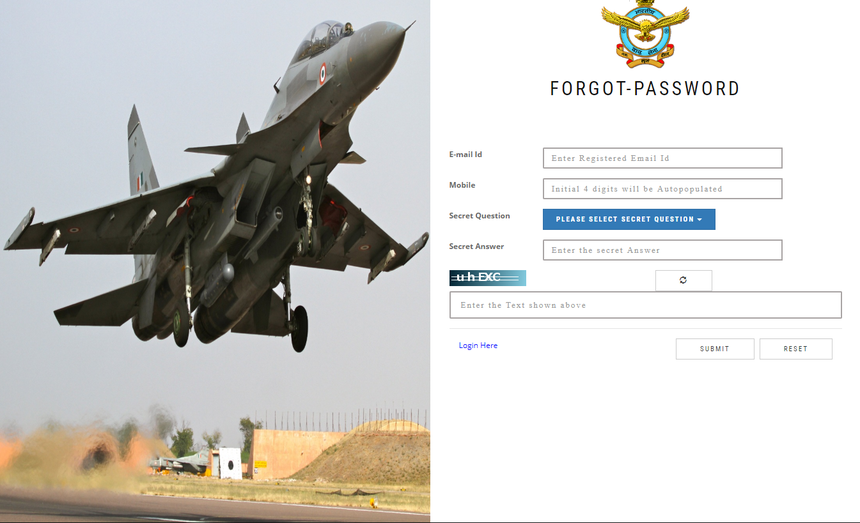 Documents to Carry with e-Admit Card for AFCAT 01/2020 to the Exam Centre
Candidate's Aadhaar Card along the AFCAT admit card.
Another valid photo identity card such as PAN card/ passport/ driving licence/ voter identity card/ college identity card or any other valid photo identity proof, with details of name, father's name, date of birth and a clear photograph.
Two passport size colour photographs- same as the photo uploaded during online AFCAT application form (to be pasted on admit card next to the printed photo. Do NOT staple the photo. Candidates will need to paste a photo on the attendance sheet at the exam centre)
Ballpoint Pen (Blue or Black) for signing on the attendance sheet and for rough work during exam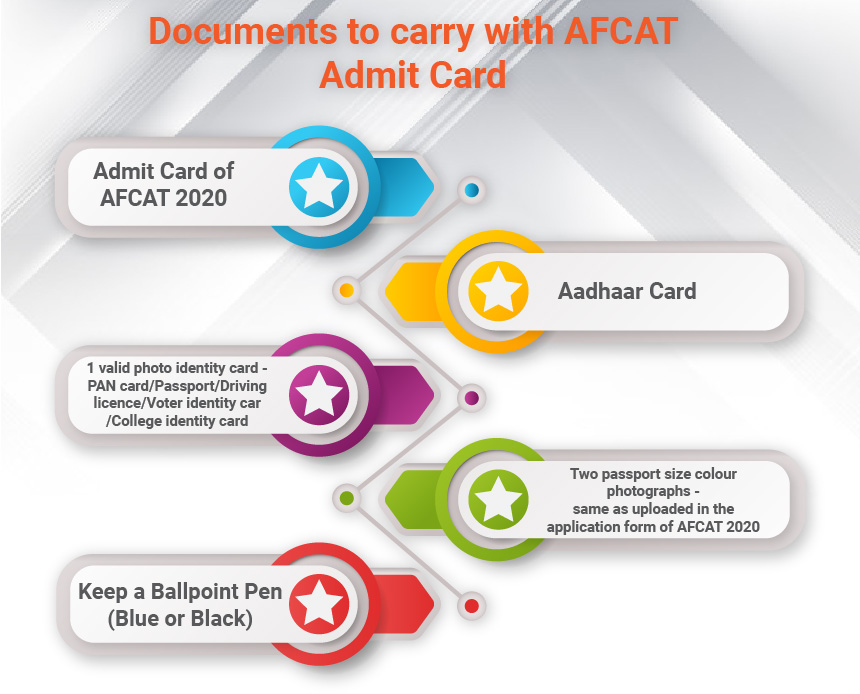 AFCAT Admit Card - Stages
IAF releases the admit card of AFCAT in two stages:
AFCAT admit card for Online Test
AFSB
The first page of the AFSB Call Letter will look like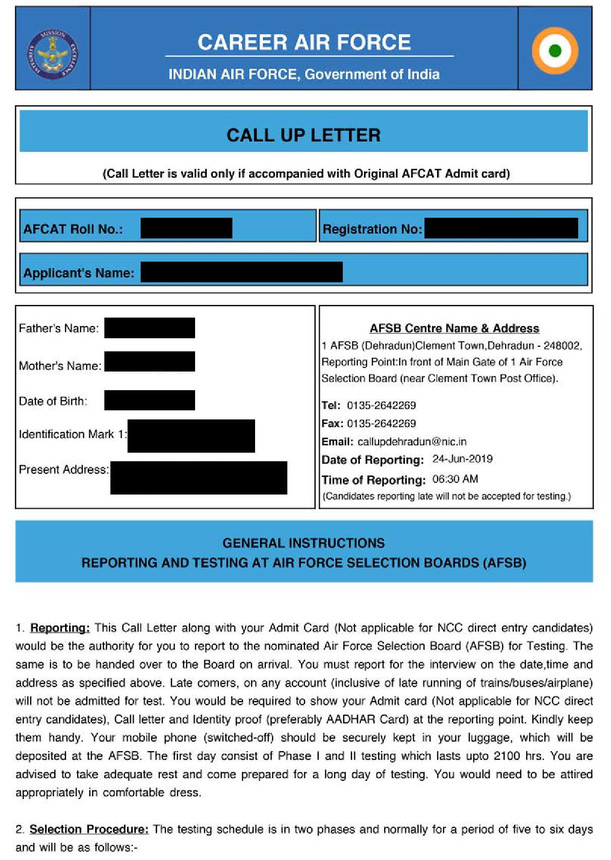 To check important instructions, requirements, timings and schedule of the AFSB click on the link here
While appearing for the AFSB interview, candidates must carry their AFCAT call letter, AFSB call letter and declaration form which will appear like this AFCAT Declaration Form For AFSB
AFCAT Admit Card 2020 Guidelines
Download the admit card of AFCAT 2020 using the latest version of Mozilla Firefox and Google Chrome. Clear the cookies and cache if the download facility is not available after the release of admit card.

Do NOT use the mobile to download the admit card. It is not valid.

Ensure that the personal information in the front side of the AFCAT admit card 2020 are as per the details mentioned in the application form.

It is advisable to read the instructions given at the rear of the AFCAT 2020 admit card before going to the exam to know the rules that will be enforced.

The right thumb impression of women candidates and left thumb of men will be captured at the exam hall. Candidates will also be required to sign in front of the invigilator.

Reach the exam hall in advance to avoid getting delayed and missing the exam.
Items Prohibited in AFCAT 2020 Exam
Some items have been prohibited from AFCAT 2020 exam. Candidates should not carry any of the following items to the exam hall as they run the risk of being debarred.
Textual material
Calculators, documents etc
Slide rulers, log tables
Electronic watches with facilities of calculator
Mobile phones, blue tooth, pager or any other digital devices
Any valuable/costly items
Eatables/ snacks and Tea/coffee/ cold drinks/ Water (loose or packed)
Metallic items
What is the Exam Pattern of AFCAT 2020?
IAF specifies the exam pattern of AFCAT, according to which the AFCAT 2020 exam will be conducted in two stages - Online test and AFSB (Air Force Selection Board) Interview. The language of online test will be English having objective-type questions from four sections - General Awareness, Verbal Ability, Numerical Ability, and Reasoning and Aptitude Test. The difficulty level of questions will be similar to class 10 (Numerical Ability) to graduation level (GA, Verbal Ability, Reasoning). There will be a total of 100 questions of 300 marks in the online test. The time duration will be 120 minutes. While EKT will consist of 50 questions of 150 marks with time duration of 45 minutes.
AFCAT Marking scheme
Candidates will be awarded 3 marks for every correct answer while 1 mark will be deducted for each incorrect response provided. However, no marks are deducted for questions that will be left unattempted.
AFCAT 2020 Exam Centres
IAF will hold AFCAT exam in 104 cities. The exact exam centre for AFCAT, venue details will only be given in the admit card of AFCAT 2020. Names of all the IAF AFCAT 2020 exam centres have are mentioned in the table below -
Exam Centres for AFCAT 2020
| | | | |
| --- | --- | --- | --- |
| S.No | Exam City | S.No | Exam City |
| 1 | Agartala | 53 | Jorhat |
| 2 | Agra | 54 | Kannur |
| 3 | Ajmer | 55 | Kanpur |
| 4 | Ahmedabad | 56 | Kochi |
| 5 | Aizawl | 57 | Kohima |
| 6 | Alwar | 58 | Kolhapur |
| 7 | Aligarh | 59 | Kolkata |
| 8 | Allahabad | 60 | Kota |
| 9 | Ambala | 61 | Kurukshetra |
| 10 | Amritsar | 62 | Leh |
| 11 | Aurangabad | 63 | Lucknow |
| 12 | Bareilly | 64 | Ludhiana |
| 13 | Behrampur (Odisha) | 65 | Madurai |
| 14 | Belagavi | 66 | Mangalore |
| 15 | Bengaluru | 67 | Mathura |
| 16 | Bhagalpur | 68 | Meerut |
| 17 | Bhilai | 69 | Mumbai |
| 18 | Bhopal | 70 | Mysore |
| 19 | Bhubaneswar | 71 | Nagpur |
| 20 | Bhuj | 72 | Nasik |
| 21 | Bikaner | 73 | Noida |
| 22 | Bilaspur | 74 | Panaji |
| 23 | Chandigarh | 75 | Pathankot |
| 24 | Chennai | 76 | Patna |
| 25 | Coimbatore | 77 | Port Blair |
| 26 | Dehradun | 78 | Puducherry |
| 27 | Delhi and NCR | 79 | Pune |
| 28 | Dhanbad Diu | 80 | Rajkot |
| 29 | Dibrugarh | 81 | Ranchi |
| 30 | Durgapur | 82 | Rohtak |
| 31 | Faridabad | 83 | Rourkee |
| 32 | Ganganagar | 84 | Sagar |
| 33 | Gaya | 85 | Sambalpur |
| 34 | Ghaziabad | 86 | Shillong |
| 35 | Gorakhpur | 87 | Shimla |
| 36 | Guntur | 88 | Silchar |
| 37 | Guwahati | 89 | Solapur |
| 38 | Gwalior | 90 | Sonipat |
| 39 | Haldwani | 91 | Srinagar |
| 40 | Hissar | 92 | Thane |
| 41 | Hyderabad | 93 | Thiruvananthapuram |
| 42 | Imphal | 94 | Thrissur |
| 43 | Indore | 95 | Tirunelveli |
| 44 | Itanagar | 96 | Tirupati |
| 45 | Jabalpur | 97 | Udaipur |
| 46 | Jaipur | 98 | Vadodara |
| 47 | Jalandhar | 99 | Varanasi |
| 48 | Jalpaigudi | 100 | Vellore |
| 49 | Jammu | 101 | Vijayawada |
| 50 | Jamshedpur | 102 | Visakhapatnam |
| 51 | Jhansi | 103 | Warangal |
| 52 | Jodhpur | 104 | Yamunanagar |
AFCAT Admit Card 2020 - Highlights
After February 3, 2020, the AFCAT 1 hall ticket 2020 is released by IAF on its official website, candidates can use the AFCAT login to download their admit card.
Candidates who are unable to download their AFCAT admit card 2020 or do not receive it in their registered email ID must enquire from AFCAT Query Cell at C-DAC, Pune through email at afcatcell@cdac.in or the helpline phone numbers 020-25503105 or 020-25503106.
The registration number mentioned on the hall ticket of AFCAT 1 2020 is important and must be used in all communication with the authorities for AFCAT login.
In case any applicant has submitted more than one application, only the latest AFCAT application form against a particular Aadhaar Number as per AFCAT candidate login will be considered for the issue of admit card.
Prior to the exam at the centre, candidates will be subject to verification of AFCAT 1 hall ticket & ID Proof, Biometrics, Photo/ Thumb Impression followed by the signature on attendance sheet after entering the exam hall.
Female candidates will be asked to put their right thumb impression and male candidates their left thumb impression on the hall ticket in front of the invigilator.
The admit card of AFCAT 2020 will also be required during the AFSB Selection Process so it must be kept safe.
AFCAT 2020 - Last-Minute Preparation Tips
Read complete AFCAT exam pattern, AFCAT syllabus and marking scheme of before attempting the exam.

Refer NCERT to prepare for General Awareness

Read English newspaper daily like The Indian Express or The Hindu.

Solve previous year AFCAT question papers, which helps to increase your accuracy and analyse your preparation.

Do proper time management.

Don't go for a new topic rather than just revise the previous ones

Don't leave answers to mark at the end.

If you stuck in a question, don't waste more time on it. Move ahead to the next one.

Read the questions twice before answering them.

Give your best and don't worry about the AFCAT result. Believe in yourself and you will surely get success in AFCAT 2020 exam.
AFCAT Answer Key 2020
IAF will not release the answer key of AFCAT, as the exam is conducted in online mode although candidates can download the unofficial answer key of AFCAT. These unofficial answer key will be memory-based and will be released by major coaching institutes. These answer keys will help candidates estimate their probable score based on the number of correct and incorrect answers attempted by them in the AFCAT exam.
AFCAT Result 2020
IAF will release the AFCAT 2020 result in online mode at its official website. The result of AFCAT will be released in 2 stages separately - Online Test and Final Result. Candidates can check their result of by logging into the official website using their email ID and password. The result of AFCAT 2020 will contain the registration number, name and qualifying status of the candidates.
AFCAT Cut off 2020
IAF will publish the cut off of AFCAT 2020 for the online test and EKT along with the announcement of the result. AFCAT cut off is the minimum marks required by the candidates to qualify the exam. Candidates scoring equal to or more than the cut off in the online test are eligible for the next stage of the Air Force Selection Boards (AFSBs) Interview.
What after AFCAT exam?
Once the AFCAT exam concludes on February 23, candidates can look up the answer key if any are released by coaching centres using memory-based questions by candidates. The AFCAT result 2020 will be declared by IAF on the official website tentatively in March. Candidates may check the same using the result link given in the AFCAT login. Candidates may know their qualifying status for the next stage which is Stage 1 of the interview with AFSB.
What is the Salary a candidate gets after qualifying AFCAT?
IAF has mentioned the salary of AFCAT 2020 in its official notification and its website. Those candidates who are looking to appear for AFCAT 2020 exam must go through the salary section and pay scale section to know about the monetary benefits they will be getting after being commissioned. Apart from the salary, IAF also provides candidates other allowances like dearness allowance, travel allowances, house rent allowances, loan facilities, children education etc.
Frequently Asked Question (FAQs) - AFCAT (2) Admit Card 2020 - Step to Download Hall Ticket @afcat.cdac.in
Question: Where can I download the AFCAT admit card?
Answer:
Actually, you can download it from the official AFCAT website afcat.cdac.in/AFCAT where you will need to use the sign-in window to login and download it.
Question: Will IAF intimate me and send me the admit card of AFCAT?
Answer:
IAF will not inform the students individually. It will however email the admit card to the registered email IDs of the candidates eligible to appear for the exam. Candidates must check their emails on February 3 for AFCAT (1) admit card. Alternately they can download it too.
Question: Is the Aadhaar card mandatory along with the FCAT admit card 2020? Do we also need to carry another ID proof or will Aadhaar be enough?
Answer:
Aadhaar card is mandatory. In addition, candidates also need to carry another ID proof along with them as specified by IAF to the AFCAT exam.
Question: My details in the AFCAT admit card does not match with my application form? How to correct this?
Answer:
If there is a mismatch with your details in admit card as well as the AFCAT application form, you should contact CDAC Cell Pune at Phone Nos: 020-25503105 or 020-25503106. E-Mail queries
may be addressed to afcatcell@cdac.in.
Question: I see instructions about thumb impressions in the AFCAT admit card. Are there any specifications for this?
Answer:
Yes, women candidates need to put their right thumb impression and male candidates must put their left thumb impression on the AFCAT admit card at the exam hall and also on the attendance sheet.
Question: I have to carry two photographs also along with the AFCAT 2020 admit card. Why?
Answer:
One photo has to be pasted on the admit card next to the printed photo and one must be pasted on the attendance sheet at the exam hall. So its advisable for candidates to carry these to the exam hall.
Question: I am not able to download AFCAT admit card, what should I do?
Answer:
Check the browser cache and clear. If still, you are unable to download, contact AFCAT Query Call at CDAC Pune.
Question: Can I change my exam centre of AFCAT 2020 exam?
Answer:
No. The centre mentioned on the AFCAT admit card 2020 is final and cannot be changed.
Question: What happens if I lose the hard copy of admit card on exam day?
Answer:
Quickly retrieve it from your email and take a printout. You can appear for the exam.
Question: What if I forget the password?How to retrieve it so I download my AFCAT admit card 2020?
Answer:
Use the "Forgot password" option on the AFCAT Sign-in. Enter the details asked like email ID and secret question with answer. You can reset the password and download your admit card.
Question: What should I do if my AFCAT admit card lost?
Answer:
You should keep your AFCAT 1 hall ticket safely, but if you lose it you can download it again as IAF sends it to your registered email ID.
Question: What is the AFCAT 2020 admit card release date?
Answer:
IAF has released the admit card of AFCAT 2020 on February 03, 2020, in online mode.
Questions related to AFCAT
Showing 31 out of 31 Questions