AFCAT Salary 2021 - Check Payscale, Service, Pay Band, Promotion, Benefits
AFCAT Salary 2021 - The Indian Air Force (IAF) provided the details about AFCAT 2021 salary in the official notification of AFCAT 2021. Based on the 7th pay commissioning, the AFACT salary 2021 will be Rs. 56,100-1,10,700. The salary of AFCAT 2021 varies as per the post. After getting shortlisted in the AFCAT recruitment process, the flight cadets will get fixed stiped of Rs. 56, 100 per month during one year of training. The shortlisted candidates will get other allowances along with the salary of AFCAT. To know more about AFCAT salary, read the full article.
Stay up-to date with AFCAT News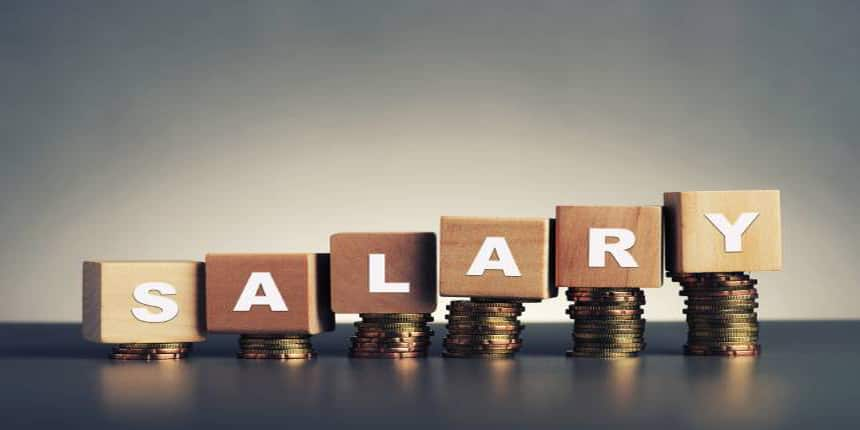 AFCAT Salary 2021 - Service and Pay Band
Pay in Pay Band (Common to all Branches) - Rs 56,100 Per Month (The officer will be placed in Level 10 in the Pay Matrix of VIIth CPC - 56,100-1,10,700).

Military Service Pay:- Rs 15,500 Per Month.

Newly Commissioned Officers in Flying and Technical Branches will also get:-

Flying Allowance to Flying Branch Officers

Technical Allowance to Technical Branch Officers
Also Read: AFCAT Exam Dates 2021
AFCAT Salary 2021 Highlights:
Joining the Indian Air Force is one of the most toughest as well as challenging, hence, the handsome paycheque and endless benefits as well as facilities for the officer and their family is completely justified, here we will talk about all the AFCAT 2021 salary benefits:
AFCAT pay scale differs for each post.

Apart from basic salary, candidates also get Grade Pay, Dearness Allowance, Military Service Pay, Allowances for Kit Maintenance & Transport Allowance as well.

The Indian Air Force has a separate AFCAT pay scale for each branch like - Flying duty, Technical duty and Ground duty.

After joining the IAF candidates have the luxury of working for the best defence organisations in the world apart from the respect and honour.

As the officers rank and stature grows their income, responsibilities and other entitlements also increases.
Also Read: AFCAT Admit Card 2021
AFCAT Salary 2021 - Payscale
The Indian Air Force takes great care of the officers who get selected considering it is one of the most challenging jobs the recruits are offered the best pay packages. After qualifying AFCAT and completing the training period successfully, an officers starting salary is Rs. 56,100-1,10,700. Apart from the salary IAF also provides various other benefits and perks. In the following table, we have shared the branch-wise pay scale of AFCAT and the benefits.
AFCAT 2021 - Various Benefits
AFCAT Benefits

Description

Insurance

Air Force Personnel - Rs 75 lakhs

Air Force Personnel (Pilots) - Rs 85 lakhs

Loan facility

Computer Loan

Conveyance Loan

House Building Loan

Placement cell

Helping retired officers get a civil job matching their profile

Medical

All Air Force Officers, their families and dependents get access to free medical facilities.

Scholarships and Welfare

Grants from the Air Force Wives Welfare Association (AFWWA)

Post-retirement Benefits

Pension

Insurance

Medical (Lifetime access)

Educational Opportunities

M.Tech from IIT & BHU-IT (for officers of Technical Branches)

Study leave (up to 24 months)

Tie-ups with IGNOU

Other benefits

Accommodation

Leave- Annual leave for 60 days and casual leave of 20 days per year

Leave travel concessions

Institute and Messes membership

School facilities

Rail concessions

Secured camp life

CSD facilities

Recreational and sports facilities
Promotions in Indian Air Force
The promotions in IAF are applicable on the basis of the timescale and experience for the first three ranks. For other posts, the promotions are done on the basis of selection which depends upon the frequency with which the job positions get vacant. Promotion after this stage becomes a bit abrupt due to the pyramidal promotional scene in the IAF.

Once an individual serves the Flying officers for complete 3 years, they get promoted to Flight lieutenants. They will have to qualify a department test to be eligible for Flight lieutenants.

The Indian Air Force is currently hiring Commissioned Officers as Flying Officers. So, Technical Officers who are actually engineers are provided seniority of 2 years for the purpose of pay and promotion as compared to Officers of IAF.

If a candidate completes 6 years of service in the Indian Airforce Force, they will be granted the rank of Squadron Leader.

To climb up in the hierarchy, all Officers are mandatory to clear the promotion exam 'C' (It is a Departmental exam).
Also Read: AFCAT Question Papers 2021
Rank Structure in IAF 2021
In the IAF as they say "sky's the limit" and if a candidate starts their career as a Flying Officer they can rise up to the rank of the Air Marshal as well. From the following table, aspirants can check the rank structure of the commissioned officers in the Indian Air Force:
Rank Structure in AFCAT 2021
Level

Posts

Junior Level




Flying Officer

Flight Lieutenant

Executive Level




Squadron Leader

Wing Commander

Group Captain

Director Level




Air Commodore

Air Vice-Marshal

Air Marshal




Chief

Air Chief Marshal
AFCAT Job Profile
From the following table candidates can check the job, responsibilities that recruits will have to take care of:
AFCAT Flying Branch

Operate fighter planes

Look after fighter planes

Transportation of ammunition

Transportation of material

Providing Air support and supplies

Operating the helicopters for casual and emergency situations

AFCAT Ground Duty (Tech)

Maintaining technical tools and equipment of the aircrafts

Providing technicians with required equipment and tools for the job consisting of RADAR, Aircraft

Aircraft service, Technical processes and management of the aircraft

AFCAT Ground Duty (Non-Tech)

Administration of Air Traffic Controller and Fighter Controller

Accounts and Logistics department.
Check Here List of Other Government Exams
Frequently Asked Question (FAQs) - AFCAT Salary 2021 - Check Payscale, Service, Pay Band, Promotion, Benefits
Question: What is the salary of AFCAT?
Answer:
The pay scale of candidates joining through AFCAT exam is Rs 56,100.
Question: What is AFCAT exam eligibility?
Answer:
Candidates willing to apply for the AFCAT exam must have passed Class 12 with 60% in Physics and Maths and have also completed four-year graduation/integrated post-graduation qualification in Engineering/Technology.
Question: How can I apply for AFCAT?
Answer:
Candidates can apply for AFCAT by visiting the official website which is afcat.cdac.in. The application form is released twice a year and they can apply from there.
Question: What is the salary of an IAF pilot?
Answer:
The in-hand salary of an IAF pilot ranges from Rs. 80000 to 100000 per month.
Question: Is it easy to crack AFCAT?
Answer:
Yes it is easy to crack, but only if you have prepared well and are thorough with the AFCAT exam pattern and syllabus of AFCAT.
Question: What happens after qualifying AFCAT?
Answer:
After qualifying the AFCAT exam, candidates have to go through the training process post which they are recruited at the vacant positions.
Question: What is a good score in AFCAT?
Answer:
By going by the previous 2-3 year trends, scoring 150+ in AFCAT is always a safer score. While for EKT it is 70.
Questions related to AFCAT
Showing 149 out of 149 Questions