AFCAT Salary 2020 - Check Benefits, Perks, Promotions & Job Profile
AFCAT Salary 2020 - Indian Air Force -IAF conducts the AFCAT exam every for recruitment of eligible and qualified aspirants for different post in the IAF. The IAF in official AFCAT notification mentions the salary and other allowances and perks that one will be entitled to after getting selected to AFCAT. Aspirants appearing for the AFCAT 2020 exam can go through the salary of AFCAT 2020 and learn more about the pay scale and benefits in the service after being commissioned. The other perks and allowances provided to selected aspirants in AFCAT exam include dearness allowance (DA), travel allowances (TA), house rent allowances (HRA), loan facilities, children education etc. According to the official notification of AFCAT 2020, a candidate even before being commissioned as an Air Force Officer will earn a monthly stipend of Rs. 56,100/- during their one year training period at the training institutions. To know more about the AFCAT salary 2020, check out the complete article here.
Latest: IAF AFCAT Result 2020 Declared. Also check the expected AFCAT Cut off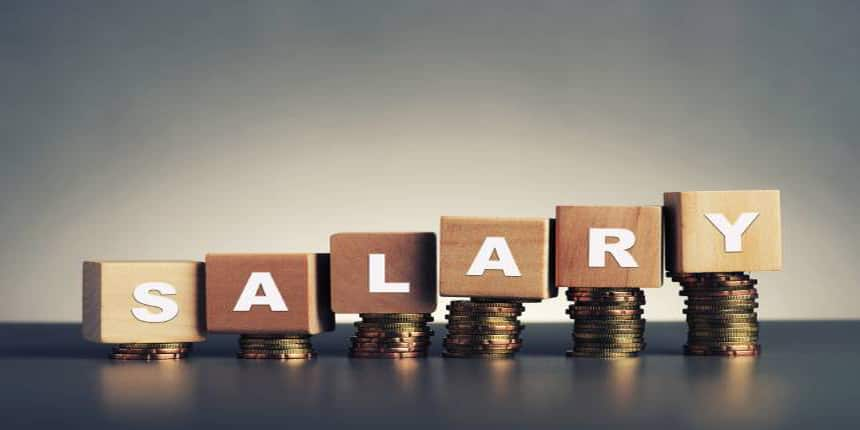 IAF conducts AFCAT 2020 exam to recruit applicants into three branches - Flying, Technical and Ground Duty. Aspirants after successfully qualifying the AFCAT exam and completing the training will be inducted in either of the three IAF branches based on their performance and AFCAT eligibility. While filling up the AFCAT application form candidates will be able to choose the respective branches.
The following AFCAT salary pay would be applicable on the grant of Commission to Flying Officers:-
Pay in Pay Band (Common to all Branches) - Rs 56,100 Per Month (The officer will be placed in Level 10 in the Pay Matrix of VIIth CPC - 56,100-1,10,700).
Military Service Pay:- Rs 15,500 Per Month.
Apart from this, the newly Commissioned Officers in Flying and Technical Branches will also get:-
Flying Allowance to Flying Branch Officers

Technical Allowance to Technical Branch Officers
AFCAT 2020 Salary Highlights:
This job comes with its challenges, a handsome paycheque and more than that endless benefits and facilities for you and your family so much that you will not need any other luxury in the world.

The proper AFCAT pay scale of each post differs for each post.

Apart from the basic salary, candidates will also get Grade Pay, Military Service Pay, Dearness Allowance, Allowances for Kit Maintenance & Transport Allowance separately.

IAF has a separate AFCAT pay scale for each branch - Flying duty, Technical duty and Ground duty.

After being a part of IAF a candidate enjoys the luxury of working for the best defence organisations in the world apart from the respect and honour.

As the candidate grows in rank and stature their income, responsibilities and other entitlements will also increase
AFCAT 2020 Salary - Payscale
Being an IAF officer is one of the most challenging jobs but the authorities know how to take great care of the recruits making it one of the well-paid jobs in India. After qualifying the AFCAT and completing the training period successfully, an officers starting salary is Rs. 56,100-1,10,700. Apart from the salary the Indian Air Force also provides its officers with various other benefits and perks. In the following table, we have shared the branch-wise pay scale of AFCAT and the benefits.
AFCAT Salary 2020 - Branch-wise Payscale
| | |
| --- | --- |
| Flying Branch Salary | Rs. 85,372/- |
| Ground Duty (Tech) Branch Salary | Rs. 74,872/- |
| Ground Duty (Non-tech) Branch Salary | Rs. 71,872/- |
AFCAT 2020 Salary - Benefits
Once you join the Indian Air Force, you get entitled to many facilities and benefits which range from housing facilities, medical facilities, schools for your kids and all the other day-to-day needs. Not just this, but you also continue to avail these benefits after your retirement. Few of the benefits are mentioned here:
AFCAT 2020 - Various Benefits
Insurance

Air Force Personnel - Rs 75 lakhs

Air Force Personnel (Pilots) - Rs 85 lakhs

Scholarships and Welfare

Grants from the Air Force Wives Welfare Association (AFWWA)

Medical

All Air Force Officers, their families and dependents get access to free medical facilities.

Loan facility

Computer Loan

Conveyance Loan

House Building Loan

Post-retirement Benefits

Pension

Insurance

Medical (Lifetime access)

Educational Opportunities

M.Tech from IIT & BHU-IT (for officers of Technical Branches)

Study leave (up to 24 months)

Tie-ups with IGNOU

Placement cell

Helping retired officers get a civil job matching their profile

Other benefits

Accommodation

Leave- Annual leave for 60 days and casual leave of 20 days per year

Leave travel concessions

Institute and Messes membership

School facilities

Rail concessions

Secured camp life

CSD facilities

Recreational and sports facilities
Promotions in AFCAT
The promotions are applicable on the basis of the timescale for the first three ranks. For the other posts, the promotions are done on the basis of selection which depends upon the frequency with which the job positions get vacant. Promotion after this stage becomes a little abrupt because of the pyramidal promotional scene.
Once an individual has served the Flying officers for complete 3 years, they will be promoted to Flight lieutenants. They will have to qualify a department test to be eligible.

The Air Force is currently hiring Commissioned Officers as Flying Officers. So, Technical Officers who are actually engineers are provided seniority of 2 years for the purpose of pay and promotion as compared to Officers of the IAF.

If a candidate completes 6 years of service IAF, they will be granted the rank of Squadron Leader.

To climb up in the hierarchy, all Officers are mandatory to clear the promotion exam 'C' (Departmental).
As an IAF officer, the sky's the limit for the candidates. Starting a career as a Flying Officer a candidate can spruce up to the rank of Air Marshal. Check out the rank structure of the commissioned officers in IAF:
Rank Structure in AFCAT 2020:
Level

Posts

Junior Level




Flying Officer

Flight Lieutenant

Executive Level




Squadron Leader

Wing Commander

Group Captain

Director Level




Air Commodore

Air Vice-Marshal

Air Marshal




Chief

Air Chief Marshal
Related articles of AFCAT
Frequently Asked Question (FAQs) - AFCAT Salary 2020 - Check Benefits, Perks, Promotions & Job Profile
Question: How much salary and benefits are expected for AFCAT?
Answer:
The Pay Band of AFCAT (Common to all Branches) is Rs 56,100 Per Month (The officer will be placed in Level 10 in the Pay Matrix of VIIth CPC - 56,100-1,10,700). While the candidate will also be entitled for Military Service Pay amounting to Rs 15,500 Per Month.
Question: What is the salary offered to the candidates after qualifying AFCAT?
Answer:
Candidates get a salary of Rs. 56100-110700, depending upon their post.
Question: What is the salary which one gets while training at Indian Air Force?
Answer:
The stipend is Rs. 21,000 but after deducting the fooding and lodging charges the in hand stipend can be anything around 13000-14000.
Question: What are the salary packages after qualifying for the AFCAT and clearing the SSB?
Answer:
The salary package is different for various branches. Flying Branch Salary - Rs. 85,372/-, Ground Duty (Tech) Branch Salary - Rs. 74,872/-,
Ground Duty (Non-tech) Branch Salary - Rs. 71,872/-.
Questions related to AFCAT
Showing 56 out of 56 Questions