How to Prepare for RRB Group D 2020 - Preparation Tips & Strategies
How to Prepare for RRB Group D 2020? - Aspirants are unaware of the best strategy and ways on how to prepare for the RRB Group D 2020. The Computer based test (CBT) contains General Science, General Intelligence and Reasoning, Mathematics, General Awareness and Current Affairs. Interested aspirants must know the important topics and the best way to prepare them in order to crack the RRB Grade D exam. As per the stats, there are 100+ candidates competing for one seat. That's the level of competition in the RRB Group D exam. To be able to crack the RRB Group D, it's important to start your preparations early. Given the fact that there are more than 1,03,1769 vacancies in the RRB Group D 2020, the high competition level is indeed understandable. In this article, we will be discussing some major tips and tricks as well as strategies on how to prepare for RRB Group D 2020.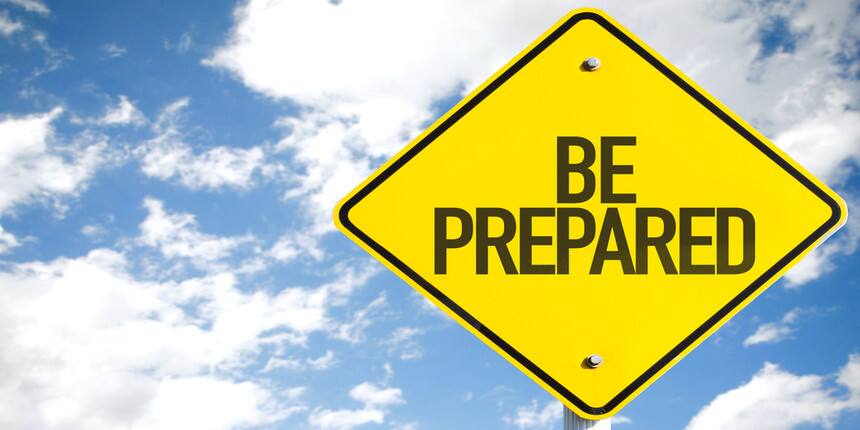 How to Prepare for RRB Group D 2020 - Important Tips
Aspirants can check the important tips on how to prepare for RRB Group D 2020 listed below.
RRB Group D Preparation Tip 1 - Understand the Exam Pattern and Syllabus
To start the preparation of RRB Group D, it is vital for candidates to first be aware of the RRB Group D 2020 exam pattern. Thorough knowledge of the exam pattern will give them a fundamental thought regarding the exam before they begin any methodology. To say the least, it is an absolute necessity. Along with the exam pattern, the RRB Group D syllabus 2020 is the next big thing to study. It will give aspirants a correct view of the paper that they are showing up for.
RRB Group D Preparation Tip 2 - Time Management
Aspirants are advised to set a time-table for their preparation of RRB Group D exam, as in how much time they need for every subject or topic. Time must be allotted according to the subject-wise as well as chapter-wise weightage. Subjects or topics that carry more weightage must be given priority. While planning for an examination, everything relies on time management skills. Also, aspirants can give proper attention to sections they feel that are hard to understand so that those will be completed on time and they can focus on the rest.
Note: Although some sections may carry less weightage, aspirants are advised not to consider them less important, as each mark in the exam is essential.
RRB Group D Preparation Tip 3 - Make Revision Notes
The best answer to how to prepare for RRB Group D 2020, is making revision notes. Even experts suggest the same, that while preparing for any exam, candidates must make notes of all the things they have studied. While preparing for RBB Group D, aspirants must make their own revision notes, because, at the end days when the exam is near, they do not have to go through the entire syllabus word by word. The entire study material of RRB Group D 2020 is difficult to carry anywhere, therefore, revision notes come as a saviour.
RRB Group D Preparation Tip 4 - Practice Mock Tests & Previous Papers
It's a saying that practise makes a man perfect, and it is indeed true. On your voyage on how to prepare for RRB Group D 2020, you must refer to the RRB Group D previous year question papers. While preparing for RRB Group D 2020, it's all about polishing skills by practising RRB Group D mock tests as well as previous year's question papers. By doing so, aspirants will not only improve their speed, but they will also be aware of their weaknesses and areas that need improvement. Previous year's question papers give the candidate's an idea of what to expect in the RRB Group D exam 2020.
RRB Group D Preparation Tip 5 - Reexamine What You have Studied so far
Many candidates do not re-examine what they have studied while preparing. This is where they go wrong. It is always a good idea to take a look at an entire syllabus once you're done, just to make sure that you haven't skipped anything. Also, it will give aspirants a sense of encouragement for all the hard work you have done.
RRB Group D Preparation Tip 6 - Stay Away From Stress
While we understand that RRB Group D 2020 is a tough exam, and the stress that comes with it is quite obvious, one should avoid consistent thinking about the preparations. A stressed mind can never score well in the exam, therefore, give yourself a break every once in a while and take proper sleep. Especially in the last days when the exam is approaching, as they're extremely vital.
RRB Group D recruitment is conducted by The Railway Recruitment Boards (RRBs) on behalf of Railway Recruitment Cells (RRCs) for various posts such as Trainer Maintainer Grade-IV, Helper/Assistant Pointsman in Level 1 of 7th CPC Pay Matrix in several departments of Indian Railways.
Other Related Articles
Frequently Asked Question (FAQs) - How to Prepare for RRB Group D 2020 - Preparation Tips & Strategies
Question: What is the difficulty level of the RRB Group D exam?
Answer:
The standard of questions asked in the exam are of class 10th level
Question: Is there any negative marking in the RR Group D exam?
Answer:
Yes, there is a negative marking of 1/3 marks for each wrong answer.
Question: What are the minimum qualifying marks of the RRB Group D exam?
Answer:
The minimum qualifying marks is 40% for General and EWS category candidates. While for OBC and OBC (Non-Creamy Layer) as well as SC and ST it is 30%.
Question: What are the cut off marks of the RRB Group D exam?
Question: How many hours of study is sufficient to crack the RRB Group D exam?
Answer:
Allocate at least 1 year to the preparations and 4-5 hours daily to the studies.
Questions related to RRB Group D
Showing 2 out of 2 Questions
9 Views
when to apply for this rrb group d exam
Due to Corona Virus Pandemic it has been postponed to the Last week of June. It was due to happen in this Month only but as you know...
-Exams likely to be held by the end of 2020 & ECA appointment extended to June 2020 due to COVID-19 Lockdown, said by Railway Senior Official.
Till then just be updated with their official website and our website.
64 Views
i want to know about nimset and preparing for 2021
Hi Bibhas,
NIT MCA Common Entrance Test (NIMCET), is the national level entrance exam conducted every year by one of the National Institutes of Technology (NITs) for taking admissions on merit basis to Master of Computer Applications (MCA) programme.
This exam works across the NITs located in Agartala, Allahabad, Kurukshetra, Calicut, Raipur, Warangal, Surathkal, Durgapur, Trichy, Jamshedpur, Bhopal and Kurukshetra.
The application form of NIMCET 2020 will be released soon through which the candidates can fill the form and appear in the entrance exam. NIMCET admit card will also be released to be downloaded by candidates. The exam will be conducted in offline mode and the result of the same will be declared on the official website of NIMCET 2020.
Total 809 seats are available and duration of exam is 2 hours.
NOTE:- NIMCET scores are used by many other universities and institutes for admissions to the MCA programmes offered by them.
You may refer to the source article for more information about NIMCET 2020 Exam.
I hope this information helps you.
Good Luck!