SSC Stenographer Exam Centres 2020 - Check Test Cities Here
SSC Stenographer Exam Centres 2020 - SSC releases the list of Stenographer 2020 exam centres along with the notification and the application form. The exam centres of SSC Stenographer 2020 are the venues where the exam will be conducted. Candidates will have to fill their choice of SSC Stenographer 2020 exam centres while filling out the application form. The SSC Stenographer 2020 application form has been released on October 10, 2020. The CBE of SSC Stenographer 2020 is scheduled to be conducted from March 29 to 31, 2021 across the SSC Stenographer 2020 exam centres. Candidates can find more details about the exam centres of SSC Stenographer 2020 here.
Latest: SSC Stenographer exam registration 2020 has been started on October 10.
SSC has released new SSC Stenographer exam dates for the SSC Stenographer 2019 CBT on October 7.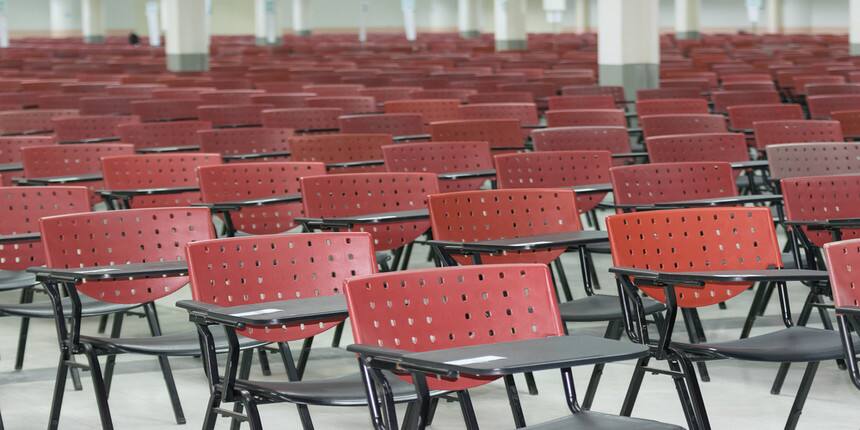 SSC Stenographer Exam Centres 2020
In the following table candidates can check the state-wise exam centres of SSC Stenographer 2020. The exact address of the exam centre will be mentioned in candidates' respective admit card of SSC Stenographer.
Exam Centres of SSC Stenographer 2020
States

Cities

Central Region (CR)/Bihar and Uttar Pradesh

Agra, Prayagraj, Bareilly, Gorakhpur ,Kanpur, Lucknow, Meerut, Varanasi, Bhagalpur, Muzaffarpur, Patna

Eastern Region (ER)

Gangtok, Ranchi, Kolkata, Siliguri, Bhubaneswar

Andaman & Nicobar Islands, Jharkhand, Odisha, Sikkim and West Bengal

Cuttack, Sambalpur, Port Blair

Karnataka, Kerala Region (KKR)/Lakshadweep, Karnataka and Kerala

Bengaluru, Belagavi, Hubballi, Kalaburagi (Gulbarga), Mangaluru, Mysore,Shivamogga, Udupi, Thiruvananthapuram, Ernakulam, Kannur, Kollam, Kottayam, Kozhikode,

Thrissur

Madhya Pradesh Sub-Region (MPR)/Chhattisgarh and Madhya Pradesh

Bhopal, Gwalior, Indore, Jabalpur,Satna,

Sagar, Ujjain, Bilaspur, Raipur, Durg-Bhilai

North Eastern Region (NER)/ Arunachal Pradesh, Assam, Manipur, Meghalaya, Mizoram, Nagaland and Tripura.

Itanagar, Dibrugarh, Guwahati(Dispur), Jorhat, Silchar, Kohima, Shillong, Imphal, Churachandpur, Ukhrul, Agartala, Aizawl

Northern Region (NR)/ NCT of Delhi, Rajasthan and Uttarakhand

Dehradun, Haldwani, Haridwar, Roorkee, Delhi, Ajmer, Alwar, Bikaner, Jaipur, Jodhpur, Kota, Sriganganagar, Udaipur, Sikar

North Western Sub-Region (NWR)/

Chandigarh, Haryana, Himachal

Pradesh, Jammu and Kashmir and Punjab

Jammu, Leh, Srinagar, Samba, Hamirpur,

Shimla (Jalandhar, Amritsar, Mohali, Chandigarh)

Southern Region (SR)/ Andhra Pradesh, Puducherry, Tamil Nadu and Telangana.

Guntur, Kurnool, Rajahmundry, Tirupati,

Visakhapatnam, Vijayawada

,Chennai , Coimbatore, Madurai, Tiruchirapalli , Tirunelveli,Puducherry, Hyderabad , Warangal

Western Region (WR)/ Dadra and Nagar

Haveli, Daman and Diu, Goa, Gujarat

and Maharashtra

Ahmedabad, Vadodara,Rajkot,Surat, Amravati, Aurangabad, Kolhapur,Mumbai, Nagpur, Nashik, Pune, Panaji
SSC Stenographer 2020 Exam Day Guidelines
SSC issues guidelines for aspirants to appear for the exam. The guidelines are mentioned here and aspirants must follow them:

Carry two passport size recent color photographs and one valid Photo ID Proof - Aadhaar Card/ printout of E-Aadhaar, DL, Voter Card, PAN, Identity Card issued by College/University/Government, Employer ID Card etc to the SSC Stenographer exam centre. Failing to do the same they will not be allowed to appear for the exam.

If a candidate's photo identity card does not have their DoB printed, they must carry an additional original certificate DoB proof. If the DoB mentioned in admit card and Photo ID is different, the candidate will not be allowed to appear for the exam.
SSC will release the admit card of Stenographer one week before the exam. Candidates must download the admit card and carry it along with the valid photo ID proof to the exam centre of SSC Stenographer. Failing to do so, they will not be able to appear for the exam.
Other Relevant Links
SSC Stenographer Eligibility Criteria 2020
SSC Stenographer Exam Pattern 2020
SSC Stenographer Syllabus 2020
SSC Stenographer Question Paper 2020
Frequently Asked Question (FAQs) - SSC Stenographer Exam Centres 2020 - Check Test Cities Here
Question: What is the complete address of the exam centre?
Question: Can we change the SSC Stenographer Exam Centre?
Answer:
No, you cannot change. You already get a chance to choose 3 centres while filling the application form.
Question: How many zones are there in SSC?
Answer:
SSC has its headquarters in New Delhi. It has 9 Regional offices.
Question: I belong to Bhutan. Should I come to India while appearing for the exam?
Answer:
Yes, you have to come to India for SSC Stenographer exam.
Questions related to SSC Stenographer
Showing 9 out of 9 Questions