IBPS SO Salary 2020, Pay Scale, Allowance, Job Profile
IBPS SO Salary 2020 – Institute of Banking Personnel Selection (IBPS) conducts the recruitment test to select Specialist Officers (SO) in various nationalised banks of India. These nationalised banks provide the Specialist Officers with the best remunerations in terms of IBPS SO 2020 salary. Candidates preparing for IBPS SO might be interested in knowing the salary of IBPS SO 2020 recruited employees. Along with the basic pay, an individual appointed as SO receives numerous benefits in terms of allowances and compensations associated with the post making the life of IBPS SO very much financially secure. Candidates meeting the IBPS SO eligibility criteria 2020 can fill the application form from November 2, 2020 in online mode. The IBPS SO application form 2020 are to be filled by candidates aspiring to join nationalised banks of repute in Scale I posts for I.T. Officer, Agricultural Field Officer, Rajbhasha Adhikari, Law Officer, HR/Personnel Officer and Marketing Officer.
Latest: IBPS SO result for prelims stage is available now. Check all about IBPS SO 2020 cut off .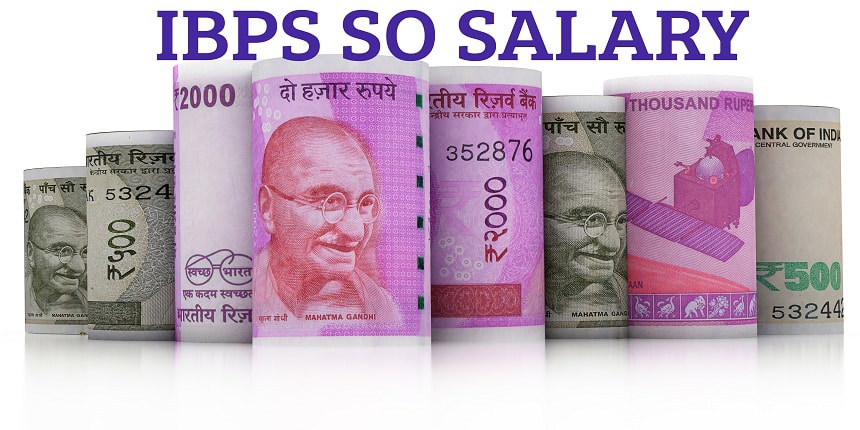 IBPS SO Salary 2020 - Highlights
| | |
| --- | --- |
| Particulars | Specification |
| Gross Salary as per IBPS SO 2020 salary | Rs 38,000 – Rs 39,000 |
| IBPS SO 2020 Pay Scales | 23,700 – 980/ 7 – 30,560 – 1,145/ 2 – 32,850 – 1,310/ 7 – 42,020 |
| Dearness Allowance associated with IBPS SO salary 2020 | 36% of basic pay |
| City Compensatory Allowance | 3% – 4% depending on place of posting |
| House Rent Allowance as per IBPS SO 2020 salary | 7% – 9% depends on place posted |
IBPS SO 2020 Salary Other Benefits
Compensation - The total compensation per annum for a SO ranges from 7.55 lakhs to 12.93 lakhs per annum depending on the place of posting and other related factors.

Housing – IBPS SO salary also includes House Rent Allowance (HRA). The HRA is paid for the accommodation expense of an Officer and it does vary as per the place of posting.

Conveyance Allowance – Officers recruited as IBPS SO receive this allowance as per the availability of conveyance (two-wheeler or four-wheeler) they possess. Employees get a fixed amount of fuel and maintenance allowance associated with the vehicle per month.

Newspaper Allowance – Employees receive newspaper allowance too along with the salary of IBPS SO.

Leave policy – The employees recruited through IBPS SO can avail numerous leaves as per the policy of the banks they are posted. Some of the leaves generally are casual leaves, privilege leaves and medical leaves. Moreover, 6-month maternity leave is also permitted to a woman Specialist Officer. Women and single men posted as SO with children or aged parents have the provision to take sabbatical leave of up to 2 years.

Leave travel concession (LTC) – LTC is another benefit apart from the IBPS SO 2020 salary that an employee can avail as per the policy of the bank.

Holiday homes - Employees recruited through IBPS SO are entitled to holiday homes and employees' guest houses of the banks they are posted at major cities and tourist destinations across the country.

Constant training and professional development – All the posts of SO are intellectually demanding one. The Bank trains all their SOs on a regular basis and ensures that they remain updated with the nuances of banking.
IBPS SO Career Path 2020
Officers recruited through IBPS SO have to be on probation for a minimum period of one year. During this probation period, they are provided with numerous training to make them accustomed with the nuances of banking associated with the post. Appraisals in all the banks for the employees recruited through IBPS SOs are fair and transparent. A dedicated employee has immense growth opportunities during their tenure as Specialist Officers. An employee recruited as IBPS SO is able to reach top management grade through departmental exams and promotions. Foreign postings in IBPS SO are also available.
IBPS SO 2020 promotion ladder
Scale 1 Officer

Scale 1 Assistant Manager

Scale 2 Manager

Scale 3 Senior Manager

Scale 4 Chief Manager

Scale 5 Assistant General Manager

Scale 6 Deputy General Manager

Scale 7 General Manager
IBPS SO Job Role
An aspirant of IBPS SO 2020 must also know the job responsibilities entrusted along with the post. The job role of an SO are tabled below for all the posts –
IBPS SO 2020 Job Role
IBPS SO Post

Job Role Associated

I.T Officer

Look after Bank Software

Oversee Core Banking System of the Bank

Management of Internet Banking, Mobile Banking, ATMs, Kiosks

Security of Bank Network

Manages technological issues of Banking Operations

Agricultural Field Officer

Responsible for promotion of rural banking

Coordinating with RRBs, NABARD and other organisations

Loan inspection and recovery in rural areas

Rajbhasha Adhikari

Promoting Official Language

Conducting language-related workshops

Translation of documents

Law Officer

Ensure compliance of RBI norms and regulations

Ensures bank's engagement is legal w.r.t deals/ contracts

Take care of legal documents/ matters of the bank

Represent bank in case of suits

HR/Personnel Officer

Conducts recruitment

Provides training to employees

Maintains employee database

Does performance evaluation of employees

Designs welfare schemes, compensations and promotion policies

Marketing Officer

Conduct region or state wise marketing and promotional activities

Introduce marketing strategies to increase sales and profit

Research for new viable growth aspects
Moreover, it requires mention that the life of Specialist Officers is not only financially secure with the salary of IBPS SO 2020 but also comes with varied mental satisfactions like social status, job security, sense of responsibility to the citizens of the country etc.
Read More:
Frequently Asked Question (FAQs) - IBPS SO Salary 2020, Pay Scale, Allowance, Job Profile
Question: Will I get any IBPS SO salary during my probation?
Answer:
Yes. Employees will be entitled to IBPS SO salary 2020 on probation period of one year. Along with the salary certain allowances will also be received during the probation period.
Question: Will I get the same salary as an IBPS SO recruit for all the banks?
Answer:
No. Though the basic salary is almost same of all the banks for IBPS SO but the allowances and the remunerations are different as per the bank on eis posted.
Question: Who sets the eligibility criteria for IBPS SO?
Answer:
The IBPS SO eligibility criteria 2020 is set by the exam conducting authority, IBPS to recruit officers in specialist cadre posts for various nationalised banks of India. The eligibility is determined on the basis of nationality, age and educational qualification.
Question: Who provides salary to the IBPS SOs? IBPS or banks?
Answer:
The banks into which an SO is recruited provides the salary. IBPS is just a recruiting board.
Questions related to IBPS SO
Showing 54 out of 54 Questions
Institute of Banking Personnel Selection Common Written Examination for Specialist Officers (IBPS SO)