IBPS SO Syllabus 2022 - Institute of Banking Service Personnel provided the IBPS SO 2022 syllabus along with the Specialist Officer (SO) brochure in online mode. According to the syllabus of IBPS SO 2022, the important sections are English Language, General, Awareness, Quantitative Aptitude, and Reasoning Ability.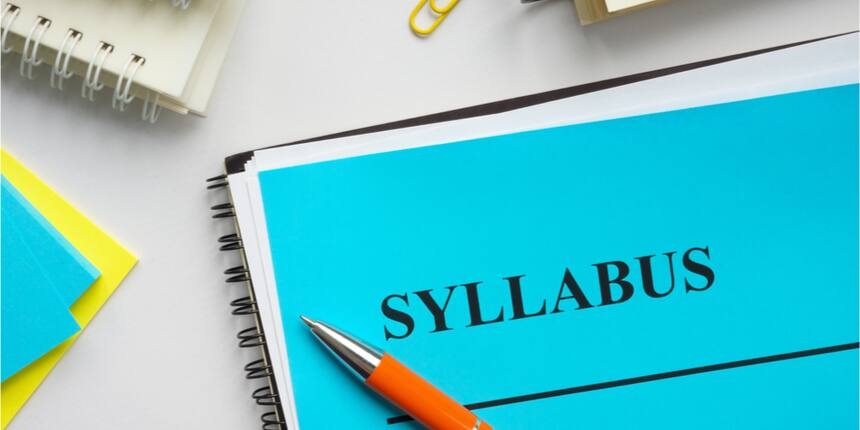 IBPS SO Syllabus 2022 for Prelims, Mains Exam
To crack the IBPS SO 2022 exam, candidates need to be thorough with the IBPS SO syllabus 2022 and prepare the important concepts and topics. With the help of IBPS SO 2022 syllabus, candidates will get to know about topics related to IBPS SO question paper. IBPS provides the IBPS SO syllabus 2022 for both the prelims and main stage. To know more about the IBPS SO 2022 syllabus, read the full article.
IBPS SO 2022 Syllabus - Stages
The prelims, mains, and interview are the three stages of the IBPS SO examination. The preliminary and mains stages of the IBPS SO are computer-based. Multiple-choice questions will be asked in the prelims exam. Questions in the IBPS SO mains, on the other hand, are of the post-specific goal and descriptive kind. Candidates are called for IBPS SO interview on the basis of ranks and the choice of preference of banks made during IBPS SO application form 2022.
IBPS SO 2022 Stages
| | | | |
| --- | --- | --- | --- |
| Stages | Preliminary | Mains | Interview |
| Mode of exam | Online | Online | - |
IBPS SO Syllabus 2022 - Prelims
For IBPS SO 2022 prelims, aspirants must be aware of the topics covered under each segment of the subjects. A candidate will schedule their studies and concentrate on topics with the aid of the IBPS SO syllabus 2022. A list of important books is also given here, along with the IBPS SO syllabus 2022, so that candidates can begin their preparation for the recruitment test. To qualify for IBPS SO main, candidates must achieve a minimum score in IBPS SO prelims 2022.
IBPS SO 2022 Syllabus - Stage I Subjects
English Language

General Awareness

Quantitative Aptitude

Reasoning Ability
Exclusive Careers360 Premium Content
Get education, career guidance; live webinars; learning resources and more
Subscribe Now
IBPS SO Prelims 2022 Topics
Subjects

Topics

Best Books

English Language

Spot the Error

Fill in the Blanks

Synonyms/ Homonyms

Antonyms

Spellings/ Detecting mis-spelt words

Idioms & Phrases

One word substitution

Improvement of Sentences

Active/ Passive Voice of Verbs

Conversion into Direct/ Indirect narration

Shuffling of Sentence parts

Shuffling of Sentences in a passage

Cloze Passage

Comprehension Passage

Word Power Made Easy: Norman Lewis

English Grammar & Composition: Wren & Martin

Objective English: S. P. Bakshi

Plinth to Paramount (Volume I-II): KD Publication

General Awareness

General Knowledge: Lucent Publication

India Year Book: Publications Division

Manorama Year Book

Yojana Magazine

Quantitative Aptitude

Number Systems: Computation of Whole Number, Decimal and Fractions, Relationship between numbers

Fundamental arithmetical operations: Percentages, Ratio and Proportion, Square roots, Averages, Interest (Simple and Compound), Profit and Loss, Discount, Partnership Business, Mixture and Alligation, Time and distance, Time and work

Algebra: Basic algebraic identities of School Algebra and Elementary surds (simple problems) and Graphs of Linear Equations




Magical Book on Quicker Mathematics: M. Tyra

Quantitative Aptitude: R.S. Agarwal

Quantitative Aptitude for Competitive Exam : Pearson Guide

Fast Track Objective Arithmetic: Rajesh Verma- Arihant Publication




Reasoning Ability

Verbal and Non-Verbal Types

Semantic Analogy

Symbolic operations

Symbolic/ Number Analogy

Trends

Figural Analogy

Space Orientation

Semantic Classification

Venn Diagrams

Symbolic/ Number Classification

Drawing inferences

Figural Classification

Punched hole/ pattern folding & unfolding

Semantic Series

Figural Pattern-folding and completion

Number Series

Embedded figures

Figural Series

Critical Thinking

Problem Solving

Emotional Intelligence

Word Building

Social Intelligence

Coding and de-coding

Numerical operations

Reasoning: M.K. Pandey

Verbal & Non-Verbal Reasoning: R.S. Aggarwal

Modern Approach to Verbal Reasoning: R.S. Agarwal

A New Approach to Reasoning Verbal and Non-Verbal: Arihant Publication
Also Read: IBPS SO Admit Card 2022
IBPS SO Syllabus 2022 - Mains
The IBPS SO 2022 exam has a post-specific syllabus. IBPS SO is a recruitment examination for I.T. Officers, Agricultural Field Officers, Rajbhasha Adhikaris, Law Officers, HR/Personnel Officers, and Marketing Officers in Scale I positions. The following is a list of the IBPS SO mains syllabus for each of the six posts:
IBPS SO Syllabus 2022 - I.T. Officer
C Programming Basics

MS Office

Windows OS

Network security

Advantages function

Operating system function

Web technologies

Software engineering

Basic programming concept

Programming

Data communication and networking

Basic knowledge of hardware

Database management system types

-
IBPS SO Syllabus 2022 - Agricultural Field Officer
| | | |
| --- | --- | --- |
| Agriculture current events | Women and child development schemes | Rural welfare activities in India |
| Crop Horticulture Vegetables | Spacing time of sowing seed rate | Various diseases and its causes |
| Herbicides and pesticides | Agriculture small industries | Different varieties of animals |
| Important points – plants, fruits and vegetables | Preservation of fruits and vegetables | Types of cropping systems |
| Green Manures | Indian soil | Soil resources |
| Animal husbandry and technology | Seed technology – different government schemes | Agriculture economics – agriculture costs and schemes |
| Different diseases | Various types of agricultural practices | - |
IBPS SO Syllabus 2022 - Rajbhasha Adhikari
Official Language: Brief Intro

Arrangement in Constitution: Use of Hindi

Official Translation of Central Act

Power of making Rules

Article 343: Official Language of Union

Purpose of Official Act 1976 and main features

Official Language

Implementation Committees

Difference between National Language and Official Language

Hindi Grammar and its usages

Translation

Prose

Knowledge of Administrative Hindi and English

The language of Union, Languages of States, Language of Supreme Court, High Court etc.
IBPS SO Syllabus 2022 - Law Officer
Foreign Exchange

RTI Act

Consumer Protection Act

Banking Ombudsman Scheme

Offences and Penalties

SARFAESI

Constitution

Contract Acts

Information Technology Act

Prevention of money laundering

Securities

Partnerships

Companies

Firm

RBI

Negotiable Instruments

Law and Acts with direct and Indirect Implication on the banking sector
IBPS SO Syllabus 2022 - HR/Personnel Office
| | | |
| --- | --- | --- |
| Performance appraisal | Promotion, transfer and demotions | Placement |
| Information Technology-Concepts & Issues | Factories act | Gratuity act |
| Training and development | Compensation | Industrial relations |
| Staffing | HR Introduction | Strategic Role of Information in HRM |
| Principles of management | HR Planning | Job analysis |
| Job design | Leadership styles | Provident fund act |
| Industrial Relations Act | Wage and Salary Administration | Interview |
| Job evaluation | Motivation | Information Technology- Concepts & Issues |
IBPS SO Syllabus 2022 - Marketing Officer
Sales Management

Rural Marketing

Distribution

Social Responsibility and Business Ethics

Marketing Process and Marketing Planning

Consumer/ Buyer Behavior

International Marketing

Marketing Environment

Advertisement

Meaning, Functions and Importance of Marketing Management

Marketing Program

Distribution: Definition, Channels

Marketing Research

Marketing Organization

Marketing Decision-Making

Insurance Marketing

Product

Bank Marketing

Services Marketing

Sales Promotion and its Objectives

Personal Selling

Consumer Protection in India: List of Consumer Rights, Consumer Protection Act

Branding, Packaging, and Labeling

Sales Forecasting

Market Segmentation: Importance of Market Segmentation

Marketing overview

Concept, Nature, Scope, and Importance of Marketing

Pricing Decisions

Wholesale Trade




Retail Trade

Product Planning and Development
IBPS SO 2022 Exam Pattern
The recruitment process, as per IBPS SO exam pattern 2022 is 3-staged - prelims, mains and interview. The tests of prelims and mains in IBPS SO are conducted online. As per the IBPS SO 2022 exam pattern, the questions are set in English and Hindi except for the test in English. 1/4th of the mark assigned for each question will be deducted for each wrong answer marked in the objective tests. Candidates are required to score a minimum percentage mark on aggregate to be considered IBPS SO 2022 qualified.
Specification

Prelims

Mains

Exam mode

Online

Online

Exam duration

2 hours

Rajbhasha Adhikari: 1 hour

All others: 45 mins

Medium of exam

English/ Hindi

English/ Hindi

Type of questions

Objective

Rajbhasha Adhikari: Objective+Descriptive

All others: Objective

Total questions

150

Rajbhasha Adhikari: 47

All others: 60

Total marks

125

60

IBPS SO Cut off

To be decided by IBPS
IBPS SO Question Paper 2022
It is encouraged that an aspirant of IBPS SO solved previous year question papers of both prelims and mains to get an insight about the difficulty level of exam, nature of questions asked and weightage of topics from each section of the topics to form a solid approach and crack IBPS SO. Solving the previous year IBPS SO question papers enhances the ability to know the pattern of questions, sources from where the questions are asked and thereby increase the possibility of selection.
Best Books For IBPS SO 2022
The selection of the best books is one of the most important aspects of better exam preparation. Candidates are always perplexed when choosing the right books for IBPS SO 2022 due to the large number of training books available on the market. One thing that students should keep in mind is that books should be focused on the most recent IBPS SO 2022 syllabus and exam patterns.
Check Other IBPS Exams Syllabus