UGC NET 2020 Last Minute Preparation Tips to Crack The Exam
UGC NET 2020 Last Minute Preparation Tips - National Testing conducts the eligibility test on national level to determine the eligibility of Assistant Professors/Lecturers and Junior Research Fellowship twice a year. This year the June session got delayed due to the noble coronavirus pandemic. Now that, less than a week left for the UGC NET 2020 exam. Let's check the last minute preparation tips of UGC NET. As per the new exam dates of UGC NET, the exam is scheduled from September 16- September 18 and September 21- September 28, 2020. Candidates need to make sure to have command over the topics based on the latest syllabus and exam pattern of UGC NET. As per last minute preparation tips of UGC NET, solving questions papers of UGC NET is beneficial. To know more about UGC NET 2020 last minute preparation tips, read the full article below:
Latest:NTA released the UGC NET 2020 admit card for October 9 and 17. UGC NET revised date sheet announced.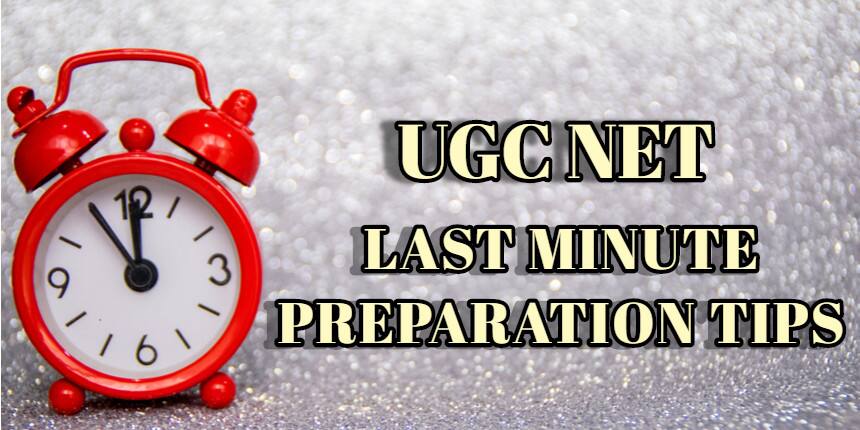 UGC NET 2020 Exam dates
The UGC NET important dates need to be tracked by the candidates so that they will not miss any major events. Check below the table of important dates of UGC NET 2020 :
UGC NET Important dates
| | |
| --- | --- |
| Examination Name | UGC NET |
| Conducting Body | National Testing Agency |
| Application Form Start Date | March 16, 2020 |
| Last Date to fill the Application Form | June 30, 2020 |
| Admit Card Release Date | Available Now |
| UGC NET Exam (June session) | September 24 to November 13, 2020 |
UGC NET 2020 Last Minute Preparation Tips
Candidates can check last minute preparation tips of UGC NET to avoid any kind of stress and hassle.
Making Proper Study Plan
Last few days of any exam is very crucial, it's all about having a proper study schedule to give your best shot at cracking the UGC NET 2020 exam. Make a study plan that includes solving sample papers and giving mock tests of UGC NET. These will help the candidates to attain more accuracy in the examination.
Revise What you Read
It is good to revise all the topics you read during the last few days. Don't opt for new topics , this will create confusion and you will get panicked. Just focus on the subjects and topics you are good at. It's good to make short notes of important topics and formulas for the quick revisions before the examination.
Practice with Previous year papers
The previous years UGC NET question papers will help the candidates to know about the question pattern and the difficulty level of questions. Practicing more with questions papers to match up the time with accuracy. Also practice will boost up the confidence. Try to solve at least two sample papers on a daily basis till the examination day.
Also Read:
Time management
As per the UGC NET exam pattern, there are two papers for the UGC NET examination.Paper -I is common for all the students. Paper I is basically designed to assess the students on the basis of teaching abilities whereas Paper-II is completely based on the subject chosen by students. While preparing time management is most im;portant. Work on your weaker sections. On the last few days, give time for both the papers. Try to manage time to read the newspapers also to keep yourself updated. Paper-I consist of general awareness too which is mostly based on current burning topics.
Health is Wealth
'Health is Wealth' always keep this in your mind not only during the last few days of exam but for forever. One of the most important things to follow, don't skip your meals. Take proper healthy diets that include vegetables and fresh fruits. Skipping your meals can lower your metabolism and you may fall ill. Drink plenty of water. Students also feel panicked during exam days, do exercise and meditation regularly. This will help you to calm your body and mind both. Take proper sleep upto 7-8 hours to avoid headaches and stress. Try to avoid eating spicy and oily food, this can upset your digestion and you may feel uneasy and irritated.
Read Questions Carefully
Don't hassle yourself while attempting the questions in examination. Read Question carefully before answering. Practice this thing with sample papers and mock tests at the time of preparation. Attempt the easy ones on priority. This will help you to save time for the difficult ones.
Don't Stress
Stress is the most common friend every student has during the examination days. Try to calm yourself whenever you feel anxiety by doing meditation or taking breaks during studies. Don't rush for everything. Just focus on what you studied and that will help you secure cut off marks of UGC NET. Manage time for your hobbies such as listening to music, dance , paint or do whatever you want, this will make you relax and happy.
UGC NET 2020: Exam Day Instructions
Check all the documents kept properly a night before the exam such as UGC NET 2020 Admit card, passport size photograph, photo identity proof, ballpoint pen and all other important stuff.

Read COVID-19 guidelines provided by authority and carry all the essentials as per mentioned there such as mask, gloves, personal hand sanitizer, transparent water bottle.

Check the distance and travel time of the examination venue. Try to reach at least 90 minutes before.

Candidates need to follow social distancing so that they will not get in touch with anyone to lower the risk of COVID-19.

Post examination, candidates are advised to take proper care of themselves. They must visit a doctor or isolate themselves if there is any sign of COVID-19.
Frequently Asked Question (FAQs) - UGC NET 2020 Last Minute Preparation Tips to Crack The Exam
Question: Can I prepare for UGC NET at home?
Answer:
Yes, you can prepare for UGC NET at home by going through proper UGC NET Preparation tips.
Question: How can I download the admit card of UGC NET?
Answer:
Candidates can visit the official website and enter the necessary credentials to download the admit card of UGC NET.
Question: What if I forgot to carry essentials?
Answer:
It is mandatory to carry essentials else you are not allowed to enter the examination centre.
Questions related to UGC NET
Showing 420 out of 420 Questions