UPSC Geology Books 2021 - Best optional books with Author name
UPSC Geology Books 2021 - The Union Public Service Commission (UPSC) conducts the UPSC Civil Services Exam to recruit candidates for various gazetted posts as class 1 officers in India. As part of the UPSC IAS syllabus, is the Geology subject which is an optional subject in the mains stage of the exam. The UPSC Geology subject has two papers and a lot of candidates who have their graduation or masters in Geology opt for the Geology subject as optional. The Geology subject has the lowest success ratio among candidates who have qualified for the UPSC Civil Services. In Geology, only 2.5% to 2% of candidates qualify, making it one of the toughest. In this article on UPSC Geology books 2021, we will provide the list of best books for this subject.
Latest Updates for UPSC CSE
Stay up-to date with UPSC CSE News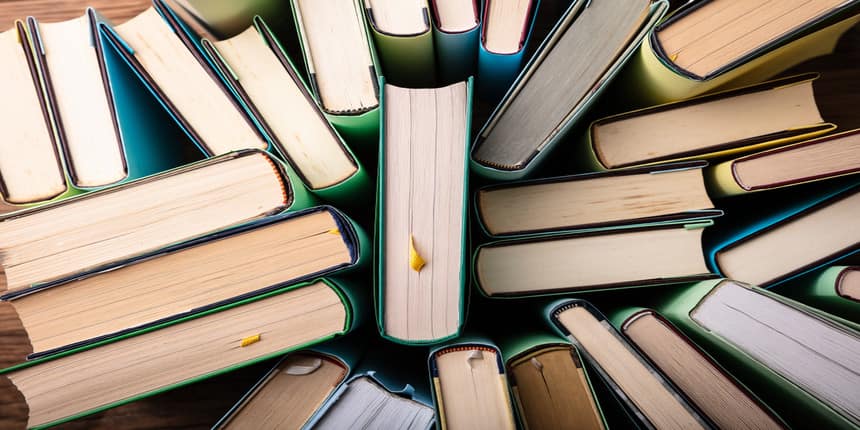 What will be the topics in Geology?
The questions in the Geology optional subject will be based on General Geology, Geomorphology & Remote Sensing, Structural Geology, Palaeontology, Indian Stratigraphy, Hydrogeology and Engineering Geology, Mineralogy, Igneous and Metamorphic Petrology, Sedimentary Petrology, Economic Geology, Mining Geology and Geochemistry and Environmental Geology.
13 min read
Mar 05, 2022
Read More
Quick links:
UPSC IAS Application Form 2021
UPSC 2021 Geology Books
From the following table, candidates can check the UPSC Geology books for UPSC Civil Services Geology optional subject. In the UPSC Geology Books table, we have also shared the name of the authors, so candidates can find it easy to purchase the books.
IAS Geology Optional Books -
| | |
| --- | --- |
| UPSC Geology Books | UPSC Geology Books Authors |
| Advancing Frontiers in Geology and Geophysics | A Volume in Honour of M.S. Krishnan- A P Subramaniam & S. Balakrishnan |
| Delta Sedimentation: East Coast of India | I.B. Singh & A.S.R. Swamy |
| The Ice Age in the Indian Subcontinent and Associated Human Culture | H. De. Terra & T.T. Paterson |
| Remote Sensing in Geomorphology | S.M. Ramasamy |
| Soil Chemistry: Basic Concepts | G. Bujy |
| The Evolution and Classification of Soils-Ramanan | E. & Whittles, C.L. (Tr.) |
| Poisonous Snakes | F. Wall |
| Mineral Exploration: Recent Strategies | S. Rajendran |
| Remote Sensing and GIS for Natural Resource Management | Bir Abhimanyu Kumar |
| Mine Closure | Naresh Chandra Saxena |
| Metallogenesis of Manganese Ores of Visakhapatnam BeltSrikakulam | F.N. Siddiquie |
| Inland Fisheries: Ecology and Management | R. L Welcomme |
| Hydrocarbon Potential and Exploration Strategy of Cauvery Basin, India | J.N. Sahu |
| Marine Geology: A Scenario Around Indian Coasts | T.K. Mallik |
| Himalaya: Geological Aspects, Vol. 1 & 2 | P.S. Saklani |
| Himalaya: Geological Aspects, Vol. 3 | P.S. Saklani (Ed.) |
| Himalaya: Geological Aspects, Vol. 4 | P.S. Saklani (Ed.) |
| Himalaya: Geological Aspect, Vol. 5 | P.S. Saklani (Ed.) |
| History and Culture of the Himalaya Volume 3 | K.S. Gulia |
| Wild India: The wildlife and landscapes of India | Guy Mountfort & Hashim Tyabji |
| Glossary of Structural Geology and Tectonics | P.S. Saklani |
| Geological Maps | D.K. Awasthi |
| Geologic Settings and Petroleum Systems of India's East Coast Offshore Basins: Concepts and Applications | Ravi, Bastia |
| Foreland Sedimentation in Himalayan Tectonic Regime: A Relook at the Orogenic Process | V. Raiverman |
| Geology and Evolution of the Indian Plate (from Hadean to Holocene – 4Ga to 4 Ka) | S.M. Naqvi |
| Encyclopaedia of Paleontology | Vivek Sharma |
| Encyclopaedia of Geology | Washali Yadgiri |
| Encyclopaedia of Geo-Informatics: Incorporating GIS and Remote Sensing, 5 Vols. | Priya Ranjan Trivedi |
| Encyclopaedia of Fish and Fisheries | Anand, Vishal |
| Earthquake Disaster Reduction: Masonry Buildings, Design and Construction | Anand S. Arya |
| Early Man in Eastern Himalayas: North-East India and Nepal | A. K. Sharma |
| Dimensions of Himalayan Geology | A.K. Biyani |
| Deccan Traverses: The Making of Bangalore's Terrain | Anuradha Mathur & Dilip Da Cunha |
| Ananda K. Coomaraswamy Writings on Geology and Mineralogy: Scientific Papers and Comments | A. Ranganathan, & K. Srinivasa Rao (Eds.) |
| Concise Glossary of Geology | S.M. Mathur |
Quick links:
4 min read
Mar 05, 2022
Read More
UPSC IAS Eligibility Criteria 2021
UPSC IAS Geology Preparations Tips 2021
Quick links:
UPSC Civil Services Syllabus 2021
UPSC IAS syllabus is divided into two parts - Prelims and Mains. A major portion of the IAS syllabus is from the General Studies section. The questions in GS are from Geography, History, International Relations, Polity, Hindi, English, Regional language, Economics, Ethics, Logical Reasoning etc. There are two papers in prelims - General Studies Paper 1 and Paper 2. The IAS mains exam is conducted for 9 papers.
Quick links:
UPSC Civil Services Exam Pattern 2021
The exam pattern of UPSC IAS 2021 consists of a number of questions, stages of exam, exam time duration and total marks. The exam is conducted in 3 stages - preliminary, mains and personality test/interview. The exam pattern of prelims consists of 2 papers that will be MCQ-based, there is a negative marking in the UPSC IAS prelims exam. The mains consists of 9 papers that are in descriptive mode. Candidates qualifying in the preliminary and mains stage will be qualified to appear in the personality test which is the final stage of UPSC IAS.
Quick links:
UPSC Civil Services Exam Analysis 2021
UPSC Civil Services Question Papers 2021
UPSC releases IAS question papers after the conclusion of the exam. Along with the question papers, the IAS answer keys are also released for the preliminary stage. With the help of IAS question papers, candidates can check important topics and chapters asked in the exam. They can practice using the UPSC IAS and qualify the exam.
UPSC IAS Preparation Articles
More articles related to the UPSC IAS exam 2021
Frequently Asked Question (FAQs) - UPSC Geology Books 2021 - Best optional books with Author name
Question: Is geology good for UPSC?
Answer:
Geology is a deep subject with a lot of topics to study. If any candidate has an interest in geology they can opt for this optional subject to qualify.
Question: Is UPSC 2020 Tough?
Answer:
UPSC conducts a lot of exams, if considering the UPSC IAS exam than yes it is tough than other exams.
Question: What books should I read for Geology Upsc?
Answer:
Candidates can refer to the best-recommended books for Geology as mentioned in the article above.
Question: Is there any changes in UPSC 2021?
Answer:
Yes, in UPSC 2021 one extra exam centre has been added for the preliminary stage which is in Leh. Previously there were 72 exam centres, now there are 73 exam centres.
Question: What should be the strategy for UPSC 2021?
Answer:
The best strategy for UPSC 2021 is to understand the syllabus in detail as it is very vast. After going through the syllabus, start picking the best study materials to prepare for the exam.
Question: Can a 20 year old give the IAS exam in 2021?
Answer:
No, the minimum age limit to apply for IAS 2021 is 21 years, so a candidate whose age is 20 cannot apply.
Question: Is CSAT removed from UPSC 2021?
Answer:
No, CSAT is not removed from the UPSC 2021. CSAT will be a part of the UPSC Civil Services preliminary stage.
Question: Is UPSC Geologist exam tough?
Answer:
Yes, it is a tough optional subject and only a few candidates choose it as optional and qualify it.
Question: Is 1 year enough for IAS?
Answer:
It can and cannot be. It all depends upon your time and the way you study. UPSC IAS has a vast syllabus and there are a lot of things to study.
Questions related to UPSC CSE
Showing 1970 out of 1970 Questions