UPSC IAS Salary 2023: The Union Public Service Commission (UPSC) mentions the details about the UPSC IAS 2023 salary, perks and all allowances in the official CSE notification. UPSC IAS salary 2023 will be mentioned in the IAS notification upon its release on the official website - upsc.gov.in. Candidates qualifying the UPSC civil services exam will be recruited as IAS officers by the Government. Based on the seniority, the IAS salary of an IAS officer can reach up to Rs 2,50,000 (approx.) if the candidate reaches the highest post i.e. Cabinet Secretary.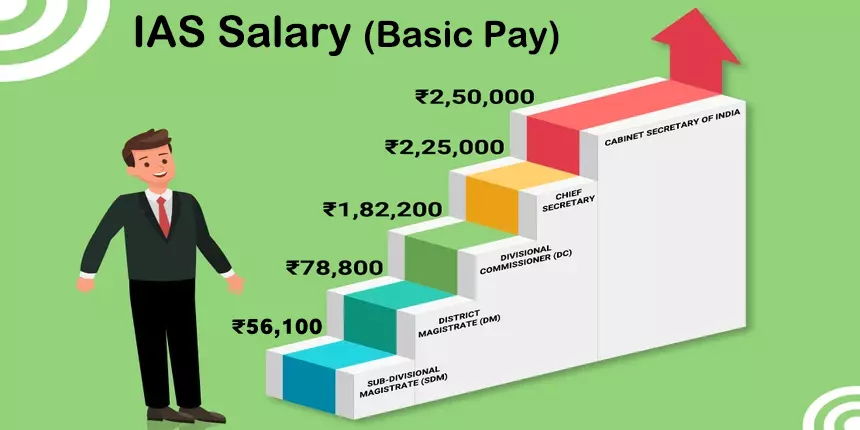 UPSC IAS Salary 2023 - Pay Scale Post wise, Basic Pay, Grade Pay & Benefits
As per the 7th pay commission, the salary of an IAS has been revised and based on the new compensation, the in-hand salary of an IAS officer is Rs 56,100 plus various allowances and perks. The IAS salary 2023 is made of various components like basic pay, HRA, TA, DA, medical allowance and more. The salary of an IAS officer is not that lucrative but the prestige and respect that this post holds are not comparable to any other job. Candidates wanting to get recruited as IAS, IPS, IFS, etc. through the UPSC IAS 2023 exam can fill the UPSC IAS application form 2023 on the UPSC official website. To know more about the IAS salary 2023 read the article below.
IAS Highlights
Exam name

Union Public Service Commission Civil Services Exam

Commonly known as

UPSC CSE

Exam Conducting Authority

Union Public Service Commission

Official Website

upsc.gov.in

Exam Level

National

Educational Qualification

Graduation

Minimum age limit

21 years

Stages of Exam

Preliminary

Mains

Personality Test

Exam Mode

Offline
Also read: Complete guide for UPSC CSE exam preparation
IAS salary 2023 - UPSC Civil Services Posts
Candidates clearing all the three stages of the UPSC IAS selection process 2023 will be eligible to be recruited to different Group A and B civil services in the different government departments across the country. The different civil services posts for which the UPSC CSE examination is held are mentioned in the table below.
UPSC civil services posts
All India Civil Services
Indian Administrative Service (IAS)

Indian Police Service (IPS)

Indian Forest Service (IFoS)
Group 'A' Civil Services
Indian Foreign Service (IFS)

Indian Audit and Accounts Service (IAAS)

Indian Civil Accounts Service (ICAS)

Indian Corporate Law Service (ICLS)

Indian Defence Accounts Service (IDAS)

Indian Defence Estates Service (IDES)

Indian Information Service (IIS)

Indian Ordnance Factories Service (IOFS)

Indian Communication Finance Services (ICFS)

Indian Postal Service (IPoS)

Indian Railway Accounts Service (IRAS)

Indian Railway Personnel Service (IRPS)

Indian Railway Traffic Service (IRTS)

Indian Revenue Service (IRS)

Indian Trade Service (ITS)

Railway Protection Force (RPF)
Group 'B' Civil Services
Armed Forces Headquarters Civil Service

DANICS

DANIPS

Pondicherry Civil Service

Pondicherry Police Service
Quick Links - UPSC IAS admit card 2023
IAS salary 2023 - Salary Pay Scale career-wise posts
Union Public Service Commission calculates the salary of an IAS officer based on the post and the level in that post. Check the table below to know the IAS career-wise post and UPSC IAS salary 2023.
Popular Online Competition Courses and Certifications
IAS pay scale career-wise
Careers-wise (Posts)

IAS salary

District Administration

State Secretariat

Central Secretariat

Sub-divisional magistrate (SDM)

Under Secretary

Assistant Secretary

Rs 56,100

Additional district magistrate (ADM)

Deputy Secretary

Under Secretary

Rs 67,700

District magistrate (DM)

Joint Secretary

Deputy Secretary

Rs 78,800

District magistrate (DM)

Special Secretary-cum-Director

Director

Rs 1,18,500

Divisional Commissioner (DC)

Secretary-cum-Commissioner

Joint Secretary

Rs 1,44,200

Divisional Commissioner (DC)

Principal Secretary

Additional secretary

Rs 1,82,200

No Equivalent Rank

Additional Chief Secretary

No Equivalent Rank

Rs 2,05,400

No Equivalent Rank

Chief Secretary

Secretary

Rs 2,25,000

No Equivalent Rank

No Equivalent Rank

Cabinet Secretary of India

Rs 2,50,000
Check Here List of Other Government Exams
IAS salary 2023 - Formula for salary calculation
The salary for different IAS posts is calculated taking various factors into account like basic pay, HRA, DA, TA and other allowances. The salary calculation formula according to the 7th pay commission is mentioned below:
Total IAS salary = Basic salary + HRA + TA + DA + Other allowances
IAS salary 2023 - Components of IAS salary
The salary of an IAS officer has different components which combined together form the total salary of an IAS. Initially, the salary of all IAS officers is the same i.e. Rs 56,100. It increases with promotion, post and time. The components of IAS salary are as follows:
Basic pay

HRA

DA

TA

Other allowances
Also read: Basic Information about category-wise government exams
UPSC IAS salary 2023 - Basic pay
At the start, the basic pay for an IAS officer salary increases 3% each year, for the number of years he/ she remains Sub-divisional Magistrate (SDM). At the Cabinet Secretary level, the basic pay remains fixed on an IAS salary.
Also read - UPSC IAS exam pattern 2023
IAS salary 2023 - Dearness Allowance (DA)
In the starting, the DA is fixed at 0% for IAS officers and it increases with time. DA increase is dependent on inflation in IAS salary. It is calculated as per the Consumer Price Index (CPI) Level. IAS salary DA is revised on a half-yearly basis i.e. it is calculated in January and then in July every year. Generally, the IAS salary DA increases 0 - 14% each year at the entry-level.
Quick Links: UPSC Mock Tests Series
UPSC IAS salary 2023 - House Rent Allowance (HRA)
It is clear from the name itself that HRA is the compensation paid to IAS officers for the accommodation. The IAS HRA depends on the city of posting the selected candidate.
Student Also Liked
IAS salary 2023 - Travel Allowance (TA)
TA is given to meet various expenses related to travel. If an IAS officer has been provided with a government vehicle, then he/she cannot claim a travel allowance. Thus, the monthly salary of an IAS officer can range between Rs. 56,100 – Rs. 1,32,000 depending upon DA, HRA and TA.
Quick Links: UPSC Subject-wise Questions
UPSC IAS salary 2023 - Other Benefits
Some of the other benefits that are provided to IAS officers are as follows:
Check Other Government Exam Salary Details