UPSC Career Guidance 2022 - Know in Detail about Exams based on Eligibility & Interest
UPSC Career Guidance 2022 - The Union Public Service Commission (UPSC) conducts a lot of exams on the pan India level. Some of the exams conducted by UPSC are Civil Services Exam, (CSE/IAS) NDA, CDS, CAPF, IES, IFS, CMS, CISF, etc. Candidates preparing for these exams need a well planned career guidance for UPSC 2022 exams. There are a rough estimate that around 70 to 80 lac candidates apply across various UPSC exams annually. They should follow a complete UPSC career guidance 2022 for preparing to crack UPSC exams.
Latest Updates for UPSC Civil Services Exam
Stay up-to date with UPSC Civil Services Exam News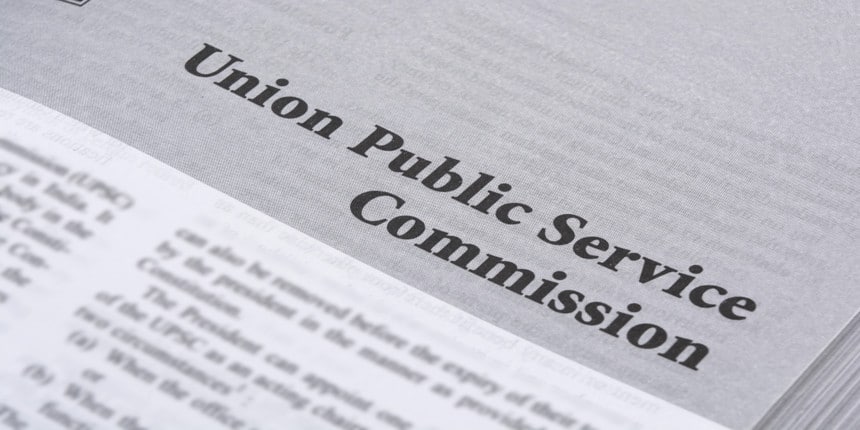 However, only a few of them only cross the finishing line due to high competition, the difficulty level of the exam and most importantly improper career guidance for UPSC exams. In this, we will try to address the UPSC career guidance 2022 for different UPSC career options. Here we will highlight different UPSC preparation issues and will suggest the most appropriate UPSC exams based on the candidate's eligibility, interests and probability to crack finally. To know in detail about the UPSC career guidance 2022 they must read the till last.
What is UPSC?
Before heading towards the UPSC career guidance 2022 exams, UPSC aspirants first know about UPSC. In a brief, UPSC is one of India's largest recruitment agencies, headquartered in New Delhi. It is also India's premier central recruiting organisation responsible for some of the toughest yet popular exams which require the most effective career guidance for UPSC exams.
Some of the exams conducted by UPSC recruits candidates for gazetted posts which are difficult to qualify without UPSC guidance for preparation. UPSC was founded in 1926 and its current chairperson is Pradeep Kumar Joshi. The official website of UPSC is upsc.gov.in, however, to apply for the various exams it conducts and to download the admit card of the respective exams candidate must visit UPSC's website which is upsconline.nic.in.
Free Exam Preparation Guide with Trend Analysis, Cut off, Preparation Tips & Strategy
How Many Exams are Conducted by UPSC?
UPSC conducts 13 the most popular exams which can be cracked with help of well proved UPSC career guidance like -
UPSC IAS/CSE - The Civil Services Exam (CSE is conducted by UPSC to recruit candidates for civil services administrative posts in Indian Administrative Service (IAS), Indian Foreign Service (IFS), and Indian Police Service (IPS) and other central allied services like IRS, etc. According to an estimate, approximately 11 lac candidates appear for the UPSC CSE exam every year and the vacancies released are between 700 to 900. It's one of the toughest exams which needs career guidance for UPSC civil services exam preparation from prelims to interview level. The UPSC CSE posts guarantee a superior career both in terms of power and position.
UPSC ESE - The Engineering Services Exam which was earlier known as the Indian Engineering Services exam is conducted by UPSC for engineering aspirants. There are many coaching institutes where a proper UPSC career guidance are provided for different engineering streams candidates such as Civil, Mechanical, Telecommunications as well as Electronics and Electricals. Through this exam, UPSC recruits' candidates for the post of engineers in Indian Railway, Indian Defence, Indian Ordnance Factories, Central Water Engineering etc.
UPSC CMS - The Combined Medical Services exam is conducted by UPSC to recruit candidates as Medical Officers in various government organisations, hospitals, medical institutions etc. To apply for this exam candidates must have an MBBS degree (Medicinae Baccalaureus Baccalaureus Chirurgiae), commonly known as the Bachelor of Medicine, Bachelor of Surgery.
UPSC CDS - UPSC conducts the Combined Defense Services twice a year to recruit candidates into the Indian Air Force Academy, Indian Naval Academy, Indian Military Academy and Officers Training Academy for officer posts. Graduate candidates can appear for this exam.
UPSC NDA - Apart from CDS, UPSC also conducts the National Defense Academy exam twice a year to recruit candidates for the post of Lieutenant in Army, Sub-Lieutenant in Navy or Flying Officer in the Indian Air force. However, the eligibility criteria of NDA is 10+2 with Physics, Chemistry and Mathematics. Candidates who qualify for the NDA exam will undergo an academic as well as a training course.
UPSC IFS - The UPSC Indian Forest Service exam is conducted by the exam conducting authority to recruit candidates for various posts of Principal Chief Conservator of Forest, Additional Chief Conservator of Forest, Forest Range Officer etc. After qualifying for this exam candidates might also get posted in remote areas to look after wildlife conservation, work against poachers and also plan policies as well as promote forest conservation. The IFS exam preparation is also similar to IAS for UPSC career guidance to qualify prelims exam jointly.
UPSC IES/ISS - UPSC conducts the IES/ISS exam to recruit candidates in Government Ministries/ Departments for economic and social sectors and also on a deputation basis to serve in domestic and international organizations. It is one of those exams where vacancies are not in large numbers. Selected candidates are recruited in financial organisations where they are entitled to policymaking, work related to budgetary concerns etc.
UPSC Combined Geoscientist and Geologist Examination - This exam is conducted by UPSC on an annual basis to recruit eligible candidates for Group 'A' services for the post of Geophysicist, Geologist, Junior Hydro-geologist and Scientist etc. Shortlisted candidates are posted in areas where they are responsible for research and work areas such as geophysics.
UPSC CAPF - UPSC conducts Central Armed Police Forces exam to recruit Assistant Commandants for Group A services in various armed forces of the BSF, CISF, CRPF, ITBP and SSB. Apart from the age limit and academic qualification, there are some physical requirements.
Free download: Basic information about category-wise top career exams
How to Choose the Best Exam for Me?
Choosing and qualifying any exam solely depends upon the candidate's ability to crack as well as eligibility to appear along with the best career guidance for UPSC exam. Apart from these major factors, there are other factors as well which helps candidates choose the best exam for themselves like - interest, academic qualification, accessibility etc.
Candidates must know that once they qualify for any UPSC exams, they have a splendid career growth, high-class salary full of benefits, perks and various opportunities to scale up in life.
| | | |
| --- | --- | --- |
| Exams | Eligibility Criteria | Interest |
| UPSC CSE | Graduation/Post Graduation | Interest in public administration related work. Officer work, power and position. |
| UPSC CMS | MBBS Degree | MBBS candidates are interested in the medical field and health sectors. |
| UPSC ESE | BTech/MTech | Those Engineers who are looking up for top-level jobs in PSUs. |
| UPSC CDS | Graduation | For officer level work in Indian armed forces. |
| UPSC NDA | 10+2 (PCM) | Young bloods who want to work for the Indian armed forces as officers and want to scale to greater heights in the hierarchy. |
| UPSC IFS | Graduation | Wildlife enthusiasts, those candidates who want to work for nature and wildlife conservation. |
| UPSC IES/ISS | Graduation (Economics) | Candidates having a knack for Economics, Statistics and policymaking. |
| UPSC Combined Geoscientists and Geologists Examination | PG in Geological Science or Geology or Applied Geology etc. | Candidates who are interested in research and survey work to look for minerals, water level and various other minerals and soils. |
| UPSC CAPF | Graduation along with Physical requirements | Candidates are interested in heading Indian armed forces like BSF, CISF, CRPF, ITBP and SSB as Commandants. |
Check Here List of Other Government Exams
Frequently Asked Question (FAQs) - UPSC Career Guidance 2022 - Know in Detail about Exams based on Eligibility & Interest
Question: Which job is best in UPSC?
Answer:
UPSC conducts a lot of exams to recruit candidates for gazetted and non-gazetted posts. It depends upon the candidate which exam he/she is eligible for and which exam they can qualify.
Question: Which post is high in UPSC?
Answer:
The Chief Secretary or the Cabinet Secretary is the highest post. Candidates can achieve this post after qualifying the IAS with the top most ranking and better performance wherever they are posted. This post can be achieved after several years of service and promotions.
Question: Do all IAS become DM?
Answer:
No, this a common misconception that after qualifying the CSE exam on will become the DM. There are close to 24 services that fall under the CSE. Candidates get to choose their services while applying for the DAF, but it all depends upon the ranking of the candidate and their work post getting selected.
Question: Is IAS tougher than IIT?
Answer:
No exam is tougher or easier, it is all the mentality of an individual. If one believes that they can qualify IAS/IIT, then no one can stop them. So, don't compare both the exams, both have their own perks, benefits, career growth etc.
Questions related to UPSC Civil Services Exam
Showing 1899 out of 1899 Questions