IAS 2020 Study Plan - How & What to do for UPSC IAS Preparation?
IAS 2020 Study Plan - The preliminary exam of IAS 2020 is just a few days away and it is needless to say that candidates must prepare, have a solid IAS study plan 2020 or practice. Preparation for IAS and creating an IAS study plan is one thing which an aspirant starts months before applying for the UPSC civil services exam. With very less IAS 2020 preparation time in hand it is advised to just keep going as you are, but to those candidates who haven't planned the strategy yet or who are planning to appear for the exam, there is a handful of information we are going to share. So, without talking much, let's get started.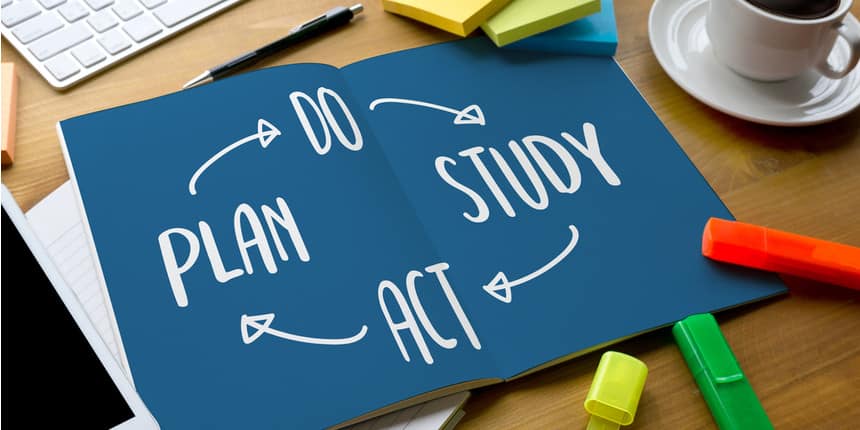 Latest: UPSC has declared the final UPSC IAS result for the IAS 2019 exam on the Commissions officail website.
UPSC (Pre.) will be conducted on October 4, 2020 in offline mode.
IAS 2020 Study Plan; How & What to do?
But if your preparation isn't focused your attempt might fall the wrong way. Aspirants should never let this happen. In this article, we will help you plan a successful strategy to achieve your UPSC IAS goal that too within the IAS preparation time required.
Self-Isolation to Self-Preparation!
This lockdown during the time of Corona pandemic is also a blessing in disguise for IAS aspirants. Make the most of this time and plan your strategy around it. As per the IAS 2020 study plan, Invest more hours in your studies and stay away from unwanted attention and issues which might waste your time.
Cut from the World!
This doesn't seem good at first, but you will have to do it especially when the exam is at least 6-7 months closer. Cutting out from the rest of the world doesn't mean to isolate yourself completely, but it means to stop attending parties, going to places, spending time in gossips and hangouts. Keep in touch with your family, friends but only for a limited period of time, so it doesn't hamper your studies.
Refer to the Best Books, and no-nonsense!
There are many books out there, so it becomes tough to pick the best one, hence it is advised to not follow the crowd and rely only on the best books for UPSC IAS. Check out the best recommendations here - UPSC CSE Best books
Subscribe for Mock Tests!
The best way to start your preparation is to subscribe to the mock tests. There are many websites that provide free as well as paid mock tests for candidates preparing for the IAS exam. These mock tests help strengthen your IAS 2020 study plan and give you an exam like feel, so you are prepared well before appearing for the exam.
Utilise your Spare Time!
Make the most of the spare time in your hand, read editorial content relevant to the subjects you have chosen. Watch online coaching videos, you must also meditate and involve in some outdoor sports activity once in a while to keep yourself healthy during the spare IAS preparation time.
Read Newspapers and Magazines!
Include reading in your IAS 2020 study plan to crack the current affairs section. One thing which you must start doing right now is to subscribe to online as well as monthly and yearly packages of The Hindu, The Indian Express and Jansatta read it thoroughly but don't spend long hours in that. You have other literature to read as well.
Write!
Practice writing a lot. Writing will come in handy during the main exam of UPSC IAS. Which will be descriptive in nature, and with writing we don't mean typing but the traditional way of writing with pen & paper.
Group Discussions!
Discuss current affairs and other events which are not clear to you, with your friends. This will enhance your knowledge and take you deep into the subject matter.
Read interviews of toppers!
This will help in knowing the toppers preparation strategy and how they covered the syllabus of IAS and the exam pattern. What were the books they referred and how did they manage their time altogether?
Solve the Previous Year Question Papers of UPSC IAS!
It is advised to solve the previous year question papers of UPSC IAS. These question papers will help candidates in knowing the question pattern of UPSC IAS followed by the experts who design the paper.
What is UPSC IAS?
UPSC IAS or CSE (Civil Services Exam) whatever you call it, is one of the toughest and premier exams in India, conducted by UPSC. UPSC IAS is a national level exam and every year lac of candidates apply for it but only a few of them cross the borderline. The vacancies released are approximately 700-800. Candidates must check the IAS eligibility criteria before applying for IAS. So you might get an idea about the competition, right? But if you have prepared well, if you have a perfect strategy you can overcome the competition within IAS preparation time and be among the capable administrators this country is looking for.
In the end, we will just say all the best!
Other Relevant Links
Frequently Asked Question (FAQs) - IAS 2020 Study Plan - How & What to do for UPSC IAS Preparation?
Question: How can I start my IAS study plan, as there are only days left?
Answer:
As there are few days left, it is next to impossible that you can cover the entire IAS syllabus starting from the scratch along with having sufficient time to revise. But you can make the most of this time to prepare for your next attempt.
Question: Which are the best books for the UPSC IAS study plan?
Answer:
Refer to NCERT books from class 6-12, all subjects. Cover them first after that purchase Indian Art & Culture - Nitin Singhania, Indian Polity – M Laxmikanth and Current Affairs books.
Question: Which is the best stream for IAS?
Answer:
There is no stream as such which is best for IAS, as there are many candidates with engineering background who have also qualified IAS. But the best is ARTS with Political Science, History as subjects.
Question: I have 1 year for IAS preparation, is it enough?
Answer:
There is no perfect time, for many 1 year is more than sufficient, for many, it is still less. It depends on your understanding of the exam pattern and how fast you convert the IAS syllabus.
Question: Is the IAS exam tough?
Answer:
Yes, considering the exam pattern and the vast syllabus. The exam becomes quite tough, but again, if you practice well you will hit the target.
Questions related to UPSC Civil Services Exam
Showing 1344 out of 1344 Questions