UPSC CSE AIR 17 - Sarthak Agrawal says, "self motivation and confidence" helped to crack the exam
Sarthak is inspired by late B.N Yugandhar, Sarthak Agrawal wants to emulate the late civil servant's humility, academic scholarship, and commitment to the poor. He further says that the UPSC CSE exam can be cleared with self-studies, only if the candidate has the motivation and self-confidence.
Latest Updates for UPSC Civil Services Exam
Stay up-to date with UPSC Civil Services Exam News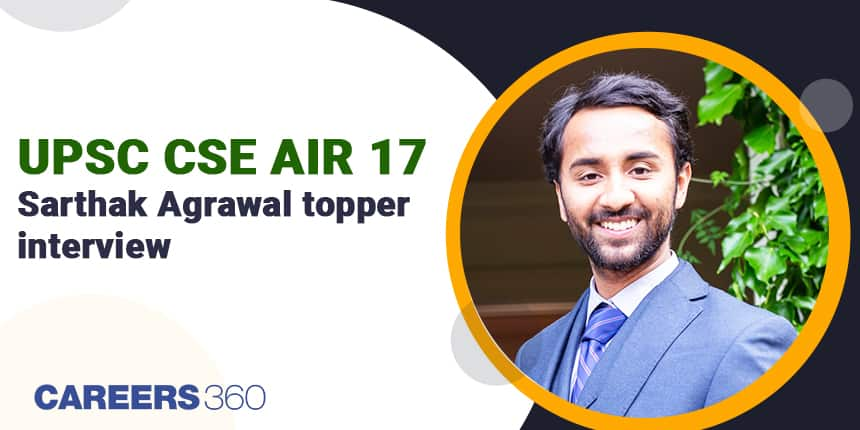 During the preparations, UPSC IAS 2020 topper Sarthak Agarwal was flexible with his time and didn't focus on the hours he was putting in. He stuck with a strict schedule, and started the preparations in July 2020, when the pandemic was at its peak. He adds that the pandemic motivated him to serve the country and improve ground-level public service delivery mechanisms.
While preparing for the UPSC CSE exam, Sarthak Agarwal followed an internet-driven preparation strategy and relied on a few books. He didn't prepare notes and only used flashcards app to memorise important facts and figures, that too 6 weeks before the mains. Read the full interview of UPSC IAS 2020 topper Sarthak Agarwal as he talks about the various phases of his life, how the pandemic affected his preparation and how his job helped him in the optional subjects. Check the complete strategy of UPSC CSE 2020 AIR 17 topper Sarthak Agarwal.
Careers360: Tell us something about yourself; your academic and family background?
Sarthak Agrawal - I grew up in Delhi with my parents who are self-employed and run a hospitality business in Gurugram where we now live. I have a BA (Hons.) in Economics from Shri Ram College of Commerce and an MPhil from the University of Oxford. For the latter course, I received a fully-funded scholarship called the Oxford-Weidenfeld Hoffman scholarship. I interned at the World Bank in Washington DC in 2018 and have been working with its Poverty and equity global unit for the past 7-8 months. After completing my education at Oxford, I joined a research institute in London known as the Institute for Fiscal Studies where I was involved in improving tax policy and tax administration in developing countries.
Careers360: What is your rank overall and category rank and how many marks did you score in the mains exam and the interview.
Sarthak Agrawal - My overall rank is #17 - I scored 822 in Mains and 195 in Interview.
Careers360: Who and what inspired you to take up the UPSC Civil Services exam? Please elaborate.
Sarthak Agrawal - The understanding that my skills, knowledge and experience can be better employed while serving on the ground in India. I am keen to transition from research to development administration so that the insights academics have developed over a number of years can be usefully employed in improving lives. At the same time, working in the field can generate several new avenues for research and writing that I am excited to explore.
I am inspired by 'scholar administrators' like the late B.N Yugandhar and would like to emulate his humility, academic scholarship, and commitment to the poor.
Careers360: What were your options for the prelims and mains exam and how did you prepare for them?
Sarthak Agrawal - For Mains I chose Economics as my optional. For the theory paper (Economics-I) I prepared very little and only revised the books and readings we used in Delhi University in our undergraduate course.
I prepared more comprehensively for the Indian economy (Economics-II) paper and skimmed 100+ academic papers from Economic and Political Weekly and other scholarly journals. Very shortly I will be sharing the links to these papers on my blog for the benefit of other candidates. I prepared no notes or summaries so you'll have to go through the grind if you want to make the most of this resource!
Also read other articles of UPSC CSE:
Careers360: Have you taken any coaching? If yes- From where? How did it help? Do you think one can manage to crack the exam with self-study?
Sarthak Agrawal - No, I didn't take any coaching, nor did I feel the need to at any stage.
Absolutely - this exam can be cleared with self-studies provided you're able to muster the necessary motivation and self-confidence.
Careers360: How many attempts did you give for the UPSC exam?
Sarthak Agrawal - This was my 1st attempt.
Careers360: What are the best books and study material that one should consult while preparing for the GS and the optional ones that you have taken?
Sarthak Agrawal - The best sources are those available online. I freely consulted Hindu and Indian Express' archives, including the explained column in the latter, along with the following resources: Live History India, Down to Earth, IndiaSpend, The Diplomat, PRS Legislative Research, and ORF publications. Newspapers of all stripes, including international ones like the Financial Times, Wall Street Journal, The Economist, and the Harvard Business Review (for ethics and leadership related topics), were very helpful too.
As regards books, I went through Laxmikanth's book on Indian Polity, Spectrum's modern history, GC Leong's Geography book, and Uma Kapila's Indian economy compilation for Economics-II in detail.
Careers360: When did you start your preparation? How did you prepare for the exam since the UPSC IAS syllabus is vast? How many hours did you put in per day?
Sarthak Agrawal - I started preparing diligently around July 2020 without thinking too much about the hours I was putting in. Rather than sticking to a strict schedule, I was flexible and freely decided how much time I wanted to devote each day depending on how motivated I felt.
Careers360: What were your stronger and weaker subjects and how did you manage to divide time and prepare?
Sarthak Agrawal - Economics, Political science, governance and international relations were my strongest bits, while I was lagging in history, geography, culture, and security. I tried to develop a basic conceptual understanding of all areas that are relevant to this exam (mainly by reading newspapers - especially the 'Explained' column in Indian Express and op-eds, both current and archives).
Also read other articles of UPSC CSE:
Careers360: Were you already working somewhere or just finished college and started the preparations?
Sarthak Agrawal - After completing my MPhil I was working at a research institute in London - and later from home in Gurgaon after the pandemic.
Careers360: What was the toughest aspect of your UPSC preparation?
Sarthak Agrawal - I started preparing around July 2020 so remaining motivated until the Mains exam was a challenge. Patiently waiting for the result was another hurdle.
I was particularly worried about the Prelims stage of the exam and I found that to be the toughest round, followed by Mains, and then the interview.
Careers360: Name some important topics that you feel are a must-read for any student attempting the UPSC exam?
Sarthak Agrawal - Nothing in particular. Anything that matters for Indian policy is fair game - it's hard to pre-empt what the examiners might ask in a dynamic examination like this one so I prepared accordingly (my sources were wide and disparate, I didn't try to develop a mastery over any topic but instead focused on understanding the basics of as many areas as I could).
Careers360: How important do you feel mock interviews and test series are and why? Did you take mock interviews?
Sarthak Agrawal - I appeared for 15+ mock interviews and enrolled for one GS/essay test series (and got 11 scripts evaluated) a few weeks before Mains.
Most of them were very useful because of their feedback, some of which I tried to incorporate. The trick is to distinguish useful advice from that based on aping the status quo, and my experience suggests that UPSC doesn't mind candidates taking risks and adopting innovative strategies.
Also read:
Careers360: What did you do for leisure? Any specific activities that helped you unwind?
Sarthak Agrawal - Talking to friends and family; writing; watching sports, movies and TV shows. Although I must add that reading news in a carefree manner, which was helpful for the exam prep, counts as leisure to me!
Careers360: How did you cope up with the lockdown period? Did it hamper or boost your preparations?
Sarthak Agrawal - It was a difficult time for everyone around the world and I couldn't ignore the harsh realities of what was happening in India and elsewhere. But that phase further motivated me to serve the country and improve ground-level public service delivery mechanisms.
Careers360: Online or offline, which is the best way to study for the UPSC exam?
Sarthak Agrawal - I followed an internet-driven preparation strategy and relied on very few books. I didn't prepare any notes for the exam, and only used a flashcards app to memorise important facts and figures 6 weeks before Mains.
Careers360: What are your future plans and how will you try to bring a change to your place of work (area posted) as you will be very much involved in policy making and disciplinary activities?
Sarthak Agrawal - Although my own interests lie in education and data-driven governance, I will try not to impose my own biases in the area I am posted. Whatever is of greatest demand for the people will become my #1 priority. For example, I cannot devote all my time to improving schools when the area is plagued by teething corruption in its ration shops due to which people are demanding urgent reforms.
I see this job as one of leadership, and I think a good civil servant is one who can motivate their team to serve to the best of their capabilities, no matter what the department. However, I would like to be humane, approachable and accountable - and be someone who can reduce the distance between the government and the public, both physical and otherwise. Moreover, commendable initiatives launched by visionary civil servants are sometimes shelved after their transfer. Often this is because the new incumbent tries to impose their own preferences on the job. To remedy this, I would first try to continue the impactful steps implemented by my predecessors with full vigor, instead of chasing glory by coming up with short-lived innovative ideas.
Whenever there is an opportunity, however, I will try to use my background in economics to pilot programmes that have succeeded in other contexts and are cost-effective in implementation. Evidence-driven policy is slowly catching up in India but a lot more needs to be done. I would also like to collaborate with economists, data scientists, and academics working in the social sciences to design interventions according to the needs of the area I am posted in.
Finally, I am looking forward to using my observations and experience to indulge in the occasional academic scholarship. If I can revive even in a small way the fast receding institution of the scholar administrator, I would be thoroughly pleased.
More preparation articles related to popular government exams
Questions related to UPSC Civil Services Exam
Showing 1851 out of 1851 Questions