Difference between IAS and IPS: Power, Responsibilities, Salary
Difference between IAS and IPS: Powers, Responsibilities, Salary and other aspects: The Union Public Service Commission (UPSC) conducts the civil services exam (CSE) on a national-level. The UPSC CSE is one of India's highly tough and competitive exams. UPSC CSE commonly also known as the UPSC IAS, is also India's popular exam. UPSC organises the exam annually to fill in various posts under the 24 administrative services. Out of these posts, the most popular ones are the Indian Administration Services (IAS) and the Indian Police Services (IPS). There is a general comparison amongst the masses related to the difference between IAS and IPS, that out of both IAS or IPS which is better, which has more powers. In this article on Difference between IAS and IPS, we will cover all these points by sharing some facts and also the powers, roles and responsibilities and IAS vs IPS salary.
Latest Updates for UPSC Civil Services Exam
Stay up-to date with UPSC Civil Services Exam News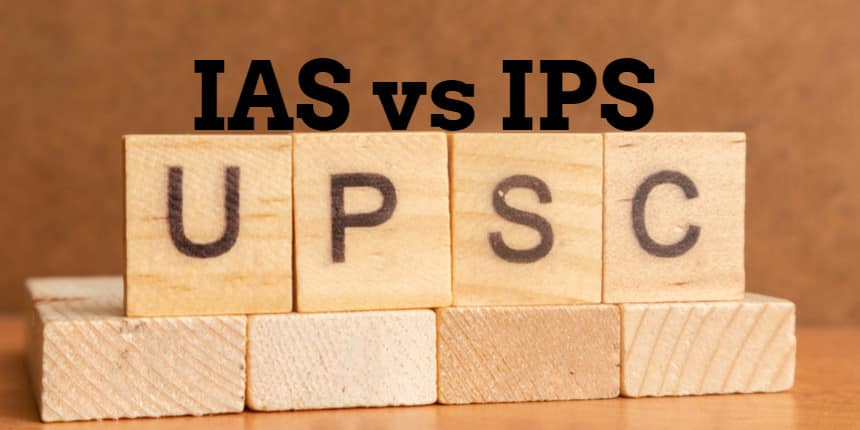 Every year, approximately 10 lakh aspirants apply for the UPSC CSE with a dream to get into one of these services, IAS or IPS. Candidates interested in administration choose IAS as their first choice while filling the detailed UPSC IAS application form (DAF), while those who want to look after law and order at grassroots levels, choose IPS.
Also read:
What is the Core Difference Between IAS and IPS?
The core job of an IPS officer is to maintain peace in society, whereas IAS officers implement policies of the government and look after the administration. IAS and IPS collaboratively work towards becoming a part of India's bureaucracy. Both these posts are prestigious; however, there are some technicalities which make them differ from one another.
Detailed Difference Between IAS and IPS
| | | |
| --- | --- | --- |
| Post | IAS | IPS |
| Role | The job of an IAS officer is to work in Public Administration and implement government policies, look for irregularities in the system and their designated departments | IPS officers work in the Police services and their prime objective is to look after the law and order, investigate crime and maintain public order, maintain peace in festive and riot like situations etc. |
| Training | Upon successfully qualifying the IAS exam, candidates training will be conducted at the Lal Bahadur Shastri National Academy of Administration (LBSNAA) which is in Mussoorie, Uttarakhand. | The training of IPS Officers will be conducted at the Sardar Vallabhbhai Patel National Police Academy (SVPNPA) located in Hyderabad, Telangana |
| Role/ IAS vs IPS ranks | IAS candidates hold the topmost rank in Indian administration. An IAS officer is assigned the topmost government departments and ministries. | IPS officers are first recruited Deputy Superintendent of Police, after which they are promoted as per age, experience and also after cracking any major case. The role of an IPS is of a top cop. IPS comes second to IAS in the hierarchy system. |
| IAS vs IPS who is more powerful | An IAS is more powerful than an IPS if he/she is a District Magistrate/Collector. As a protocol an IPS will also have to salute the IAS if in uniform. There is no designated uniform for an IAS, however, they will have to be in formals or closed-neck suits. However, this is also kind of a demerit, as the general public cannot recognise an IAS as there is no dress code. | As being a top cop of the city, an IPS is also very powerful and comes just second to the IAS. An IPS can also stop the vehicle or convoy of a VIP or VVIP person, for security purposes etc. Public can recognise an IPS from the uniform. The uniform also brings a lot of pride and enthusiasm. |
| IAS vs IPS salary | After the recommendation of the 7th pay commission, the basic IAS salary begins at Rs. 56,100, it comes exclusively from the House Rent Allowance (HRA) and Travel Allowance (TA). The salary increases as per promotions, experience and timely increments. The top salary is of Rs, 225000, which is a Cabinet Secretary. | Everything is the same as IAS. The top salary is of Rs. 225000 which is the Director-General of Police (DGP) |
| Facilities | An IAS is given a personal government vehicle with chauffeur most probably Toyota Innova, Maruti Ciaz etc. An escort vehicle along with an escort team. Personal bodyguard. Government bungalow. Government guest house for outstation visits. Facility for studies in Foreign countries. Free travel on government expense, and numerous other benefits. VIP treatment anywhere in India and abroad. | The same as IAS, only the choice of vehicle changes. It can be a Mahindra Bolero, Maruti Ertiga etc. |
| Work life | The work life of IAS and IPS both is very demanding. It is not a typical desk job, but requires the individual to frequently visit the respective departments. It is a very busy job and requires 24X7 availability. It is also a high risk job. | Same as of IAS. |
| Promotions | There are a lot of promotion opportunities for an IAS officer. A young IAS officer with age by their side can also spruce to the post of Cabinet Secretary which is the top level job and IAS can also reach to the post of Union Home Secretary. | An IPS officer with great service record and age by their side can get promoted to the level of IG/DIG or DGP. An IPS can also be appointed as the Director of Crime Branch of Investigation (CBI), Intelligence Bureau (IB), RAW (Research and Analysis Wing) and also National Security Adviser (NSA) |
Also read:
IAS vs IPS Who is more powerful?
Now coming to the question of what is the difference between IAS and IPS, and who is more powerful? Certainly an IAS is more powerful and that is the only reason it is the first service in the 244 civil services offered by UPSC. The IAS is then followed by the Indian Police Service (IPS), Indian Revenue Services (IRS), Indian Forest Services (IFS), Indian Foreign Services (IFoS) etc.
Check here list of other government exams
Frequently Asked Question (FAQs) - Difference between IAS and IPS: Power, Responsibilities, Salary
Question: Who is more powerful IAS or IPS?
Answer:
Both are powerful, but when it comes to practical powers, an IAS is above the IPS.
Question: Should I choose IAS or IPS?
Answer:
It depends on your preference, choice and interest. Both the posts are of the same prestige and reputation level.
Question: Which post is bigger IAS or IPS?
Answer:
Hierarchy wise, IAS is bigger than IPS.
Question: Is IPS easier than IAS?
Answer:
No, both the exams are tough. Candidates will have to qualify the UPSC CSE (Civil Service Exam) to be eligible to choose between the IAS/IPS or whichever services you want.
Question: Do IAS officers get bodyguards?
Answer:
Yes, IAS officers get bodyguards along with an escort vehicle.
Question: What is IPS salary?
Answer:
After the 7th pay commission has been levied, the starting salary of an IPS is Rs. 56100 which increases as per experience, promotions and service record.
Question: Does an IPS officer have bodyguards?
Answer:
Yes, IPS officers have bodyguards. In fact they get an escort team along with an escort vehicle.
Questions related to UPSC Civil Services Exam
Showing 1809 out of 1809 Questions