How to Prepare for UPSC IAS Exam 2020 Online
How to Prepare for UPSC IAS Exam 2020 Online - A famous quote which suggests that ''Well begun is half done''. So if proper strategy is put in place then applicants can secure a good rank in the UPSC Civil Service exam. Hence applicants who want to qualify the exam should ask themselves, Why UPSC IAS? Which service IAS/IPS/IFS/IRS appeals you the most? Because the answer to this question will be the motivation to qualify for the IAS 2020. Candidates must check the tips and tricks to prepare for IAS exam 2020 online. Form more online preparation tips, candidates can check the article given below.
Latest: UPSC has released IAS exam dates 2020. Check previous year UPSC IAS question papers for preparation.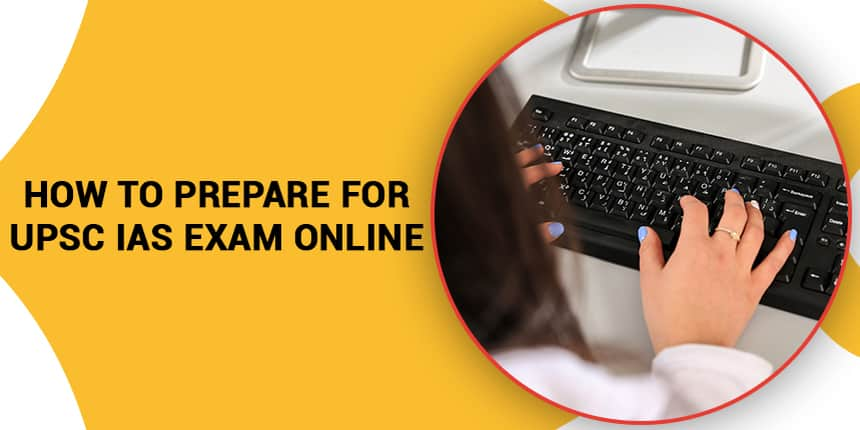 How to Prepare for UPSC IAS Exam 2020 Online
Below are the IAS preparation tips 2020 that can help you in preparing during the self-isolation time
1. Follow the Official website to update the data
Applicants who want to qualify the exam should abide by the below-mentioned website which will be helpful for them to know & update the information about various departments and places. Candidates can check the official link of the below-mentioned website to prepare for the UPSC IAS exam online.
www.pib.nic.in
www.newsonair.com
www.nios.ac.in
www.prsindia.org
idsa.in
ccrtindia.gov.in
www.epw.in
2. Follow Important youtube channel to know issues in details
Aspirants should follow the below mentioned youtube channels to give a boost to their preparation for UPSC IAS 2020. These online channels for UPSC exam are also important for mains to answer writing and interview preparation.
Rajay Sabha debates.

Lok Sabha debates

Study IQ

Study for Civil Services
3. Don't forget the basics of Civil Services preparation
Candidates should note that along with the above-mentioned tools, applicants should know the UPSC IAS syllabus in detail. Because knowing syllabus and civil services exam pattern 2020 are complementary to each other and then only candidates can compose their strategy to qualify the exam. Candidates must also check UPSC IAS exam analysis 2020 for previous year trends.
Since UPSC often repeats a few questions from previous year exams. Hence applicants should at least solve last 15 years question papers repeatedly 2-3 times and that can ensure that they will mark the correct answers to those questions which are asked the same in the exam. Along with knowing the question papers you should also know the previous year cut off of UPSC IAS so that applicants must know what to score and from where to score.
Other Related Article
Frequently Asked Question (FAQs) - How to Prepare for UPSC IAS Exam 2020 Online
Question: Can I prepare for IAS at home?
Answer:
Yes there are many applicants who not only prepare for UPSC IAS sitting at home rather they also qualify the exam with good marks.
Question: Which stream is best for IAS?
Answer:
The art stream is best to qualify UPSC IAS as it also includes General Studies topics.
Question: What is the salary of IAS?
Answer:
Applicants who qualify the exam are entitled to receive rs 56,100 as basic pay along with this TA, DA and other benefits are also provided.
Question: How many hours do IAS toppers study?
Answer:
Though hours are not fixed as different students have different thinking powers but generally 6-8 hours of regular study is required to qualify the exam.
Question: What are important websites to prepare for the UPSC IAS exam online?
Answer:
Few important websites are www.pib.nic.in, www.mrunal.org and www.newsonair.com
Questions related to UPSC Civil Services Exam
Showing 1344 out of 1344 Questions