SSC CPO Exam Centres 2020 - Check Test Cities List Here
SSC CPO Exam Centres 2020 - Staff Selection Commission has released the region wise SSC CPO 2020 exam centres with the notification on June 17. Candidates have to fill the exam centre preference in the SSC CPO application form. SSC will allot the SSC CPO exam centres 2020 based on the candidate's preference and on first-come-first-served basis. Students can check the complete address of the examination centre on the SSC CPO 2020 admit card. After submitting the forms, no request to change the exam centres of SSC CPO 2020. The SSC CPO 2020 exam dates have been released by SSC. The notification has been released on June 17, 2020. Read the article to know the SSC CPO 2020 exam centers list below.
Latest: SSC CPO application form 2020 has been released on June 17.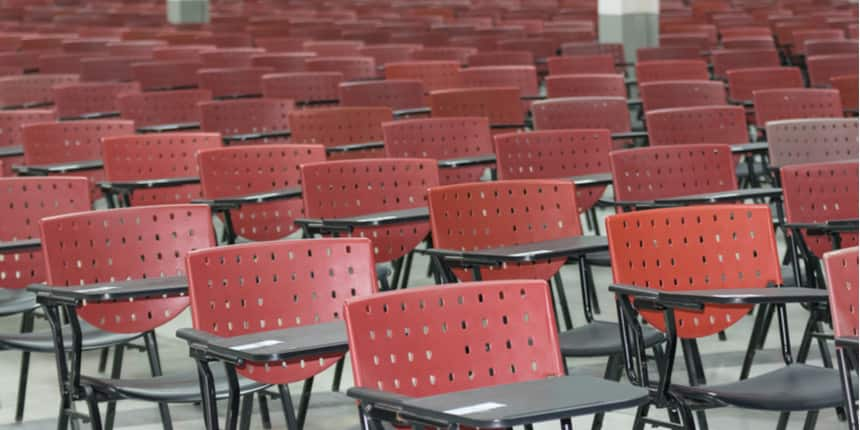 SSC CPO Exam Centres 2020 - Test Cities List
With the release of the notification of the SSC CPO exam 2020, candidates can check various details related to the SSC CPO exam like exam centres, eligibility, etc. A list of exam centres of SSC CPO is given in the table below.
List of SSC CPO 2020 Exam Centres
Region

Cities

Centre Code

Central Region (CR)

Agra

3001

Allahabad

3003

Bareilly

3005

Gorakhpur

3007

Kanpur

3009

Lucknow

3010

Varanasi

3013

Bhagalpur

3201

Muzaffarpur

3205

Patna

3206

Eastern Region (ER)

Kolkata

4410

Port Blair

4802

Gangtok

4001

Bhubaneshwar

4604

Ranchi

4205

Karnataka Kerala Region (KKR)

Bangalore

9001

Thiruvananthapuram

9211

Kochi

9204

Thrissur

9212

Gulbarga

9005

Mangalore

9008

Dharwar

9004

Kozhikode (Calicut)

9206

Mysore

9009

Northern Region (NR)

Delhi

2201

Jaipur

2405

Jodhpur

2406

Kota

2407

Bharatpur

2403

Bikaner

2404

Udaipur

2409

Ajmer

2401

Alwar

2402

Sriganganagar

2408

Dehradun

2002

Haldwani

2003

Almora

2001

Haridwar

2005

North Eastern Region (NER)

Guwahati (Dispur)

5105

Itanagar

5001

Dibrugarh

5102

Jorhat

5107

Silchar

5111

Imphal

5501

Shillong

5401

Ukhrul

5503

Aizwal

5701

Kohima

5302

Agartala

5601

Churachandpur

5502

Tura

5402

Goalpara

5104

Tezpur

5112

Lakhimpur

5109

Southern Region (SR)

Hyderabad

8002

Guntur

8001

Kurnool

8003

Rajahmundry

8004

Tirupati

8006

Chennai

8201

Puducherry

8401

Tiruchirapalli

8206

Vishakhapatnam

8007

Vijayawada

8008

Western Region (WR)

Aurangabad

7202

Mumbai

7204

Kolhapur

7203

Nagpur

7205

Panaji

7801

Pune

7208

Ahmedabad

7001

Vadodara

7002

Rajkot

7006

Nashik

7207

Amravati

7201

Surat

7007

Kutch

7010

Thane

7210

Madhya Pradesh Region (MPR)

Indore

6006

Jabalpur

6007

Jagdalpur

6203

Chindwara

6003

Bilaspur

6202

Satna

6014

Ratlam

6011

Sagar

6015

Durg

6205

Raipur

6204

Bhopal

6001

Gwalior

6005

North Western Region (NWR)

Leh

1005

Chandigarh

1601

Jammu

1004

Srinagar (J&K)

1007

Shimla

1203

Hamirpur

1202
SSC CPO Exam Centre 2020 - Important Points
Some basic information regarding exam centres of SSC CPO 2020 has been provided in points below:
Staff Selection Commission mentions the list of SSC CPO 2020 exam centres in the notification released.

Applicants need to choose the SSC CPO test centres while filling the application form.

The examination centre will be mentioned on the admit card.

No requests to change SSC CPO 2020 exam centres after the applicants have successfully registered for the SSC CPO exam will be entertained by SSC.

Right to cancel exam centres at any given time before the exam is with the commission.

If any exam centre is cancelled by the SSC authorities before the exam, a new one will be alloted to the applicants who had opted for the cancelled centre

Applicants must carry the admit card, three passports sized photographs and a photo id proof to the exam centre on the examination day.
The admit card will be released after the conclusion of the registration. The application for the SSC CPO can be filled from June 17 to July 16, 2020. The admit card will be issued four days prior to the exam. Applicants can download it online by entering the Registration number and Date of birth. The admit card contains details pertaining to the CPO 2020 exam like roll number, SSC CPO exam centre, day, date, and time of exam, etc. For more details applicants visit the SSC website - ssc.nic.in
More Relevant Links
Frequently Asked Question (FAQs) - SSC CPO Exam Centres 2020 - Check Test Cities List Here
Question: What is the frequency of the SSC CPO exam?
Answer:
SSC CPO exam is conducted every year.
Question: What is the application process for the SSC CPO examination?
Answer:
Applicants can apply for the exam online by visiting the SSC official website - ssc.nic.in.
Question: When is the CPO admit card released
Answer:
It is released 10 to 12 days prior to the exam.
Question: Can the examination centre be changed after the release of the admit card?
Answer:
It can be changed only if the commission cacles a particular exam centre, else not.
Questions related to SSC CPO
Showing 3 out of 3 Questions
52 Views
Are MAKAUT university BSc+MSc data science graduate eligible to apply for RBI grade B DSIM/DEPR post? SSC CGL JSO and Complier post and UPSC ISS, IES post? Please mentioned other opportunities?
• Age Limit: The candidate must be 21 Years to 30 Years as on 01.04.2020 i.e. candidates must have been born between 02.04.1990 and 01.04.1999 (both dates inclusive)
• Educational Qualification: The candidate must be a graduate in any discipline from a recognized University or any equivalent qualification recognized as such by the Central Government. Those who are in the Final year/Semester of their Graduation may also apply provisionally subject to the condition that, if called for interview, they must produce proof of having passed the graduation examination on or before 01.07.2020. Candidates with Integrated Dual Degree (IDD) certificate must ensure that the date of passing the IDD is on or before 31.08.2020. Candidates with Chartered Accountant certification may also apply.
SBI PO Selection Procedure: Important Points
The candidates should keep in mind the following points related to the SBI PO selection process:
• Biometric Verification: To ensure an error-free and secure selection procedure for SBI PO 2020, the bank may digitally capture the thumb impression of the candidate. This is done to verify the genuineness of the candidates. Any inconsistency in the biometric verification will lead to rejection of the candidature and punitive legal actions. Candidates are thus advised not to apply any kind of external matter like ink, mehandi, chemical etc. on their hands.
• Number of Attempts: The maximum number of chances are fixed for each category. Candidates who have used up all the chances are not eligible to apply. Appearing in Preliminary Exam is not counted as an attempt but appearing in Mains Exam is counted.
Regards : banking classes in pune (https://www.sevenmentor.com/best-banking-classes-in-pune.php)
155 Views
i got 42% marks in my graduation. which types of exam i am eligible with graduation degree. And please suggest me where i need to move banking or ssc?
Hello,

With your graduation degree, you're eligible for not only banking and ssc cgl, but even upsc cse, since all these don't ask for any specific aggregate.

Now, coming to which exam, that entirely depends on you, SSC and Banking, both are quite different. SSC conducts its recruitment in four stages, and it does take a larger amount of time compared to bank exam results. Moreover, the pattern too is different, yes there're similarities in terms of few subject, but in SSC there's always a possibility of repeating of previous year questions, hence solving pyq in ssc becomes handy, while banking exam is all about speed and precision.