SSC CPO Exam Centres 2021 - Check Test Cities List Here
SSC CPO Exam Centres 2021 - Staff Selection Commission (SSC) conducts Central Police Organisation (CPO) exam, which is also known as SSC Sub Inspector (SI). SSC CPO 2021 exam centres are mentioned in the official notification PDF released at ssc.nic.in. SSC releases the region-wise exam centres of SSC CPO 2021. The exam centres of SSC CPO 2021 will be allotted to candidates on a first-come-first-served basis. Once the SSC CPO exam centres 2021 is allotted no request to change will be entertained later.
Latest Updates for SSC CPO
Stay up-to date with SSC CPO News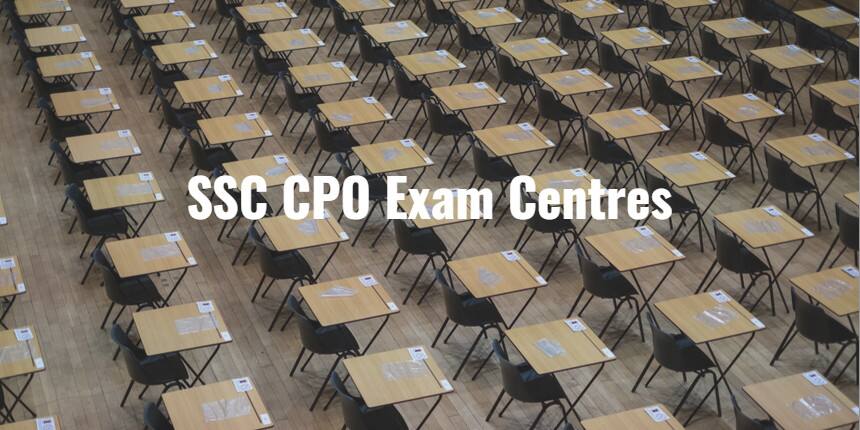 The SSC CPO is conducted on various exam centres designated by SSC. Candidates applying for SSC CPO exam must fill the exam centres as per their preference. They can add 3 SSC CPO 2021 exam centres while filling the form. Candidates can check the detailed address of exam centres on their SSC CPO admit card 2021. SSC CPO paper 2 2020 was held on July 26, 2021. Read the complete article below to know more about the SSC CPO 2021 exam centres.
Note - The SSC CPO exam is conducted to recruit Sub Inspectors in Delhi Police, CAPF (Central Armed Police Forces) and ASI (Assistant Sub Inspectors) in CISF (Central Industrial Security Forces).
Also read:
SSC CPO Exam Centres 2021 List (Region and Centres)
SSC Region

SSC CPO Exam Centres with Code

Central Region (CR) (Bihar Uttar Pradesh)

Bhagalpur (3201)

Muzaffarpur (3205)

Patna (3206)

Agra (3001)

Bareilly (3005)

Gorakhpur (3007)

Kanpur (3009)

Lucknow (3010)

Meerut (3011)

Prayagraj (3003)

Varanasi (3013)

Eastern Region (ER) (Andaman & Nicobar Islands, Jharkhand, Odisha, Sikkim and West Bengal)

Port Blair (4802)

Ranchi (4205)

Bhubaneshwar (4604)

Kolkata (4410)

Karnataka, Kerala Region (KKR) Lakshadweep, Karnataka and Kerala

Bengaluru (9001)

Belagavi (9002)

Hubballi (9011)

Kalaburagi (Gulbarga)(9005)

Mangaluru (9008)

Mysuru (9009)

Shivamogga (9010)

Udupi (9012)

Thiruvananthapuram (9211)

Ernakulam (9213)

Kannur (9202)

Kollam (9210)

Kottayam (9205)

Kozhikode (9206)

Thrissur (9212)




Northern Region (NR) Delhi, Rajasthan and Uttarakhand

Delhi NCR (2201)

Ajmer (2401)

Bikaner(2404)

Jaipur (2405)

Jodhpur (2406)

Kota (2407)

Sriganganagar (2408)

Udaipur(2409)

Sikar (2411)

Dehradun (2002)

Haldwani (2003)

Haridwar (2005)

Roorkee (2006)

North Eastern Region (NER) Arunachal Pradesh, Assam, Manipur,

Meghalaya, Mizoram, Nagaland and Tripura

Itanagar (5001)

Churachandpur (5502)

Ukhrul (5503)

Agartala (5601)

Dibrugarh (5102)

Goalpara (5104)

Guwahati (Dispur) (5105)

Jorhat (5107)

Lakhimpur (5109)

Silchar (5111)

Tezpur (5112)

Kohima (5302)

Shillong (5401)

Imphal (5501)

Aizawl (5701)

Southern Region (SR) Andhra Pradesh, Puducherry, Tamil Nadu and Telangana

Tirupati (8006)

Visakhapatnam (8007)

Vijayawada (8008)

Kurnool (8003)

Hyderabad (8002)

Warangal (8003)

Guntur (8001)

Rajahmundry (8004)

Chennai (8201)

Coimbatore (8202)

Madurai (8204)

Puducherry (8401)

Western Region (WR) Dadra and Nagar Haveli, Daman and Diu, Goa, Gujarat and Maharashtra




Surat (7007)

Mumbai (7204)

Ahmedabad (7001)

Vadodara (7002)

Rajkot (7006)

Pune (7208)

Nagpur (7205)

Aurangabad (7202)

Kolhapur (7203)

Nashik (7207)

Panaji (7801)

Madhya Pradesh Sub Region (MPR) Chhattisgarh and Madhya Pradesh

Bhopal (6001)

Satna (6014)

Ujjain (6016)

Bilaspur (6202)

Jabalpur (6007)

Indore (6006)

Gwalior (6005)

Durg-Bhilai (6205)

Sagar (6015)

Raipur (6204)

Western Region (NWR) Chandigarh, Haryana, Himachal Pradesh, Jammu and Kashmir and Punjab

Shimla (1203)

Hamirpur (1202)

Leh (1005)

Jammu (1004)

Srinagar (1007)

Samba (1010)

Hamirpur (1202)

Amritsar (1404)

Mohali (1406)

Chandigarh (1601)
SSC CPO Exam Centres 2021 - Important Points
While filling the application form of SSC CPO, candidates enter three options for the exam centres in the order of priority within the same region.

SSC will not entertain any request for change of SSC CPO exam centre at the further stage hence they are advised to select exam centres carefully.

SSC reserves the right to cancel any SSC CPO 2021 exam centre and ask candidates to appear on another one.

Candidates must visit the exam centre of SSC CPO 2021 at least 2-3 days before the exam day to know about the location, route and traffic congestion.

Reach the SSC CPO exam centre 2021 at least 30-40 minute before the reporting time to avoid the last-minute hustle.
Quick links: SSC CPO Sample Papers 2021
SSC CPO Admit Card 2021
SSC releases the CPO admit card on its official website. The SSC CPO admit card is released in online mode PDF format. Candidates can download the admit card using their login credentials - registration number, Date of Birth as password etc. The admit card contains all the important details related to the candidates like name, registration number, roll number, exam instructions as well as the SSC CPO exam centres 2021. Candidates must download the admit card and carry it to the exam centre along with a valid photo ID - Aadhar card, Voter ID, Driving License, Passport etc.
4 min read
Feb 28, 2022
Read More
More exam centres related articles of competitive exams
Frequently Asked Question (FAQs) - SSC CPO Exam Centres 2021 - Check Test Cities List Here
Question: Is SSC CPO easy?
Answer:
The exam is of moderate to difficult level. Candidates can, however, qualify in the theory stages, but for practical stages, they need to have proper training prior to the exam.
Question: Is the SSC CPO exam held every year?
Answer:
Yes, the SSC CPO is conducted every year.
Question: Which post is best in SSC CPO?
Answer:
The SSC CPO exam is held for SI and ASI posts and both the posts are best as it comes under the central government.
Question: Is there an interview in SSC CPO?
Answer:
No, there is no interview stage in the SSC CPO exam and the stages for which the exam is conducted are - Paper 1, PET/ PST, Paper 2, and Medical Examination.
Question: Is the SSC CPO exam tough?
Answer:
Not very much, but as compared to other SSC exams, the CPO is quite difficult to crack. There are two reasons for it - High competition and Multiple stages.
Question: Can I crack SSC CPO in 3 months?
Answer:
You can but only if you have prepared for the exam well and more than that you have trained for the physical exam at least one year in advance.
Question: Where will I find the details of the SSC CPO exam centre?
Answer:
Candidates can find the details of SSC CPO on the admit card of the candidates.
Question: Can I change my SSC CPO centre?
Answer:
No, there is no facility to change the SSC CPO exam centre at a later stage.
Question: In how many cities will the SSC CPO exam be conducted?
Answer:
The list of the cities where the SSC CPO will be conducted is mentioned in the article above.
Questions related to SSC CPO
Showing 13 out of 13 Questions