LIC ADO Salary in Hand 2020 - Check Allowance, Structure, Job Profile
LIC ADO Salary in hand - The Life Insurance Corporation of India recruits Apprentice Development Officers (LIC ADO). The job of a LIC ADO is finding suitable, dynamic LIC agents to sell the policies of the LIC to its customers. The LIC ADOs train the agents and are posted in both urban as well as rural areas. As LIC is one of the most prestigious and the largest organisation in India, the post of LIC ADO holds great attraction as nearly 5-6 lac candidates fill the application form of LIC ADO every year. There are close to 8000-9000 vacancies that are filled through the LIC ADO recruitment. In 2019, 8581 vacancies were released for LIC ADO. As per the in hand salary of LIC ADO, the basic pay is Rs 21,865/- per month, apart from the basic LIC ADO salary, there are various other allowances and perks given to the candidates. In this article, we will talk about the LIC ADO Salary in hand, the LIC ADO salary bifurcation and growth opportunities of a LIC ADO. Read the complete article to know about the LIC ADO salary in hand in 2020.
Latest: The LIC ADO 2020 exam dates to be announced anytime soon
Stay up-to date with LIC ADO News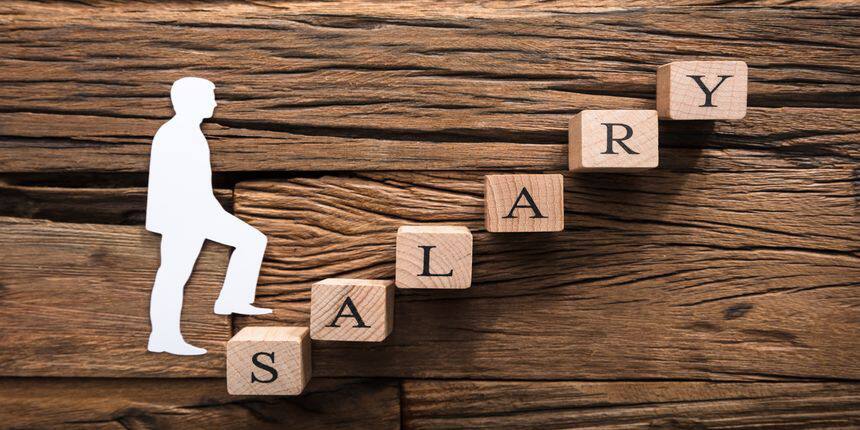 As per experience in the job and increments from time-to-time, candidates can expect great salary, incentives, promotions and great benefits.
What is the LIC ADO salary in hand 2020?
From the following table, candidates can check LIC ADO salary in hand, allowances, basic pay and the pay scale.
Salary of LIC ADO 2020
| | |
| --- | --- |
| Pay Scale | 21865-1340(2)-24545-1580(2)-27705-1610(17)-55075 |
| Basic Pay | Rs.21,865/- |
| After Increment | Rs 55,075/- |
| Dearness Allowance (DA) | 40% of basic pay |
| House Rent Allowance (HRA) | 7%-9% of the basic pay (Depends upon the urban and rural location) |
| City Compensatory Allowance | 0% – 4% of the basic pay (Depends upon the urban and rural location) |
Apart from the In-hand salary of LIC ADO, candidates who qualify the LIC ADO exam are also entitled to various other allowances and benefits, such as -
Leave Travel Concession (LTC)

Special Allowances

Bonuses

Medical Benefits

Accident Insurance

Personal loan with low-interest rates

Reimbursement (Based on official trips)

Performance incentives
What is the Apprentice Period and Probation Period in LIC ADO?
After getting recruited as LIC ADO, candidates have to go through the apprentice period. During this period, they are paid a fixed amount as a stipend which is Rs. 34000 (approximately). On the other hand, the probation period starts after the apprentice period. This period lasts for 1 year.
7 min read
Mar 05, 2022
Read More
What are the responsibilities of a LIC ADO?
Apart from recruiting able LIC agents, a LIC ADO must also fulfil certain responsibilities like -
Monitoring the LIC agents and carrying all sales related tasks of LIC policies.

Make sales tasks and help the LIC agents in achieving them by helping them understand each and every aspect of the policy.

Help the clients in understanding the LIC policies and the benefits they will be getting after the maturity period is over or within the policy scale.

Help in selling the maximum number of LIC policies.

Organise team meetings, seminars and workshops from time-to-time to create awareness related to new policies, motivate the LIC agents and work shoulder-to-shoulder with the team to complete the targets.
Also check:
Frequently Asked Question (FAQs) - LIC ADO Salary in Hand 2020 - Check Allowance, Structure, Job Profile
Question: What is LIC ADO Salary in hand?
Answer:
The in-hand salary of LIC ADO can be expected to be around Rs. 30000-35000 at the starting stage. This also depends upon the area of posting and it will increase as per experience.
Question: What is the LIC ADO full form?
Answer:
Life Insurance Corporation of India Apprentice Development Officers is the full form of LIC ADO.
Question: What is different between LIC AAO and LIC ADO?
Answer:
The difference is fieldwork. LIC ADO includes more fieldwork as compared to AAO which has officer work. There is a difference in salary as well as the basic pay of ADO is Rs. 21000 while the salary of LIC AAO is Rs. 32000.
Question: Is the LIC ADO a government job?
Answer:
Yes it is a government job and comes under the Life Insurance Corporation.
Question: Who can apply for LIC ADO?
Answer:
Any candidate with graduation as the minimum academic qualification and age group between 21 to 30 years can apply for LIC ADO.
Questions related to LIC ADO
Showing 2 out of 2 Questions
594 Views
Are MAKAUT university BSc+MSc data science graduate eligible to apply for RBI grade B DSIM/DEPR post? SSC CGL JSO and Complier post and UPSC ISS, IES post? Please mentioned other opportunities?
• Age Limit: The candidate must be 21 Years to 30 Years as on 01.04.2020 i.e. candidates must have been born between 02.04.1990 and 01.04.1999 (both dates inclusive)
• Educational Qualification: The candidate must be a graduate in any discipline from a recognized University or any equivalent qualification recognized as such by the Central Government. Those who are in the Final year/Semester of their Graduation may also apply provisionally subject to the condition that, if called for interview, they must produce proof of having passed the graduation examination on or before 01.07.2020. Candidates with Integrated Dual Degree (IDD) certificate must ensure that the date of passing the IDD is on or before 31.08.2020. Candidates with Chartered Accountant certification may also apply.
SBI PO Selection Procedure: Important Points
The candidates should keep in mind the following points related to the SBI PO selection process:
• Biometric Verification: To ensure an error-free and secure selection procedure for SBI PO 2020, the bank may digitally capture the thumb impression of the candidate. This is done to verify the genuineness of the candidates. Any inconsistency in the biometric verification will lead to rejection of the candidature and punitive legal actions. Candidates are thus advised not to apply any kind of external matter like ink, mehandi, chemical etc. on their hands.
• Number of Attempts: The maximum number of chances are fixed for each category. Candidates who have used up all the chances are not eligible to apply. Appearing in Preliminary Exam is not counted as an attempt but appearing in Mains Exam is counted.