IBPS PO 2020 Exam day Guidelines - Check Covid19 Instructions
IBPS PO 2020 Exam day Guidelines - This year almost all the examinations are happening amidst pandemic with all the preventive measures. IBPS also scheduled the IBPS PO 2020 exam on October 3, 10 and 11 as per IBPS PO exam dates and also released the admit card of IBPS PO prelims exam 2020. As per the notice, 100% students got the exam centre of their choice. However, candidates need to follow some important guidelines to lower the risk of getting infected by the coronavirus. These guidelines are the safety measures provided by the government as well as examination authority. Social distancing and use of masks and sanitizers are prominent ones in these COVID-19 guidelines. In this article, we will discuss important guidelines exam day as well as few last minute preparation tips.
Latest: IBPS PO 2020 Prelims exam is available now.IBPS PO 2020 Mainsexam date announced.
Latest Updates for IBPS PO
IBPS PO: Important Dates
The important dates of IBPS PO exam is mentioned in the official notification of IBPS PO 2020. Candidates must track the important dates so that they don't miss any major events. Check below the important date table;
Important Date of IBPS PO 2020
Event

Important Dates

IBPS 2020 Notification

August 4, 2020

Start and end date for registration

August 5- August 26, 2020

IBPS PO registration 2020 Reopening Dates
October 28 to November 11, 2020

(Released)

Download of call letters forIBPS PO Online examination – Preliminary

September 2020

IBPS PO preliminary exam dates

October 3, 10, and 11, 2020

Additional prelims : January 5 and 6, 2021

Result of IBPS PO preliminary exam

January 14, 2021

Download of Call letter for Online exam – IBPS main

January 2021

IBPS PO Main Exam 2020

February 4, 2021

Announcement of IBPS PO result 2020 (mains )

Last week of February 2021
Exam Day Guidelines for IBPS PO 2020
IBPS released the IBPS PO 2020 exam day guidelines notice. As per the IBPS PO 2020 exam guidelines, candidates need to carry COVID-19 essentials to lower the risk of getting infected. Check all the important and new guidelines for IBPS PO conducting amidst pandemic
IBPS PO 2020: COVID-19 Essentials
Mask (WEARING A MASK is COMPULSORY)

Gloves

Personal transparent water bottle

Personal hand sanitizer (50 ml)

A simple pen

Important Documents need to appear in the IBPS PO exam (Call Letter/Admit Card, ID card in Original, Photocopy of ID Card, etc)

Call Letter/Admit Card should be brought with the Photocopy of the Photo ID stapled with it. Original ID (same as Photocopy) is needed to be available with the candidates.
Note: Candidates need to make sure that the name on the photo id proof and admit card is the same. If not, they must carry an affidavit regarding the change in name.
IBPS PO 2020: COVID-19 SELF DECLARATION FORM
If an applicant does not have a mobile, he / she will have to send to that effect a signed declaration and display the same to the Security Guard at the time of entry into the examination location.
Entry will not be permitted for candidates with Moderate or High-Risk status in Aarogya Setu. If any of the responses in the declaration indicate infection / symptoms with COVID 19, the nominee will not be allowed inside the examination location.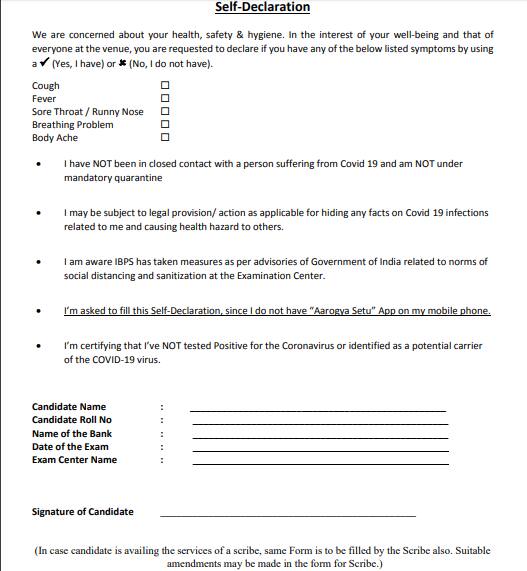 IBPS PO 2020 : Guidelines Need To Be Followed
A candidate must have his mobile phone with the Aarogya Setu App. It is important to display the status of Aarogya Setu

At the entrance to the exam site, an applicant would have to show this status to the Security Guard. If there is moderate or risk status on the aarogya setu app, candidates are not allowed in the examination centre.

Applicants will be asked to turn off their cell phones and deposit them at the designated location after the Aarogya Setu status show at the entrance gate, to be collected when leaving.

All candidates will be tested at the entry point for temperature with Thermo guns. If any person is found to have an above-normal temperature (> 99.14 ° F) or to have any symptoms of the virus, entry into the venue will not be permitted.

The registration of candidates will be achieved by photo capture.

Rough sheets will be held at each candidate's tables, and no extra rough sheets will be given.

After completion of the tests, candidates would be asked to drop their sheets in the box reserved for disposal at the time of their departure from the laboratory
IBPS PO 2020 Last Minute Tips
Before appearing in the exam , candidates should review the IBPS PO examination analysis of the previous years to learn more about the IBPS PO question paper pattern.

IBPS PO admit card and photo identity proof in the form both original and in photocopying, with at least two copies.

Don't stress in the examination hall. Keep your mind calm and composed.

Drink water if you feel any tension or nervousness.

Carefully read the question paper. Don't rush too much.

Fully understand the question before you respond.

Try not wearing too many casual clothes rather than go for the light colour formal ones. Light coloured dresses will ease your mood and make your mind feel relaxed.

Review what you once read. Check your brief notes and essential formulas for important topics.
IBPS PO Admit Card 2020
IBPS released the IBPS PO admit card on the official website in online mode. Candidates who filled the IBPS PO admit card can download the admit card of IBPS PO 2020. Check the steps below to download the IBPS PO admit card 2020 using necessary credentials that is registration number/roll number and password/date of birth.
Open the official website of IBPS PO

Now click on the "IBPS PO admit card link:

Login to the admit card portal using your application number, date of birth and captcha code.

Upon successful login, the IBPS PO admit card will appear on the screen.

Download and take a print of the admit card for future use.
Also Read:
How to Prepare for IBPS PO 2020
Frequently Asked Question (FAQs) - IBPS PO 2020 Exam day Guidelines - Check Covid19 Instructions
Question:On the day of the test, will I be allowed to bring my sanitizer?
Answer:
Candidates will be allowed to carry a 50 ml bottle of sanitizer with them on the day of the examination. 
Question:What are the new criteria that are due to COVID-19?
Answer:
Candidates are expected to wear face masks and gloves to reach the examination hall. The authorities will also, using thermal weapons, monitor the body temperature of candidates. 
Question:What documents do I need on the day of the exam to bring with me?
Answer:
Applicants must bear their IBPS PO admission card along with clear proof of photo identity.
Question:Will symptomatic patients with COVID-19 be authorised to take the exam?
Answer:
No, as per the guidelines, symptomatic COVID-19 patients will not be permitted to appear for the exam.
Questions related to IBPS PO
Showing 258 out of 258 Questions
Institute of Banking Personnel Selection Common Written Examination for Probationary Officers/ Management Trainees (IBPS PO)