SSC JHT Exam Centres 2020 - Check Region Wise JHT Exam Cities List
SSC JHT Exam Centres 2020 - SSC has mentioned the list of SSC JHT 2020 exam centres in the official notification. The exam centre of SSC JHT 2020 will be allotted as per the choice filled by candidates in the application form. SSC JHT 2020 will be conducted in 46 cities across the country. Applicants can check the full details of SSC JHT exam centres 2020 from the admit card. Candidates must fill the SSC JHT 2020 exam centre correctly in the application form.
The Staff Selection Commission does not provide any correction window to change the exam centre after the last date to submit the application form. Candidates who qualify the computer-based test will be called for paper 2 of SSC JHT exam which is descriptive in nature.
SSC JHT 2020 paper 1 is scheduled to be conducted on November 19, 2020, in online mode. For more details about SSC JHT exam centres 2020, candidates can check the article given below.
Latest: SSC JHT 2020 Paper 1 to now be conducted on November 19, 2020. SSC JHT Application Form 2020 has been released on June 29. On June 16, 2020, the result of SSC JHT 2019 for Paper 2 was declared. Check more details here - SSC JHT result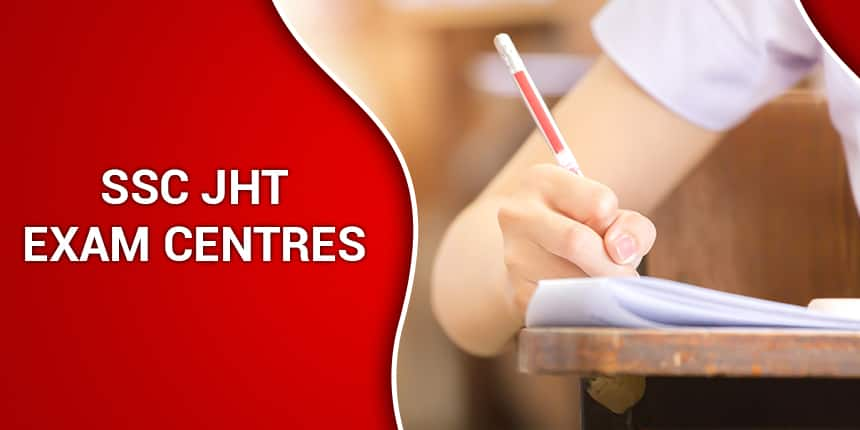 SSC JHT Exam Centres 2020 - Region Wise
SSC JHT Paper 1 will be conducted in 46 cities across the country. Candidates can check details about centre code, exam venue, etc from the admit card of SSC JHT. For more details, candidates can check the table given below.
What are the Region-Wise List of SSC JHT Test Centres 2020?
Region

State

Exam centres

Central Region (CR)






Bihar

Uttar Pradesh




Bhagalpur

Patna

Agra

Bareilly

Kanpur

Lucknow

Meerut

Prayagraj

Varanasi

Eastern Region (ER)




Andaman & Nicobar Islands Jharkhand

Odisha

Sikkim

West Bengal

Kolkata

Port

Blair

Gangtok

Bhubaneshwar

Ranchi

Karnataka, Kerala Region (KKR)

Lakshadweep, Karnataka and Kerala

Lakshadweep

Karnataka

Kerala

Bengaluru

Kochi

Thiruvananthapuram

Madhya Pradesh SubRegion (MPR)




Chhattisgarh

Madhya Pradesh

Raipur

Bhopal

Gwalior

North Eastern Region (NER)




Arunachal Pradesh

Assam

Manipur,

Meghalaya

Mizoram

Nagaland

Tripura.

Guwahati (Dispur)

Shillong

Agartala

Northern Region (NR)




Delhi

Rajasthan

Uttarakhand




Delhi

Ajmer

BikanerJaipur

Jodhpur

Sikar

Udaipur

Dehradun

Haldwani

Roorkee

North Western SubRegion (NWR)





Chandigarh

Haryana

Himachal Pradesh

Jammu and Kashmir

Punjab

Chandigarh/ Mohali

Hamirpur

Jammu

Jalandhar

Southern Region (SR)




Andhra Pradesh

Puducherry

Tamil Nadu

Telangana.

Hyderabad

Chennai

Vijayawada

Western Region(WR)




Dadra and Nagar Haveli, Daman and Diu

Goa

Gujarat

Maharashtra

Panaji

Ahmedabad

Mumbai

Nagpur

Pune

Rajkot
The exam conducting authority has released the application form at its official website on June 29. Candidates first need to register themselves online. After successful registration aspirants can proceed to fill the application form. Applicants need to mention details like educational qualification, personal details, contact information, etc in the application form. Candidates also need to mention SSC JHT exam centre 2020 in the application form. The online application fee of SSC JHT 2020 is Rs. 100/- for UR/OBC candidates while reserved category candidates are exempted from the payment of application fee. Applicants who fill the application form can download the admit card 4 days before the commencement of the exam.
Staff Selection Commission will release the admit card at its official website 4 days before the commencement of the exam. Candidates can download admit card through registration number/candidate name and date of birth/father's name. The details mentioned in the admit card are personal details, exam details, contact information, exam day guidelines, photograph, signature, etc. Applicants can also check SSC JHT exam centre details in the admit card. Applicants are advised to reach the exam centre at least 60 minutes before the commencement of the exam.
What are the SSC JHT 2020 Exam Day Guidelines?
Do not carry any restricted item at the test centre.

Reach the test centre 60 minutes before the commencement of the exam.

Aspirants must carry one valid ID proof at SSC JHT 2020 exam centre.

Do not leave the exam centre before the completion of the exam.
Other Related Articles
Frequently Asked Question (FAQs) - SSC JHT Exam Centres 2020 - Check Region Wise JHT Exam Cities List
Question: Can I change my exam centre of SSC JHT 2020?
Answer:
No, candidates are not allowed to change SSC JHT exam centre.
Question: What is the selection process of SSC JHT?
Answer:
SSC JHT selection process comprises computer based test, descriptive exam, skill test and document verification.
Question: How can I download question papers of SSC JHT?
Answer:
Candidates can download SSC JHT question papers 2020 from the official website after the commencement of the exam.
Question: How to prepare for the SSC JHT exam?
Answer:
Candidates preparing for the exam must check SSC JHT Preparation Tips 2020.
Questions related to SSC JHT
Showing 5 out of 5 Questions