UPSC 2020 Topper Interview Satyam Gandhi AIR 10
UPSC Civil Services Topper Interview 2020- Union Public Service Commission (UPSC) finally announced the UPSC IAS final result 2020 and Satyam Gandhi scored All India Rank 10 who hails from a rural background of Samastipur, Bihar. Satyam Gandhi achieved this grand success in his first attempt just after completing his graduation. According to Satyam Gandhi (AIR 10th rank holder), anyone can secure a good rank if they have the right study plan for the UPSC exam in place. Set goals and keep yourself away from distractions is the success mantra that has been provided by UPSC Topper 2020, Sataym Gandhi. Read the full interview of UPSC topper 2020 Satyam Gandhi to know all the preparation tips from prelims exam to interview.
Latest: UPSC IAS Topper Interview 2020 - AIR 18
Latest Updates for UPSC Civil Services Exam
Stay up-to date with UPSC Civil Services Exam News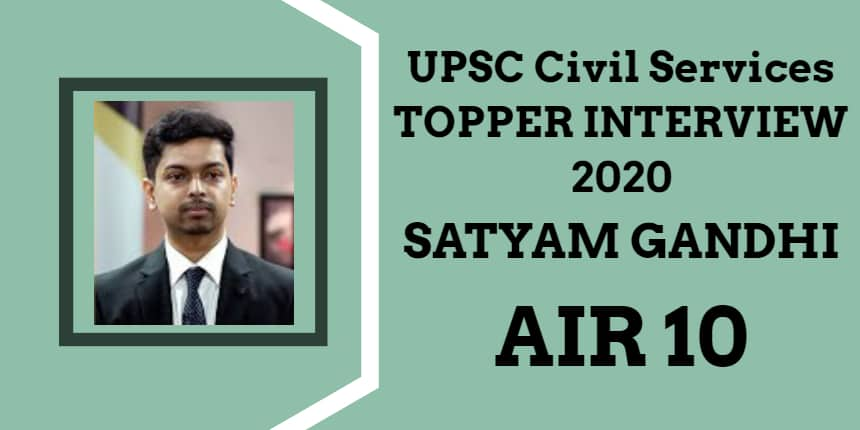 Careers360: Tell us something about yourself; your academic and family background?
Satyam Gandhi: I am Satyam Gandhi from Samastipur, Bihar. I finished my schooling from Kendriya Vidyalaya, RAU Pusa, Samastipur, Bihar. Post that I completed my graduation with a Bachelor of Arts in Political Science from Dyal Singh College, University of Delhi. My father is a government employee of Group C and my mother is a housewife. I have a younger brother who is pursuing graduation.
Careers360: What is your rank overall and category rank and how many marks did you score in the mains exam and the interview.
Satyam Gandhi: I am from the general category and my All India Rank in UPSC 2020 exam is 10. The final UPSC marks are not out yet so I don't know right now.
Also Read: UPSC IAS Result 2021
Careers360: Who and what inspired you to take up the UPSC Civil Services exam? Please elaborate.
Satyam Gandhi: As I am from a rural background, the problems of rural areas of India have been my concern since my teenage years and I always want to solve these problems. My family always supported me in my endeavour to achieve my goal and my grandfather always had a wish that someone must be an administrative officer in the family. He is 95 years old and I fulfilled his dream. I also had my internship related to rural development with the Ranchi administration for two months. During my internship period, I understood one thing that bureaucracy is the section where I can join and bring change in society.
Careers360: Have you taken any coaching? If yes- From where? How did it help? Do you think one can manage to crack the exam with self-study?
Satyam Gandhi: Yes, I took the coaching for my UPSC preparation from Vajiram and Ravi for General Studies. I did not take any coaching for my optional subject. Taking the coaching for UPSC IAS preparation does help. However, the candidate needs to focus more on self-study and this helped me a lot.
Careers360: How many attempts did you give for the UPSC exam?
Satyam Gandhi: This was my first attempt at UPSC as I completed my graduation last year only.
Careers360: What are the best books and study material that one should consult while preparing for the GS and the optional ones that you have taken?
Satyam Gandhi: According to me, Laxmikanth for polity, NCERTS for Geography, Bipan Chandra, and Spectrum for History, are some of the standard books that one should study from. Students can also take notes from top IAS coaching institutes.
Careers360: When did you start your preparation? How did you prepare for the exam since the syllabus is vast? How many hours did you put in per day?
Satyam Gandhi: I started my UPSC IAS preparation in May 2019 exactly one year before my UPSC prelims 2020. At first, I used to study for 8 hours to 10 hours every day. One thing that students must keep in mind is that they should give quality time for their self-study. I studied in a very planned manner so that the UPSC syllabus must be covered on time and I'll get time for my revision also.
I made a plan for six months and divided that into monthly, weekly, and daily targets and I tried to accomplish all my goals. Having a plan is very important while someone is preparing for the UPSC exam as the preparation needs dedication and then you will know that you are going in the right direction.
One more important thing, do not run behind too many books. Choose the best books for UPSC based on the latest syllabus and exam pattern of UPSC and read them multiple times.
Careers360: What were your stronger and weaker subjects and how did you manage to divide time and prepare?
Satyam Gandhi: My strong area was Polity and Economics and my weak area was History. More specifically, Ancient History was challenging for me. I devoted more time to the weaker section. There is no other alternative than hard work when you are preparing for the UPSC IAS exam.
As I am very bad at memorizing topics and History is the subject that is all about memorizing the topics. So, I dedicated my extra time to the subject and tried to memorize the concepts by revising again and again.
Careers360: Were you already working somewhere or just finished college and started the preparations?
Satyam Gandhi: No, I was not working anywhere. I just finished college last year. My final semester exam was just a month before my UPSC IAS prelims exam.
Careers360: What should be one's approach while giving the UPSC exam ?– which section to attempt first and which next?
Satyam Gandhi: First of all, there is no set pattern to crack the UPSC IAS exam. Everyone follows their pattern of UPSC IAS study plan in which they are comfortable. However, it does not matter which pattern of study you are following but you should make a proper plan regarding what and how the UPSC IAS syllabus needs to be covered. Make a plan that can be accomplished, kind of realistic. Do not go for an overly ambitious study plan. Consistency and time management is the key.
Careers360: What was the toughest aspect of your UPSC preparation?
Satyam Gandhi: For me, in terms of the UPSC syllabus, the Ethics and History paper was the toughest. Other than this, I live in Delhi all alone and I have to manage everything on my own, so that part was too tough for me.
Careers360: Name some important topics that you feel are a must-read for any student attempting the UPSC exam?
Satyam Gandhi: For the prelims stage of the UPSC exam, Economics, Polity, and Environmental Studies are the important sections. Aspirants must read them thoroughly. The questions from Science and Technology are the basic ones, one can attempt them easily if the concepts are clear. For the UPSC IAS main stage, the optional subject needs to be very strong. If you prepare well for your optional paper, you can score well.
Careers360: How important do you feel mock interviews and test series are and why? Did you take mock interviews?
Satyam Gandhi: Appearing in the UPSC IAS test series and mock interviews is very important while preparing for the UPSC IAS exam. I also appeared in mock interviews during my preparation but the experience of a real interview is completely different. In the interview, the ambiance is very surreal and they ask questions from your subject area only. It is not the same as shown in mock interviews. For prelims and mains, take as many as UPSC IAS mock test and test -series as this is very important to crack the exam.
Careers360: What did you do for leisure? Any specific activities that helped you unwind?
Satyam Gandhi: I love to do photography and watch science-fiction movies. However, if you are interested in studies, you do not have much time to focus on other things that will distract you.
Careers360: How did you cope up with the lockdown period? Did it hamper or boost your preparations?
Satyam Gandhi: I can say, the lockdown had both negative and positive effects on me. Looking at the positive side, the first lockdown happened just before my prelims exam which gave me 3-4 months extra for my preparation. Although it was challenging too, as I was in my village and due to internet and electricity problems, I was not able to get as many resources as I wanted. During the second lockdown, after my mains exam, I too got tested positive and that time was very hard for me. I was in Delhi and managed everything on my own along with preparing for my UPSC IAS interview.
Careers360: Online or offline, which is the best way to study for the UPSC exam?
Satyam Gandhi: For me, the offline study is much better than the online format. You get the chance to interact with people and discuss concepts and topics.
Careers360: What are your plans and how will you try to bring a change to your place of work (area posted) as you will be very much involved in policy making and disciplinary activities?
Satyam Gandhi: I would like to work for rural development more specifically I would like to create sustainable self-employment options for women in the rural areas. I think people from rural areas need to be financially independent as for now most of the village areas are relying on cities for a lot of things. Secondly, I would like to work for school education as the education system needs to improve and every child needs to be educated.
Careers360: What is the message that you have for future aspirants?
Satyam Gandhi: For future aspirants, I will say make a proper study plan before starting your UPSC IAS preparation. Be honest with yourself about what and why you opted for this. Give 10-12 hours to self-study and keep yourself away from distractions whether it is social media, relatives, friends, or anything else.
Questions related to UPSC Civil Services Exam
Showing 1851 out of 1851 Questions