UPSC Topper Interview 2020- "Dream big even if you come from small place" says Radhika Gupta AIR 18
UPSC Civil Services Topper Interview 2020- The strong will to work for the people and serve the country enabled UPSC IAS topper Radhika Gupta who secured AIR 18 in the UPSC civil services exam. In her second attempt of the UPSC IAS 2021 exam, Radhika Gupta who hails from Aliajpur, Madhya Pradesh made her way to the toppers list. UPSC IAS topper, Radhika Gupta's message for the future UPSC aspirants is not to lose hope even if they are from small towns. Owing to the penetration of the internet in our lives, right study material is available in online mode also. UPSC topper and AIR 18, Radhika Gupta holds the view that one must pursue their hobbies during the course of preparation so as to beat the stress and adds that there is nothing which an individual cannot do. Read the full interview of UPSC topper 2020 Radhika Gupta to know all the preparation tips from prelims exam to interview.
Latest Updates for UPSC Civil Services Exam
Stay up-to date with UPSC Civil Services Exam News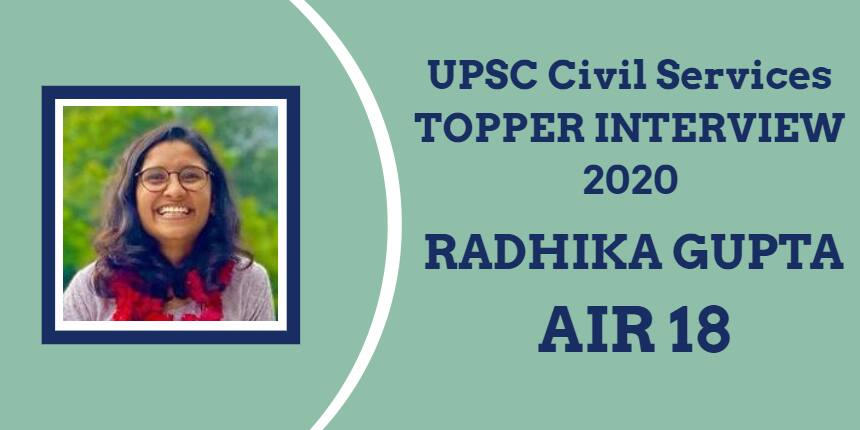 Careers360: Tell us something about yourself; your academic and family background?
Radhika Gupta: I come from Alirajpur, Madhya pradesh. My father is a businessman and my mother is a homemaker. I completed my early education from Alirajpur itself. Post that I did my engineering from Indore and subsequently worked for Honda Cars India Ltd for about an year.
I was allocated IRPS( Indian Railway Personnel Service) through UPSC CSE 2019 . Currently i am undergoing Training in Vadodara.
Careers360: What is your rank overall and category rank and how many marks did you score in the mains exam and the interview.
Radhika Gupta: I have secured AIR 18 this year. Marks have not come out yet so as of now i don't know how much I have scored in mains and interview.
Also Read
UPSC IAS Toppers 2020 (Released) - Check List Here
Careers360: Who and what inspired you to take up the UPSC Civil Services exam? Please elaborate.
Radhika Gupta: My inspiration for civil services comes from my background . I come from a district that is the least literate district in the country. Having had the opportunity to live here, I knew what education and opportunities can do in a person's life. I felt that I too want to work in sectors where I can enable other people and better their lives. Coming from a village gave me various opportunities to witness governance structures. With time my inclination towards it grew and got materialized in the form of UPSC preparation. I also read about work done by Mr P Narhari sir, IAS during his tenure as DC in Indore and Gwalior. His work in making Indore No 1 in cleanliness, Gwalior as a barrier free city has really Inspired me. I realized how much change an IAS can bring in the lives of people.
Careers360: What were your options for the prelims and mains exam and how did you prepare for them?
Radhika Gupta: I chose anthropology as my optional in the mains exam. I did not take any coaching for that. I referred to strategies of Sachin Gupta sir( AIR-3), Harsh Koya sir(AIR-7) and made one for myself. I made a basic list of books, read them and wrote mock tests for the same.
Careers360: Have you taken any coaching? If yes- From where? How did it help? Do you think one can manage to crack the exam with self-study?
Radhika Gupta: I took coaching from KSG Indore for my General studies portion. It helped me in preparing a foundation for the exam. But yes, one can very well manage without coaching in current times because the internet has provided all the guidance that one needs. Right from strategy to book lists to study material- everything is there. So do not feel that you have to go to Delhi or do coaching to clear UPSC. Some resources like Insights on India, IAS Baba etc. are doing a great job in providing free and quality content. One can watch topper strategies on youtube for more information as well as refer to other good online resources for UPSC civil services preparation.
Careers360: How many attempts did you give for the UPSC exam?
Radhika Gupta: I took two attempts so far for the UPSC civil services exam. In my first, I got into IRPS and in second I got the desired rank.
Careers360: What are the best books and study material that one should consult while preparing for the GS and the optional ones that you have taken?
Radhika Gupta: Laxmikanth for polity, NCERTS for Geography, Bipan Chandra and Spectrum for History , PMF IAS material for Environment etc are some of the standard books. Also, since it is a long preparation, one will come across many resources online and reading material. Please understand the syllabus well and try to make 2 page notes for each topic.
for Anthropology optional- I read Nadeem Hasnain, Bibek Bhasme, and P Nath. Refer to Sachin Gupta sir's strategy for a detailed book list.
Careers360: When did you start your preparation? How did you prepare for the exam since the syllabus is vast? How many hours did you put in per day?
Radhika Gupta: I started preparing in July 2018 and did prepare for one year. I wrote civils in June 2019. Since the UPSC civil services syllabus is vast, I thought of getting hold of micro syllabus and keywords. This made my work easy. I took one topic at a time, one day at a time and made notes. For one year, if one puts in 8-10 hours daily, I think that is enough to clear the exam.
Careers360: What were your stronger and weaker subjects and how did you manage to divide time and prepare?
Radhika Gupta: I had difficulty with subjects like maps in geography, biotech, ancient history, art and culture. I knew these factual things can't be done in a day so I made a daily bare minimum ( 5 map locations a day, 15 minutes of art and culture a day etc.). This helped me break down smaller tasks.
Careers360: Were you already working somewhere or just finished college and started the preparations?
Radhika Gupta: I was working as an Indian Railway personnel service officer and prepared simultaneously.
Careers360: What should be one's approach while giving the UPSC exam ?– which section to attempt first and which next?
Radhika Gupta: Divide your preparation into two rounds in prelims. Attempt those questions that you are sure of and those where there is a 50-50 chance. Time management is the key.
Careers360: What was the toughest aspect of your UPSC preparation?
Radhika Gupta: Not being able to visit my family that often was the toughest for me. In terms of studying for long hours, it also takes a toll on mental health. So please pursue some hobbies along with keeping your stress low and manageable.
Careers360: Name some important topics that you feel are a must-read for any student attempting the UPSC exam?
Radhika Gupta: Put more focus on areas like economy, polity, constitution, geography maps, modern history etc.
Careers360: How important do you feel mock interviews and test series are and why? Did you take mock interviews?
Radhika Gupta: They are extremely important. I gave mock interviews at various places. These help in getting a hang of the process and fine tuning personality. Mahesh Bhagwat sir's guidance has helped me alot here. Some of the best mocks are KSG, Jamia, Shankar IAS etc.
Careers360: What did you do for leisure? Any specific activities that helped you unwind?
Radhika Gupta -I played TT , badminton. I have been an ardent sports enthusiast . I also used to listen to podcasts sometimes to maintain my cool.
Careers360: How did you cope up with the lockdown period? Did it hamper or boost your preparations?
Radhika Gupta: I think we aspirants are anyway in lockdown during our preparation. But in the second wave of covid, it was not just isolation, but a toll on mental health too. I used to spend time with my family. I used to read some books .
Careers360: Online or offline, which is the best way to study for the UPSC exam?
Radhika Gupta: A blend of both. use resources wisely to your benefit.
Careers360: What are your future plans and how will you try to bring a change to your place of work (area posted) as you will be very much involved in policy making and disciplinary activities?
Radhika Gupta: I would like to ease out the public service delivery wherever I am posted. Areas of women empowerment, children education and healthcare sectors that i am really interested in.
Careers360: What is the message that you have for future aspirants?
Radhika Gupta: Have a dream. Always. Never shy away from dreaming big even if you come from small place. Dream big and work even more for that dream. Always believe in yourself and try to keep self doubts away ! There is nothing that you can not do in life.
Questions related to UPSC Civil Services Exam
Showing 1851 out of 1851 Questions