RBI Officer Grade B Topper Interview: Naveen Kumar Singh- Time management & previous years' papers are crucial
It was the year 2015 when RBI had announced 134 vacancies for the recruitment of Grade B Officers, whereas the number of test takers for the examination was roughly around 2 lakh. The competition was thus high, however, breaking all odds, with just a month's preparation, Naveen Kumar Singh could secure a place for himself at the RBI by cracking RBI Officer Grade B in its first attempt itself. His active participation in quiz, debates and Olympiads (at district, state and national level) from his school days acted as catalysts to give him the plunge he needed during his adulthood. Moreover, icing on the cake was his encounter with Dr D. Subbarao, the former RBI Governor on the founding day of IIT Kharagpur, which came as a turning point in his career orientation. Naveen was so moved by the speech and intellectual ability of the former RBI Chief that it gravitated him towards RBI.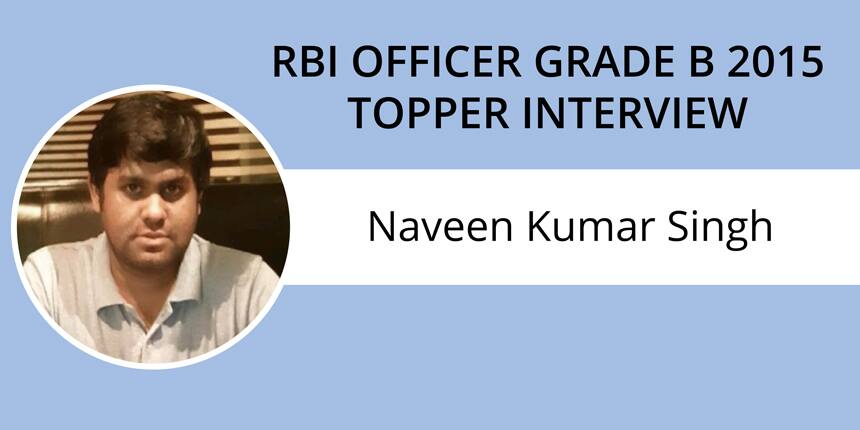 An alumnus of IIT Kharagpur (B.Tech in Mining Engineering and M.Tech in Financial Engineering), he completed his dual degree in 2015 and decided to sit for RBI Officer Grade B exam right after his college. As they say, where there is a will, there's a way, the Karnal lad cracked the exam in the first attempt and is now working as a Manager at RBI Mumbai Office. In a conversation with Careers360, Naveen shares tips and tricks to crack RBI Officer Grade B examination. Read the interview below. 
Excerpts from the Interview: 
Careers360: Tell us about your background and when did you qualify RBI Officer Grade B exam?  
Naveen Kumar Singh: I have graduated from IIT Kharagpur in 2015 with a dual degree course (B.Tech in Mining Engineering and M.Tech in Financial Engineering). I decided to sit for this exam straight out of college. So I took the exam in 2015 and the result was declared in 2016.
Careers360: Did you take any coaching? If yes, from where and for how long?
Naveen Kumar Singh: I did not take any coaching. But I had joined Practicemock's test series for Phase-1 of the exam.
Careers360: Tell us about your current role and responsibility at RBI?
Naveen Kumar Singh: I am currently working as a manager in Operational Data Management Division of Department of Statistics and Information Management (DSIM). Our division is responsible for handling all data of operational areas pertaining to banking, non-banking, and cooperative banking supervision, financial inclusion, financial markets, foreign exchange, payment and settlement systems, internal debt management, and state finance reports. Our division manages this data in RBI's data repository - https://dbie.rbi.org.in
Careers360: Which of the educational background best suits for RBI Officer Grade B job?
Naveen Kumar Singh: RBI's induction training at Reserve Bank Staff College, Chennai makes sure that officers from all background are made familiar with intermediate level banking, finance and statistics knowledge. So educational background doesn't really matter.
Careers360: How should one prepare for a Grade B job at RBI? 
Naveen Kumar Singh: For Phase-1, the key is to practice sufficient type of questions in quant and reasoning. For GK, one should make short notes from any banking current affairs magazine for at least 6 months before exam. 
For Phase-2, be proficient in finance & management subject by solving previously asked questions. I found lecturers available on Mrunal's website to be quite useful for ESI.
For interview, read about RBI's functions and be thorough with your biodata. To read in detail about my preparation strategy for RBI Officer Grade B, click on https://qr.ae/TUt1rp.
Careers360: Is coaching important for cracking the exam? If yes, then how much and can you suggest some good coaching institutes from where one must pursue coaching? 
Naveen Kumar Singh: I think coaching is not required for clearing this exam. Almost none of my batchmates took any classroom coaching.


Careers360: In case of self study, how much is the probability of cracking the exam? What should be the preparation strategy for self study?
Naveen Kumar Singh: Self study is sufficient for clearing this exam. One just needs to go through previous years' papers and practice sufficient types of questions. 
Careers360: Can you refer some good books with Author names for all the sections of Grade B exam?
Naveen Kumar Singh: For Quant I solved Arun Sharma's Quantitative Aptitude book for CAT and for reasoning I solved R.S. Agarwal's reasoning book. For G.K. I referred to the Banking and current affairs magazine of Kiran Prakashan and made my own section-wise short notes for revision.
You may also read – Best books for RBI Officer Grade B Examination 
Careers360: Tell us the difference between Officer Grade B and RBI Assistant roles? 
Naveen Kumar Singh: The roles of Officer Grade B and Office Assistant in RBI are markedly different. The hierarchy is as follows - Assistant -> Assistant Manager (Grade A) -> Manager (Grade B). So it takes many years for an assistant to become a Grade B officer. The work of a Grade B Officer is more intellectually involved and less of file work as compared to an assistant.
Careers360: Any online test series you suggest for RBI Officer Grade B exam?
Naveen Kumar Singh: I had taken Practicemock's test series for Phase-1 and it really helped me a lot in my time management strategy. One should try out all different permutations and combinations of strategies (like ordering of sections in which one attempts exam) in the test series and see what works best for them.  
Also read – RBI Officer Grade B Syllabus and Exam Pattern 
Careers360: Please describe a typical day at work for you as a Grade B Officer.
Naveen Kumar Singh: My usual work days are spent solving data related queries and analyzing data pertaining to different RBI operational departments. Besides that, I am also working on strategic projects, which will impact Indian banking and non-banking sector. Overall, RBI provides immense job satisfaction.
Careers360: What are some of the major challenges that one must be ready to take head on when considering a career in RBI?
Naveen Kumar Singh: Almost 50% of the batch is posted in Mumbai. So, one must be ready to be posted in Mumbai which comes with its own set of fun and challenges. Professionally, I think the senior management in all departments go a long way in making a new recruit comfortable in his/her jobs. 
Careers360: Tell us the complete selection procedure of RBI Officer Grade B exam. Mention salary, growth prospectus, etc. 
Naveen Kumar Singh: The exam involves 3 stages – Phase 1 which is objective, Phase 2 which has 3 papers – Economic & social issues (objective), Finance & management (objective) and English (subjective), and interview. At present, initial monthly Gross emoluments are approximately Rs. 75,831/-(approx.). 
RBI officers go on regular training at RBI Academy (Mumbai), Reserve Bank Staff College (Chennai) and College of Agricultural Banking (Pune) for skill enhancement in core technical areas. Training and deputation at IMF, BIS, OECD and central banks of other countries are common. RBI also funds higher learning like PhD, MS and MBA in both India and abroad through its Golden Jubilee Scholarships. 2 posts of Deputy Governors are reserved for career central bankers. So, you can see the growth prospects are excellent.
You may also read - Know All About RBI Officer Grade B Exam 
Careers360: After which stage is the document verification done and what documents one should take with him/her?
Naveen Kumar Singh: Document verification is done on the day of interview and on the day of joining. Your 10th, 12th and graduation passing certificates along with your previous work experience certificates (if any) are required.
Careers360: Is there any medical test also? If yes, kindly share the medical test procedure.
Naveen Kumar Singh: After the final results, the officers are assigned hospitals near their residence where they go for standard medical tests like of vision, blood test, BP, ECG etc. BMI is also checked and in some cases probation/joining is extended if not considered fit.
Careers360: Is there any training tenure after one is selected? If yes, kindly share the process.
Naveen Kumar Singh: Induction training of 10 weeks (it used to be 15 weeks when I joined) is held at Reserve Bank Staff College, Chennai. Qualified subject experts teach economics, finance, accounting, statistics, etc. Senior RBI officers take classes on functional and regulatory modules (Banking Regulation Act, 1949, RBI Act, 1934, etc). 
Careers360: What are the critical elements one should keep in mind during the selection procedure of Officer Grade B?
Naveen Kumar Singh: For phase 1, practice, time management and minimum proficiency in all sections is the key as there are sectional cutoffs as well. For phase 2, command on finance & management is most crucial. For interview, knowledge of economy related issues in news and functions & roles of RBI is crucial apart from good communication skills.
Questions related to RBI Grade B Officer
Showing 20 out of 20 Questions