IFS Syllabus 2020 - Check IFS Prelims & Mains Exam Syllabus & Pattern Here
IFS Syllabus 2020 - UPSC has released IFS 2020 syllabus in official notification on February 12 at upsc.gov.in. The commission prescribes the syllabus of IFS 2020 separately for both prelims and mains stage. By knowing UPSC IFS syllabus 2020 in detail applicants can prepare topics and chapters from where the questions will be asked in the exam. Applicants can download the IFS 2020 syllabus given in the link below. Candidates who qualify the IFS exam will be posted as Indian forest officers in various states of the country. Read the complete article to know more about the Indian Forest Services syllabus 2020 and IFS exam pattern in detail.
Latest- UPSC IFS Admit Card 2020 to be released shortly.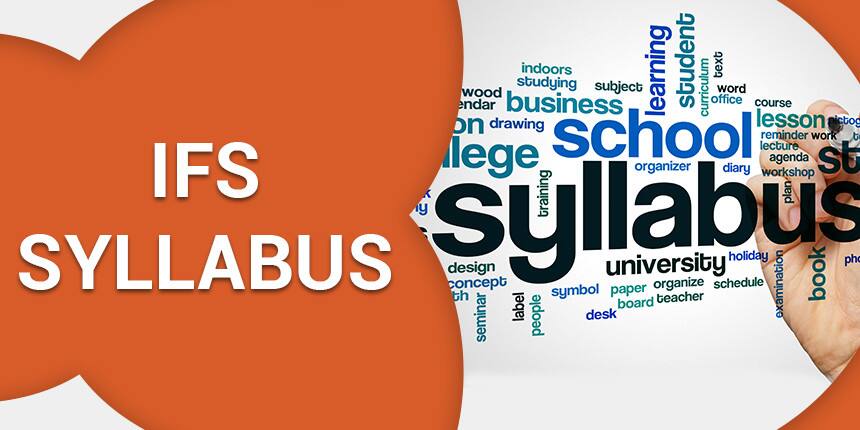 IFS Syllabus 2020 - Stage Wise Exam
The examination authorities prescribe the syllabus of UPSC IFS 2020 exam for each stage of the recruitment process separately. Check IFoS 2020 syllabus for each stage given below.
IFS Prelims exam

IFS Mains exam

IFS Interview exam
Applicants should note that as the Civil Services application form for both IFS and Civil Services Exam (CSE) is the same, similarly the prelims exam and syllabus of IFS 2020 is also the same for both these exams.
IFS 2020 Syllabus - Prelims Exam
IFS Prelims Syllabus for General Studies Paper 1
Current events of national and international importance

History of India and Indian National Movement

Indian and World Geography - Physical, Economic Geography, Social of India and the World

Indian Polity and Governance - Constitution, Panchayati Raj, Political System, Public Policy, Rights Issues, etc.

Economic and Social Development Sustainable Development, Poverty, Demographics, Inclusion, Social Sector initiatives, etc.

General issues on Environmental Ecology, Biodiversity and Climate Change - that do not require subject specialization.

General Science.
IFS Prelims Syllabus 2020 - General Studies Paper 2
Comprehension

Interpersonal skills including communication skills

Logical reasoning and analytical ability

Decision-making and problem-solving

General mental ability

Basic numeracy (numbers and their relations, orders of magnitude, etc.) (Class 10th level), Data interpretation (charts, graphs, data sufficiency, tables etc. - Class X level)

English Language Comprehension skills (Class X level)
IFS 2020 Syllabus - Mains (Optional subjects)
Applicants will have to choose two subjects for optional papers while writing the mains exam. There will be two papers for each optional subject. The list of optional subjects for UPSC IFS exam is provided in the below given table.
IFS 2020 Exam Optional subjects
| | |
| --- | --- |
| Agriculture | Forestry |
| Agricultural Engineering | Geology |
| Animal Husbandry & Veterinary Science | Mathematics |
| Botany | Mechanical Engineering |
| Chemistry | Physics |
| Chemical Engineering | Statistics |
| Civil Engineering | Zoology |
Applicants who appear in UPSC Indian Forest Service (IFoS) exam should note the below mentioned points. These points are guidelines to opt IFS optional subjects. Please note that the applicants can't take the following combination of subjects together while appearing in exam.
1. Agriculture and Animal Husbandry & Veterinary Science
2. Agriculture and Forestry
3. Agriculture and Agricultural Engineering
4. Chemistry and Chemical Engineering
5. Statistics and Mathematics
6. From the engineering subjects such as Agricultural Engineering, Chemical Engineering, Civil Engineering and Mechanical Engineering - choose one subject only.
UPSC IFS Mains Exam Pattern
UPSC Indian Forest Service Mains Exam comprises 6 papers, out of them one paper is General English, second is General English while other four papers are of optional subjects. Detailed IFS syllabus 2020 is given below.
IFS mains exam General Knowledge syllabus - Applicants should note that General Knowledge section includes knowledge of current events and matters of day to day observation and experience in their scientific aspects. This paper will also include questions based on subjects such as Indian Polity including the political system and the Constitution of India, History of India and World Geography & Indian Geography, Economy, Awards and prizes
IFS mains exam General English syllabus - Candidates will be required to write an essay in English language. Other questions of this topic will be designed to test the understanding of English grammar, vocabulary and other words. Passages will be a bit tricky usually set for summary or precis.
Detailed Indian Forest Services syllabus 2020 pdf - IFS-2020-Mains-Syllabus.pdf
IFS 2020 Syllabus for Interview
As per official notification the IFS syllabus 2020 for interview is an interaction between board members and applicants. The interview process of IFS will be for a total of 300 marks.Applicants will be assessed in interviews on the basis of questions from general awareness, decision making, administrative skills, communication skills, alertness of mind, ability for social cohesion, intellectual thinking, critical powers of observation, integrity of Character other qualities such as topographical sense, love for out-door life, the desire to explore unknown, out of way places.and leadership quality etc.
Other Relevant Links
Frequently Asked Question (FAQs) - IFS Syllabus 2020 - Check IFS Prelims & Mains Exam Syllabus & Pattern Here
Question: What is the syllabus for Indian Forest Service 2020?
Answer:
The syllabus of IFoS 2020 is separate for all three stages- prelims, mains and interview and it is described best above.
Question: How many papers are there in the IFS exam?
Answer:
There are 2 papers in prelims exam while 6 papers in mains exam.
Question: Which subject is best for IFS?
Answer:
To qualify Indian Forest services applicants should choose science subjects as it is easy to score them well.
Question: Which stream is best for IFS after 10th?
Answer:
Students who want to become Indian forest officers should choose science stream after 10th.
Question: Is IFoS easier than IAS?
Answer:
Yes it is comparatively easier than yes in terms of the nature of questions asked in both exams.
Questions related to UPSC IFS
Showing 7 out of 7 Questions