10 Tips for UPSC Prelims 2021 by UPSC Topper Sarthak Agrawal AIR 17
Candidates appearing for UPSC IAS prelims exam must check the UPSC prelims tips and tricks by the UPSC IAS 2020 topper AIR 17 Sarthak Agrawal to crack the IAS 2021 exam. The important tips to clear UPSC prelims exam include consistent study hours, mock tests and other important aspects. According to the UPSC topper 2020 AIR 17 Sarthak Agrawal, 'After turning the first few pages in my GS-1 Prelims paper, I felt grudgingly confident that my first attempt at UPSC isn't going to work out. Some of those agriculture and environment questions might have been written in Latin for all I cared about.
Latest Updates for UPSC Civil Services Exam
Stay up-to date with UPSC Civil Services Exam News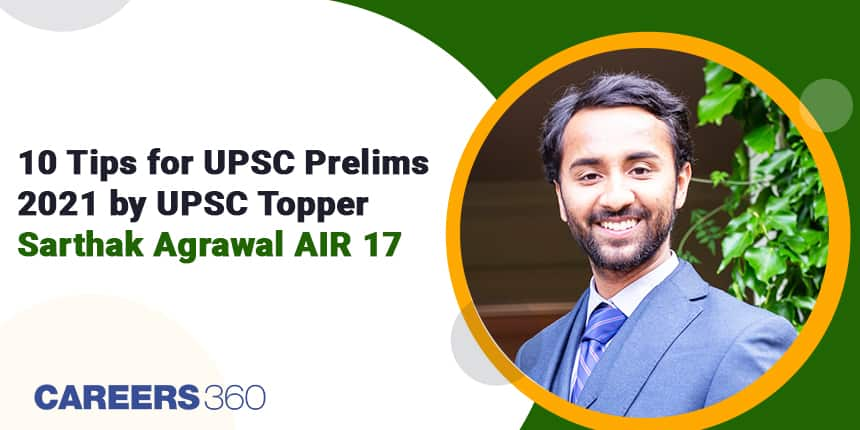 I decided to hang in there and tentatively marked a few answers. My experience with mock tests was such that I could barely attempt more than 20-25 questions with 100% confidence so clearing the prelims anyway relied on more than intelligence for me. Instead, I was hoping to use common sense, and wishing that luck was on my side that day (I could have traded a kidney for a vial of Felix Felicis).
In the actual paper, I don't think I cracked even twenty in the first go. There were a few simple questions towards the end, but the others were a pain. I persevered and tried to apply my mind to at least get some more right.
Also Read: UPSC 2020 Topper Interview Satyam Gandhi AIR 10
Eventually, as it turned out, I got enough. Here are some tips from my whirlwind experience at UPSC Prelims 2020:
I used plenty of intuition and "intelligent" guesswork to make my way around the UPSC IAS questions. Many have noted before that extreme options are unlikely to be the right ones – for example, in the question on Desert National Park in Prelims 2020, it might be a stretch to say it has no human habitation at all. Of all the elimination shortcuts, I find this one the most reliable. Other popular ones include being wary of 'consistently increased/decreased' type of options; noting that an exact number or statistic is possibly incorrect; or deducing something of value from the etymology of a noun. When you consider how hard it is to deliberately create a wrong answer, it may become easier to find broad patterns of your own.

During the UPSC IAS 2021 exam, while attempting agriculture and technology-related questions, it often pays to be liberal in your outlook. So, whenever a prompt or option included the word "can" or the phrase "is possible", I felt more confident in marking it yes or going with all the above ("…Artificial Intelligence can effectively do which of the following?"). After all, who knows whether some crazy scientist somewhere is working on just the thing you are about to rule out for being too far-fetched?

One of the tricks to clear UPSC prelims are the freebies that are found near the end of the paper ("What is West Texas Intermediate a grade of?"). Many questions on polity in Prelims 2020 were also quite straightforward ("A parliamentary system of government is one in which…"). However, they were towards the latter half of my set. Make sure you skim the entire IAS question paper before starting off, lest you become dejected after finding a few hard questions upfront.

While my IAS prelims preparation, one risky strategy I adopted - and adopt this at your own peril - was to attempt lots of questions in the unfortunate instance when you are sure only about a small number. If you're clearly below the cut-off, does it matter whether you score 60 or -60? My desperation compelled me to make an educated guess on the question related to Gupta dynasty towns, but it didn't work. On others, like the one on finding the ruler behind an inscription propounding tolerance, it did.
Also Read: UPSC Topper Interview 2020- Radhika Gupta AIR 18
During the UPSC IAS prelims preparation, it's ok to skip some syllabus. I ignored topics like geography and history (except modern history) because I only had 6-7 months to prepare. I focused my preparation solely on current affairs, but still managed to do decently.

I took 50+ mock tests before prelims, not scoring too highly in most of them (in the 70s, mostly). Just to pump up my confidence, I started doing UPSC IAS past year papers despite already having seen a few of their answers at some point. Naturally, I did well, which helped me fool myself and kept me in good spirits – "coaching institutes just don't get what UPSC is asking for", I thought. But on a deeper note, it's true that the actual papers have a better mix of questions than what is offered by the coaching-wallahs.

I compared my answers against the internet the morning after the UPSC IAS (I was reluctant to check the same day because I thought I fell short thanks to my many "intelligent" guesses). I was getting 116/200. On comparing with the answer keys released by coaching institutes, this dropped by a few points, but I had enough to get my motor running for Mains. However, my actual score was only 102 - nearly 10 points lower than what I expected but also ten higher than the cut-off this year. I don't think anyone has gotten the hang of UPSC's marking yet, so it is best to keep one's head down and start preparing for Mains even if you're getting 80+ on some answer keys.

My background being quite mathematical, I didn't prepare much for UPSC CSAT. Still, I'd suggest doing at least a couple of papers before entering the UPSC IAS exam hall. One minor challenge I faced was remaining focused despite "not performing very well" in the morning session. Another important factor while IAS prelims preparation was avoiding lethargy after returning to the centre after a three-hour break. However, I got a 180 in CSAT, which I am very pleased about.

I hadn't written a single Mains answer until I cleared prelims– or even studied properly for Ethics, essays, or optional - so don't worry too much if you haven't either.

Finally, don't be too disheartened if a few of your guesses fall flat during the UPSC IAS prelims 2021. That's just the nature of the beast, unfortunately, so you shouldn't necessarily consider it to be an indictment of your preparation.
Good luck!
Questions related to UPSC Civil Services Exam
Showing 1851 out of 1851 Questions