UPPSC PCS Syllabus 2022 - Download Prelims and Mains Syllabus PDF
UPPSC PCS Syllabus 2022 - The UPPSC PCS 2022 syllabus is prescribed by the exam conducting authority. The UPPSC PCS syllabus 2022 has been released along with the official UPPSC 2022 notification. The notification along with the UPPSC PCS application form 2022 was released on March 16, 2022. The Uttar Pradesh Public Service Commission (UPPSC) conducts the Provincial Civil Services (PCS) exam.
Direct link to download the UPPSC PCS 2022 syllabus - Click here
Latest Updates for UP PCS
Stay up-to date with UP PCS News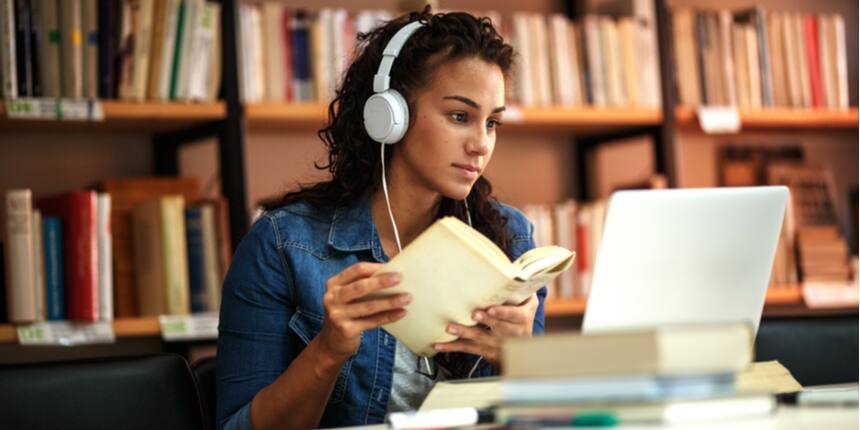 UPPSC released the syllabus for both prelims and mains stage of the UPPSC PCS exam. The UPPSC PCS 2022 prelims exam will be held on June 12, 2022. The syllabus for UPPSC PCS 2022 exam helps candidates in their preparation for the UPPSC PCS 2022 examination. With the help of the UPPSC PCS syllabus 2022, candidates can strategize a plan and for the UP PCS exam. Other than the UPPSC PCS syllabus, candidates must refer to previous year UPPSC PCS question papers and UPPSC PCS exam pattern 2022 too. The UPPSC PCS exam has three stages. Candidates should follow the UPPSC PCS syllabus while preparing for the exam. To know more about the UPPSC PCS syllabus 2022 read the article
UPPSC PCS syllabus 2022
Uttar Pradesh Public Service Commission PCS exam has three stages - prelims, mains and interview. All three stages are conducted in offline mode. The syllabus for the UPPSC prelims and mains exam is prescribed separately by the Commission in the official UPPSC PCS notification. The UPPSC syllabus is divided into two parts as follows:
UPPSC PCS prelims syllabus

UPPSC PCS mains syllabus
Popular Online Competition Courses and Certifications:
UPPSC PCS syllabus 2022 - UP PCS prelims syllabus
UPPSC Prelims exam has two GS papers. Questions in UP PCS prelims examination are asked from topics like current affairs, general science, world geography, Indian polity, economy, Indian National Movement and also questions on general & mental ability, Hindi and more. Check the table below for a summary of the UPPSC PCS prelims syllabus.
4 min read
Feb 28, 2022
Read More
UP PCS prelims syllabus
General Studies 1

General Studies 2

National & International Current affairs

Comprehension

History of India

Indian National Movement

Freedom Movement

Social, economic & political aspects of Indian History

Growth of nationalism

Attainment of independence.

Logical reasoning

Analytical ability

Indian & World Geography

Physical, social & economic Geography of India

Decision making & problem-solving

Indian Polity & Governance

Panchayati Raj

Constitution

Political System

Public Policy

Rights Issues, etc.

General mental ability

Economic & Social Development

Sustainable Development

Social Sector Initiatives

Poverty Inclusion

Biodiversity

Climate Change, etc.

Elementary Mathematics up to Class 10

Arithmetic

Algebra

Geometry

Statistics

General Science

Physics

Chemistry

Biology

General English up to Class 10

Comprehension

Direct & indirect speech

Punctuation & spellings

Active voice & passive voice

Parts of speech

Transformation of sentences

Words meanings

Vocabulary & usage

Idioms & phrases

Fill in the blanks




General Hindi up to Class 10

Hindi Varnmala

Sandhi, Samaras

Kriya

Anekarthi Shabd

Vilom Shabd

Tatsam, Tatbhav, Deshaj, Videshi

Shabd Rachna, Vakya Rachna, Arth

Shabd Roop

Paryayvachi Shabd

Muhavare

Lokoktiyan, etc.
Student Also Liked:
UPPSC PCS syllabus 2022 - UP PCS mains syllabus
UP PCS mains exam is descriptive in nature having eight papers of 1500 marks in total. Questions in the UPPSC PCS mains exam are asked from subjects like general Hindi, essay, general studies & optional subject. There is no negative in the UP PCS mains exam as it is descriptive in nature. Check UPPSC PCS mains syllabus in the table below:
UPPSC PCS mains syllabus
Subjects

Topics

General hindi

Shabd gyan evam prayog

Upsarg evam pratyaya prayog

Vilom shabd

Vakyansh k liye ek shabd

Vartani evam vakya shuddhi

Sarkari evam ardhasarkari patra lekhan,

Diye huye gadya ka avbodh evam prashnottar

Sankshepan

taar lekhan, karyalaya aadesh

adhisuchna, paripatra

Lokokti evam muhavare, etc.

Essay

Section - A

Literature and culture

Social

Political




Section - B

Science, environment & technology

Economic

Agriculture, industry & trade




Section - C

National and International Events

Natural calamities, drought, landslide, earthquake, deluge, etc.

GS 1

History of Indian culture, salient aspects of art forms, literature & architecture from ancient to modern times.

The Freedom Struggle

Post-independence consolidation & reorganization within the country (till 1965A.D.)

Modern Indian history (from A.D.1757 to A.D. 1947)

History of the world

Salient features of Indian Society & Culture

Role of women in society & women's organization

Meaning of liberalization, privatization & globalization and their effects on economy, polity & social structure

Social empowerment, communalism, regionalism & secularism.

Distribution of major natural resources of the world

Salient features of Physical Geography

Oceanic resources of India & their potential

The human migration

Population & Settlements

Specific knowledge of Uttar Pradesh

Specific knowledge of U.P

GS 2

Indian constitution - historical underpinnings, evolution, features, amendments, basic structure, the role of the Supreme Court

Functions & responsibilities of the Union and the States

Role of finance commission in centre - state financial relations

Separation of powers

Emergence and use of alternative dispute redressal mechanisms.

Comparison of the Indian constitutional scheme with that of other major democratic countries

Parliament and State legislatures

Structure, organization, and functioning of the Executive and the Judiciary

Salient features of the Representation of the People's Act.

Appointment to various Constitutional posts, powers, functions and their responsibilities.

Statutory, regulatory and various quasi judicial bodies including NITI Aayog, their features and functioning

Government policies and interventions for development in various sectors and issues

Development processes

Welfare schemes for vulnerable sections of the population by the Centre and States

Issues relating to poverty and hunger, their implication on the body politic.

Important aspects of governance

Role of Civil Services in a democracy

India and its relationship with neighbouring countries

Bilateral, Regional and Global groupings and agreements

Effect of policies and politics of developed and developing countries

Important International Institutions

Specific knowledge of Uttar Pradesh

Current affairs and events of Regional, State, National and International importance

GS 3

Economic planning in India, objectives and achievements

Role of NITI Aayog

Pursuit of Sustainable Development Goals (SDGs)

Issues of Poverty, Unemployment

Social justice and inclusive growth

Components of Government Budgets and Financial System

Major Crops, different types of irrigation and irrigation systems, storage, transport and marketing of agricultural produce, e-technology in the aid of farmers.

Issues related to direct and indirect farm subsidies and minimum support prices

Public Distribution System

Food processing and related industries in India

Land reforms in India since independence.

Effects of liberalization and globalization on the economy, changes in industrial policy and their effects on industrial growth.

Infrastructure

Science and Technology

Achievements of Indians in science & technology, indigenization of technology

Awareness in the fields of ICT and Space Technology, Computers, Energy resources, nanotechnology, microbiology, biotechnology. Issues relating to IPR, and digital rights

Environmental security and ecosystems

Disaster as a non-traditional security and safety challenge, disaster mitigation and management.

Challenges of international security: issues of nuclear proliferation, causes and spread of extremism, communication networks, the role of media and social networking, basics of cybersecurity, money laundering and human trafficking.

India's internal security challenges

Issues in agriculture, horticulture, forestry and animal husbandry

Law and Order and Civil Defence with special reference to U.P.

GS 4

Ethics and Human Interface

Attitude

Aptitude and foundational values for Civil Service

Emotional Intelligence

Contributions of moral thinkers and philosophers from India and the world

Public/ Civil Service Values and Ethics in Public Administration

Probity in Governance

Case studies on the above issues
To download UPPSC PCS complete syllabus PDF - Click here
UPPSC PCS exam Pattern 2022
UP PCS exam pattern is prescribed by the UPPSC in the official UPPSC PCS notification. As per the PCS notification, UPPSC PCS prelims is 400 marks in total having two GS papers with negative marking. While UPPSC PCS mains is of 1500 marks having 8 papers which are descriptive in nature. Check the UPPSC PCS exam pattern 2022 in the tables below.
Quick links:
UPPSC Prelims exam pattern
| | | | |
| --- | --- | --- | --- |
| Papers | Subjects | Maximum Marks | Duration |
| Paper 1 | General studies 1 | 200 | 2 hrs |
| Paper 2 | General studies 2 | 200 | 2 hrs |
UPPSC mains exam pattern
| | | | |
| --- | --- | --- | --- |
| Papers | Subjects | Maximum Marks | Duration |
| Paper 1 | General Hindi | 150 | 3 hrs |
| Paper 2 | Essay | 150 | 3 hrs |
| Paper 3 | General Studies 1 | 200 | 3 hrs |
| Paper 4 | General Studies 2 | 200 | 3 hrs |
| Paper 5 | General Studies 3 | 200 | 3 hrs |
| Paper 6 | General Studies 4 | 200 | 3 hrs |
| Paper 7 | Optional subject paper 1 | 200 | 3 hrs |
| Paper 8 | Optional subject paper 2 | 200 | 3 hrs |
Frequently Asked Question (FAQs) - UPPSC PCS Syllabus 2022 - Download Prelims and Mains Syllabus PDF
Question: Is there negative marking in the UPPSC PCS prelims exam?
Answer:
Yes, there is negative marking in the UPPSC PCS prelims exam.
Question: What is the application fee for the UPPSC PCS examination form?
Answer:
UPPSC application form fee is Rs 125 for unreserved category candidates.
Question: What are the different stages of the UPPSC PCS examination?
Answer:
UP PCS exam has three stages. They are as follows:
Question: When is the UPPSC PCS notification 2022 going to be released?
Answer:
UPPSC PCS 2022 notification has been released on March 16, 2022.
Question: When will the UPPSC PCS 2022 prelims exam be conducted?
Answer:
The UPPSC PCS 2022 prelims exam will be held on June 12.
Questions related to UP PCS
Showing 11 out of 11 Questions