CSIR NET 2023 Thing You Need To Avoid On Exam Day - CSIR NET is one of the toughest exams conducted on the national level to determine the eligibility for Assistant Professor/Lecturer and Junior Research Fellowship for science streams students. Most of the candidates prepare for a long time to get shortlisted for the eligibility certificate of the CSIR UGC NET. CSIR UGC NET exam is conducted specially for postgraduate students from the science stream.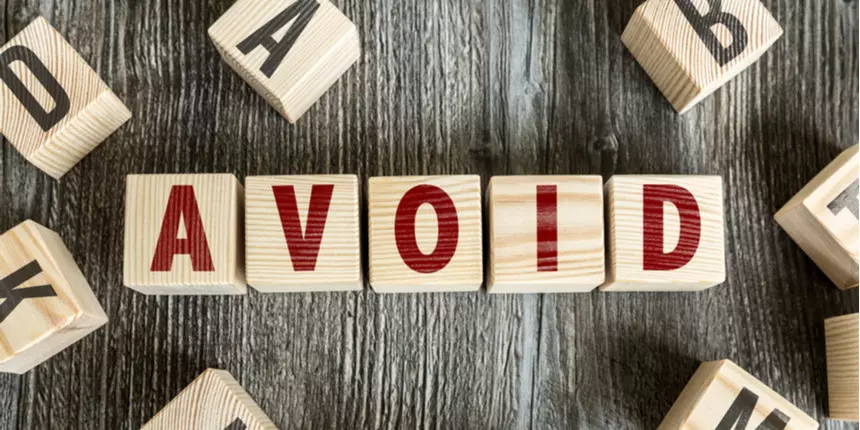 CSIR NET 2023 Thing Need to Avoid on Exam Day
Despite having good preparation, candidates make mistakes due to anxiety, stress, nervousness and so on. It is important to analyse all the things beforehand so that just because of a few small mistakes, your chance will not get ruined. In this article, read about basic mistakes that can be avoided and you can give a stress-free examination.
CSIR UGC NET: Important Dates
Candidates should track the CSIR UGC NET important dates to get aware of important events. Check below the table of important dates as per the official notification by the examination authority.
CSIR UGC NET 2023: Important Dates
| | |
| --- | --- |
| Event | Important Dates |
| CSIR UGC NET Application Start Date | March 10, 2023 |
| Last Date of filling CSIR UGC NET Application Form 2023 | April 10, 2023 |
| CSIR UGC NET 2023 Admit Card | June 3, 2023 |
| CSIR UGC NET 2023 Exam Dates | June 6 to 8, 2023 |
Don't Make These Mistakes on the CSIR UGC NET Exam
Be Punctual
The CSIR UGC NET card admits that candidates must reach the examination centre at least 90 minutes before the start of the exam. It is necessary to reach the CSIR UGC NET examination centre on time, so you can relax and rest during the stress of the examination. The examination centre sometimes does not allow late entry to the test site. So it is important to avoid these consequences. If your test centre is in another area, you must reach the place and get acquainted with the availability of the vehicles a day before the CSIR UGC NET exam date.
Keep Important Documents Ready
A hard copy of the CSIR UGC NET admit card, along with the other documents, must be brought to the CSIR UGC NET core. As stated in the official notification of CSIR UGC NET, photo identification such as PAN Card, Voter ID, Aadhar Card and others must be carried along with the admission card. If you assemble all the documents a day before reviewing them, it will be simpler. Do not take the opportunity to print out the admission card on the day of the test. Any internet cafe near the examination centre can not be identified. Please ensure the photograph of the passport size must be with you. You must apply the same photograph to the admission card that you submitted during the registration process.
Never Lose Patience while Reading Question Paper
The major mistake that most of the students do in the examination hall is reading all the questions in one go. This will make you more nervous if you find difficult questions. Never Hurry while reading a question paper of CSIR UGC NET , carefully read the question and try to understand what answers you need to give. Reading questions properly may take little extra time, but this will help you to give more accurate answers. Believe in quality over quantity while giving answers. As per the exam pattern of CSIR UGC NET , you will get the specific time limit for each section at both the prelims and mains stage.
Don't Get Stuck with Tricky Ones
CSIR UGC NET is one of the tough exams amongst the banking sector recruitment exam. There are few tricky questions in every section to assess the presence of mind in the examination hall. Either you will fix yourself with one question or solve the next five questions. So it is important to not get stuck with every tricky question, these questions are actually time consuming. If you feel stuck just move on to another question or else you will lose time and not be able to attempt those which will be easier for you. It is very
Avoid guesswork
As per the exam pattern of CSIR UGC NET, there will be negative marking in both the prelims and mains exam. Attempt only those questions, you're sure about. It is important for students to avoid guesswork. You may lose your chance due to the negative marking scheme. Solve less questions but with more accuracy. This will help you to attain sectional as well as overall cut off marks of CSIR UGC NET 2023. This is one of the biggest mistakes aspirants make in the examination hall that let's attempt questions on instinct. You may be correct sometimes but it will cost a lot.
Understand Time Policy
There is a time limit for each section in both the stages of the CSIR UGC NET 2023 exam. In the prelims, candidates will get 20 minutes for the three sections to solve 100 questions whereas 3 hours in mains exam to solve questions of 200 marks. Candidates are advised to solve sample papers in the same time limit during their preparation. This will help you in the examination hall. Manage the time in a way so that you will get some extra time to revise what you attempted and what corrections you can make. Don't hassle yourself in attempting questions.
Avoid Panic
This is the most important thing to keep in mind in the examination hall. This is one of the major mistakes students make in the examination hall. They panic and get nervous if they don't get answers, don't do that. You will feel more stressed. It is important to keep yourself calm before and during the examination. Drink water if you feel anxiety or nervousness. This will help to keep yourself calm. Believe in your preparation. Don't ask anyone about preparation and questions before the exam. This will bring stress to you and others also.
Check Here List of Other Government Exams