UPSC IES / ISS Eligibility Criteria 2020 - Check Age Limit, Qualification, Nationality
IES Eligibility Criteria 2020 - The Union Public Service Commission (UPSC) prescribes the IES 2020 eligibility criteria. The eligibility criteria of IES 2020 will be released along with official notification in June 2020. Candidates planning to fill the application form must fulfil the UPSC IES/ISS eligibility criteria 2020 or else their candidature might be rejected during any phase of the selection process. Indian Economic Service Eligibility 2020 consists of nationality, age limit and academic qualification that IES/ ISS aspirants must meet. In this article, candidates can check all the details related to the IES Eligibility Criteria 2020.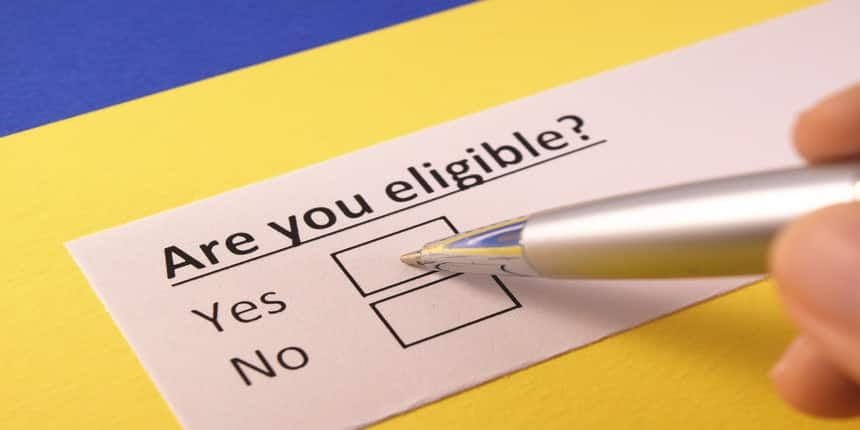 The UPSC IES exam is conducted to recruit candidates for formulating and implementing economic and financial policies and programmes in India.
IES Eligibility Criteria 2020 - Nationality
As per the Indian Economic Service 2020 eligibility, candidates must be - a citizen of India, subject of Nepal, Bhutan or Tibetan refugee who came to India before January 1, 1962, with the sole intention of permanently settling in India.

Apart from this, UPSC IES/ISS eligibility criteria 2020 also mentions that candidates who are of Indian origin and those who have migrated from Sri Lanka, Burma, Pakistan and East African Countries like Uganda, Kenya, the United Republic of Tanzania, Malawi, Zambia, Ethiopia, Vietnam and Zaire with the intention to settle in India are eligible to apply.

However, as mentioned in the IES 2020 Eligibility Criteria candidates belonging to these countries will have to submit a certificate issued to them by the Government of India pertaining to their citizenship.
IES Eligibility Criteria 2020 - Age limit
As mentioned in the eligibility criteria of IES/ISS 2020, a candidate interested in applying for the exam must be between 21 years to 30 years of age. However, there are certain age relaxations provided to candidates belonging to reserved categories, the same is mentioned in the table below.
Category-Wise Age Relaxation in UPSC IES/ISS Eligibility Criteria
| | |
| --- | --- |
| Category | Age relaxation |
| SC/ST | up to 5 years |
| OBC | up to 3 years |
| State Jammu and Kashmir domiciled during the period from January 1st 1980 to December 31, 1989. | Up to 5 years |
| Defense Services Personnel who got disabled during operation within a foreign country or in a disturbed area and were released from their job as a consequence. | Up to 3 years |
| Ex-servicemen including Commissioned Officers and ECOs/SSCOs who have rendered at least five years Military Service as on 1st August 2020. | Up to 5 years |
| ECOs/SSCOs who have completed an initial period of assignment of five years of Military Service | Up to 5 years |
| Persons with Benchmark Disabilities | Up to 10 years |
Note: It is advised to all the candidates to take due care while entering their date of birth in the online application form. The date of birth of candidates as recorded in their Matriculation/Higher Secondary Examination Certificate will be accepted by the Commission, no request related to its change will be considered later.
IES Eligibility Criteria 2020 - Academic Qualification
The eligibility of IES 2020 also states the academic qualification that candidates must fulfil to apply. As per the IES/ISS 2020 eligibility criteria, candidates must have a postgraduate degree in Economics or Applied Economics or Business Economics, Econometrics from a reputed university or a foreign university approved by the Central Government. If the candidate awaits the result for their degree, they can still apply for the exam. However, they will be considered as provisional entry only and will have to present the proof of their qualification at a later stage.
UPSC IES/ISS Application Form 2020
Candidates who fulfil the eligibility criteria of UPSC IES 2020 will be able to fill the application form. The UPSC IES registration form will be released in online mode at the official website. Candidates must fill the form with utmost clarity and make sure there are no mistakes while doing it. While applying, they will have to mention all their personal and academic details and pay the application fee online as prescribed. Candidates who successfully fill the application form will be issued the IES/ ISS Admit Card 2020 in online mode.
Other Related Links
Frequently Asked Question (FAQs) - UPSC IES / ISS Eligibility Criteria 2020 - Check Age Limit, Qualification, Nationality
Question: What is the age limit of UPSC IES as per the eligibility criteria?
Answer:
The age limit is 21 to 30 years.
Question: Is there age relaxation given to candidates?
Answer:
Yes, there is age relaxation provided to candidates who belong to reserved categories. The detailed age relaxation is mentioned in the table above.
Question: What is the minimum academic qualification required to fill the application form?
Answer:
The academic qualification required for candidates to fill the form is a postgraduate degree.
Question: How many stages are there in the UPSC IES exam?
Answer:
There are 3 stages in the exam - Preliminary, Mains and Interview.
Latest Articles
IES ECE Syllabus 2020-21- Candidates can check details of the ...
5 days ago
IES Electrical Engineering Syllabus 2020-21 - Union Public Ser...
26 Jun 2020
Questions related to UPSC IES/ISS
Showing 2 out of 2 Questions
41 Views
Are MAKAUT university BSc+MSc data science graduate eligible to apply for RBI grade B DSIM/DEPR post? SSC CGL JSO and Complier post and UPSC ISS, IES post? Please mentioned other opportunities?
• Age Limit: The candidate must be 21 Years to 30 Years as on 01.04.2020 i.e. candidates must have been born between 02.04.1990 and 01.04.1999 (both dates inclusive)
• Educational Qualification: The candidate must be a graduate in any discipline from a recognized University or any equivalent qualification recognized as such by the Central Government. Those who are in the Final year/Semester of their Graduation may also apply provisionally subject to the condition that, if called for interview, they must produce proof of having passed the graduation examination on or before 01.07.2020. Candidates with Integrated Dual Degree (IDD) certificate must ensure that the date of passing the IDD is on or before 31.08.2020. Candidates with Chartered Accountant certification may also apply.
SBI PO Selection Procedure: Important Points
The candidates should keep in mind the following points related to the SBI PO selection process:
• Biometric Verification: To ensure an error-free and secure selection procedure for SBI PO 2020, the bank may digitally capture the thumb impression of the candidate. This is done to verify the genuineness of the candidates. Any inconsistency in the biometric verification will lead to rejection of the candidature and punitive legal actions. Candidates are thus advised not to apply any kind of external matter like ink, mehandi, chemical etc. on their hands.
• Number of Attempts: The maximum number of chances are fixed for each category. Candidates who have used up all the chances are not eligible to apply. Appearing in Preliminary Exam is not counted as an attempt but appearing in Mains Exam is counted.
Regards : banking classes in pune (https://www.sevenmentor.com/best-banking-classes-in-pune.php)