UPSC IAS 2018 Topper Interview Kanishka Kataria
UPSC IAS 2018 Topper Interview - UPSC released the Civil Services final result for UPSC IAS 2018 on April 5, 2019 in online mode. A total of 759 candidates (577 men and 182 women) were recommended for the appointment to various services like IAS, IPS, IFS, etc. In this exam, Kanishak Kataria, who was working as a data scientist in the silicon valley of India, secured the first rank and became UPSC topper. Prior to this, he was working in Samsung Electronics in South Korea with a handsome package. Read the complete article to know about his experience, marks in the exam and how he prepared for the UPSC Civil Service exam and at last what he did to relax himself.
Latest: UPSC has released the new exam dates for UPSC IAS Preliminary and Mains exam on June 05, 2020. As per the new dates, the preliminary will be held on October 04, 2020, while the Mains will be held on January 08, 2021.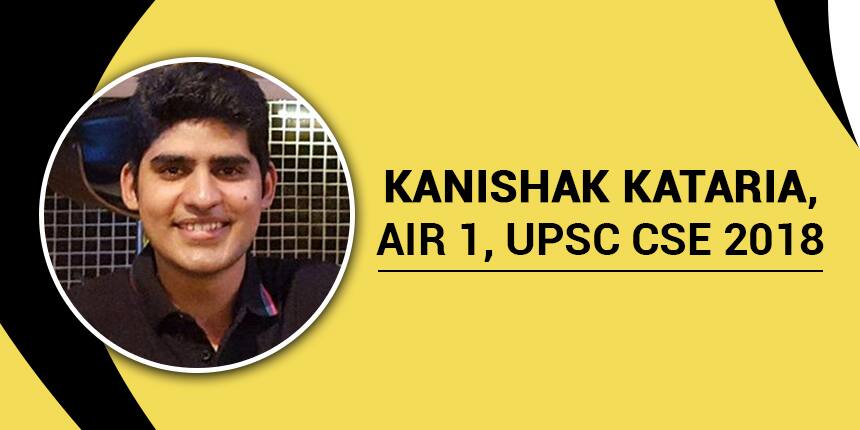 Careers360: In which attempt you cleared the UPSC Civil Services exam?
Kanishka Kataria: I qualified the exam in my second attempt and made my name for the UPSC IAS job. Previously I appeared in 2014 in this exam and the reason I appeared is that my father had filled the form and I was not prepared to appear in it but this year I gave my best efforts and the result is in front of you.
Careers360: How many marks have you achieved in the UPSC exam?
Kanishka Kataria: I gained good marks in Mathematics optional subject and even my interview marks were also satisfactory. The marks are as follows:
UPSC Marksheet of Kanishka Kataria
| | |
| --- | --- |
| Subject | Marks |
| General Studies Paper I | 98 |
| General Studies Paper II | 117 |
| General Studies Paper III | 117 |
| General Studies Paper IV | 116 |
| Essay | 133 |
| Optional Subject Paper I (Mathematics) | 170 |
| Optional Subject paper II (Mathematics) | 191 |
| Personality Test (Interview) | 179 |
| Total | 1121 |
I scored 53.8 percent or 942 marks in the Civil Services Main Examination out of 1750. While I secured 65 per cent marks in UPSC Interview which means 179 out of 275 marks. My total score which includes mains and Interview is 55.36 per cent marks means 1121 out of 2025 marks.
Careers360: Please share your personal and educational background before reaching here
Kanishka Kataria: I got 44 All India Rank (AIR) in the IIT Jee Exam, while I also secured 24th position in the AIEEE Exam in 2010. I also have a CBSE Merit Certificate of securing 100% Marks in Maths in my High School and Intermediate Exam. Along with this I All secured the first rank in the National Science Olympiad in 2009.
Careers360: What is working experience?
Kanishka Kataria: Though I am UPSC topper but earlier I worked in Samsung Electronics for around a year in South Korea and after that worked as a Data scientist in QPLUM company in Silicon Valley. But I was not satisfied with my career as I wanted to be a part of India's growth story.
Careers360: Do you think Coaching is necessary to qualify the UPSC IAS exam?
Kanishka Kataria: Coaching does not provide you guarantee that you can qualify for the exam. It is just a facilitating agent if you use it properly. Coaching can be best utilized if you have read NCERT before joining coaching.
Careers360: What are important suggestions of how to prepare for UPSC IAS by UPSC IAS topper Kanishka Kataria?
Kanishka Kataria:
Normally 1.5 to two years of time is sufficient to qualify the exam.

There is plenty of data available to prepare for UPSC Civil Services preparation, applicants have to choose them wisely.

Only follow standards and best books of UPSC IAS and read one book 10 times rather than studying ten books one time.

The UPSC exam is pretty much doable, it only requires some smart strategy.

I believe in quality more than quantity, I never studied for 12-14 hours rather I believe that whenever I study the best output should be drawn.

Understanding strengths and weaknesses are also important, then only you can achieve the best possible results.

Solve UPSC IAS question papers of previous year exam at least 2-3 times.

Be relaxed and give some time to yourself to follow your passion, I used to follow cricket and football matches and highlights.
Frequently Asked Question (FAQs) - UPSC IAS 2018 Topper Interview Kanishka Kataria
Question: How many hours did Kanishka Kataria study?
Answer:
The UPSC Topper Kanishka Kataria normally studied for 6-7 hours a day to qualify for the UPSC Civil exam.
Question: How to qualify the UPSC preliminary exam?
Answer:
Applicants can qualify the prelims exam by solving paper and they should also know UPSC IAS Cut off.
Question: How does the UPSC IAS topper prepare notes?
Answer:
Toppers prepare notes by reading one or two books, making notes is important as you can revise the syllabus in very less time.
Question: What is the age limit for the IAS exam?
Answer:
General category candidates have 6 attempts and their age is 21 to 32 years while others are given relaxation in it.
Question: Which degree is best for IAS as per Kanishka Kataria?
Answer:
Though I am from an engineering background, art side candidates are more privileged as their syllabus is similar.
Questions related to UPSC Civil Services Exam
Showing 1296 out of 1296 Questions