UGC NET 2018 Topper Interview: Debjani Chakraborty - "You will Succeed If you Don't Stop Midway"
The road to success is never easy. There are a lot of hurdles which need to be crossed before you mark your footprints en route success. Be it about life or the career you opt for, hurdles can only be overcome if you choose to continue walking on the path you once decided. Since success is not achieved by accident, perseverance, self-discipline, and passion for what you aspire are the foremost requirements.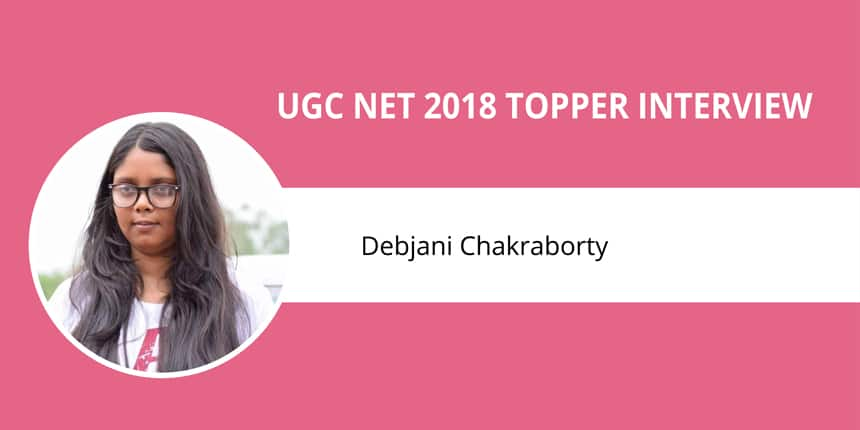 And once you achieve what you target, you set an example for many to follow. Amongst many inspiring figures, Careers360 brings to you Debjani Chakraborty who has exemplified the formula to success by cracking UGC NET 2018 twice - in July and December for Assistant Professor and JRF respectively. Grappling with her masters, a job at The Times of India and preparation regime for UGC NET simultaneously, success to her is an outcome of dedication to meet daily targets and managing time efficiently.
LATEST: UGC NET Result to be out on Dec 31, 2019
Excerpts from the interview:
Careers360: Tell us about your childhood and schooling. Who all are there in the family and what are their professions?
Debjani: I grew up in Maithon, a small town in Jharkhand. Till 10th, I studied at Kendriya Vidyalaya, Maithon. For plus two, I moved out of my hometown and have been staying away from my home since then. I pursued my bachelors in Mass Communication and Video Production from St Xavier's College in Ranchi and currently enrolled in masters in journalism and mass communication at Ranchi University. I have one sibling and my dad is an accounts officer in Damodar Valley Corporation and my mother is a homemaker.
Careers360: What was your All India Rank, score/marks in UGC NET/Subject opted? Which year did you qualify in UGC NET?
Debjani: I qualified UGC NET in Mass Communication twice - June and December 2018. In the first attempt, I qualified for Assistant Professor, however, in the second attempt, I cleared the exam for JRF as well. My percentile score for Paper 1 is 100, Paper 2 is 99.3871 and overall score is 99.9669 for December 2018. My total score out of 300 is 190.
Careers360: What made you think that UGC NET is the career you want to pursue? Which all other exams did you appear in and which all have you been able to qualify in?
Debjani: I have always been a good performer academically, and it was natural for me to be inclined towards the UGC NET. I have already been active in print journalism since my graduation. Also, I have been engaged with publications like The Times of India, Morning India and The Telegraph for over four years now. UGC NET comes as a natural progression in my academic career.
Careers360: How much time did you prepare for the exam? Did you crack it in the first attempt?
Debjani: Since I am an appearing candidate, I had to allot time for my master's classes in the mornings, office from 2 pm to 8 pm and then my UGC NET preparation. However, instead of panicking, I devoted an hour's time daily for preparation, to the point that I never compromised with this routine. In my view, time management and dedication is the key to success.
Careers360: Tell us the challenges/difficulties you had to face during your preparation and in life during that period?
Debjani: The biggest challenge was definitely the time crunch. I write for a variety of publications and in the media industry, deadlines are sacrosanct. I never got to fix my study schedule and I had to be flexible always. When my days used to be too hectic, I would go through my notes over phone. Though the preparation was not a herculean task for me, however what made everyday stressful was balancing UGC NET preparation with a job and masters classes. But in the end, it was a satisfying experience when I got to know that I have cracked the exam.
Careers360: How should one prepare for NET exam?
Debjani: In a subject like Mass Communication, the students can aim at improving their scores in Paper 1. I believe with the right kind of speed and practice, a student can get at least 75 percent in Paper 1. One should regularly practice the model papers. For paper 2, tricky questions eat up a lot of time. Instead of trying to master the unrealistic standards of tricky questions, one must focus on the syllabus and have a thorough understanding of the concepts. At least 70 percent of the paper is from basic facts of a subject, and if you study properly, chances are high to ace UGC NET exam.
Careers360: Is coaching important for cracking the exam?
Debjani: As a mathematics student till class 12, I found the standard of analytical and quantitative problems in Paper 1 quite easy to solve without any coaching.
Careers360: In case of self study, how much is the probability of cracking the exam? What should be the preparation strategy for self study?
Debjani: For self-study, the foremost requirement is dedication. For my preparation, I made a reward system for myself to stick to the routine. Every three days in a week, I would study for at least an hour. Not only this, I would even order meals from outside so that I can save time for my preparation. For me, every minute was precious and irreplaceable, so I made the most out of each moment, saving it wisely wherever I could.
Careers360: Can you refer some good books with Author names which you referred to while preparation?
Debjani: For Media Theory, I studied Mass Communication in India by Keval J Kumar. For the rest of the syllabus of Paper 2 in Mass Communication, I used Arihant's book on UGC NET for Mass Communication. It had pointers for every chapter with facts on all that you need to know. For Paper 1, I solved all the sample papers I could get hold of online. Additionally, Arihant's UGC NET Paper 1 book covered the textual part of teaching aptitude part of Paper 1.
Also Read: UGC NET 2018 Best Books
Careers360: Any online test series you suggest for UGC NET?
Debjani: Most online test series for UGC NET simply are a collection of previous years question papers. Since NTA has taken over as the body to conduct UGC NET in computer based mode, online test series are useful to stimulate the sense of appearing in a real exam. If you look at the question variety, it is no different than the questions in print form available with publications like UPKAR and Arihant.
Also Read: UGC NET Mock Test
Careers360: What are some of the major challenges that one must be ready to take head on when considering a career as Assistant Professor as when as for JRF?
Debjani: UGC NET is simply a qualifying exam for the post of Assistant Professor or a Junior Research Fellow. Looking ahead, aspirants need to understand that they might have to spend a few years on the bench and acquire teaching experience before bagging a job as an Assistant Professor. But one can get the resume enriched by participating in seminars and presenting papers to improve their chances. Trying hands at giving guest lectures will also be beneficial.
Careers360: Tell us the complete selection procedure of UGC NET. Mention stages of exams and their weightage, fellowship, growth prospectus, etc.
Debjani: UGC NET is the qualifying examination for both Assistant Professors and Junior Research Fellowship. The cutoffs for JRF are on an average 5% higher than that of Assistant Professor. Each student needs to take Computer Based MCQ test (since December 2018) for two papers. Paper 1, consisting of teaching aptitude, quantitative questions and general sciences is common for all the aspirants and has 50 questions worth 100 marks.
For Paper 2, aspirants get a question paper pertaining to their area of specialization with 100 questions worth 200 marks. JRF fellows currently get a fellowship amount of Rs 25,000 which they receive after enrolling as a JRF post masters.
Also Read: UGC NET Exam Pattern
After two years, a JRF can graduate to an SRF (Senior Research Fellow) and earn a fellowship amount of Rs 28,000.
Careers360: After which stage is the document verification done and what documents one should take with him/her?
Debjani: Candidates need to complete their master's degree two years from the date of result declaration. UGC needs to be intimated about the same as soon as the results are out. The validity of the JRF score is two years from the date of declaration of results.
Questions related to UGC NET
Showing 373 out of 373 Questions