SSC CHSL 2016 Topper Interview: Rishabh Pargaien - "Identify weak areas & work on them; success will follow"
Know something backwards and forwards, if you want to ace something. Rishabh Pargaien strongly believes in this saying, as the SSC CHSL 2016 topper qualified the exam by polishing what he was not good at. Typing speed was something he wanted to excel in and he did put in extra effort to work more on this weak area to ensure that he cracks all the three stages of the exam. With an AIR of 2421 in SSC CHSL, Rishabh Pargaien cracked the exam in the first attempt itself. Working as a PA in Circle Office cadre in Guwahati, Assam Postal Circle, he shares with Careers360 that strengthening the areas where he was not up to the mark, was his success mantra. The CHSL topper narrates his success story.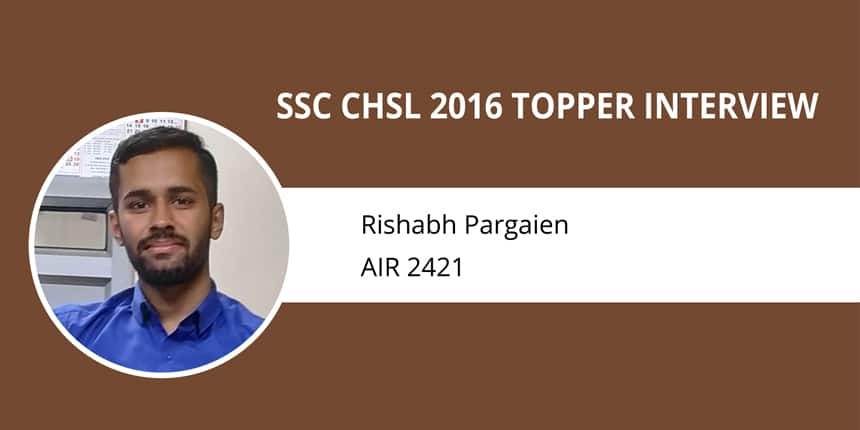 Excerpts - SSC CHSL 2016 Topper Interview Rishabh Pargaien
Careers360: Tell us about your childhood and schooling. Who all are there in the family and what are their professions? 
Rishabh Pargaien: I was born and brought up in Haridwar, Uttarakhand, had done my class 10th and 12th from DAV Centenary Public School, Haridwar. My family consists of my father, mother and a younger brother. My father is working as a teacher in a state-run school, while mother is a home-maker. My brother is studying in class 12.
Careers360: What was your All India Rank, score/marks in SSC CHSL? Which year did you qualify the exam and when were you recruited as Postal Assistant (Circle Office) at India Post?
Rishabh Pargaien: I secured AIR 2421 in SSC CHSL 2016. In Tier 1, I scored 144.5/200 and in Tier 2, 51/100. Total score was 195.5/300. The final results after the typing test were declared in February 2018 and the revised results were declared in May 2018. I joined as PA in Circle Office cadre on 13.09.2018 in Guwahati, Assam Postal Circle.
Careers360: What made you think that SSC CHSL is the career you want to pursue? On which date did you join as Postal Assistant (Circle Office) at India Post? Which all other exams did you appear in and which all have you been able to crack?
Rishabh Pargaien: It was never the career I wanted to pursue. It still isn't something that I would want to do forever. Therefore, I am looking for better career options, as per my capabilities and qualifications. Being an engineering graduate, my aim is to crack engineering exams like GATE and Engineering Services Examination. Though I appeared for GATE 2017 & 2018, however my 90+ percentile was not enough both the times to secure a job. Thereon, I started exploring other options too, so I took non-technical exams which include SBI PO 2017 and IBPS PO 2017, but was only able to crack the IBPS PO (Prelims) 2017.
Careers360: How much time did you prepare for the SSC CHSL? Did you crack it in the first attempt?
Rishabh Pargaien: To be honest, not very much. The approach was not very strict towards the Tier 1 exam. However, when the results of Tier 1 exam were announced in June 2017, I started focusing more on essay and letter writing part to ensure my breakthrough in Tier 2. Though the score was fairly low, I was able to crack it successfully and subsequently qualified the typing test and made it to the final merit list.
Know all about SSC CHSL 2019
Careers360: Tell us the challenges/difficulties you had to face during your preparation period? 
Rishabh Pargaien: The main challenge was in the last phase of the examination where I had to increase my typing speed to the minimum requisite of 35 wpm. This took a fair amount of practice and dedication and the result in the end was fruitful.
Careers360: Tell us about your current role and responsibility at India Post? Please describe a typical day at work for you as a Postal Assistant.
Rishabh Pargaien: PA in CO cadre is related to administrative work since the Circle Office is the control centre/ Headquarters of the respective state's postal circle. Hence, the work is mostly file-related. Public dealing is not a part of the routine as is the case with PA in PO cadre. There is absolutely zero interaction with people. The week is with five working days but extended working hours per day.
Careers360: How should one prepare for the examination? Tell us the strategy you had applied for preparing. 
Rishabh Pargaien: I would recommend to go through the syllabus very clearly and know exactly what is needed. This, I feel, is the most important part. It should be clear what needs to be read and what doesn't. Half of the preparation is done here only. There are plenty of resources available in the market and one may choose anything that suits according to one's needs. I would strongly recommend practice using good quality and a number of mocks.
Also read, SSC CHSL Question Papers
Careers360: What is your success mantra? 
Rishabh Pargaien: Just identify the weak points and work towards them. Success is always round the corner.
Careers360: In case of self study, how much is the probability of cracking the exam? What should be the preparation strategy for self study?
Rishabh Pargaien: Self study is sufficient for an exam of this level. But perseverance is a must. One needs to be consistent in one's approach while preparing for any exam. Look out for resources online. Don't look for too much of books for one subject. Utilise the internet for your benefit.
Also read, Best Books about SSC CHSL 
Careers360: While preparing for the Tier I, Tier II and the typing/skill test, what different strategies should one make? Which part one needs to focus more on and why for all the three tiers?
Rishabh Pargaien: Every part is necessary as one mark may land you in or become the reason for exit from the examination as the competition is increasing day-by-day. Thus everything mentioned in the syllabus should be given equal importance.
Also read, How to prepare for SSC CHSL 
Careers360: Any online test series you suggest for CHSL exam?
Rishabh Pargaien: Qmaths has provided very good interface which is very much similar to the actual examination. Their quality of questions is also good. Other test series include Testbook, KD Campus and others which can be chosen from, depending on one's requirements.
Careers360: Is there any training tenure after one is selected as a Postal Assistant? If yes, kindly share the process.
Rishabh Pargaien: Yes the training period is of 8-9 weeks. Training may be imparted at any time during your service time and is conducted at the Postal Training Centre concerned to your respective circle.
Also read: 
Questions related to SSC CHSL
Showing 152 out of 152 Questions