SSC CHSL 2016 Topper Interview: Abhijeet Saxena - "Practise and mock tests are key to success"
SSC CHSL 2016 Topper Interview: Abhijeet Saxena - It is strenuous to clear all stages of SSC CHSL exam as roughly 65 lakh candidates apply for the exam each year, which means for every seat nearly 1700 candidates battle in the exam. The official statistics reflect that around 27 lakh candidates take the first stage of the exam. This in itself is a very large number, therefore, even qualifying the first stage of the exam proves to be an arduous task.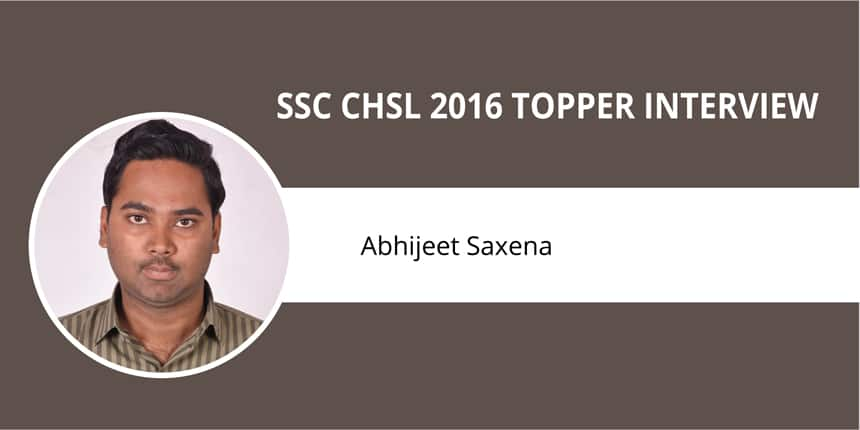 Latest: SSC CHSL 2019 new dates released, now it will be conducted from October 12 to 16, 19 to 21 and 26, 2020.
SSC CHSL admit card 2020 to be released soon

So, what does it take to crack SSC CHSL exam? It is hard work, practice and mock tests which ensure your success believe Abhijeet Saxena, who had cleared SSC CHSL 2016 by securing 143.50 and 53 marks in Tier I and Tier II, respectively. With an All India Rank of 1983, the topper shares tips and tricks to crack the recruitment examination.
Read the Complete Interview to Know How Topper Abhijeet Saxena Cleared SSC CHSL 2016
1. Tell us about your childhood and schooling. How many people are there in your family and what are their professions?
Ans: I am living with my maternal grandparents since childhood. My schooling was done at Red Rose school. Both my grandfathers retired as Headmaster of Govt. Schools and my mother was a senior operator in semi-government electronics manufacturing company.
2. What was your All India Rank (AIR), score/marks in SSC CHSL? In which year did you qualify the exam? Where are you working currently?
Ans: I qualified SSC CHSL 2016 with AIR-1983 with 143.50 and 53 marks in Tier I and Tier II respectively. I could crack the exam in my first attempt only. I am currently working with Reserve Bank of India.
3. What made you think that SSC CHSL is the career you want to pursue? What other competitive exams did you appear in and which are the ones you been able to crack?
Ans: Being an undergraduate, I was looking for a government job, so I chose SSC CHSL exam. After graduation, I plan to appear for SSC CGL exam.
4. How much time did you prepare for the SSC CHSL?
Ans: I started preparing for the exam in April 2016 and took the exam on January 17, 2017.
Also Read: How to Prepare for SSC CHSL
5. How should one prepare for the examination? Tell us the strategy you had applied for preparing.
Ans: I would say to practice more frequently, and take mock tests regularly - preferably one test per day.
6. Is coaching important for cracking the exam? If yes, then how much and can you suggest some good coaching institutes from where one must pursue coaching?
Ans: I think nowadays we all have access to high-speed internet connection, and everything related to this exam is available on the internet, so there's no need to join any coaching institute.
7. In case of self-study, how much is the probability of cracking the exam? What should be the preparation strategy for self-study?
Ans: It depends on the hard work you put in. For the strategy part, I would say give 90% of your time to Quantitative Aptitude and English.
Also read: SSC CHSL Syllabus
8. Can you refer some good books with Author names for all the sections of SSC CHSL exam?
Ans: Complete NCERT books up to class 10 with more emphasis on Class 9 and 10 Mathematics books.
Also read: Best Books to Prepare for SSC CHSL
9. While preparing for the Tier I, Tier II and the typing/skill test, what different strategies should one make? Which part one needs to focus more on and why for all the three tiers?
Ans: In my view, we must concentrate on the closest exam. In preparation, most of the focus initially is required for the Tier I exam only. Once you qualify Tier I exam, start working on the essay and letter writing for Tier II.
10. Any online test series you suggest for CHSL exam?
Ans: You should pick the test series which has more participants so that you can track your AIR more accurately, and plan accordingly.
Questions related to SSC CHSL
Showing 152 out of 152 Questions