SSC CHSL 2015 Topper Interview: Harshit Tiwari - "Hard work and never-say-die attitude bring success"
SSC CHSL 2015 Topper Interview: Harshit Tiwari: When you carry a legacy of coming from a family background of government employees, you ought to be naturally inclined towards the same path. This was Harshit Tiwari from Madhya Pradesh, who developed a linking for government jobs (early in his school days) only due to the environment he was exposed to in his day to day life. Thus, the day was not far when he started putting effort to crack competitive examinations to secure a stable government job for him.
Latest: SSC CHSL Tier 1 2019 (For left-over candidates) to be held from October 12 to 16, 2020, October 19 to 21 and 26. SSC CHSL 2020 admit card to be released 3-weeks before the exam.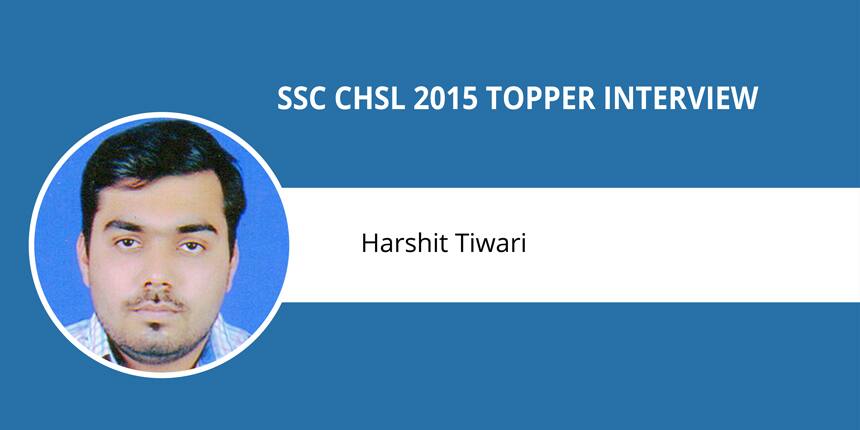 Though fortune didn't smile on him in his first attempt, however, as William Whewell says, "Every failure is a step to success." holds true for people with a positive mindset who do not crib on the failures, rather make them a stepping stone for their further growth. Harshit did the same and his never-ending grit and zeal helped him crack SSC CHSL exam in 2015 (in the second attempt).
Apart from SSC CHSL, the topper had also qualified in Food Corporation of India (India) exam and worked there for a year. However, as per his inner calling, he quit his job at the FCI and joined India Post, Bidar Division Karnataka as a Postal Assistant. In a conversation with Careers360, the topper shares his key learning while it comes to SSC CHSL exam. Go through the excerpts below.
Also Read: SSC CHSL 2016 Topper Interview: Abhijeet Saxena - "Practise and mock tests are key to success"
Excerpts from the interview:
Careers360: Tell us about your childhood and schooling. Who all are there in the family and what are their professions?
Harshit Tiwari: I was born and brought up in Katni district of Madhya Pradesh. I did my graduation in Civil engineering from Oriental Institute of Science and Technology, Bhopal (M.P). My father is a Chargeman in Ordnance Factory, Katni. My mother is a homemaker. I have three elder sisters. One of them is Assistant Sub-Inspector in Krishi Upaj Mandi, Katni, the second one is Patwari in Katni Collectorate and third on works as Postal Assistant in India Post.
Careers360: What was your All India Rank, score/marks in SSC CHSL? Which year did you qualify for the exam? Where are you working currently?
Harshit Tiwari: My AIR was 5197. I cleared SSC CHSL in 2015 and I am currently working as Postal Assistant at India Post, Bidar Division Karnataka.
Careers360: What made you think that SSC CHSL is the career you want to pursue?Which all other exams did you appear in and which all have you been able to crack?
Harshit Tiwari: My inclination towards government jobs comes from my family background. I appeared for SSC CGL soon after graduation and due to similarities in the syllabus between the two (SSC CGL and SSC CHSL) made me give SSC CHSL a try.
I appeared for the Food Corporation of India (FCI) exam in 2015 and cracked it and worked for an year before joining India Post. Other exams that I appeared for were, SSC CHSL and SSC CGL in 2014 and 2015 respectively.
Careers360: How much time did you prepare for the SSC CHSL? Did you crack it in the first attempt?
Harshit Tiwari: I prepared for about an year and cracked the exam in my second attempt.
Also Read: How to Prepare for SSC CHSL
Careers360: Tell us the challenges/difficulties you had to face during your preparation period?
Harshit Tiwari: During the initial stages of preparation I was unaware of the right kind of study material as nobody in my family or friend circle had prepared for this exam. I was working hard but my energy was not focused in the right direction. It was only after failing in my first attempt and with the passage of time that I got acquainted with the nuances of SSC exams like you need not to read three books for one subject but you need to study one particular book thrice to succeed in this exam.
Careers360: Did you take any coaching? If yes, from where and for how long?
Harshit Tiwari: Yes, I went to Mahendras for my preparation at Jabalpur branch and I did classes for three months, and from there I got to know the importance of speed tests.
Careers360: How should one prepare for the examination? Tell us the strategy you had applied for preparing.
Harshit Tiwari: The first step is to understand the syllabus and the difficulty level of the examination. Candidates must refer to the previous years' question papers. Secondly, go through the relevant study material which plays an important role. Lastly, you must revise the syllabus at least twice before the exam.
Also, make sure that you prepare for the typing test right from the test as it takes three months to reach a typing speed of 27-30 wpm.
Careers360: Is coaching important for cracking the exam? If yes, then how much and can you suggest some good coaching institutes from where one must pursue coaching?
Harshit Tiwari: Coaching is not at all necessary but yes, it offers you guidance. In case a candidate is getting proper guidance then they do not need to join any coaching institutes. When it comes to select good coaching institute, I believe it totally depends on the students. I will suggest the aspiring candidates to take demo lectures and then enroll themselves in any coaching institution they wish to join.
Careers360: In case of self-study, how much is the probability of cracking the exam? What should be the preparation strategy for self-study?
Harshit Tiwari: Self-study with proper guidance is sufficient to crack SSC CHSL. One must know and understand the syllabus and also practice and solve previous years' papers.
Also Read: SSC CHSL Syllabus
Careers360: Can you refer some good books with publication names for all the sections of SSC CHSL exam?
Harshit Tiwari:
| | |
| --- | --- |
| Books | Publication |
| Mathematics | Kiran publication |
| English | Plinth to paramount (Neetu singh) |
| General studies | Lucent publication, Also go through NCRT books (Class 6th to 10th) |
| Reasoning | Any publication book which has previous years' question papers |
Also Read: Best Books to Prepare for SSC CHSL
Careers360: Any online test series that you can suggest for CHSL exam?
Harshit Tiwari: There are many test series available online as well as offline. I used to practice offline test series at Mahendras centre (as exam mode was conducted offline).
Also Read: SSC CHSL Question Papers
Careers360: Mention stages of exams and their weightage, salary, growth prospectus, etc.
Harshit Tiwari: SSC CHSL exam is conducted in three tier – Tier I (Objective type), II (Descriptive) and III ( DEST(Data entry skill test) and typing test). After these three stages, SSC prepares a merit list in which marks of Tier I and II are added. The exam is conducted for the following posts – Data Entry Operator, LDC, Postal Assistant and Court Clerk.
As far as Postal Assistant is concerned, one gets around Rs. 25500 basic salary and Dearness Allowance (DA ) and after experience of five years, they can appear for IPO (Inspector of Post).
Also Read: SSC CHSL Exam Pattern
Careers360: After which stage is the document verification done and what documents one should take with him/her?
Harshit Tiwari: Document verification is done before preparing the final merit list and after the Typing/skill test. The documents that one should carry with them are as follows:
Certificates and passing certificates of class tenth and twelfth (Original as well as two to three photocopies)

Category certificate ( If applicable)

Any other educational qualification marksheets and degree (original or provisional)

Certificates of extracurricular activities
Careers360: What should one keep in mind while taking the typing/skill test? What is the typing speed one needs to have to qualify? On which areas do they test you on skills?
Harshit Tiwari: One needs to be calm while typing as the surrounding keyboard noises could disturb you easily. The required typing speeds are – 35 wpm for LDC and Postal Assistants and 50 wpm for DEO. Moreover, typing test is usually to assess one's typing speed.
Careers360: Any messages for the future aspirants?
Harshit Tiwari: My message to the future aspirants is that perseverance is the key to success, hence keep working hard, never give up on your dreams and do not let the unnecessary circumstances ( paper leaks or delay in exams) affect you.
Questions related to SSC CHSL
Showing 149 out of 149 Questions