SBI PO 2016 Topper Interview: Haris A. Khan - "Conceptual clarity is a must to crack exam"
"The one who falls and gets up is stronger than the one who never tried. Do not fear failure but rather fear not trying," Roy T. Bennett once said. This axiom holds true in case of Haris A. Khan who just launched himself into the battleground without thinking much of the outcome. Had he not tried SBI PO exam in 2016, he wouldn't have known the path to success. As he didn't want to live his life saying "I wish", he decided to confront his fear of failure by just attempting SBI PO 2016 without knowing that this would be his best shot. However, as they say, no pain no gain, the breakthrough in Khan's life is not a matter of luck, it's a cumulative outcome of hard work, dedication, passion, not giving up spirit and self-belief. Apart from SBI PO, the topper also qualified Nainital Bank Management Trainee and SSC CGL prelims exam.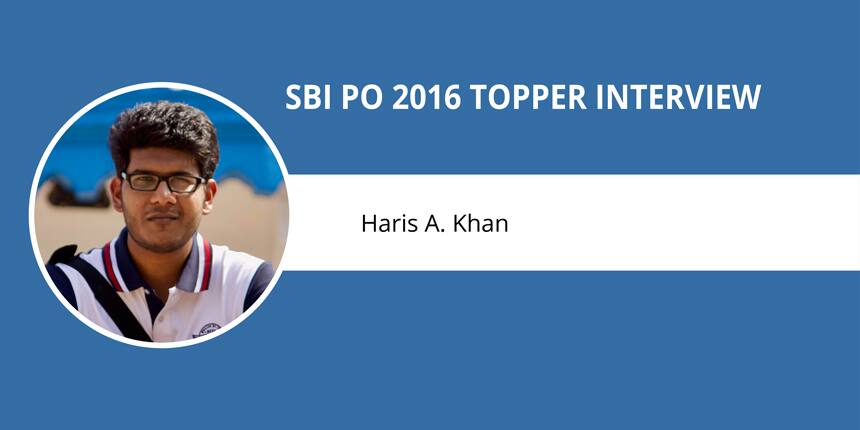 In a conversation with Careers360, the Probationary Officer at the State Bank of India, Mumbai shares what does it take to crack SBI PO examination. He also talks about tips and tricks to crack the exam and how one should prepare without coaching. Happy reading. 
Excerpts from the interview: 
Careers360: Tell us about your childhood and schooling. Who all are there in the family and what are their professions?
Haris A. Khan: I was born and brought up in Lucknow, UP. I did my schooling from St. Dominic Savio College upto 4th class, then my father was transferred to Dehradun, Uttarakhand, and we've been living there since then. My father retired last year as Deputy Secretary, Uttarakhand Secretariat. My mother is a home-maker. I have an elder brother who is a corporate lawyer in New Delhi, a sister who works at United Bank of India as an Assistant Manager.

Careers360: What was your rank, score/marks in SBI PO exam? Which year did you qualify in SBI PO?
Haris A. Khan: I cleared SBI PO in 2016. SBI doesn't release individual ranks. My marks were around 54-55, normalised out of 100.

Careers360: What made you think that SBI PO is the career you want to pursue? On which date did you join as a bank PO at State Bank of India? Which all other exams did you appear in and which all have you been able to qualify in?
Haris A. Khan: During the preparation days, SBI always felt out of reach for me, owing to the tough competition and arduous exam procedure. However, it was only after I cleared the prelims that I got confident about it and realised that it was achievable only through proper planning and hard work. 
Apart from SBI PO, I managed to clear Nainital Bank Management Trainee exam, but I did not join there. I also managed to score 167 marks in SSC CGL prelims, which was a good score back then, but by the time mains was scheduled, I had already joined SBI, so I decided not to appear for the mains exam of SSC CGL. 

Careers360: How much time did you prepare for the exam? Did you crack it in the first attempt? 
Haris A. Khan: Yes, I managed to crack SBI in the very first attempt. It took me around 5-6 months to get myself ready for all the competitive exams.

Careers360: Tell us the challenges/difficulties you had to face during your preparation. 
Haris A. Khan: Since I was preparing by myself, there were challenges and difficulties. Sometimes I felt the need of a mentor to guide me in the right direction, to tell me what and from where should I study. I used to spend hours on the internet, public forums to grind out the creme study material and resources. I used to watch interviews of past toppers of different exams like banking, CGL to get an idea of what to study. 

Careers360: Tell us about your current role and responsibility at SBI? Please describe a typical day at work for you as a PO.
Haris A. Khan: I am currently looking at the Advances Department, which involves loans to personal customers under Car Loan, Home Loan etc and to non-personal customers under SME Loans, Cash Credit. My work begins at 10.30 am in the morning and continues till late evenings (8-8.30 pm) on daily basis.
Though pressure is there, however, a newly inducted PO does not get to experience that kind of pressure. For almost a year, the sole job of a fresh PO is to learn and grasp everything he/she can without having any accountability during the year. The freshly appointed PO has to undergo various trainings and is transferred to different branches for that during the initial 1 year. My training during the first year includes Forex training, General Banking, Credit processing centre, Pension processing centre, SME training, Agriculture training etc. 


Careers360: Which of the educational background best suits for SBI PO job?
Haris A. Khan: I believe a commerce graduate with maths and MBA finance suits SBI PO job the best. Since banking is a lot about credit analysis and credit underwriting which involves study of balance sheets, financial statements, ratio analysis, etc. A non-commerce graduate might find all this a bit tough at first. I too used to be at odds with all these for initial few months. It took me some time and lot of study to get comfortable with all the financial analysis.

Careers360: How should one prepare for a PO job at SBI?
Haris A. Khan: SBI PO is one such exam that has raised the stakes of Bank PO exams in recent years. The level of difficulty of SBI PO is slightly higher than all the counterpart exams. So preparing for it, one needs proper planning and dedication as the competition is really tough where more than 20-30 lakh students appear in it every year. 

Reading newspaper should be given more importance as it covers multiple sections of your exams ranging from General Awareness, Static GK, comprehension, vocabulary etc. Aspirants should also make notes of it daily.

And as far as Logical Reasoning is concerned, for me, it's all about approach. Try to clear your concepts and learn the approach to questions like puzzles and seating arrangement because a wrong approach and you may end up wasting a lot of valuable time.
Moving on to Quantitative Aptitude (QA), one should focus on the foundation of QA. Try to strengthen your concepts in it, avoid shortcuts and tricks. They might seem easy at first but cumulatively, you will end up having memorised a lot of tricks which will lead to confusion during the exam. Initially don't think too much about speed, because it will come naturally with time. 
Last but not the least, Mock Test are quite essential. After you are done with the preparation, analysing the preparation is vital. Take a mock daily, and then analyse it afterwards to know what went wrong and questions you did not attempt. Make sure these questions don't go wrong the next time you encounter them.
Also Read, How to prepare for IBPS PO Exam
Careers360: Is coaching important for cracking the exam? If yes, then how much and can you suggest some good coaching institutes from where one must pursue coaching?
Haris A. Khan: I don't think coaching is necessary for clearing the exam. But there is no harm if someone wants to attend coaching. It offers you guidance, continuity in your studies and makes you follow a routine.

Careers360: In case of self-study, how much is the probability of cracking the exam? What should be the preparation strategy for self-study?
Haris A. Khan: Be it coaching or self-study, it all boils down to one's hard work. Anyone preparing by himself/herself should start by dividing the course books and syllabus into the number of days. (Know SBI PO Syllabus in detail). Make small targets and ensure that you achieve those on daily basis. After a certain time, people lose the continuity and then slowly they lag behind everyone else. So make sure you cover everything systematically.


Careers360: Can you refer some good books with author names for all the sections of SBI PO exam?

Haris A. Khan:                                                 
| | |
| --- | --- |
| Books | Author |
| Quantitative aptitude  | Sarvesh Verma |
| English  | Objective english by S. P. Bakshi |
| Word power made easy  | Norman lewis |
|  Logical reasoning  | K kundan |
Also read, Best books for IBPS PO 

Careers360: While preparing for the prelims, mains and the interview, what different strategies should one make?
Haris A. Khan: SBI PO examination is designed in such a pattern that you have very less time to think of any strategy.
Tips to prepare for Prelims exam
Earlier in prelims, there was no sectional time limit so one could develop some strategies, but now there is sectional timing, you need to give 20 minutes to each section. 
For the first minute in each section, try to go through the questions to get an idea what all questions are there to attempt and mark those questions, this thing will save time while attempting them. 

Second- In QA, keep the word problems for the last, attempt rest of the questions. Similarly, in Logical Reasoning, keep the puzzles and seating arrangement for the last.

Third- Never compromise with accuracy. There are some extra marks just for accuracy.
Tips to prepare for mains exam
For the mains exam, strategies will not help you much. Your concepts, fundamentals will come to your rescue. There may be few questions which might put you off totally and tend to panic you. Don't lose your cool and move on to the other question. I remember during my exam, I ended up attempting 11 questions out of 35 in QA. For a second, I thought it is very less to even qualify the sectional, I even had an urge to go for guess work just to stand a chance. Just remember, if it is tough for you, then it is tough for everyone. 
Right after the mains exam, there will be a descriptive test conducted for 30 minutes. It will have an essay and a letter. Both of them (essay and letter) will have 3 options to choose from. The topics will be very general in nature. But keep in mind a few things: 
1. Do not exceed the word limit
2. Use the correct format of letter.
3. Check for any wrong spelling.
4. Check for any grammatical error.

How to prepare for GD and PI?
In GD, there will be ten people in the group, moderated by two-panel members. A topic will be given to you wherein everyone has to discuss either for or against the topic. Try to be calm during the discussion, don't get overexcited. The panel members are more interested in content than in clamour. So be calm and let others too speak. If you see someone who is not participating or is not getting the chance to speak, take the initiative and give him the chance to speak. This will reflect your man management. Moreover, if somebody makes a valid point, try to acknowledge it, this will reflect your accommodating nature.
The last hurdle is the Personal Interview. At this stage, the panel members will assess you as a person, whether you are capable of working under pressure or lead a team of employees or not. There will be five persons in the panel. They may ask you questions on current affairs, economy, RBI, banking, work experience and your graduation subject. Some general questions like hobbies, strengths, weakness, reasons to join bank etc.

Careers360: Any online test series you suggest for SBI PO exam?
Haris A. Khan: As I mentioned I prepared by myself, so I ended up trying most of the mock tests there were available. I think they are the two best mock series available, in terms of difficulty, user interface and analysis.
1- Olive board
2- Practice Mock

Careers360: What are some of the major challenges that one must be ready to take head-on when considering a career in banking as a PO?
Haris A. Khan: As far as SBI PO is considered, it is not a typical government job. There will be high-pressure situations, targets, some unruly customers along with other things. The postings might be an issue for some. For the initial years, you might get posted in a rural or semi-urban area. Sometimes during audits or annual closing, you will be required to work extra and stay late in the office. But then every job has its fair share of challenges. It can not be a cake walk.



Careers360: Tell us the salary, growth prospectus, etc. of SBI PO
Haris A. Khan: The CTC for a PO ranges from 9 LPA to 13 LPA, which includes a plethora of allowances namely Leased accommodation, Petrol, Mobile, Broadband, Entertainment allowance amongst other things.
As far as growth prospects are concerned, they are endless. A PO can reach as high as the Chairman of State Bank of India. The current chairman and the previous chairperson were also selected as bank POs. An SBI PO also has an added advantage over other Bank POs as he is eligible to be promoted after completion of his probation i.e. two years.
In SBI an employee can work under - International Banking, Treasury Operations, Branch Operation, Risk Management, HR and Credit. International banking involves posting at any of the 206 foreign offices in 36 countries for a period spanning 3-5 years. 

Also read: South Indian Bank PO Salary

Careers360: After which stage is the document verification done and what documents one should take with him/her?
Haris A. Khan: After the final result, successful applicants are called for document verification. You need to carry all your educational qualifications documents - Class 10th -12th marksheets, Graduation marksheets and other degrees or certificates (if any) that you possess.


Careers360: What kind of questions are asked in the interview and what should one keep in mind while answering the questions?
Haris A. Khan: The interview panel comprises of 5 members. The panel assess you as a person, so there will be very general question like hobbies, strengths and weakness apart from some questions on current affairs, economy, RBI, Banking, graduation subject, work experience if any.
They may also ask the reasons to apply for SBI and why should they hire you. Get some information about SBI and its history too.
Also read: How to prepare for Bank PO Interview
Careers360: Is there any training tenure after one is selected as a PO? If yes, kindly share the process.
Haris A. Khan: Yes, after two years of probation period, there will be few institutional trainings. Beginning with Orientation & Leadership Programme which lasts for one week, then there is Foundational Training Programme - I and II, lasting for two and four weeks respectively. They are conducted in either the Apex Training Institutes of SBI or State Bank Institute of Leadership and Development. These trainings are a great time to learn banking, its systems and procedures and also you will get to know SBI Bank POs from all over India.  

Careers360: What are the critical elements one should keep in mind during the selection procedure of SBI PO? Any messages for the future aspirants?
Haris A. Khan: Accuracy, concepts and hard work are the things which I relied on during my preparation. These are the same things I would like to tell the future aspirants to make a note of. Try to give your best and don't cut corners because there is no shortcut to success.  
Also Read:
SBI PO 2017 Topper Interview: NT Vaishakh (AIR 26) - "Concept clarity & mock tests are key to success"
RBI Officer Grade B Topper Interview: Naveen Kumar Singh- Time management & previous years' papers are crucial