SBI Clerk Salary 2020 - Job Profile, Allowances, Benefits & Growth Opportunities
SBI Clerk Salary 2020 - State Bank of India (SBI) has mentioned SBI Clerk 2020 salary in its official website which has been released on January 2 in the form of PDF at sbi.co.in/web/careers. Candidates appearing for the recruitment exam must go through the salary of SBI Clerk to know how they will be paid on the basis of basic sbi clerk grade pay after being recruited. As per the conducting authority, the SBI Clerk salary scale comprises of basic salary plus two advance increments admissible to the graduates. Along with SBI Clerk salary 2020, various other allowances including Dearness allowance, Travel allowances, House Rent Allowances, City Compensatory Allowances etc will be given. However, as per the SBI Clerk 2020 salary scale, the allowances may vary depending upon the place of posting. Thus, all candidates qualifying as SBI Clerk will be given a salary scale on sbi clerk grade pay of Rs.11765-655/3-13730-815/3-16175-980/4-20095-1145/7-28110-2120/1-30230-1310/1-31450. However, the basic sbi clerk grade pay scale may change as per the changes in financial year bill. To know more about SBI Clerk salary 2020, go through the article below.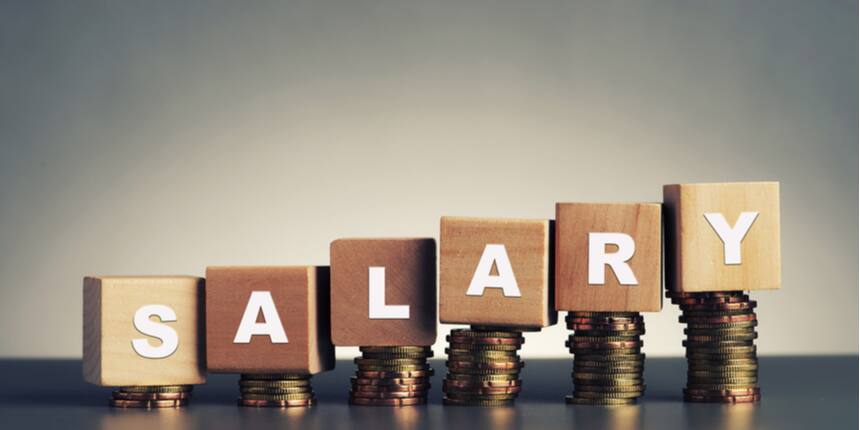 Latest: SBI Clerk Prelims Exam Result 2020 has been declared, SBI Clerk 2020 Mains admit card is also available now. Also check SBI Clerk 2020 Cut off for Prelims Exam
What is the in-hand SBI Clerk Salary 2020?
The total salary which a Clerk gets after deductions and inclusion of allowances is called an in-hand salary. It includes the base salary based on the basic sbi clerk grade pay. A Junior Associate/Clerk at SBI gets a salary of Rs. 21000 to Rs.23000 after all the deductions and inclusive of dearness allowance (D.A.), special allowance, and transport allowance.
SBI Clerk Basic Pay
The basic pay means the amount which is to be paid to the employee on the basis of sbi clerk grade pay and excluding the allowances in SBI Clerk salary 2020
SBI Clerk Salary Allowances
Along with the basic pay, the candidates will be given various other allowance also included in SBI Clerk salary 2020
Dearness Allowance (DA) - The DA also increases from time to time based on the Consumer Price Index.

House Rent Allowance (HRA) - The HRA depends on the candidate's posting city. If he/she has been posted in a metro city, the SBI Clerk will be paid higher HRA as compared to those who are working in non-metro cities.

Transport Allowance

Special Allowance
Apart from the above, SBI Clerk 2020 Salary also includes Furniture Allowance, House Maintenance Allowance, Books & Magazine Allowance, Reimbursement of telephone bills etc. Thus the total SBI Clerk salary 2020 will be the sum total of basic pay and allowances.
SBI Clerk Salary 2020 Scale
| | |
| --- | --- |
| Particulars | Amount |
| Basic Pay | Rs.11,765 |
| DA | Rs.5311.58 |
| CCA | Rs. 0 |
| Transport Allowance | Rs.425 |
| HRA | Rs.1176.5 |
| Gross with HRA | Rs.19589.87 |
SBI Clerk 2020 Salary Increment
The table below has the details of SBI Clerk salary 2020 increment. All candidates must check:
| | |
| --- | --- |
| Basic Pay Scale | Amount |
| Initial basic pay | Rs. 11,765 |
| Annual Increment | Rs. 655 |
| After 3 years | Increase to Rs. 13,730 |
| After another 3 years | Rs. 16,715 |
| After another 4 years | Rs. 20,095 |
| After another 7 years | Rs. 28,110 |
| Maximum salary | Rs. 31,450 |
A sample image of SBI Clerk Salary Slip (2017)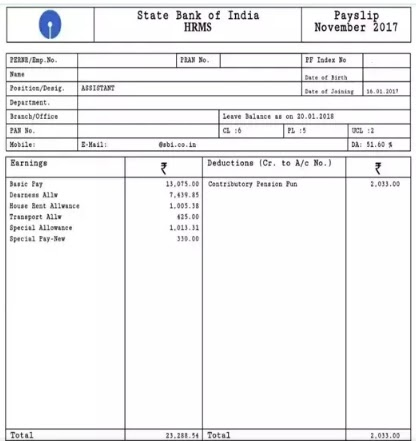 SBI Clerk Salary 2020 – Additional Benefits
Apart from SBI Clerk Salary 2020, the employees are entitled the following benefits:
Contributory Provident Fund

Medical Benefits

Home Travel Concession

Leave Fare Concession

Concessional rate of interest for loans

Two-years of sabbatical to women employees

Lease Facility
SBI Clerk 2020 Job Profile: Roles And Responsibilities
Candidates appearing for the exam must know the roles and responsibilities of SBI Clerk. BY knowing the SBI Clerk job profile, candidates will understand what work they will have to do after their recruitment. To know details about the roles and responsibility of SBI Clerk/Junior Associates, go through the points mentioned below.
The SBI Clerk post is an entry-level position

Candidates have to serve a probation period of 6 months.

As a SBI Clerk/Junior Associates, candidates have to deal with the queries of the customers.

The employees as Junior Associates have to see the accounts, cheque-books etc. of the clients.

Take care of deposit counters related to cash withdrawal.
SBI Clerk Promotions And Growth Opportunities
In order to promote the employees at higher posts, SBI conducts internal written exams. As the employee get higher post, the basic sbi clerk grade pay changes regarding the posts.

After completing 3 years as SBI Clerk with a Certificate Association of the Indian Institute of Banking (CAIIB) or if they complete 4 years experience with Junior Associate of the Indian Institute of Banking Certification (JAIIB), they become eligible for promotion as Trainee Officer.

After completing 6 years service as SBI Clerk, the candidates can give internal written examination for promotion.

If promoted, the probation period lasts for 2 years for an SBI PO. They will then hold a rank of Junior Management Grade Scale-I or JMGS-I.

After the completion of 2 years as PO, the person will become Middle Management Grade Scale-II.
SBI Clerk exam is conducted in two stages - prelims and mains. Candidates who are shortlisted in the final merit list will be recruited at any of the SBI branches in the Clerical cadre. SBI Clerk 2020 prelims exam was conducted on February 22, 29, March 1 and 8 while the mains exam has been postponed. Previously the exam was supposed to be held on April 19.
Read More:
SBI Clerk Preparation Tips 2020
SBI Clerk Question Papers 2020
Frequently Asked Question (FAQs) - SBI Clerk Salary 2020 - Job Profile, Allowances, Benefits & Growth Opportunities
Question: Does SBI offer medical facility to the employees in salary benefits?
Answer:
Yes, SBI provides medical facilities to employees as per SBI Clerk Salary 2020.
Question: What is the probation period for SBI Clerk?
Answer:
The newly appointed Junior Associates/Clerk will have to undergo a six months probation period.
Question: When will the SBI Clerk application form be released?
Questions related to SBI Clerk
Showing 161 out of 161 Questions