LIC AAO 2016 Topper Interview – Rohit Agarwal - "Topic-wise preparation & mock tests bring you success"
Sometimes, the decisions we make in our lives (we are not convinced of) at a given point in time, turn out to be the best decisions of our lives at some later stage. This happened with Rohit Agarwal who did not want to be an LIC AAO, however, as a matter of course turned one. However, the topper believes that more than coaching, it's smart strategy which does wonder for you. In a conversation with Careers360, the LIC AAO 2016 topper shares that initially one must focus on the topic-wise preparation and then later move on to mock tests. Also, a smart strategy plays a key role in helping you succeed in the exam. Currently, the Head of Department (Finance and Accounts) in a Branch Office of LIC, Rohit shares how he cracked LIC AAO examination.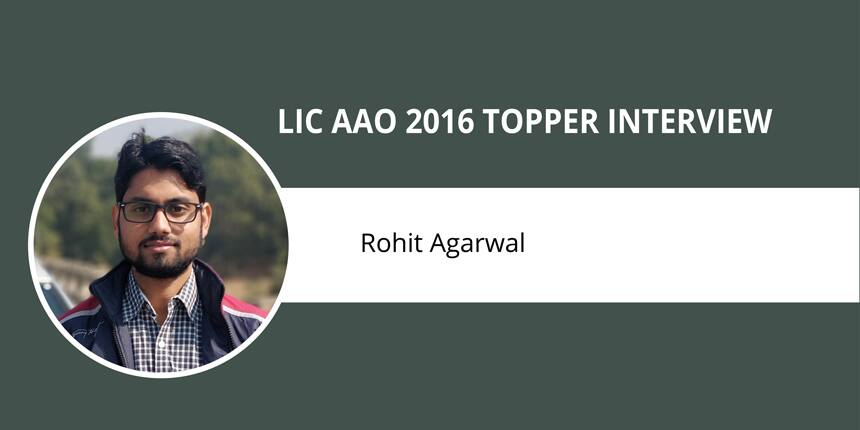 Latest: LIC AAO 2020 Application Form Out on February 25; Apply Now
Read Excerpts from the Interview:
Careers360: Tell us about your childhood and schooling. Who all are there in the family and what are their professions?
RA: I belong to a middle class service family from a small town of Madhya Pradesh and because of my father's job, my schooling has been completed from 8 different schools. I studied in English medium till 6th standard, but later switched to Hindi medium (Saraswati Shishu Mandir) as there was no English medium school in my town. Further, I had to take admission in government school after 10th. My father is veterinary surgeon with Madhya Pradesh Government and mother is a home maker. Apart from that, I have two sisters - one is married and the other one will appear for her higher secondary exam this year.
Careers360: What was your All India Rank in LIC AAO or if the ranks were given circle-wise? Which year did you qualify in LIC AAO?
RA: There was no official announcement of rank by the LIC. I was in Group A and what we only know is that those in Group A scored higher than those in Group B. I had qualified LIC AAO exam in 2016.
Careers360: What made you think that LIC AAO is the career you want to pursue? On which date did you join as AAO? Which all other exams did you appear in and which all have you been able to qualify in?
RA: Actually LIC was my fourth job. After declining a job offer at one of the MNCs during college placement, I was selected as a PO in Central MP Regional Rural Bank. As I was waiting for its joining, meanwhile, was selected as a PO in Bank of India. Here again, while I was waiting for the joining, I got selected in LIC. Honestly, I was not aware of insurance sector, so it was difficult for me to decide which one to join, but after knowing the benefits of joining LIC, I decided to go for LIC. Finally, on October 17, 2016, I joined LIC as an AAO. You can call me "The Accidental AAO".
Careers360: How much time did you prepare for the exam? Did you crack it in the first attempt?
RA: There was no separate preparation for LIC. The only preparation I did was for bank PO exams for roughly one year, but it was a dedicated preparation. This preparation only helped in cracking the LIC AAO exam. Yes, I cracked LIC AAO in the very first attempt only.
Careers360: Tell us about your current role and responsibility at LIC? Please describe a typical day at work for you as an LIC AAO.
RA: Currently I am working a Head of Department (Finance and Accounts) in a Branch Office. I am responsible for overall functioning of my department. My day starts with login for attendance and then I have to ensure that the cashier has started the cash counter. Later I check bank statements of all three bank accounts and ensure that the fund is sufficient. In case of excess fund, I prepare a check and transfer the excess fund to our central office. Then I do reconciliation of bank account to ensure everything is fine with all the bank accounts and our internal account codes. After that I have to validate the payments vouchers, if any. All these typically takes two to three hours. Again due to regulatory supervision, lots of other work related to audit, inspection, financial closing, different reports to higher office and so on are also the part of my work.
Careers360: Which of the educational background best suits for LIC AAO job?
RA: Unless you are applying for specialist like IT, Actuarial or CA, your educational background doesn't matter as the work is very general in nature. Again there are different departments in the office and it is not practically possible to assign department on the basis of your educational qualification. For example, I am a computer science student, however, am working in accounts department.
Careers360: Is coaching important for cracking the exam? If yes, then how much and can you suggest some good coaching institutes from where one must pursue coaching?
RA: Coaching is not required for cracking any exam. Coaching centers will help you only to get organized and to understand a subject easily, but if you think that you can do both these things at your own, I think you don't need any coaching. Now a days, everything is available on internet and nothing is too complex to understand by self study, so coaching is not a necessity.
Careers360: In case of self study, how much is the probability of cracking the exam? What should be the preparation strategy for self study?
RA: There are very high chances of cracking the exam with self study, if your strategy is smart enough. Preparation for any exam starts with knowing the exam pattern. Read the exam pattern for Prelims and mains and prepare thoroughly. Start from the basics and then move towards advance topics. Read basic books and if you find problem in some topics, Google it. You will find lots of tutorials. Practice topic-wise questions initially and then start attempting full length mock test. This is the most important part of self study. Without attempting mock test, you would not be knowing the direction of your preparation.
To know complete pattern of the test, click on LIC AAO Exam Pattern
Careers360: Can you refer some good books with Author names for all the sections of LIC AAO exam?
RA: This list is just indicative as no book can provide you complete syllabus. The best way is to learn basics and then attempt mock test. If you find something new, try attempting it. If you can't solve it, try to understand it with the help of the solution provided. That's why test series is very important.
Also know the syllabus by clicking on LIC AAO Syllabus
Reasoning: Analytical Reasoning by MK Pandey
Quantitative Aptitude: There are a number of books available in the market and your current level of preparation will decide which book you should refer.
1. Level 1: Quicker Maths by Mtyra
2. Level 2: Objective Arithmetic by Rajesh Verma
3. Level 3: Quantum CAT by Sarvesh Verma
English: For English, you need more than one book, in case you want to clear concepts. But since English is qualifying, do prepare accordingly.
1. For Vocabulary: Word Power Made Easy by Norman Lewis
2. For Grammar: High School English Grammar by Wren and Martin
3. For Practice: Objective General English by S.P. Bakshi
For Current Affairs, read daily current affairs provided on gktoday. After that revise it from monthly current affairs capsule provided from two different webisites to ensure you are not missing anything. You can choose any two from bankersadda, gradeup, gktoday and others websites.
For Insurance Awareness, I would suggest to read IC-01(Principle of Insurance). You will easily find pdf of this book on google. Don't give too much time to this book, read it in one go and you will know the basics of insurance. Apart from that, you can also read insurance awareness capsule available on various banking exam preparation website like bankersadda.
Careers360: While preparing for the online exam and the interview, what different strategies should one make?
RA: For online exam, previous experience of attempting online exam is very important otherwise you would spend your time struggling on the computer. That's why offline test series is waste of efforts. Remember the importance of attempting good test series. I am repeating it again so that you don't miss the most important part of preparation.
For interview, only think once you are done with your mains exam. No need to worry about it much.
Careers360: Which are the important topics one must not ignore from all the sections of the online exam of LIC AAO?
RA: So believing that this topic is important and this topic is not important may be harmful. I have written many exams and found that sometimes the so-called least important topics have good number of questions and the so-called very important topics are not even covered in the exam. So I advise you to not leave anything.
Careers360: Any online test series you suggest for LIC AAO exam?
RA: I would suggest oliveboard and practicemock.
Careers360: What are some of the major challenges that one must be ready to take head on when considering a career in LIC as AAO?
RA: The most important thing you need to remember is that you are not going to get the favorable posting. Organization may not hire you to post you in big cities only. At least, during the initial years of your service, you have to work in small towns. Further too, being transferrable job, you should be ready to get your bag packed every three years, and that too for any part of the country.
Careers360: Tell us the complete selection procedure of LIC AAO exam. Mention stages of exams and their weightage, salary, growth prospectus, etc.
RA: The exam consist of prelims, mains and interview. The initial basic pay of an AAO would be Rs. 32,795. Apart from that, you would get DA (at present 54% of Basic pay), HRA (depends on the place of posting and varies from 7% to 10%) and transport allowance (Rs. 1330 fixed). In case of city posting, you will get city allowance (Rs 600 something). That's all one will get during the training. After branch posting, you will get allowance for mobile recharge, newspaper and tea (Approx Rs. 1500). Apart from that you will also get Rs. 185 Sodexo meal passes for every working day. Regarding career growth, promotion is quite slow as compare to banks but yes, you have fair chances of becoming an ED, MD or Chairman of LIC. Unlike banks, in LIC most of the chairmen, MDs and EDs are the ones who have joined LIC as AAOs only.
To know complete details about the exam, click on LIC AAO
Careers360: After which stage is the document verification done and what documents one should take with him/her?
RA: Documents verification is done twice. Firstly, during interview you have to show all your original documents which would be mentioned in your call letter. Again once you selected finally and have passed medical test, you would receive an email to report directly to the Zonal Training Center allotted to you and your original documents will be checked again before handing over the joining letter to you.
Careers360: Tell us the complete procedure of Medical Assessment – the cost involved, rejection possibilities and its parameteres. Can one opt for the medical assessment as per their choice or you have to go as per some scheduled centre or hospitals. Are candidates intimated about the schedule and venue for medical assessment?
RA: Once you are selected finally, you would receive an email which gives you a time frame within which you have to complete the medical formality. Usually one of the Division Office (nearby your home) would be given the responsibility for medical test. You have to simply call the office and confirm the date. They usually call all the candidates at the division office on the same day and arrange a doctor there. The doctor will simply check your weight, height, BP and may perform blood/urine test. The medical is totally free and there are very little chances of rejection unless you have some serious aliment. You have to fill a form there, which ask you about your medical history and diseases if any. If you mention any serious disease, chances are that you have to wait till you medically fit.
Careers360: What kind of questions are asked in the LIC AAO interview and what should one keep in mind while answering the questions?
RA: Interview stage for any examination is a personality test which assesses the suitability of a candidate based on his/her presence of mind, attitude, soft skills etc., and LIC AAO interview is not an exception. Don't be afraid of what they are going to ask you. Sometimes, even the interviewer doesn't know what he is going to ask you. Everything is spontaneous. Some people have misconception that the interviewer will ask questions from insurance sector only. Although you are supposed to know a little about the organization you are expecting to join and the sector you are going to enter, but this doesn't mean necessarily that you will be asked technical questions only, unless you carry a background related to it. Simply be aware about yourself, be cool and calm, give answers which are clear and concise and you are done.
Careers360: Is there any training tenure after one is selected as AAO? If yes, kindly share the process.
RA: Once selected, you would be provided 9 months training, out of which 6 months will be in the zonal training center (ZTC) and the other 3 months in a branch office.
Careers360: What are the critical elements one should keep in mind during the selection procedure of LIC AAO?
RA: Ensure that whatever you are filling in the form, your original documents should support it. Even I had to submit my affidavit during interview as there was some mismatch in my documents. This creates unnecessary stress during interview. Apart from that, ensure to keep copy of the application form as it will be required during the interview.
Also Read this – LIC AAO Topper Interview – Prateek Pandey - Practise is the key; find the shortest way to solve a question
Questions related to LIC AAO
Showing 5 out of 5 Questions