LIC AAO Topper Interview – Prateek Pandey - Practise is the key; find the shortest way to solve a question
Coaching is useless if you do not work on the basic concepts of any topic. Thus, the fundamental requirement for any competitive examination is to have fundamental clarity at the conceptual level. Let's have a sneak peek into Prateek Pandey's life who made it a reality with cracking LIC AAO examination in 2016. The topper took several exams including IBPS PO, IBPS Clerk, SBI PO, SBI Clerk, et al, however could not make it to the final selection, except IBPS Clerk, which he quit just after joining. As they say, "Quitters never win and winners never quit", Prateek decided to advance till the time he sees the light at the other end of the tunnel. After experiencing failures at multiple levels, his determination made him sail through the rough voyage called life. And the time finally arrived when he succeeded in cracking LIC AAO. In a conversation with Careers360, the LIC AAO topper shares his journey and strategies of cracking the examination.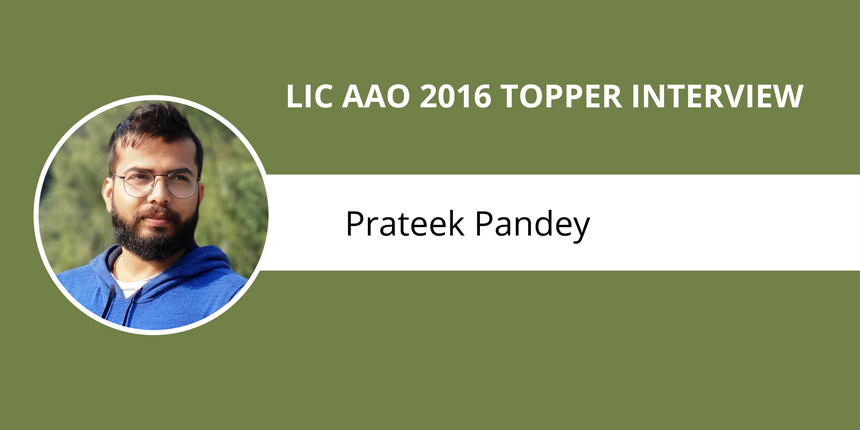 Latest: LIC AAO application form 2020 released on February 25
Excerpts from the Interview:
Ques: Tell us about your childhood and schooling. Who all are there in the family and what are their professions?
Prateek Pandey: I am from Satna district in Madhya Pradesh. I have studied from class 1-5th in a government school and from class 6-12th in Sarswati Shishu Mandir. We are 5 members in the family. My mother and father are government school teachers, brother is in IT sector sister-in-law is in revenue department.
Ques: What was your All India Rank in LIC AAO or if the ranks were given circle-wise? Which year did you qualify in LIC AAO?
Prateek Pandey: I qualified LIC AAO in 2016. There was no rank in result, only pdf was given, which was roll number-wise. Cut off was 305 out of 350. I got 310 marks - 270 out of 300 in written and 40 out of 50 in interview. Most of the candidates were between 305 to 314 only.
Ques: On which date did you join as AAO? Which all other exams did you appear in and which all have you been able to qualify in?
Prateek Pandey: LIC AAO result announced in September and my name was there in the list. I Joined LIC on January 18, 2017 and got training for 9 months in ZTC Agra. However, I am currently posted at Waidhan Branch, District Singrauli.
I never thought about banking exam throughout the engineering, but started preparation for it from September 2014 wherein I appeared for IBPS (PO and Clerk), SBI (PO and Clerk), RRBs (PO and Clerk) and cleared the written of all. I sat for the interviews as well, however, was selected in the final list of RRB, which I didn't join. In 2015, I gave almost all exams related to banking where I was selected in BOB PGDM, Syndicate PGDM, UIIC Assistant (contingency list), RRB Clerk again and IBPS Clerk.
Ques: Tell us the challenges/difficulties you had to face during your preparation and in life during that period?
Prateek Pandey: In the time of preparation, if your goal is clear in your mind, then there is no problem at all. Sometimes there is a frustration of not getting selected but always remember if you are not selected, then you must understand your preparation is not up to the mark. Try to find that gap and fill it for the next time. Nothing can distract you from achieving your target. If you really want it, you will do it anyhow. I would say, "There are two kinds of people, first are those who learn from their own mistakes and second are those who learn from other's mistakes; always try to be in second category," says motivational speaker Sandeep Maheshwari.
Ques: Did you take any coaching? If yes, from where and for how long?
Prateek Pandey: I joined Mahendra for coaching wherein I sought specific help from the faculties there (after my classes). The faculties taught me some tricks which were very useful in the exams. However, I went to Mahendra for only 15 days and could never attend any class completely.
Ques: Tell us about your current role and responsibility at LIC? Please describe a typical day at work for you as a LIC AAO.
Prateek Pandey: Currently I am working as Head of the Department (HOD) of the claims in the branch office, which is the soul of any insurance company. There are 4 persons working under my supervision. I am responsible for anything related to claim in the branch. I have to make sure that survival benefits, maturity benefits and death claims are settling in time. After joining LIC, I came to know that people are not ready to take their own money, which happens due to the lack of awareness of the policies.
Ques: Which of the educational background best suits for LIC AAO job?
Prateek Pandey: Any graduate can join and play the role of an AAO. The profile requires more managerial work which has to be done in better ways, so the person having managerial skill can play the role perfectly.
Ques: How should one prepare for an AAO job at LIC?
Prateek Pandey: For AAO exam, know the syllabus and act accordingly. You will be able to figure out a way with a lot of practice. The key is Practice..Practice…Practice…
Ques: Is coaching important for cracking the exam? If yes, then how much and can you suggest some good coaching institutes from where one must pursue coaching?
Prateek Pandey: I would say coaching is a waste of time. If your basics are clear and you are focused on your goal, then you are your own coaching institute. In this technological era, you can easily access any best lecture on topics of your choice from the YouTube. You should know that conventional methods of solving the questions won't help. For the final selection, you have to be a master in all subjects so prepare accordingly.
Ques: In case of self study, how much is the probability of cracking the exam? What should be the preparation strategy for self study?
Prateek Pandey: Give online ST and then make plans where you need to work harder. There is always a need of strategic study for any exam (the difference between study and planned study). My strategy can be different from yours. So, analyse yourself and then make plans.
Ques: Can you refer some good books with Author names for all the sections of LIC AAO exam?
Prateek Pandey: Practice is the key, you just need to solve lots of good quality questions. For this purpose, you can prefer Practice book on quicker maths, Quantum cat and internet is the best source for that.
Ques: While preparing for the online exam and the interview, what different strategies should one make?
Prateek Pandey: Find out time-saving way to solve any question and use that perfectly. This strategy will keep your preparation separate and different from the other conventional methods everyone else is using. For the interview, you can never be certain. But as far as my experience of 14-15 interviews is concerned, the interviewers will ask questions which you want them to ask. Be confident during the interview and say no frankly in response to those questions which you don't know exactly. They never judge your knowledge, they just test your presence of mind to tackle any given situation.
Ques: Which are the important topics one must not ignore from all the sections of the online exam of LIC AAO?
Prateek Pandey: You can't ignore even a simple number system topic. You have to be master in all sections of each subjects.
Ques: Any online test series you suggest for LIC AAO exam?
Prateek Pandey: You can go with anyone like Mahendra's, Bankersadda, Practice Mock, Olive Board, etc. Actually I used all of the above so I can say all STs are good and effective only when you are improving yourself with every test. Always focus on rank, not on marks. If you figure out yourself in the top10, then consider your preparation in good direction. Never make same mistake twice in ST and analyse yourself after the test so that weak areas can be improved.
Ques: What are some of the major challenges that one must be ready to take head on when considering a career in LIC as AAO?
Prateek Pandey: In LIC AAO, you can be posted anywhere in country. So if you are a home-sick person, then brace yourself. The initial years are learning stages, so you will get vast scope in difference admin departments. After 2 years of branch posting you will be eligible for marketing assignment which is the soul of insurance industry. It completely depends on your interest, but when you see the perks of marketing you will join it same day.
Ques: Tell us the complete selection procedure of LIC AAO exam. Mention stages of exams and their weightage, salary, growth prospectus, etc.
Prateek Pandey: You have to appear in written test, interview, and a medical test. The salary starts with basic of Rs 32795 and my first in hand salary was Rs 48988. Apart from your salary, you get lot of perks (monthly) like expenses for newspaper, entertainment, lease, mobile etc. Current wage revision is effective from August of every year. The promotion chain goes like AAO—AO—ADM—DM—SDM—ZM—ED—MD—CHAIRMAN. Mostly, the chairman of LIC is DR AAO only. The current chairman is also DR AAO from 1981 batch.
Ques: After which stage is the document verification done and what documents one should take with him/her?
Prateek Pandey: The documents are verified at the time of interview itself. Once they verify all the documents in the interview, and after the final selection at the time of joining the training they check all the documents again.
Ques: Tell us the complete procedure of Medical Assessment – the cost involved, rejection possibilities and its parameteres. Can one opt for the medical assessment as per their choice or you have to go as per some scheduled centre or hospitals. Are candidates intimated about the schedule and venue for medical assessment?
Prateek Pandey: For the Medical Assessment, you will get the dates and then as per the dates you have to go to the division office of LIC in the place from where you have given the written exams. Medical verification depends on divisional office. No one was disqualified from 29th batch in Medical Assessment. The normal check ups were done at the authorised centres by the divisional office free of cost. No need to worry about that test.
Ques: Is there any training tenure after one is selected as AAO? If yes, kindly share the process.
Prateek Pandey: After you are selected, you have to go through a 9 months training. The time of the training is divided into 3 levels further - 3 months of practice training in any ZTC (Zonal Training Centre) across the country, then 3 months of practical training in any branch under those zone, and then again 3 months refresher programme in same ZTC. After the successful completion of the 9 month training, you will get your final branch posting where you have to implement all that you have learned during the 9-month training.
Questions related to LIC AAO
Showing 4 out of 4 Questions